10 Movies That Make Getting Old Look Cool
These guys've still got it.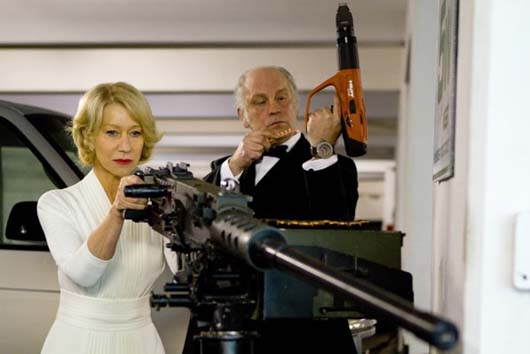 (SPOT.ph) In youth-obsessed Hollywood, fresh-faced ingénues and washboard abs are the silver-screen staple. So it's always an entertainingly refreshing break to see veterans take center stage, especially in movies that aren't dripping with drama. Just take a look at this list we've put together of, er, oldies who still kick (sometimes literal) butt on screen.
1. RED (2010)
Frank Moses (Bruce Willis) is a former black-ops CIA agent and is classifed as "Retired, Extremely Dangerous." His quiet life in the suburbs is interrupted when a hit squad tears bullet holes through his home. Frank tries to figure out who would want to bother a boring old retiree like him. The film also co-stars Morgan Freeman, Helen Mirren, Ernest Borgnine, and John Malkovich. They even got a sequel with RED 2, proving that no one should underestimate an old man with a weapon.
2. The Expendables (2010)
Another action flick with an epic ensemble is The Expendables. Classic action movie leads headline this film: Sylvester Stallone, Bruce Willis (yet again), Jason Statham, and Arnold Schwarzenegger. It's just an excuse for Hollywood to gather these names together, but it still makes for a pretty entertaining guns-and-explosions movie. The sequel added Chuck Norris and Jean-Claude Van Damme, and The Expendables 3, which came out this year, had Antonio Banderas and Harrison Ford.
3. The Best Exotic Marigold Hotel (2012)
This ensemble cast of the best English actors brings a sweeter story. Bill Nighy, Maggie Smith, Tom Wilkinson, Ronald Pickup, Penelope Wilton, and Judie Dench find themselves in India, expecting a grand retirement hotel. Instead, they get a beautiful, but rundown place that's run by a young hotel manager (Dev Patel). Expect lots of laughs with this gang's adventures and prepare some tissue towards the end (because someone is dying, of course).
ADVERTISEMENT - CONTINUE READING BELOW
4. The 100-Year-Old Man Who Climbed Out the Window and Disappeared (2013)
The book by Jonas Jonasson already probably charmed the pants off of you, but if you've been wondering when the inevitable movie adaptation is coming along, don't worry-there's already a Swedish version. If you have no idea what we're talking about, then you should know that the 100-year-old man doesn't just run away, he gets to trek the Himalayas, eat dinner with U.S. President Harry Truman, and hitchhike with Winston Churchill.
5. The Bucket List (2007)
Before they "kick the bucket," two terminally ill patients decide to go on a road trip and fulfill all their lifelong dreams, from skydiving to riding motorcycles on the Great Wall of China. With two stars like Morgan Freeman and Jack Nicholson as the leads, it's a hilarious tale of a two men's last hurrah.
CONTINUE READING BELOW
Recommended Videos
6. Last Vegas (2013)
Call it The Hangover for old people, if you will. Michael Douglas, Robert de Niro, Morgan Freeman (yet again), and Kevin Kline make up this gang of old friends, who decide to throw Billy (Douglas) a bachelor party in Las Vegas. Fortunately, unlike The Hangover, nobody wakes up the next day, completely forgetting the previous evening's events. But we still get to witness the guys get up to all sorts of adventures in Vegas, like juding a swimsuit competition and fistfights in clubs.
7. Nebraska (2013)
Woody Grant (Bruce Dern) is convince that he's won a million dollars. After several tries of convincing him that it's a scam, David (Will Forte) agrees to drive his father to Lincoln, Nebraska to collect his "winnings." This stunning black-and-white flick is directed by Alexander Payne (The Descendants, About Schmidt) and was nominated six Academy Awards, including Best Motion Picture, Original Screenplay, Directing, Supporting Actress for June Squibb, and Lead Actor for Bruce Dern. It's a touching, funny, and honest film about aging, dreams, and regrets. It will definitely turn the waterworks on your face.
ADVERTISEMENT - CONTINUE READING BELOW
8. Something's Gotta Give (2003)
Harry Sanborn (Jack Nicholson) is all about the younger ladies, but he starts falling in love with a woman his age, Erica (Diane Keaton) when he spends the weekend at her Hamptons home. Oh, and Erica happens to be the mother of Harry's girlfriend. But don't worry, because like all Nancy Meyers movies, this one ends on a happy note-but not before the characters go through some comedic trials.
9. Space Cowboys (2000)
Before RED and The Expendables, this movie brought together the likes of Clint Eastwood, Tommy Lee Jones, James Garner, and Donald Sutherland to go on a mission-in space! They have to repair an old Soviet satellite, but it's actually armed with nuclear missiles. It's darker and more dramatic than The Expendables, but who doesn't want to see Clint Eastwood floating in space?
10. Grumpy Old Men (1993)
This just may be the quintessential "old people movie." Comedic legends Jack Lemmon and Walter Matthau are long-time neigbors and bitter old rivals. They constantly pull pranks on each other-just one of the many things these former childhood friends have in common. Their rivalry gets worse when a beautiful widow (Ann-Margret) moves in next door and now these two guys have more than just ice fishing to compete about.
Share this story with your friends!
---
Help us make Spot.ph better!
Take the short survey
Load More Stories