10 Great Sources for New Music
Apps and sites to refresh your stale playlists.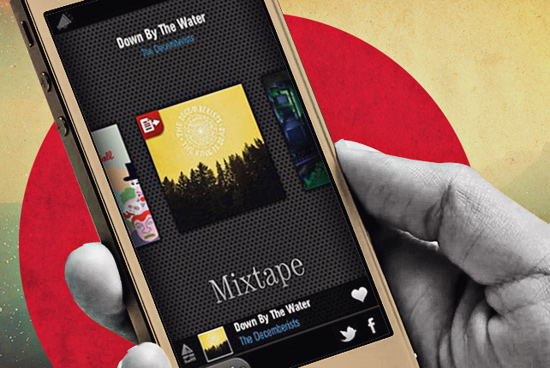 (SPOT.ph) Haven't updated your music library in months? Don't know where to go? How about the radio? Eh, it's all '80s ballads and Top 40 hits. Maybe you're a jazz man or you're into underground hip-hop. Maybe you're just looking for more variety. Fear not, we've listed a few new solutions to your music woes.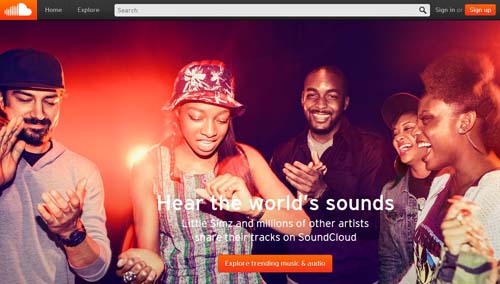 1. SoundCloud
You can find more than just everyone and their mom's cover of "Royals" by Lorde here. Artists, DJs, and other music industry folks have made a community out of SoundCloud. Here, mainstream and indie artists put up their latest tracks, DJs share their remixes, and record labels are even generous enough to let you stream an entire album for free sometimes.
Check out: Remixes of your favorite songs by RAC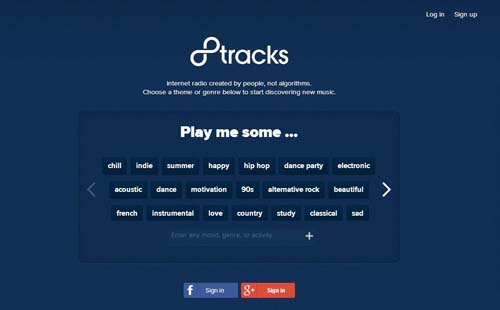 ADVERTISEMENT - CONTINUE READING BELOW
2. 8tracks
Looking for music to skateboard to? To fall asleep to? To sing along to while stuck in traffic? The mixtape culture of the '80s and '90s has found a new home in 8tracks. Here, you can find playlists created by the people for the people and for just about any kind of mood, theme, or occasion.
Check out: Cold Coffee, a mix for chilly mornings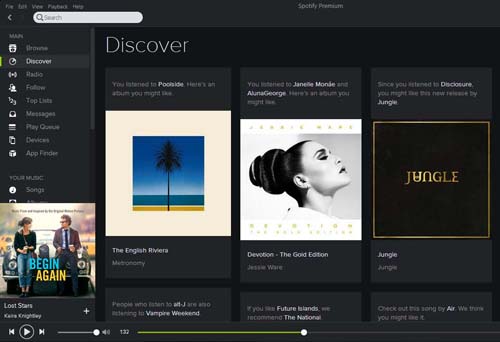 CONTINUE READING BELOW
Recommended Videos
3. Spotify
You can't go wrong with the ultimate music streaming app. Once you start playing music on Spotify, it learns what you love and what you hate and tweaks its features for you. It's creepy and beautiful that way. Thousands of artists, local and international, mainstream and independent, are available on Spotify. We're warning you now: you'll get hooked.
Check out: #ThrowbackThursday, a playlist of '90s early '00s favorites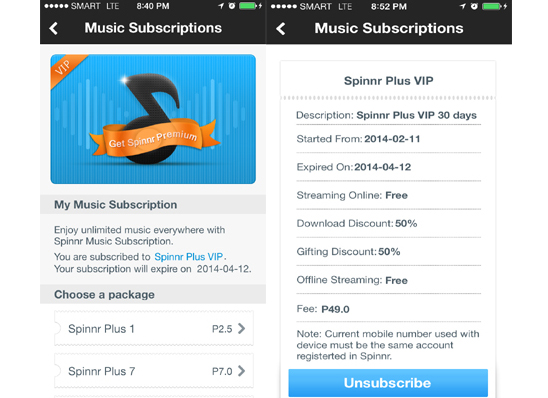 ADVERTISEMENT - CONTINUE READING BELOW
4. Spinnr
The Philippines has its own music portal with Spinnr. Browse and stream from its catalog of 3 million tracks. You only need to shell out a few Pesos to unlock fantastic features like unlimited streaming and downloading songs straight to your device.
Check out: Music from the coolest and newest guys in EDM, Disclosure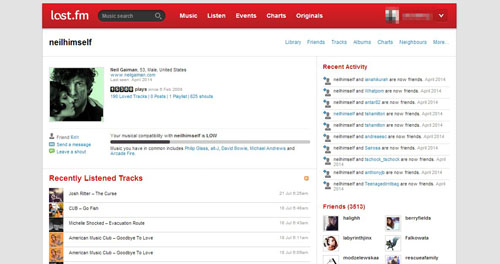 5. Last.fm
For the tech-savvy, you can link apps and programs like iTunes and Spotify to Last.fm so that the app will "scrobble" each played track. You can then see your most-played artists and songs and see what recommendations the site has churned out that are similar to your tastes. Last.fm is also a great way to make new friends who are on the same wavelength as you with the site's handy feature of measuring people's music compatibility.
Check out: How musically compatible are you with Neil Gaiman?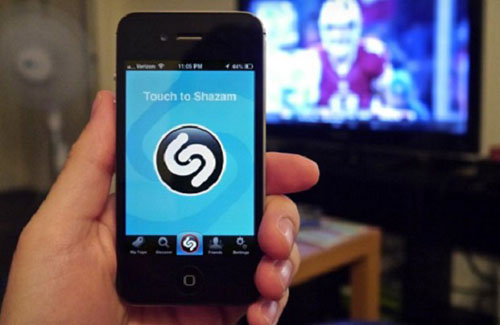 ADVERTISEMENT - CONTINUE READING BELOW
6. Shazam
Ever hear a song playing in the background on the radio, on TV, in a shop or just anywhere; and you have this frustrated feeling because you absolutely don't know what the title is? We all have those moments and now, we owe a billion thanks to this free app available on Google Play and the App Store. Shazam lets you identify the name of a song and even the artist in mere seconds. But it doesn't stop there. It actually links you up to Amazon, Youtube, Rdio, Spotify or iTunes so you can have the option to listen to the song in full or buy it. Another added bonus? You can check out an artist's biography and discography all in one click.
Check out: Your favorite musical to see just how accurate this app is.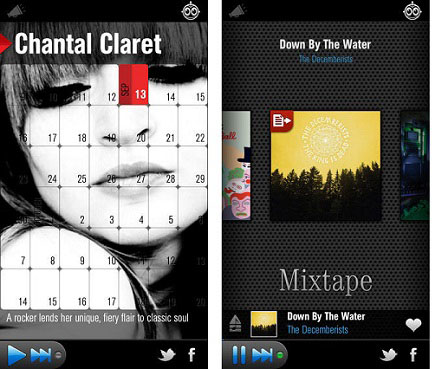 Make this your daily habit all day, errday. If you want to discover new music of different genres but don't know where to get them, Band of the Day uncovers the best tunes with a dose of music madness served every day. One new artist's songs will get featured per day through a set of uninterrupted music with info, photos, biographies, and videos about the said artist. The interface features a calendar-like grid so you can go back in time through your song archives as much you please. You even have the option to enjoy over 5 hours of nonstop play with the app's Mix Tape feature, which lets you listen in to over a hundred of Band of the Day's top rated tracks.
ADVERTISEMENT - CONTINUE READING BELOW
Check out: Folk rock band The Decemberists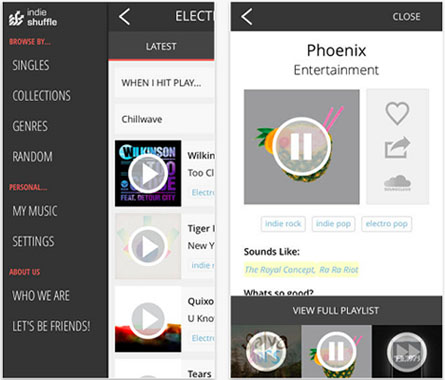 Free on Google Play and App Store, Indie Shuffle boasts of hand-selected music put together in playlists of hundreds of genres. You can also take your pick from the collection section which features track selections from playlists to cater to different moods, occasions, or themes. All of the artists and songs featured are of the lesser known kind which makes everything a fresh musical playground in finding the new tunes you are bound to love. And the tracks are from a selection of the best jams from real music enthusiasts, so you know you're in good hands.
Check out: A collection of covers of songs by The Beatles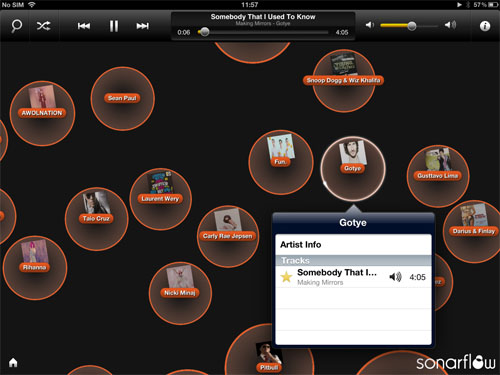 ADVERTISEMENT - CONTINUE READING BELOW
9. Sonarflow
There's a saying that goes to the tune of not having to look elsewhere because everything you need is right where you are. This could well be the core belief of Sonarflow, a gorgeous music discovery app that proves how soul searching for some new melodies in your life can be as visually rewarding as the actual listening experience. The app is like your very own music word cloud which bases your song search on your already existing musical tastes through the music already on your device. It does this in its Discovery Mode where it suggests songs and artists with similar or closely knit styles to the songs you have. Zoom into a bubble to get the full display of the several artists it offers. If you fancy the new song you hear, you have the chance to listen to a preview before making your purchase.
Check out: Start playing Discover the Unknown on Spotify and see where that leads you!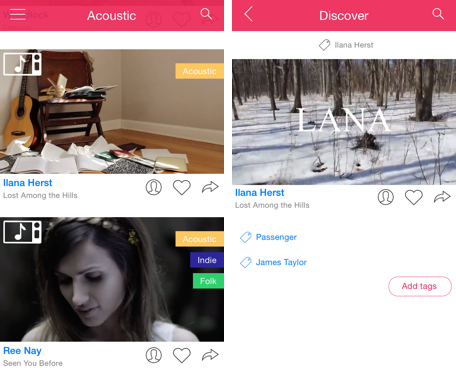 ADVERTISEMENT - CONTINUE READING BELOW
10. Rormix
Another free app for Android and iOS, this is the app to use if you are into music videos and fresh takes and new vibes of your favorite hits. Rormix features a wide array of unsigned artists which you can unearth from typing in a search of your existing favorite bands, duos, or solo artists in the commercial realm. For instance, a search for Beyonce will give you recommendations of a similar sound to the RnB queen. The MVs are also in HD which you can like and add to your personal playlist and come back to later in the app.
Check out: This music video by funk artist, Bobby Alu
Share this story with your friends!
---
Help us make Spot.ph better!
Take the short survey
Load More Stories