MOVIE REVIEW: Into the Storm
It doesn't devastate your feelings. Or make any impact at all.
(SPOT.ph) Most of us have never seen a tornado before, but Into the Storm feels a little too familiar. It's like Twister but much less serious or Sharknado, without the sharks and much less campy. The odds are stacked against it being a blockbuster, which doesn't make it a bad movie. It's just utterly predictable and offers no real thrills for the audience.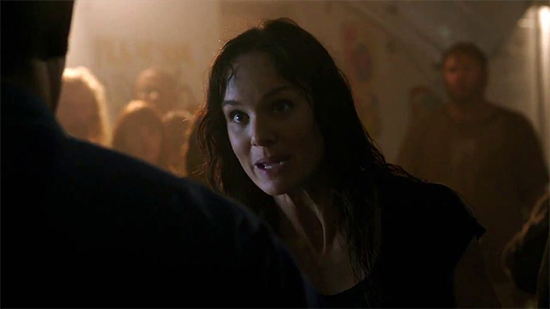 Sarah Wayne Callies as Allison, otherwise known as that character who is nice and wants to save everyone she encounters under ridiculously stupid circumstances
The film starts with teenagers getting sucked into a storm. It's completely unrelated to everything else and that's the tone of the entire movie. Broad, disconnected, and strangely flat despite having a destructive force of nature as one of the main stars. We're introduced to Gary (Richard Armitage) and his two sons, Donnie and Trey (Shawn Kavanaugh and Nathan Kress), a typical slightly dysfunctional family in a small town. Then there's Pete (Matt Walsh) and his crew of storm chasers. On the fringe, there are two goofballs with cameras, too. The goofballs are there as comic relief, but they offer some insight into the human psyche: people will go to great lengths to be Internet famous nowadays.
ADVERTISEMENT - CONTINUE READING BELOW
Sadly, the film doesn't focus on that. It also fails to sustain the found-footage feeling, which was a pretty decent premise. It volleys between parental love and one man's crazy desire to get the perfect shot at any cost. The film achieves this for itself towards the end, after the seemingly heartless Pete tries to save everyone and goes into the eye of the storm. His tank-the Titus-is pulled into a monster of a tornado and he flies all the way up to where the sky is clear. Quite a sight to see before you get thrown back down to the earth at lethal speeds.
CONTINUE READING BELOW
Recommended Videos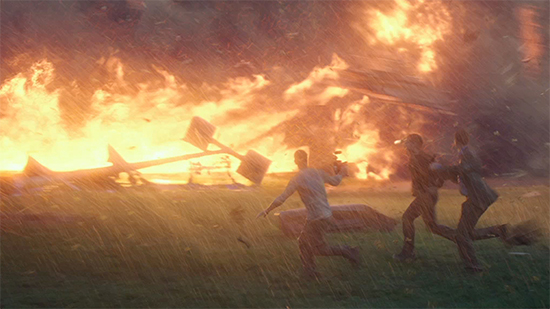 Aaaah. Twister. Aaaah.
There's also a scene where a smaller tornado catches fire and a man also catches fire...and the two are thrown together and...well, the man dies, of course. It's a nice shot and we almost feel bad for the guy. We just didn't know him well enough to shed a tear. Character development is not something you will find in the story, but then again, disaster films are for carnage and showing the power of nature over all of us (with the triumph of the human spirit as an epilogue). Into the Storm takes you there and at the very least, you don't feel cheated. It's exactly like a small tornado that you've prepared for. It's there, it throws things together and smashes them up, and then it just disappears. From your memory.
ADVERTISEMENT - CONTINUE READING BELOW
RATING: •• 2 out of 5 spots
Into the Storm starts screening on August 7 in select theaters.
Share this story with your friends!
---
Help us make Spot.ph better!
Take the short survey
Load More Stories