10 Movies to Watch Before 50 Shades of Grey
(Mature) adults only.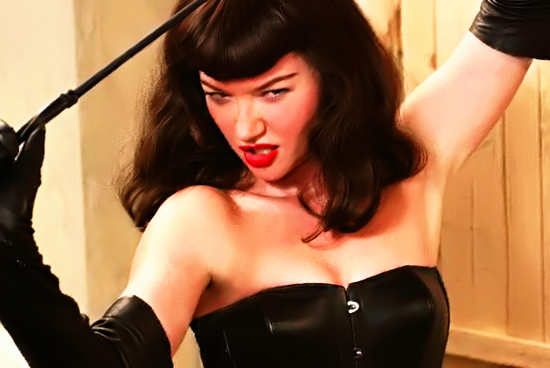 (SPOT.ph) It's time that we acknowledge the fact that we've been feasting on the scraps of the 50 Shades of Grey trailer for the last three weeks. All we really got were five seconds of implied kinky hanky-panky (resulting in a tasteful o-face)...and that's supposed to tide us over for the next six months?
Luckily, we're not deprived-of great films to watch, that is. Besides, BDSM and the erotic arts have been around long before Christian Grey came into the scene. Here are 10 movies you can check out before February 14, 2015.
Also read:
Thoughts on the Last Five Seconds of the 50 Shades of Grey Trailer
Food-derived Sex Terms That You Should Be Careful About Using
Top 10 Funniest Sex Scenes in Movies and TV
From Cute to Bizarre: 10 Sex Toys and Where to Get Them in Manila
Bitter Moon (Roman Polanski, 1992)
In true Polanski style, the film's strength lies in narration and contrast. A prim and proper couple, Nigel and Fiona Dobson (Hugh Grant and Kristin Scott Thomas), meet...Mimi and Oscar (Emmanuelle Seigner and Peter Coyote). They like bondage. They like sadomasochism. They like telling people about their adventures...to expand their sexual horizons. (The rest of the films on this list will try to do the same.)
Quills (Philip Kaufman, 2000)
How can you talk about kink without mentioning the Marquis? Geoffrey Rush stars as the infamous master of all things foul and repugnant during his last years in an insane asylum in Charenton. Kate Winslet is here too and though she's known for topless-ness, the film's real goal is to make a commentary on absurd censorship, untreated mental disorders, and the repressive nature of religion. And maybe also to freak some people out with fecal matter.
ADVERTISEMENT - CONTINUE READING BELOW
The Piano Teacher (Michael Haneke, 2001)
This movie is for mature people only. We don't mean old. We mean mature. Mature enough to understand the themes and to appreciate the handling of the material. A bit of sense of humor is required too...because hey, this film is kind of ridiculous. Why is he crying? Handjobs aren't supposed to make you cry. Talk about awkward.
Secretary (Steven Shainberg, 2002)
The original Mr. Grey! Based on a short story by Mary Gaitskill, the film stars Maggie Gyllenhaal as the titular secretary, Lee Holloway, who fresh off therapy for self-harming. She tries to adjust to a new life by working for E. Edward Grey, a lawyer who fancies her submissive personality. Grey learns of her history and demands that she stop hurting herself (how romantic!)-breaking the stereotype of an unfeeling dominant figure in a BDSM relationship. It's a little offbeat but Secretary wins for focusing on the feeling of liberation rather than the acts of "depravity" in telling a fetishist fairy tale.
CONTINUE READING BELOW
Recommended Videos
The Notorious Bettie Page (Mary Harron, 2005)
You've heard her name before, right? Bossomy pinup model from the 1950s? The inspiration for Katy Perry's shoot with Madonna for V Magazine? Well, if you haven't, this serves as a very fun introduction. Gretchen Mol plays Bettie Page to perfection-from her devout Christian upbringing to her confidence in front of the camera as one of the world's most comfortable nudists...and then back to Jesus. Hallelujah.
ADVERTISEMENT - CONTINUE READING BELOW
Lust, Caution (Ang Lee, 2007)
What's an espionage thriller based on Eileen Chang's novella about China during World War II doing here? It has everything to do with the beginning of the second act, when Mr. Yee (played by the Tony Leung Chiu-Wai) ties up Wong Chia Chi (hey there, Tang Wei) ...and...and...um. Where were we? Right, right...pardon us. This is hard. Clearly, it isn't bad to situate bits of erotica in historical dramas that offer some insights about humanity. We learned and we had fun.
Dorian Gray (Oliver Parker, 2009)
The other Mr. Gray...for whom we would definitely shed our clothes without a hint of hesitation. It's Ben friggin' Barnes! The 2009 retelling tells a tale filled with sordid scenes of sexy sex. Does it follow Oscar Wilde's book? No, it does not. Don't base your book report on this movie. Whatever scenes of smut was in The Picture of Dorian Gray, it wasn't as gratuitous as the ones in this film. (Read the book and then watch this film, to achieve balance in life.)
Sleeping Beauty (Julie Leigh, 2011)
Nudity? Just a bit. Emily Browning (dear lord, Violet Baudelaire, cover yourself up young lady!) is not quite Aurora. She's Lucy, a student who is invited to be a "server." No, no, this isn't about the dirty (or fun) world of sexual service-it's literally about a beautiful girl sleeping...next to old men. No sex. Just literally sleeping together. The movie might put you to sleep, too, with its slow pace and scenes of inactivity. Great for sleepless, restless nights, eh?
ADVERTISEMENT - CONTINUE READING BELOW
Nymphomaniac (Lars von Trier, 2014)
A film told in two parts, von Trier's final entry for the "depression trilogy" is, um, interesting. There are many stories and somewhere in there is one you can relate to...we won't ask which. In any case, the shots are stunning! Watch this one on your own first, though. If anyone catches you, say it's art.
Kink (James Franco, 2014)
Have you ever heard of The Armory? It's this 200,000-square foot Moorish Castle reproduction that serves as a kink "headquarters" in San Francisco where pretty hardcore porn is shot, mostly involving BDSM of all sorts. People hanging from the ceiling and stuff. Scary as it looks, James Franco (yep, that James Franco) went in and was shocked...by how happy everyone seems! This documentary, which premiered at the Sundance Film Festival, is a straightforward look at the thriving industry of kink pornography and how strangely safe the people are when filming. So much respect. The corporate world must look so nasty to these people.
Also read:
Thoughts on the Last Five Seconds of the 50 Shades of Grey Trailer
Food-derived Sex Terms That You Should Be Careful About Using
Top 10 Funniest Sex Scenes in Movies and TV
From Cute to Bizarre: 10 Sex Toys and Where to Get Them in Manila
Share this story with your friends!
---
Help us make Spot.ph better!
Take the short survey
Load More Stories