Theater Review: Pinocchio
Repertory Philippines' re-staging of the familiar musical still retains its magic.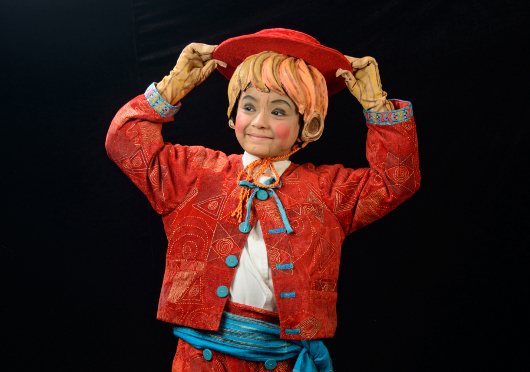 (SPOT.ph) How does one manage to translate a beloved children's classic onstage, all while preserving the same magic that generations have come to love?
Let's backtrack a bit. The Adventures of Pinocchio was originally written as a serial in 1881 by Carlo Collodi, and is one of the most recognized stories in children's literature. The most popular adaptation was the Walt Disney animated film in 1940. Ask anyone about the tale and they'll instantly answer with memorable moments: the elongating nose, the blue fairy, the donkeys, and the whale. It's safe to say that Pinocchio has left its mark on us all.
Joy Virata, artistic director of Repertory Philippines Theater for Young Audiences, brings the fairy tale to life-quite literally. The entire production is vibrant and bursting with energy, from the music to the visually stunning costumes. It hooks children in with the interactive portions of the program, as though they too, are in Italy.
ADVERTISEMENT - CONTINUE READING BELOW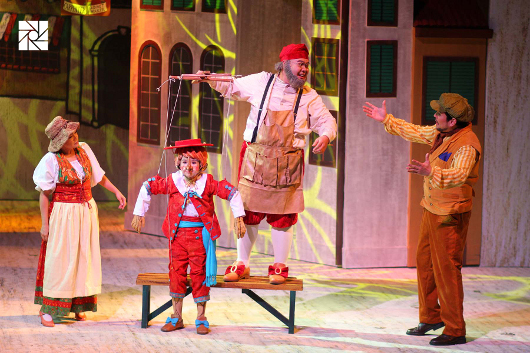 CONTINUE READING BELOW
Recommended Videos
Geppetto (Oliver Osison) shows off his newest work, Pinocchio.
The story kicks off with Antonio, the narrator who welcomes the audience to a town in Italy with the lively "Buon Giorno" number as he is joined by street urchins, pizza makers and balloon sellers. Maestro Geppetto is known in these parts of town with his skill in puppet-making and his greatest creation, he says, is his life-sized puppet, Pinocchio. The craftsmanship is so impressive that the puppet could practically be real and Geppetto sure wishes he is. The rendition of "A Real Little Boy" in this scene is enthralling.
ADVERTISEMENT - CONTINUE READING BELOW
The Blue Fairy appears to Geppetto, cleverly disguised as an old woman who asks for his help. She repays his kindness by bringing Pinocchio to life. The strings fall and the puppet (wonderfully portrayed by Noel Comia) excitedly jumps around, reveling in all the things he can finally do. The Blue Fairy reminds him that if he wants to be a real boy, he must always be good and obey his father. He promises, with adverse results.
Pinocchio's days of merriment and mischief begin when he follows two troublesome boys named Candlewick and Gino. They take him to the Land of Toys, which is all fun and games until Pinocchio starts to turn into a donkey, as all little boys who run away from home do. His long quest to return home to his distraught father only brings more misfortune, as he ends up being tricked out of his money and into the stomach of a whale.
ADVERTISEMENT - CONTINUE READING BELOW
Pinocchio finds that Geppetto is also trapped in the whale after a month of fruitless searching. The young puppet's offer of sacrifice to save his father is what redeems him and he becomes a real boy.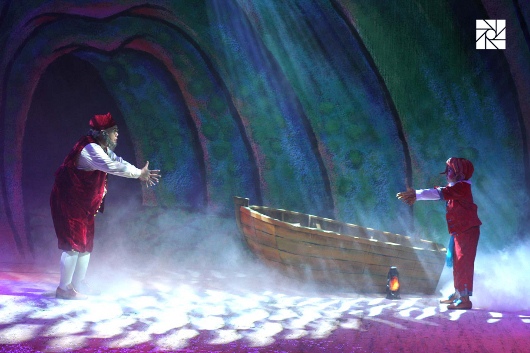 Father and son are reunited inside a whale.
It's a story full of magic and one begins to wonder how a live theater performance would properly give an elongating nose and a giant whale's insides justice. Oliver Roxas-Green's fantastic set design combined with lights and props really make the scenes in Pinocchio's colorful misadventures. The costumes by Liz Batoctoy and Ogie Reonal are splendid and children clapped with delight when Pinocchio's nose suddenly grew.
ADVERTISEMENT - CONTINUE READING BELOW
The dialogue is something to behold, with its wit and charm that had people laughing. It's peppered with important life lessons, too. ("Woe to those who lead idle lives. Idleness is a dreadful illness and must be cured in childhood." You got that right.)
While this is Repertory Philippines' third take on the story, its effect on theatergoers is still as spellbinding. At its very core, Pinocchio is a cautionary tale for rambunctious kids but its charm is never lost on its viewers, young or old.
Pinocchio plays from August 16 to December 14 at the Onstage Theater, 2/F, Greenbelt 1, Paseo de Roxas cor. Legazpi St., Makati City. For tickets, call Repertory Philippines at 843-3570 or 451-1474, or log on to repertoryphilippines.com. Tickets are also available through Ticketworld at 891-9999.
Share this story with your friends!
---
Help us make Spot.ph better!
Take the short survey
Load More Stories