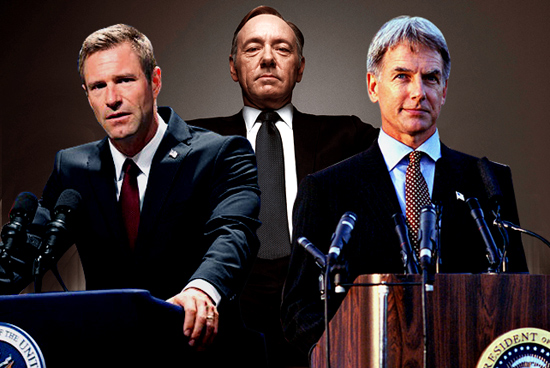 (SPOT.ph) When the country is falling apart and the world is ending, the nation turns to one man to singlehandedly save the day. Through the years, plenty of actors have stepped into the big shoes of the President of the United States. Whether he's an actual historical figure or a fictional character, you can always count on the Commander in Chief to get the job done. Here are 10 presidents as elected by Hollywood that have our votes (or usually, at least).
This list is not ranked.
ALSO READ: Top 10 Hottest Cops in TV and Film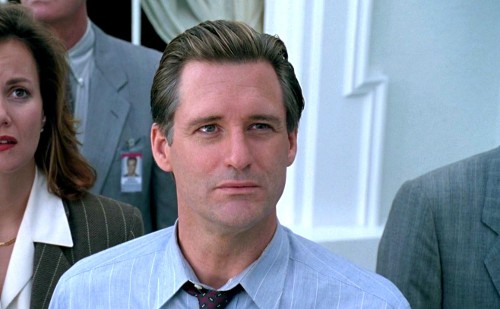 1. Thomas J. Whitmore in Independence Day
Portrayed by: Bill Pullman
Okay, so the White House is reduced to cinders during his presidency, but you can't entirely fault him for it. It is an alien invasion, after all. He suits up and flies a fighter jet to save the world! He also gives one of the most badass and memorable speeches of all time. ("Today we celebrate our Independence Day!") This is a president who can make a rousing speech and get things done-while looking really, really good.
ADVERTISEMENT - CONTINUE READING BELOW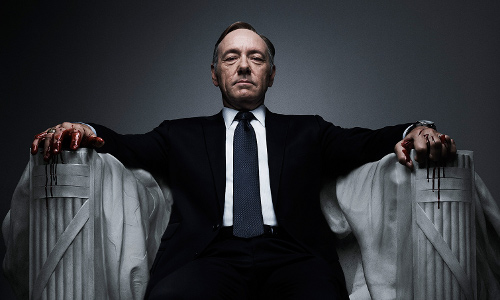 2. Frank Underwood in House of Cards
Portrayed by: Kevin Spacey
If you haven't caught up with-or seen, in which case, shame on you-House of Cards, scroll down. Fast. Frank Underwood's journey from the halls of Congress to the Oval Office is riveting: He schemes and manipulates his way to the top, with sharp and witty commentary to boot. He's also really adventurous in the bedroom, which cements his place on our list.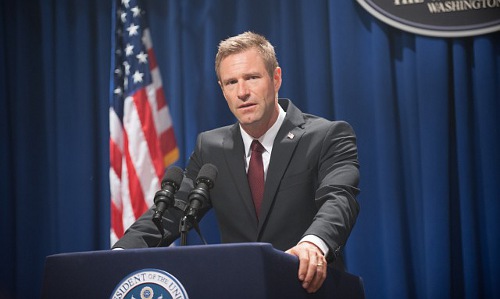 ADVERTISEMENT - CONTINUE READING BELOW
Recommended Videos
3. Benjamin Asher in Olympus Has Fallen
Portrayed by: Aaron Eckhart
Here is a president who been through a lot. First, his wife and two Secret Service agents die in a car accident. Then he becomes the target of a terrorist attack on the White House. He is then held hostage for access codes to the United States' nuclear missiles (he doesn't give these up, of course). We love a leader who is cool under intense pressure and can hold his own alongside Secret Service agents in times of combat.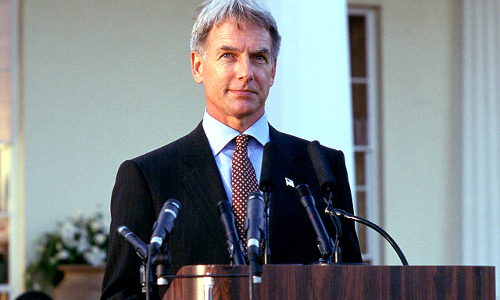 4. James Foster in Chasing Liberty
Portrayed by: Mark Harmon
He may be the leader of the free world but he is, first and foremost, a family man. And a silver fox, at that. While he can admittedly be overprotective, James Foster is a father than only means well. Think about it: he lets his teenage daughter run around (relatively) freely in Europe, and she still decides to swim naked in the Danube River. We don't blame him for getting upset.
ADVERTISEMENT - CONTINUE READING BELOW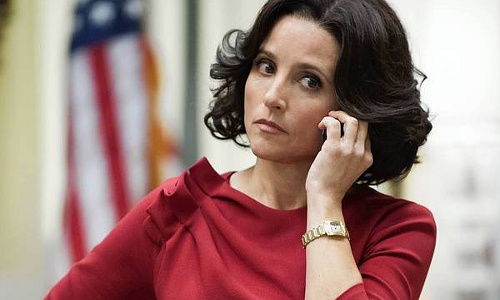 5. Selena Meyer in Veep
Portrayed by: Julia Louis-Dreyfus
Maybe HBO should rethink the series' title now than Selena Meyer is finally president. Her road to the Oval Office definitely wasn't smooth; filled with hilarious gaffes and humiliating moments that were enough for us to wonder how someone can still remain in office. You've got to admire a woman who can still face the American people after all that embarrassment. At least she looks great, right?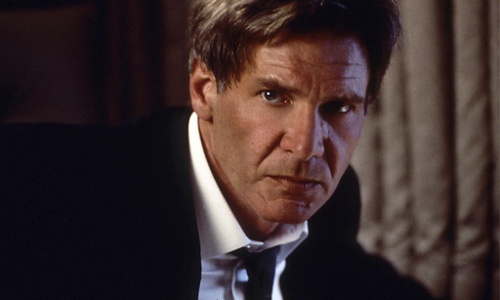 ADVERTISEMENT - CONTINUE READING BELOW
6. James Marshall in Air Force One
Portrayed by: Harrison Ford
Leave it to the man who played Indiana Jones to portray a president who can also kick ass. Maybe the terrorists should have looked up President Marshall's credentials-an ex-soldier with a Medal of Honor-before hijacking his plane and taking his family hostage. As he so eloquently yells, "Get off my plane!!!" We love a hands-on man.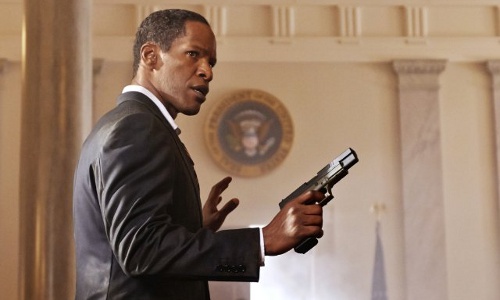 7. President Sawyer in White House Down
Portrayed by: Jamie Foxx
Tear your gaze away from Channing Tatum's torso in the movie poster and focus on Jamie Foxx for a second. Hollywood loves a terrorist attack plot, and President Sawyer doesn't disappoint. Smoothly clad in a suit and tie, he goes head to head with the presidential official who betrays him. He also successfully passes a peace treaty between countries while he's at it, so how's that for efficiency?
ADVERTISEMENT - CONTINUE READING BELOW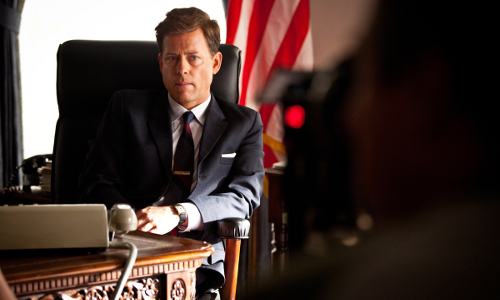 8. John F. Kennedy in The Kennedys
Portrayed by: Greg Kinnear
It's almost criminal to not include John F. Kennedy in a hot president roundup, and Greg Kinnear pulls it off. Other than bearing a striking resemblance to the real JFK, his portrayal also has the same magnetic charisma that made Kennedy a presidential favorite. His subtle performance is especially impressive, considering the overly dramatic script he was given.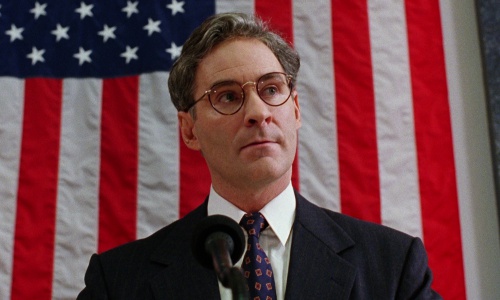 ADVERTISEMENT - CONTINUE READING BELOW
9. Dave Kovic or "Bill Mitchell" in Dave
Portrayed by: Kevin Kline
It's a president done two ways: one as a heartless and uninterested leader with a scandal just waiting to explode, and the other, an enthusiastic impersonator who takes his place as a decoy and actually does a pretty good job. Suddenly, he's a compassionate president that kisses babies, and bats for job creation and homeless shelters. We, of course, prefer the much charming latter.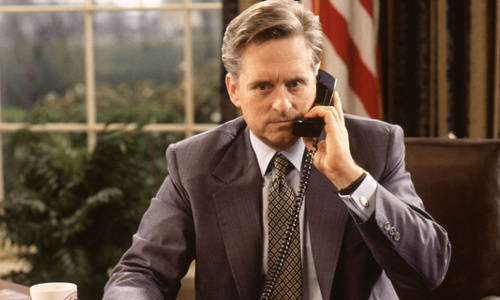 10. Andrew Shepherd in The American President
Portrayed by: Michael Douglas
Here's a rare sight (at least in the United States): an unmarried president. Andrew Shepherd is not just a popular and effective Commander in Chief, he's also a romantic as proven by his attempts to win the heart of a White House lobbyist. He is a man who understands the difference between work and play, which compromises his newfound relationship. Like his earlier efforts to woo her, his sheer determination to get her back definitely has our vote.
ADVERTISEMENT - CONTINUE READING BELOW
ALSO READ: Top 10 Hottest Cops in TV and Film
Share this story with your friends!
---
Help us make Spot.ph better!
Take the short survey
Load More Stories