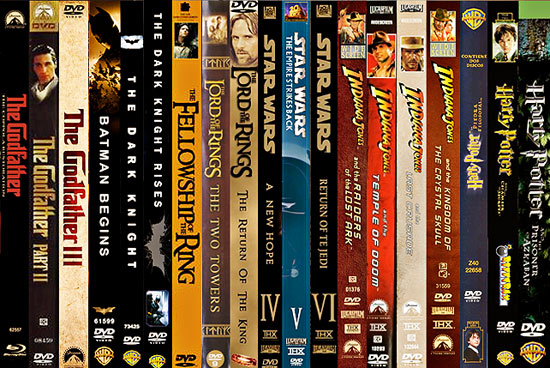 (SPOT.ph) After a long week, sometimes there's nothing better than just staying in with a good movie or two. If you have a lot of time on your hands and have nowhere else to go, start a movie marathon. We've rounded up 10 awesome film franchises, ranging from a few hours to as good as two days. Grab the gang, a lot of snacks, and go easy on the bathroom breaks.
Before Sunrise
Five hours isn't a lot of time compared to the rest of the franchises on this list, but after watching the love story of Celine and Jesse span more than nine years, you'll feel like you've watched them forever. There's no fear of disappointing sequels here; the subsequent movies are just as witty and heartfelt, with a dash of honesty and pretty European scenery. By the way, the inspiration behind this romance is very real.
ADVERTISEMENT - CONTINUE READING BELOW
Estimated time to kill: 4 hours and 50 minutes
Best for: Hopeless romantics
Final Destination
Kick off your Halloween movie marathon with a Final Destination binge. It's over seven hours of creative and bizarre ways for people to brutally die. The "villain" isn't a slasher, monster, or vengeful ghost. It's Death itself, and it really hammers in the idea that when it's your time to go, there's no escaping the inevitable.
Estimated time to kill: 7 hours and 35 minutes
Best for: Fans of gore and horror
Marathon bonus: Keep the bloody murders coming and watch the Saw franchise, which would set you back about eight hours. That's a grand total of 15 hours of watching people die horrible deaths.
The Dark Knight
Director Christopher Nolan's take on the Caped Crusader is noticeably darker and grittier, with an underlying theme of fear and chaos. It also gives us the unforgettable performance of Heath Ledger as the Joker. If you're really on a Batman kick, dial it back several years and feast your eyes on campier predecessors, like director Tim Burton's take and George Clooney's nipples.
ADVERTISEMENT - CONTINUE READING BELOW
Recommended Videos
Estimated time to kill: 7 hours and 39 minutes
Best for: Fans of Batman, Christopher Nolan, or Christian Bale's Batman voice
Indiana Jones
Indiana Jones is a solid film franchise full of action, history, and adventure. Harrison Ford plays an attractive and likeable archaelogist-slash-professor who isn't afraid to get down and dirty to find the world's most precious artifacts, including the Holy Grail. Indiana Jones and the Kingdom of the Crystal Skull is optional, but we don't recommend it.
Estimated time to kill: 8 hours and 3 minutes
Best for: Adventure-seekers and those who want to ogle over young Harrison Ford
Marathon bonus: Head to Ancient Egypt with The Mummy films which feature an equally attractive Brendan Fraser and undead Egyptian priests-at least until that terrible third movie. Grand total? 14 hours of entertaining adventures.
The Godfather
We're just going to go right ahead and say it: if you want to change the way you see movies, see The Godfather trilogy. The story follows the fictional Corleone mafia family, and the rise and fall of the youngest son, Michael. The series kicks off with a movie that is widely considered a masterpiece, followed by what is probably the best sequel of all time, then ends with a pretty good third.
ADVERTISEMENT - CONTINUE READING BELOW
Estimated time to kill: 9 hours and 30 minutes
Best for: Those looking to binge on fantastic cinema
The Lord of the Rings
...Extended edition. Really, is there any other way to marathon The Lord of the Rings?  It's an epic tale of good, evil, brotherhood, and the idea that even a hobbit can change the world. Immerse yourself in Peter Jackson's stunning take on Middle Earth, and be prepared for plenty of walking. You can also throw in two The Hobbit films for good measure.
Estimated time to kill: 11 hours and 19 minutes or 17 hours and 30 minutes, prequels included
Best for: Tolkien fans, of course
Star Wars
Talking robots, cool light sabers, Hayden Christensen, and young Harrison Ford (again). What's not to love about the Star Wars saga? George Lucas created a grand and exciting world built on complex themes like love, family, politics, philosophy and religion. Grab a bucketful of popcorn and make sure it will last; you'll be glued to your screen.
ADVERTISEMENT - CONTINUE READING BELOW
Estimated time to kill: 15 hours
Best for: Those who dream of a galaxy far, far away in the distant past
Marathon bonus: Keep the space adventures going and watch the 1979 Star Trek film onwards, which will take up another 23 hours of your time. Whew.
Harry Potter
Even if the movies are guilty of veering away from the books, devoted fans still love its big-screen adaptations. Many of us grew up with Daniel Radcliffe and the rest of the young cast, so a rewatch today would probably feel like one vast throwback. One thing is for sure: This magical franchise will always make us wish we could brandish wands and go to Hogwarts.
Estimated time to kill: 19 hours and 39 minutes
Best for: Nostalgic Potterheads
The Marvel Cinematic Universe
If binge-watching superhero movies seems daunting or less than exciting, think again. You're guaranteed variety and entertainment in this blockbuster universe. Start with Phase One, which encompasses all the films from the first Iron Man to the ensemble The Avengers. Take a quick bathroom break, refill your snacks, and get started on Phase Two, which includes Iron Man 3 and the game-changing espionage Captain America: The Winter Soldier.
ADVERTISEMENT - CONTINUE READING BELOW
Estimated time to kill: 20 hours and 45 minutes...and counting!
Best for: Marvel fanatics
James Bond
50 years of James Bond has given viewers an iconic cocktail, enviable gadgets, double entendres, and beautiful women. Whether you're watching Sean Connery, Roger Moore, or Daniel Craig, one thing is for sure: 007 is the epitome of a dashing and debonair secret spy who always gets the girl. If you just want to marathon a handful, we highly recommend Goldfinger, Skyfall, Casino Royale, and From Russia with Love. Or you can just check out Rolling Stone's ranked list.
Estimated time to kill: 2 days and 14 minutes. Make sure to pace yourself!
Best for: Only the most devoted of Bond fans
Share this story with your friends!
---
Help us make Spot.ph better!
Take the short survey
Load More Stories