10 Actors Who Should be in Magic Mike 2
We think any of these men can take Matthew McConaughey's spot on the strip club roster.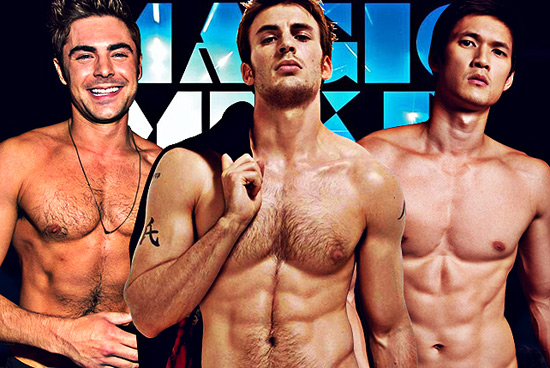 (SPOT.ph) Yes, we know that the second Magic Mike film has finally completed its cast-you'll be watching the likes of Donald Glover (also known as the rapper Childish Gambino), Amber Heard, and Elizabeth Banks alongside the original cast members. So think of this as our diverse wish list, in case they decide to add a last-minute stripper.
Tell us who you'd like to see strip on the big screen, Spotters!
This list is not ranked.
Chris Evans
Why he's Magic Mike-material: We can always rely on Chris Evans to take his clothes off or bare a reasonable amount of skin-photoshoots and perfume ads included. We're still not entirely sure of his dancing skills, but he did say he tap-danced growing up. One thing's for sure; it would be a shame if the Captain America suit didn't make a special appearance.
Harry Shum, Jr.
Why he's Magic Mike-material: He's appeared in numerous dance films, including Stomp the Yard, You Got Served, and Step Up 2: The Streets. He has also shown off his impressive moves in the project he's best known for, Glee. Plus, that body makes him a shoe-in for a role.
Zac Efron
Why he's Magic Mike-material: We already know Zac Efron can dance, if his filmography is anything to go by. Hello, High School Musical and Hairspray. His recent appearance on the MTV Movie Awards only proves that he isn't afraid to take it all off for fans. By the way, he won the award for "Best Shirtless Performance," in case you needed any more convincing.
ADVERTISEMENT - CONTINUE READING BELOW
Chris Messina
Why he's Magic Mike-material: It turns out that Chris Messina has spent his formative years as a competitive dancer. He shows off what he's learned as Danny Castellano in his TV show The Mindy Project. He sealed the Magic Mike deal when his character was revealed to be a former stripper named Diamond Dan, and he actually gives a little performance in a recent episode.
Jesse Williams
Why he's Magic Mike-material: If his name or face rings a bell, you might have seen Jesse Williams in projects like Grey's Anatomy and The Cabin in the Woods. He's also really easy on the eyes, as seen in his role as a nude model in The Sisterhood of the Traveling Pants 2. Fans even campaigned for the actor to play handsome Finnick Odair in The Hunger Games: Catching Fire. If he's game to spoof Dirty Dancing, he's probably game for a dancing scene or two.
CONTINUE READING BELOW
Recommended Videos
Ian Somerhalder
Why he's Magic Mike-material: Ian Somerhalder isn't afraid to bare his torso on The Vampire Diaries, so we're hoping he wouldn't shy away from this stripping franchise. Damon Salvatore's fate currently hangs in the balance, but eager fans wouldn't want to be deprived of some eye candy just in case he isn't slated to return to the show. He might not have all the moves, but he gets a lot of points for his body (and enthusiasm).
ADVERTISEMENT - CONTINUE READING BELOW
Sam Rockwell
Why he's Magic Mike-material: There's no denying that talent. Sam Rockwell has shown off his smooth dancing skills in a good number of his movies, including Iron Man 2, Charlie's Angels, and even the heartbreaking sci-fi Moon. We wouldn't mind throwing in Magic Mike XXL into the lengthy list. He could bring a lot of cool to the Kings of Tampa gang. Just check out his hilarious improv dance number with Jimmy Fallon.
Chris Hemsworth
Why he's Magic Mike-material: Surprise, surprise. Bet you didn't know the formidable god of thunder has some moves in him, but he does. Before wielding Mjolnir, Chris Hemsworth was a contestant on season five of Australia's Dancing with the Stars in 2006. Even if he didn't win the dancing crown, he'd probably do quite well on an entirely different stage. With a majority of his clothes off, obviously.
Robert Hoffman
Why he's Magic Mike-material: He's been in two movies with Channing Tatum so far: one for She's the Man (no dancing whatsoever here) and the other for Step Up 2: The Streets (plenty of dancing here), so what's another movie? We demand a strip dance-off!
Joseph Gordon-Levitt
Why he's Magic Mike-material: He may have spoofed the movie in a Saturday Night Live skit but we think he'd make the perfect fit in the newest installment. Channing Tatum was reportedly impressed with JGL's stripping performance, even emailing the actor twice during the skit.
ADVERTISEMENT - CONTINUE READING BELOW
Special mentions:
Marques Houston
Darren Criss
Patrick Wilson
Share this story with your friends!
---
Help us make Spot.ph better!
Take the short survey
Load More Stories