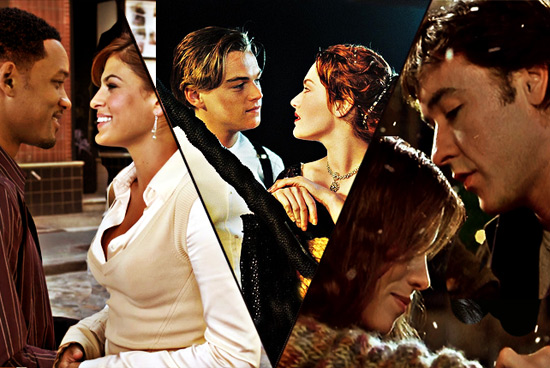 (SPOT.ph) If this is the first time you're hearing the term "meet cute," Arthur Abbott from the film The Holiday sums it up well: "It's how two characters meet in a movie. Say a man and a woman both need something to sleep in, and they both go to the same men's pajamas. The man says to the salesman, 'I just need bottoms,' and the woman says, 'I just need a top.' They look at each other and that's the meet cute."
It's not enough to just introduce yourselves. In the world of rom-coms, you must meet in a funny, creative, or even hostile way. It's all about that special moment that marks the beginning of your epic love story. We rounded up 10 memorable meet cute scenarios in movies. Share your favorites in the comments section below!
This list is not ranked.
Sam and Annie in Sleepless in Seattle
Played by: Tom Hanks and Meg Ryan
Sam and Annie meet over the airwaves, while Sam pours his heart out on a national radio show about his late wife. Annie, who happens to be listening, impulsively writes a letter to him, but decides not to send it. Her friend and co-worker, Becky, secretly sends it to Sam, effectively kicking off their love story. Later, Sam sees Annie exiting from her plane and is taken by her, although he has no idea who she is.
Bonus: In another Nora Ephron universe, Tom and Meg also star in You've Got Mail, as bookstore rivals in New York. We learn the two have already had their meet cute in a chat room, and we enter their story by listening in on their email correspondence about bouquets of newly sharpened pencils. The two meet in "real life" when Joe stops by Kathleen's shop with two adorable children in tow.
ADVERTISEMENT - CONTINUE READING BELOW
Kyun-woo and "The Girl" in My Sassy Girl
Played by: Tae-hyun Cha and Gianna Jun
"I want to meet a girl like the ones in romantic comic books," says the narrator and unlucky-in-love protagonist, Kyun-woo. Sure enough, he does. His life turns upside down when he encounters a very drunk girl on a train. She throws up on a passenger and faints, and he ends up carrying her all the way to the nearest hotel.
Dan and Alice in Closer
Played by: Jude Law and Natalie Portman
While we don't envy the tangled and complicated quadrangle relationship in Closer, the meet cute in the story packs a literal whallop. After locking eyes with Dan in a crowded London street, Alice walks directly in front of an oncoming cab-in slow motion, of course-which knocks her to the ground and at his feet.
Jack and Rose in Titanic
Played by: Leonardo DiCaprio and Kate Winslet
Sometimes, you need to throw social class into the mix. Distraught over her engagement and regimented life, Rose contemplates jumping off the ship. Jack then tries to talk her down-but she falls anyway, giving him a perfect opportunity to save her life and begin their romantic but doomed love story.
Alex and Sara in Hitch
Played by: Will Smith and Eva Mendes
Alex Hitch is a professional "date doctor" who has made a career out of creating meet cute situations for his clients. We can mention any of the creative arrangements he's done, but it's the scene where he meets his love interest, Sara, that stands out. A persistent man makes the moves on her, and Hitch smoothly saves her by pretending to be her boyfriend. They have an entertaining conversation on dating but he cuts it short, leaving her extremely interested and impressed.
ADVERTISEMENT - CONTINUE READING BELOW
Recommended Videos
Peter and Ellie in It Happened One Night
Played by: Clark Gable and Claudette Colbert
Some say that this 1934 screwball comedy is the mother of all meet cute rom-coms. Spoiled heiress Ellie runs away from her charmed life and encounters fellow bus passenger, Peter. They argue over who should get the last seat, and she ends up falling asleep on his shoulder overnight.
Jonathan and Sara in Serendipity
Played by: John Cusack and Kate Beckinsale
Jonathan and Sara's entire story is built on the concept of destiny. They meet while trying to purchase the same pair of black cashmere gloves from Bloomingdale's. They spend one night around New York together by testing how fated they really are. Spoiler: Fate really, really wants them to be together.
Skip to 2:54 for the scene
Jenko and Zook in 22 Jump Street
Played by: Channing Tatum and Wyatt Russell
If you thought meet cutes were only restricted to romantic relationships, think again. Apparently, it happens for friendships, too. Jenko and Zook bump into each other, and the former accidentally drops his Q-tip into the other's meat sandwich. We give them props for the clever reference: "[It's] like a meat Q-tip ... like a meat cute."
William and Ana in Notting Hill
Played by: Hugh Grant and Julia Roberts
In a classic meet cute scenario, William smacks into Hollywood superstar Anna as they both round a corner from opposite directions and he spills his drink all over her blouse. He then invites her to his house across the street to clean up, completely unaware of who she really is.
ADVERTISEMENT - CONTINUE READING BELOW
Henry and Lucy in 50 First Dates
Played by: Adam Sandler and Drew Barrymore
Henry and Lucy first meet in standard fashion, after hitting it off in a restaurant. When he discovers she has short-term memory loss, he uses his imagination to meet her over and over again. Every. Single. Day. It's an entire movie based on meet cute moments.
Share this story with your friends!
---
Help us make Spot.ph better!
Take the short survey
Load More Stories