(SPOT.ph) A great reveal is the key to a good mystery. For example, it was a relief to find out that Dodo Dayao did not intend his movie to be that dark (literally). It was difficult to see details during the second (or is it the third?) act, where the more straightforward narrative played out...and yet, despite technical difficulties, the audience walked away from the theater properly disturbed by what they barely saw.
Reveals, apparently, do not require shocking imagery-the kind we're steadily becoming numb to, no thanks to The Red Wedding, et cetera. A good script is made more exciting by moving images and sound...but without accessories, apparently again, it can still communicate with the audience well.
We've known that for a while, of course, but we quite enjoy being reminded that our filmmakers are capable of telling stories in a manner that could still be described as fresh. The greater mystery is why there aren't more of these movies that genuinely push for diversity. Everyone has a theory. Someone has to be right.
ADVERTISEMENT - CONTINUE READING BELOW
Dreaded words: "The number you have dialed..."
We'll stick to the mystery in Violator though. We don't want to spoil anything...so we can't tell you the story. We can, however, praise Dayao for understanding the economy of foreshadowing and obfuscation in mysteries. The first half has a hint of indulgence in it but it's hard to determine what further tightening can be done to the script (and its execution) without turning it into a more conventional short. Ultimately, the choices Dayao made worked the way we assume he intended them to.
The last arc, set in a police precinct during a pitiless downpour, involves a very local (that is, Pinoy) problem. Imagine yourself as a cop and you arrest a scrawny troublemaker-skinny enough to make you think that he must be on something to be able to land a hit on, er, tambays. Let's say he has bloodshot eyes and he's grinning at you like everything's a joke. What's to stop you from thinking that this is what the devil looks like? What if you're right?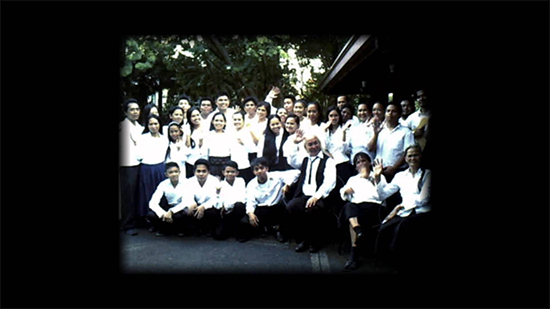 ADVERTISEMENT - CONTINUE READING BELOW
Hi
There's a certain maturity in Violator, made evident by blocking that seems odd. We don't often see the back of actors' heads and for good reason, which is that there better be a damn good reason for it. The same goes with stitching seemingly incoherent segments together. Dayao seems to know what he's doing and he doesn't leave the audience behind.
Now, when you buy a ticket for a movie called Violator, you should expect certain things. If what you're preparing for is a more traditional gore fest...you might not get what you want, but you'll still end up seeing a creepy little flick.
RATING: •••• 4  out of 5 spots
Cinema One Originals Festival 2014 runs from November 9 to 18
Share this story with your friends!
---
Help us make Spot.ph better!
Take the short survey
More Videos You Can Watch
Load More Stories