10 Reasons Why We're Excited About Exodus: Gods and Kings
A bible epic, told by an atheist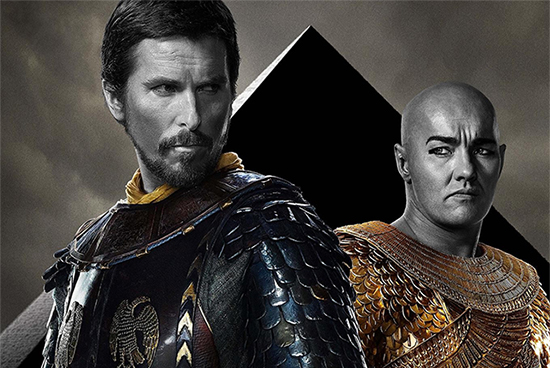 (SPOT.ph) We're familiar with the story of "The Israelite Exodus from Egypt" and we're still singing the songs from The Prince of Egypt. Of course, this not even mentioning the many, many viewings of Cecil B. DeMille's The Ten Commandments we had, back when Holy Week wasn't about going to the beach.
On December 5, we bid adieu to the classic Charlton Heston and Yul Brynner. We're not banishing it from our memories...but we have a feeling that Ridley Scott's Exodus: Gods and Kings might encourage its retirement.
After watching a special 40-minute preview, we felt as though we received a prophecy: This is a going to be a good movie. Here are 10 reasons why.
1. The Christian Bale Treatment for Moses
His interpretation of Batman...or, in particular, his Batman voice left him wide open for parodies, but let's not forget: He method-acted his way to notoriety in The Machinist and the man has an Oscar on his mantle. Oh, and he was also Jesus in Mary, Mother of Jesus. After describing Moses as a "barbaric" and "schizophrenic," we can't wait to see what he did with the character. (Yes, we can see that he is neither Egyptian nor Jewish...but remember, Matt Ranillo was Jesus.)
2. Ridley Scott
This is the man who brought us Aliens, Blade Runner, (Thelma and Louise!) Gladiator, and...uh Prometheus. That last one is a bit controversial, but hey, you can't win 'em all. Plus, you have to admit that it looked really good (and not just because of Noomi Rapace or Michael Fassbender). It was also his direction that got us through The Counselor...but for those who thought that was just too depressing, it's still time to celebrate. He's back to making epics!
ADVERTISEMENT - CONTINUE READING BELOW
3. Vaguely secular, almost scientific tone
Apparently, Ridley Scott is a self-proclaimed atheist. While it worries a few, Scott believes that this is an advantage. "I've got to convince myself the story works," he said in a New York Times interview from 2013. Scott has shifted the story away from the divine and turned it into an epic about a man who challenged the idea that people can be owned. The director also turned to history and other "scientific" basis for the parting of the Red Sea. Now, we're all for flying cars and other fantastic elements in film-but events grounded in reality are just a little bit more thrilling. (There's a reason why "Based On True Events" is Oscar bait.)
CONTINUE READING BELOW
Recommended Videos
4. Production design
When Lorde sang about royals (back when Taylor Swift didn't dominate everything), it was probably about Egypt and Ramesses' kingdom. This was more than diamond in the flesh-this was about ginormous palaces (built by slaves). One can't help but feel a mix of envy and disgust at the indulgent lifestyle of the ruling class.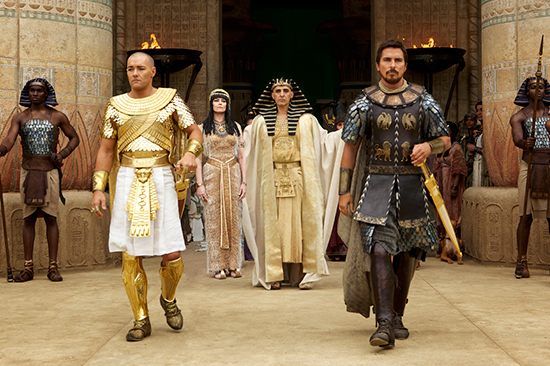 ADVERTISEMENT - CONTINUE READING BELOW
5. The bling
Gold, gold, gold! Why didn't this come out before Halloween? All the blinding accessories Ramesses (played by Joel Edgerton) wears in the film is perfect for being the shiny star of any party. We're also drawn to the intricate headdress Sigourney Weaver dons as Tuya. It must be taxing to have that on your head for hours. Maybe that's why she never had time to think much about the welfare of her, um, workers.
6. The plagues...in 3D!
As time wears the story thin, imagining how damn awful it must be to wake up with hundreds of frogs in your bedroom becomes difficult. Ridley Scott and his special effects team will show you exactly how bothersome that (and a swarm of locusts) can be. Tip: Don't scream. Keep your mouth closed at all times!
7. Who doesn't want to see a wall of water?
We're suckers for this. We don't care how many movies have done this-a chase that involves doing the seemingly impossible will always be filled with suspense.
8. God is an 11-year-old kid
Technically, He speaks through an 11-year-old kid...but same difference. Ridley Scott told The Hollywood Reporter that he chose Malak (played by Isaac Andrews) to highligh purity and innocence. The Bible is quite vague with its descriptions (by now you should know that angels didn't really have wings), so Scott isn't exactly desecrating anything yet. Now's a good time to re-read the Bible.
ADVERTISEMENT - CONTINUE READING BELOW
9. Alberto Iglesias
Iglesias has been nominated for an Academy Award thrice for his work in Tinker Tailor Soldier Spy, The Kite Runner, and The Constant Gardener, but we also love him for his work in Pedro Almodóvar's films Todo sobre mi madre, Volver, Bad Education, and Broken Embraces.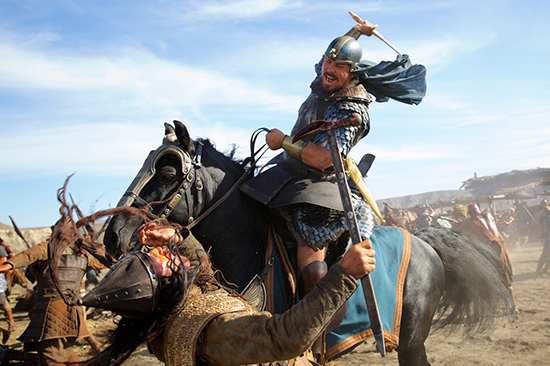 10. Freedom
What's a more timely film than one that involves a disillusioned landlord standing up against tyranny? The stories in the Good Book have been marinading in triteness for far too long. Scott's hitting the reset button and, aside from debunking the myth that atheists know nothing about theology, he's re-telling with zeal instead of zealotry.
Ridley Scott's Exodus: Gods and Kings opens in cinemas on December 5.
Share this story with your friends!
---
Help us make Spot.ph better!
Take the short survey
Load More Stories