MOVIE REVIEW: The Hunger Games: Mockingjay - Part 1
Katniss gets angry and then not angry and then angry again
(SPOT.ph) The last installments in the Hunger Games movie series, Mockingjay Parts 1 and 2, have done away with the actual games and the evils in Katniss' world are now more apparent. Picking up from Catching Fire, Alma Coin (Julianne Moore) is trying to enlist her to be a rouser-a face that can inspire people to overthrow the government. It must be said that watching a big budget Hollywood movie with enormous marketing power about a rebellion may seem a little strange, especially if you take the themes of the Hunger Games franchise seriously.
This is the third film in the series and Katniss Everdeen (Jennifer Lawrence) is as reluctant as ever. Had they picked a less likable actress for the role, the character's glacial pace of development would've been considered annoying halfway through the previous installment.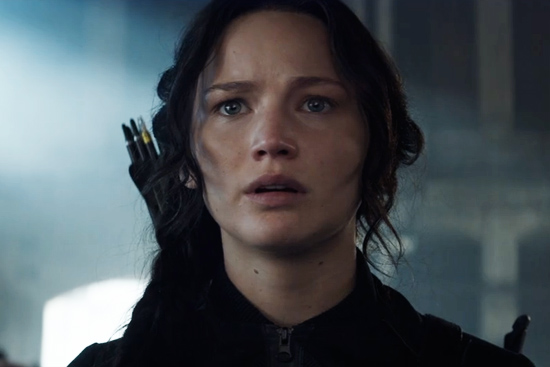 We get it, JLaw. You can act.
A bit of trepidation over starting a revolution is expected, but Katniss shifts from a disenfranchised citizen who has no respect for the people running the system to a marionette begging to have her strings pulled. In the middle of all that, she's also trying to sort out her love life. Lawrence does her best to create a coherent character out of all these parts, playing the note of a betrayed and lost soldier. Her effort is remarkable. Of course, the arrested growth in the hesitant heroine could be attributed to the splitting of one book into two movies.
ADVERTISEMENT - CONTINUE READING BELOW
But, having freed itself from the battle royale in the dome, Mockingjay Part 1 is perhaps the most interesting movie in the series yet. We get a glimpse of what the Capitol is doing to Panem-sanitized, of course-and the strange propaganda war between the oppressor and the oppressed could be bold commentary about public perception and manipulation. Katniss agrees to do, let's call them for what they are, commercials for the rebellion. Coin shamelessly uses Katniss' influence on people. One is free to compare her to President Snow (Donald Sutherland), since both sides are essentially playing the same card. One is also free to draw parallelisms between Katniss being sold as an icon and Jennifer Lawrence being the can-do-no-wrong famous person that she is.
CONTINUE READING BELOW
Recommended Videos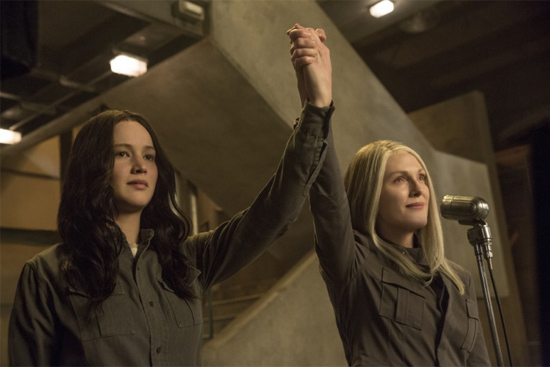 Great hair is a must during a revolution
The movies are very lucky to have such a great cast and it's hardly necessary to mention how great Elizabeth Banks and Woody Harrelson are...along with basically everyone else. Liam Hemsworth does not look like a 19-year-old but it's great that we finally get to see more of his character, Gale Hawthorne, onscreen (and with a bit of a personality, too). As for the story, the trajectory is very, very familiar and if you're looking for something new, this isn't it. Having said that, it still delivers and will no doubt entertain its target audience. It might also interest you to know that it doesn't end too abruptly. The story cuts off reasonably and leaves a very strong image before the credits start to roll.
ADVERTISEMENT - CONTINUE READING BELOW
(And it will make you miss Philip Seymour Hoffman very, very much.)
RATING: ••• 3 out of 5 spots
The Hunger Games: Mockingjay - Part 1 is currently showing in theaters.
Share this story with your friends!
---
Help us make Spot.ph better!
Take the short survey
Load More Stories