10 Sad Christmas Songs For Every Heartbroken Soul
Merry Christmas...NOT.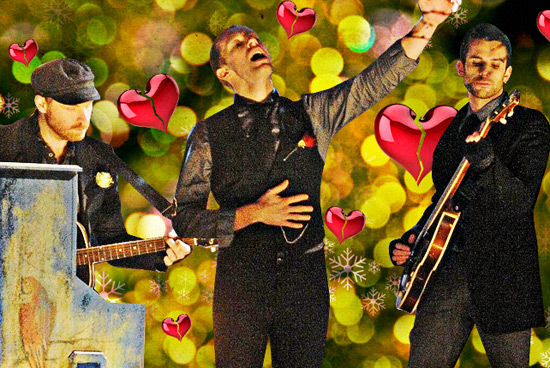 (SPOT.ph) While Christmas is a joyous time for most, for some, it can be a loud, glaring reminder of romantic failure. You may remember all the good times with your ex with every glance at a plastic Christmas tree. You may be embroiled in a bitter LQ with your partner right around the holidays-what great timing! Or maybe last Christmas, you gave someone your heart, but the very next day, they gave it away. Whatever your situation is, jingle bells and sleigh rides are the last things you want to hear about this season.
ADVERTISEMENT - CONTINUE READING BELOW
Here, we round up 10 songs for every type of hurting heart to go emo to over the holidays. Hit play on the song that speaks to your feels, stare out the window at the non-existent snow, and lament the love that was lost or never was. Bah, humbug.
Also read:
Breakup Songs: 10 Tracks for Situation "Ex"
10 Tagalog Christmas Songs That are Probably Already Stuck in Your Head
10 Happy Songs to Brighten Any Mood
For the repentant lover: "Christmas Lights" by Coldplay
Heartbreaking lyric: "Those Christmas lights light up the street / Maybe they'll bring her back to me / Then all my troubles will be gone / Oh Christmas lights, keep shining on"
Why it's sad: Coldplay's Chris Martin sings of a fight that takes place right on Christmas night and the solo reflection that ensues, made even more meaningful in the company of the street's Christmas lights. Hey, it's one way to pass the time while waiting for your honey to speak to you again.
ADVERTISEMENT - CONTINUE READING BELOW
For the one who's ready to say sorry: "Pasko na Sinta Ko" by Gary Valenciano
Heartbreaking lyric: "Kung mawawala ka sa piling ko sinta / Paano ang Paskong alay ko sa'yo"
Why it's sad: The tender pleading in this Christmas OPM classic is the perfect theme song for the lover trying to bring his baby back across the gaping abyss of a major fight. If only all boyfriends had Gary V's silky croon, couples would make up faster than you can say "I'm sorry."
For the recently dumped: "Christmas Won't Be the Same without You" by Martin Nievera
Heartbreaking lyric: "Christmas won't be the same without you / Christmas won't be the same if you go"
Why it's sad: When efforts to make your partner stay have failed, screw subtlety. Martin's booming, groveling romantic plea leaves pride at the door to let a lost love know how Christmas, indeed, would suck without her standing by his Christmas tree.
ADVERTISEMENT - CONTINUE READING BELOW
For the one who's still hopeful: "Sana Ngayong Pasko" by Ariel Rivera
Heartbreaking lyric: "At kahit wala ka na / Nangangarap at umaasa pa rin ako / Muling makita ka / At makasama ka / Sa araw ng Pasko"
Why it's sad: Few things are sadder than a spurned lover who still foolishly holds on hope that his old flame would return. The setting of such a tale during Christmastime, when wishes are often made but not always granted, makes it even more heartbreaking.
For the one who's in a bittersweet LDR: "Merry Christmas Darling" by The Carpenters
Heartbreaking lyric: "I've just one wish / On this Christmas Eve / I wish I were with you"
Why it's sad: Even as the singer tries to sound gleeful despite the distance, the nagging loneliness that people in an LDR know all too well cannot be concealed. Still, leave it to Karen Carpenter to make long-distance longing sound so luscious, we almost wish we were in an LDR, too.
ADVERTISEMENT - CONTINUE READING BELOW
For the one in a bitter LDR: "Please Come Home for Christmas" by Charles Brown
Heartbreaking lyric: "Then won't you tell me you'll never more roam? / Christmas and New Year will find you home / There'll be no more sorrow, no grief and pain / 'Cause I'll be happy, happy once again"
Why it's sad: Compared to the Carpenters single, there is no graceful acceptance of separation in this Charles Brown original later covered by the Eagles and Bon Jovi. In fact, there's some whining, a bit of brooding, and a hell of a lot of pleading-all perfectly understandable reactions when all you want to do is see baby come home for the holidays.
For the seasonal sulker: "Miss Kita Kung Christmas" by Susan Fuentes
Heartbreaking lyric: "Pasko'y sasapit / Di ko mapigilang mangulila / Hirap niyan,mayroon ka nang iba"
ADVERTISEMENT - CONTINUE READING BELOW
Why it's sad: It's quite normal for feelings for an old flame to resurface, more so during Christmastime when you're surrounded by couples celebrating their blessed union with expensive presents and kisses shared in plain view of the public. (Those pesky kids.)
For the seasonal sulker who's a Swiftie: "Christmases When You Were Mine" by Taylor Swift
Heartbreaking lyric: "I know this shouldn't be a lonely time / But there were Christmases when I didn't wonder how you are tonight / Cause there were Christmases when you were mine"
Why it's sad: Because there's a Taylor Swift track for every manifestation of romantic dissatisfaction, of course there's one that's apt for the season. This song vividly soundtracks the loneliness of the first Christmas away from a lover after many spent in his arms.
ADVERTISEMENT - CONTINUE READING BELOW
For the one with the unrequited crush: "Xmas Lights" by Ang Bandang Shirley
Heartbreaking lyric: "Sana'y ikaw nalang /Itong regalong bubuksan"
Why it's sad: What is it about Christmas lights that triggers all these romantic longings?This local indie track speaks of desiring someone out of reach, while wrapping the sentiment in an upbeat, amiable melody that suggests that maybe the singer has learned to live with the one-sidedness of his or her affections.
For the just plain depressed: "Blue Christmas" by Elvis Presley
Heartbreaking lyric: "You'll be doin' all right with your Christmas of white / But I'll have a blue, blue, blue, blue Christmas"
Why it's sad: There's no mistaking what this Elvis tune is trying to say: You're not here, so I am blue, blue, blue, blue.
Also read:
Breakup Songs: 10 Tracks for Situation "Ex"
10 Tagalog Christmas Songs That are Probably Already Stuck in Your Head
10 Happy Songs to Brighten Any Mood
ADVERTISEMENT - CONTINUE READING BELOW
Recommended Videos
Load More Stories