10 TV Series You Can Marathon this Long Weekend
Addictive TV shows that will keep you going throughout the long weekend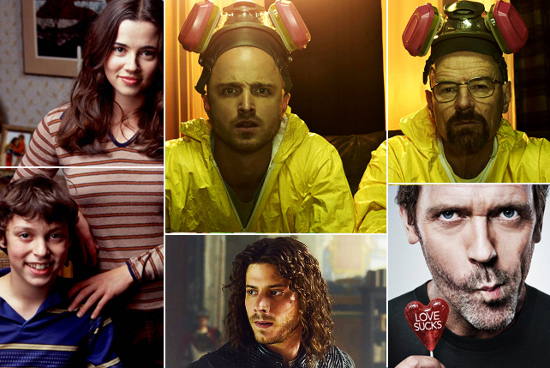 (SPOT.ph) The much-awaited long weekend is finally upon us, and if you're looking to avoid the inevitable crowd, there's no better time to stay in and have a marathon. Here's a list of completed series, that way you can skip anxiously waiting for the next season and just finish the show until the very end. Not only are they guaranteed to get you hooked, they're all critically acclaimed, too. Win-win.
Grab your snacks and get ready to sit in front of your screen for hours. (Days, even. Don't say we didn't warn you.)
Also read:
10 Snacks That are Perfect for Movie Marathons
10 Great Movies to Marathon Over the Long Weekend
The Pacific
From director Steven Spielberg and Tom Hanks comes a gripping and heartwrenching tale of the United States Marine Corps stationed in the Pacific during World War II. The story is based on the memoirs of two Marines in the story, namely Eugene Sledge (Joseph Mazzello) and Robert Leckie (James Badge Dale).
Estimated time to kill: 9 hours
Best for: Fans of war series
Marathon bonus: You just can't have one without the other, so check out HBO's Band of Brothers, which would set you back another 11 hours and 45 minutes.
Firefly
Created by director Joss Whedon, the series is set in the year 2517 after a civil war, and follows the epic adventures of the renegade Serenity crew. Despite having only 14 episodes, you'll find yourself rooting for and relating to the nine compelling characters aboard the spaceship. The series is topbilled by Nathan Fillion, Gina Torres, and Morena Baccarin.
ADVERTISEMENT - CONTINUE READING BELOW
Estimated time to kill: 10 hours and 15 minutes
Best for: Sci-fans who also happen to be Whedon fans
Freaks and Geeks
Nothing quite captures the woes of adolescence like cult favorite Freaks and Geeks, a TV series that was sadly gone too soon. The show revolves around the lives of Lindsay Weir (Linda Cardellini) and her younger brother Sam (John Francis Daley) as they try to navigate high school. You'll also see some very familiar faces in this show, including James Franco, Seth Rogen, Jason Segel, and Busy Philipps.
Estimated time to kill: 13 hours and 12 minutes
CONTINUE READING BELOW
Recommended Videos
Best for: Comedy and teen show enthusiasts
The Borgias
For a dose of historical politics, look no further than Showtime's The Borgias, which chronicles the Borgia family who rose to power in Renaissance-era Italy.  The show stars Jeremy Irons as the Borgia patriarch Pope Alexander VI, with François Arnaud as Cesare and Holliday Grainger as Lucrezia. If the thought of bribery and scheming doesn't win you over, the story of the Borgias has inspired works such as Machiavelli's The Prince and even Mario Puzo's The Godfather.
Estimated time to kill: One day
Best for: History buffs and fans of period pieces
Marathon bonus: For a more accurate retelling of historical events, go for the French-German-Czech-Italian version Borgia. Or you can dial it back a couple of decades and try HBO's miniseries, Rome.
Arrested Development
If you've ever felt bad about how dysfunctional your family is, console yourself with Arrested Development, which takes funny dysfunction to another level. The series follows the fictional and formerly wealthy Bluth family, and Michael (Jason Bateman) is the poor soul who tries to keep them together.
ADVERTISEMENT - CONTINUE READING BELOW
Estimated time to kill: One day and 10 hours
Best for: Comedy fans
Friday Night Lights
Critics have long hailed Friday Night Lights as "underrated," garnering critical acclaim but still suffering from less-than-stellar ratings. Still, the show managed to maintain a pretty solid run until the very end. Coach Eric Taylor (Kyle Chandler) leads the high school football team, made up of characters that each have their own personal and relatable story to tell. Fair warning: Prepare a box of tissues.
Estimated time to kill: Two days
Best for: Teen drama aficionados. Or if you just really like football.
Breaking Bad
If there's one thing we're sure of, it's that Breaking Bad is addicting (and it's not just the blue meth). The transformation of Walter White (Bryan Cranston) from mild-mannered chemistry teacher to ruthless drug kingpin Heisenberg makes for really, really good TV. Here's more reason to get started: According to a TIME article, it's also the most binge-watched show of all time. Get ready to be glued to your seat.
Estimated time to kill: Two and 1/2 days
Best for: Anyone looking to binge on quality TV
Lost
Take a group of seemingly random people from all walks of life, then put them on a plane that crashes on a remote island where strange and mysterious events happen. You now have the intriguing premise of J.J. Abrams, Damon Lindeloff, and Jeffrey Lieber's Lost. Its quality toward the latter seasons might be debatable, but the puzzling mystery of the island and the characters' individual stories will likely keep you going.
ADVERTISEMENT - CONTINUE READING BELOW
Estimated time to kill: Three days...unless you decide to quit after the third or fourth season. Hang in there!
Best for: Mystery fans who like seeing attractive (and unwashed) people
The Sopranos
Many have dubbed this crime and family drama one of the greatest and most groundbreaking series of all time, so it would be a shame to miss out on the compelling story of Italian-American mobster Tony Soprano (James Gandolfini). Viewers will watch him balance his complicated home life and the difficulties of running a criminal empire.
Estimated time to kill: Four days and 30 minutes
Best for: Folks who love gangster stories
House M.D.
Think of this show as Sherlock Holmes in a medical setting. Dr. Gregory House (Hugh Laurie) is an acerbic and painkiller-dependent medical genius who leads a team of diagnostic doctors in a fictional hospital. Its consistency might be up for debate, but if there's anything that will get you through eight seasons, it's the really cool medical cases.
Estimated time to kill: Five days
Best for: Fans of medical dramas
Also read:
10 Snacks That are Perfect for Movie Marathons
10 Great Movies to Marathon Over the Long Weekend
Share this story with your friends!
---
Help us make Spot.ph better!
Take the short survey
Load More Stories