MOVIE REVIEW: Into the Woods
A wild first act is tamed by a lukewarm second.
(SPOT.ph) Disney's latest venture into dismantling tropes they created requires a second viewing. There's a lot to digest in this journey that starts with wishes in the form of a sweeping 14-minute character introduction. The tone is set quickly and, with so much to go through, there isn't much time to dillydally with anything and the audience needs a bit of stamina to keep up with everything. Pretty much like a trek in the forest, or you know, Into the Woods.
The production is lush and the costumes-including that of the Baker's Wife (Emily Blunt)-aid in helping this make-believe, fantastical world feel real. Should we even mention that the songs are bewitching?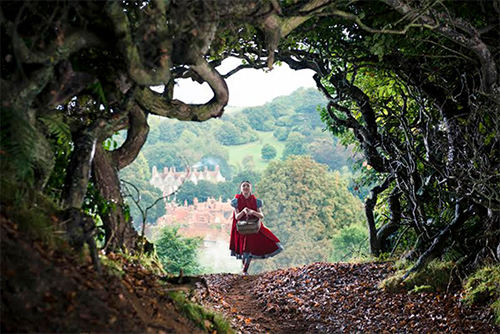 Despite the piercing register of Lilla Crawford's singing voice as Little Red Riding Hood, "I Know Things Now" manages to preserve the character's initial innocence even as she matures after her encounter with The Wolf (Johnny Depp). "Nice is different from good," sings Little Red Riding Hood.
ADVERTISEMENT - CONTINUE READING BELOW
The Wolf preying on the little girl, for example, is one of the nice parts of the film. Perhaps because it's a manageable dose of Depp and his low key (with a wisp of raspiness). The pedophilic overtone of the whole number is a testament to director Rob Marshall's respect for the material. This is not the time to hide the truth about fairy tales, which were written to reflect reality anyway.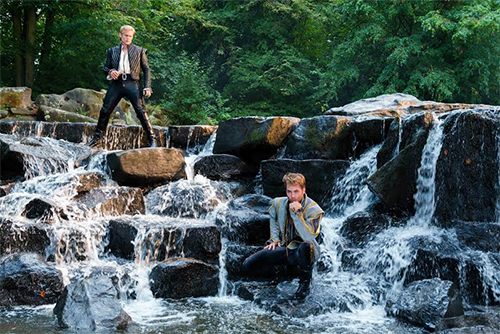 CONTINUE READING BELOW
Recommended Videos
Chris Pine's best Kirk impression is not in a Star Trek movie
On the other hand, Chris Pine and Billy Magnussen's rendition of "Agony" is good-so good that it might actually make you cheer and clap. It's not quite a parody of royalty, but they do exaggerate the dashing-ness enough to illustrate how ridiculous Prince Charming could be if he existed. We kind of wanted Prince Edward (from Enchanted) to join the sketch.
There are deviations (big ones) from the Stephen Sondheim and James Lapine musical. It's still Disney after all and the movie fumbles in the second act just slightly. The characters were a little too charming in the first half that the complexity of their personalities doesn't float later on-except for a frumpy looking Blunt as the Baker's Wife. She's admirable for wanting to help her husband and have him treat her as someone able, but her willingness to trick other people in pursuit of her own happiness is, conventionally, a bit distasteful. Swooning in the presence of a prince makes her decidedly mortal.
ADVERTISEMENT - CONTINUE READING BELOW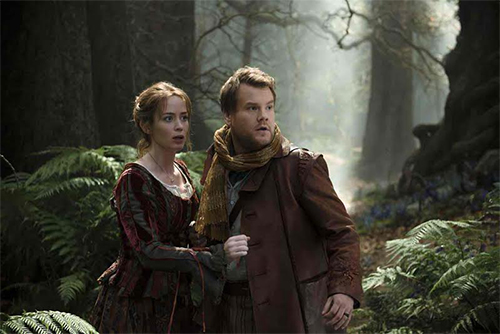 Blunt's onscreen husband, James Corden, is a quite revalation as an actor, stretching the archetype of a reluctant hero enough for us to see the parts that make the whole.
While the first act is clever, the second feels clumsy. Not in terms of style, but it just didn't go into the thick of things far enough. "No One is Alone" felt misplaced and we learned that in the original, there's bit more tension before they (in a spoiler-less way of putting it) resolve the issue of the earthquake. Little Red Riding Hood's dilemma over the morally ambivalent act was understated in the restructured adaption.
But it's still Lapine behind the screenplay, so we're not going to complain or question the motives. After all, the movie is still nice and as the closing song goes, "Careful things you say, children will listen." Maybe he just wanted to be extra cautious.
ADVERTISEMENT - CONTINUE READING BELOW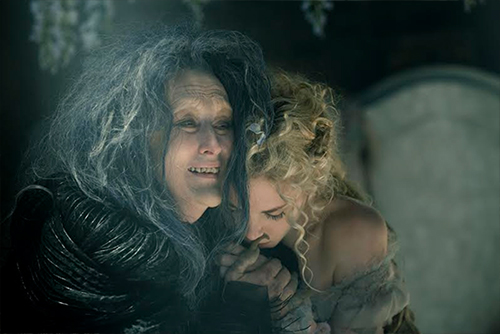 The hug-your-momma scene. Did they mean for her to be terrifying? We thought she was charming, if a bit vain.
Yes, Meryl Streep was good in this movie. Yes, she nearly made us cry with "Stay With Me" in a way that the Sam Smith hit single couldn't. Her entrance was explosive and so was her exit. The Streep is strong in this one.
RATING: ••• 3  out of 5 spots
Into the Woods opens in cinemas on January 28. Photos courtesy of Walt Disney Studios.
Share this story with your friends!
---
Help us make Spot.ph better!
Take the short survey
Load More Stories