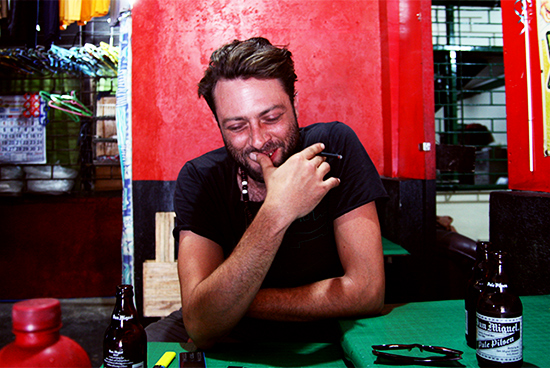 (SPOT.ph) It's Monday, two days before Art Fair Philippines 2015, and Kawayan De Guia is just about to set up at The Link. Finishing touches are being added to his installation piece and we caught up with him while he was taking a break, in a karinderia across a studio in Cubao.
De Guia is the son-the tallest one-of legendary filmmaker Kidlat Tahimik (Eric De Guia) and we're going to refer to him as Kawayan. Why pass up the chance to appreciate such an indigenous name on a blue-eyed man with a full beard? We were waiting for him to groan at that old, long-dead jest but he was probably too tired to defend himself against it. How many times has he heard that, we wonder. Probably about as frequent as the word "resilient" is used in any article concerning him.
He's been around, but let's start with his first Ateneo Art Award in 2008 for Incubator and the succeeding recognition he got from the board from 2010 to 2012. In Incubator, Kawayan created portraits of several art icons like BenCab and, of course, his father by way of other icons. The world is all about symbols anyway (according to Saussure at least). This was followed by Katas ng Pilipinas: God Knows Hudas Not Play (a jeepney-jukebox installation exhibited at The Drawing Room), Bomba (the award-winning piece that became a part of Art Fair Philippines 2014), and A Lot of Sound and Fury Signifying Nothing (a large horse in mid-gallop among celluloid).
ADVERTISEMENT - CONTINUE READING BELOW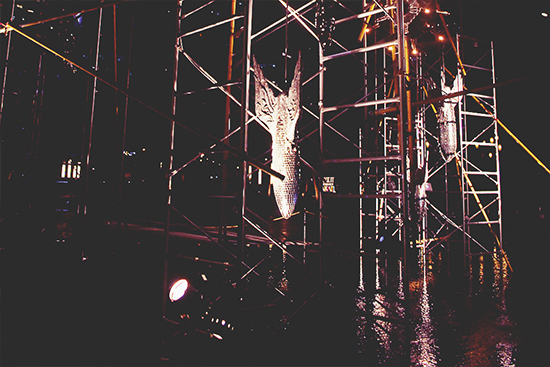 Bomba from Art Fair Philippines 2014. Photo by Goks
Mixed-media alone is already eclectic, but how does one jump from jeepneys to missiles to a horse? Where do these ideas come from?
"I use a lot of found objects-things that are there, things that already exist. In this case, it's Liberty. The sculpture itself was existing, and so I guess that's how I work. You bump into something and then you kind of contemplate on that idea. It started a year ago, when I bumped into a friend during the Art Fair last year. He made a 30-foot replica of Liberty. I said no-fucking-way," Kawayan drawled in between puffs and sips, competing with the sound from a flatscreen TV in the little store. He made no secret of his disdain for the blaring rectangular, erm, abomination.
He's not a big fan of the technology and the country that benefits from it the most (America, FYI). To be clear, he's not anti-American. He doesn't believe in being anti-anything, "I just want to be human. I don't want to be anti-this, anti-that. If you're human, you will see it, you will feel it. You will know what is best, 'di ba? I don't want to be bitter about it. It's a crazy world. It's a colorful world. It's a beautiful world. Yes it's bad, but how do you look at it?"
According to him, we're living in "dark ages" and for the most part, we're all looking for liberty.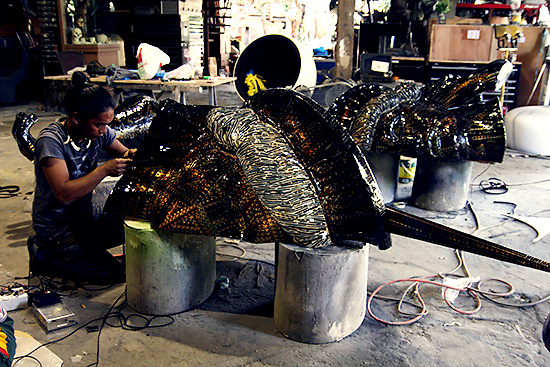 "Liberty is just an idea, but everyone's fighting for that idea. Even ISIS is probably fighting for something like that, in a sick way. Everyone is fighting for that idea, but do we see the idea really manifest? Do you really see it?" he explained, "How does the idea manifest? Maybe that's what I went through in the process of creating this thing."
This "thing" is a version of the Liberty sculpture he put up in a palengke in Baguio under the Markets of Resistance project. The icon of icons (as Kawayan himself put it) towered over the palengke where they rented four booths and bartered art for goods-a little art fair on their own, but one that questions the art market. After all, he believes that art is something to reflect on and, simultaneously, a projection of the times as well.
ADVERTISEMENT - CONTINUE READING BELOW
The original sculpture that helped him stumble upon an idea is probably in a resort somewhere, but the mold (a figurative one) stayed with Kawayan. "I was thinking, you know, all you have to do is just change the material and you're going to be projecting a completely different tone to whatever that is...like building one out of chichacorn or whatever."
"Context is everything. It's the material and the image. It's the work and where you put the work and how you put the work. That says a lot. It has a lot of meaning. That's very important for me. I play with that a lot," he explained.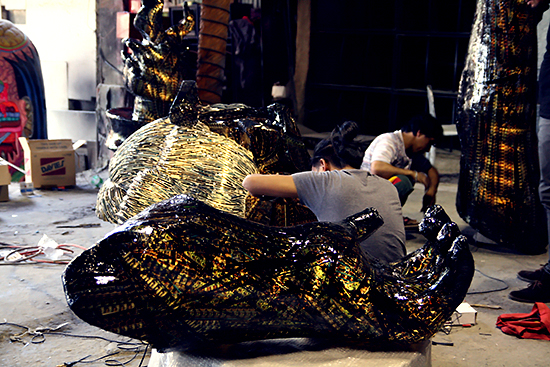 And what of Lady Liberty for Art Fair Philippines 2015? She's going to be holding her torch, shining her light intermittently behind a layer of celluloid. Devoid of the sporadic flickering, she's a statue of darkness.
"It's an illustration of how black things can get and how colorful things can get. Maybe sometimes we can really be in a cynical state of just black, whatever black means to you. But it can also be bright and colorful. I think that's what it also attempts to project."
Her ladyship is enveloped in hundreds, maybe thousands of images that invite a closer look. While leaning in to inspect it, it is hoped that you feel something.
"The role of art is really to spark something. The Art Fair is about popular, what sells, and that other side of art. But ideally, even the collectors feel something. Because why do people buy it? Selling shouldn't be the core of the 'why' of the art. It should speak to you in some way. If not, then why fucking bother?"
Art Fair Philippines runs from February 5 to 8, 10 a.m. to 9 p.m., at 6/F and 7/F of The Link, Parkway Drive, Ayala Center, Makati City.
Share this story with your friends!
---
Help us make Spot.ph better!
Take the short survey
More Videos You Can Watch
Load More Stories