10 Fresh Tunes to Listen to This February
Get a load of Charli XCX, Rita Ora, Frank Ocean, Sandwich, and more!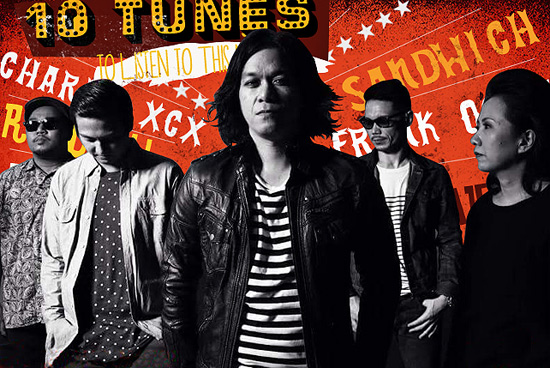 (SPOT.ph) We're starting things right this February with a fresh set of songs. Check out Charli XCX and Rita Ora's fun collab, Frank Ocean's moving Isley Brothers cover, The Decemberists comeback track, Courtney Barnett's kick-ass new single, and Boxed In's electro offering. We also bring you loop-worthy tunes by Sandwich, Hale (yes, they are back), Jensen and The Flips, The Charmes, and Niki Colet. Happy listening!
Song: "Doing It"
Artist: Charli XCX feat. Rita Ora
Rita Ora is Charli XCX's partner in crime in this single. "Doing It" is a house party ditty made for mayhem-filled drunken nights. It's not too upbeat and outrageous, but it's catchy enough to make you actually groove to the music.
Fun fact: "Doing It" is off Charli XCX's new album, Sucker.
Song: "Kagulo"
Artist: Sandwich
Sandwich will never ever let us down. We can always count on them to bring quality, relevant, and exciting Filipino music. "Kagulo," off Sandwich's upcoming album, Debris, is a wild and crazy punk rock track with killer riffs.
Fun fact: Quark Henares directed the music video.
Song: "(At Your Best) You Are Love"
Artist: Frank Ocean
Frank Ocean's Tumblr release of an Isley Brothers' original (also covered by Aaliyah in 1994) gave everyone all the feels. Ocean's version is a soulful, vocal-driven one that hits the spot as early as the first line.
ADVERTISEMENT - CONTINUE READING BELOW
Fun fact: Ocean released this cover on what would have been Aaliyah's 36th birthday as a tribute to the late artist.
Song: "See You"
Artist: Hale
Remember Hale? They're making a comeback, and they're kicking it off with "See You." The single follows the band's trusted melancholic rock formula, plus more development throughout the song that takes you through its highs and lows.
Fun fact: Hale will be co-headlining the Wanderland Music and Arts Festival this year along with Kid Cudi.
Song: "A Beginning Song"
Artist: The Decemberists
The Decemberists are back with a new album, What a Terrible World, What a Beautiful World. "A Beginning Song" is actually the closing number in the album, and it showcases Colin Meloy's endearing vocals. The singer-songwriter still sounds as sincere as he did before the band's hiatus.
Fun fact: What a Terrible World, What a Beautiful World is the band's seventh studio album, which was released last January 20.
Song: "Is This Love"
Artist: Jensen and The Flips
The band's second single is a smooth R&B gem. Listening to this track, with its subdued vocals and a pretty sexy electronic arrangement, feels almost intimate and clandestine.
Fun fact: Electronic producer Rez Toledo produced "Is This Love."
ADVERTISEMENT - CONTINUE READING BELOW
Song: "Pedestrian at Best"
Artist: Courtney Barnett
Aussie singer and songwriter Courtney Barnett released the lead single off her forthcoming debut album. "Pedestrian at Best" is a kick-ass, guitar-led track featuring Barnett's signature deadpan singing and dry humor.
Fun fact: Barnett's debut album will be called Sometimes I Sit and Think, and Sometimes I Just Sit. It will be released March 20.
Song: "Thunderclap"
Artist: The Charmes
Terno band The Charmes' "Thunderclap" comes with an addicting arrangement featuring irresistible bass, screaming guitars, subtle synths, and clear vocals. It's a maturity we are definitely happy to hear from the band.
Fun fact: Ean Mayor of Up Dharma Down produced "Thunderclap."
Song: "Mystery"
Artist: Boxed In
We can't get enough of the piano in this electro track by Boxed In aka Oli Bayston. "Mystery" is a refreshing mix of synths and piano with an overall lo-fi quality.
Fun fact: Among Boxed In's influences are Thom Yorke, Luke Vibert, and Matthew Dear.
Song: "Swoon"
Artist: Niki Colet
We have a new favorite, and her name is Niki Colet. The young singer-songwriter can make you swoon with her latest single filled with sunny melodies, sweet vocals, and clicks and taps here and there. Her sound might remind you of Regina Spektor, but this is a song she has totally owned.
Fun fact: Among her other influences are Joni Mitchell and the Velvet Underground.
Load More Stories