10 Moments When Movie Christian Grey Was Actually Awesome
Or, 10 Reasons You'll Fall Even More In Love With Christian Grey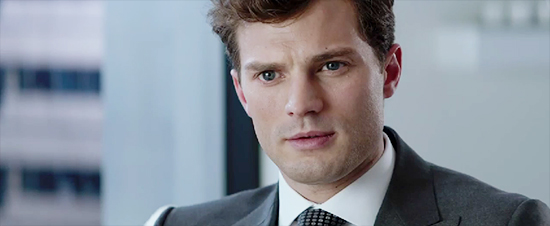 (SPOT.ph) From the pages of a smutty, problematic, and, well, rather popular book, director Sam Taylor-Johnson gives you Jamie Dornan as Christian Grey...champion of consent and man with a fetish who is sad because the girl he loves is a judge-y judger? Whoa, whoa, wait? What did we just watch?
ADVERTISEMENT - CONTINUE READING BELOW
CONTINUE READING BELOW
Recommended Videos
Ah yes, we did it. We watched Filthy...erm, Fifty Shades of Grey so you don't have to (unless you want to)...and were pretty surprised. We expected cringe-worthy portrayal of BDSM that can easily be mistaken for domestic violence or coercion. We were expecting more sex. We got neither. There were a couple of artful "love" scenes (Christian! You said you don't do that!) and more of Dakota Johnson's boobs than we know what to do with...but where is the hardcore spanking, slapping, flogging, whipping, and the rest of the unmentionables that EL James fed the frustrated women of the world?
It's like Sam Taylor-Johnson logged on to forums, read all the sane critiques of the book...and directed the film to make sure that everyone doesn't prance gleefully to the nearest hardware store for an undisclosed amount of rope and whatnot...which we thought was pretty cool.
ADVERTISEMENT - CONTINUE READING BELOW
You might actually want to date this rich and handsome fetishist. Here's why (spoilers ahead):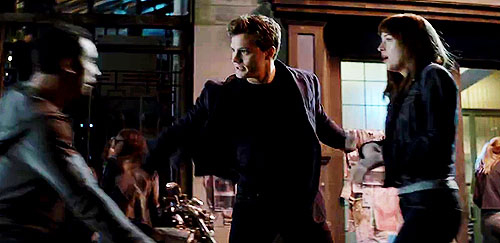 1. Shoved a guy (Jose) away from a girl (Anastasia Steele or Ana) who was saying no to being kissed.
Mr. Grey's first winning moment? Yelling out, "Dude, she said no!" Because "no" means "no" and you're going to want a man who knows that.
ADVERTISEMENT - CONTINUE READING BELOW
2. Comparing sex with a really drunk person with necrophilia.
If being called a rapist doesn't put you off, you need counseling...and you also need to hear Mr. Grey essentially calling you out on your necrophilia. When Ana worriedly asks if they had sex while she was heavily intoxicated (passed out, really), Mr. Grey coolly replies, "Necrophilia is not my thing." Warms our hearts to see a hot guy calling drugged or drunk rape something even more unacceptable to society.
3. Subtly advocating sober sex.
A little sip is forgivable, but aw, look guys! A man who just doesn't want to touch a drunk girl. It's almost like seeing a unicorn. We heard from a little birdie that inebriated sex is the worst anyway (the risk of vomiting is always, always there) and aside from erection problems (there, we said it), why wouldn't you want to remember a typically pleasurable activity? Sober sex all the way.
ADVERTISEMENT - CONTINUE READING BELOW
4. The Contract: Consensual and Negotiable.
Wouldn't it be great if every relationship actually had this? There's a checklist of things you agree to do with your partner plus a list of soft and hard limits. And if you're negotiating with a Christian Grey, he will actually find your perusal of his document admirable and accept your terms if you do it with confidence springing from research. (Additional awesomeness: Mr. Grey will give you a laptop and encourage you to research, because he wants you to understand. Swoon.)
5. Brings own condoms, pays for the pills.
Sexiest scene in the film? Definitely Christian Grey ripping a condom sachet open. There, we don't have to worry about syphilis anymore! He also doesn't want you to worry about unwanted pregnancy, so he'll pay for the birth control pills and he sends you to a doctor to get it. Controlling? Maybe....and maybe he just really wants to make sure everyone is safe and having fun without saddling the woman with the entire burden of waiting for a negative on a pee stick. Smooth move, Mr. Grey.
ADVERTISEMENT - CONTINUE READING BELOW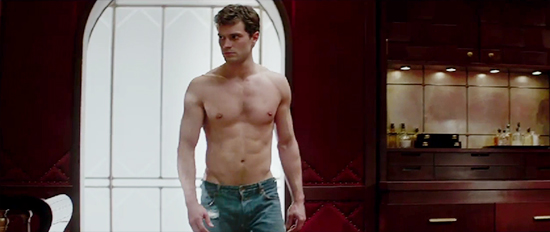 6. "We're going to have to be honest with each other for this to work."
Applies to any and all situations. Oh, Mr. Grey. You make us blush with all this awesomeness, especially with your honesty about what you do. Immediately showing Ana the play room? Making sure there's a helicopter waiting outside so she can run the hell away if she doesn't want to, er, partake? Telling her that you can't give her romance, but also asserting yourself enough to convey the feeling that you're not ashamed of your preferences? Where were you in the books? Who is this awesomeness with abs?
ADVERTISEMENT - CONTINUE READING BELOW
7. Correctly using the term "Dominant" and differentiating it from "Sadist"
We're fanning the steam away, because things are getting seriously sexy now that he's talking semantics. Maybe the audience can't tell the difference...which makes it even sexier that Mr. Grey explained to Ana that he thrives in control and enjoys a reward/punishment system, not pain. He even feels bad when he realizes that Ana doesn't get any pleasure from the play. Aw. There, there.
8. Sense of humor? You got it!
An entire theater, laughing at Mr. Grey saying, "Laters, babe." What a cutie.
9. Always making sure that Ana is consenting and comfortable.
Movie Ana is hesitant to an annoying fault, but Mr. Grey has an adequate amount of patience. Sure, he showed up with a bottle of wine from out of nowhere and had his way with her...but he's always checking if she's okay with the...stuff. He feeds off her eagerness and is visibly crushed by her being put off by the whole set up. The man has feelings. (Also a brain that he seems to like using. Isn't that sexy enough?)
ADVERTISEMENT - CONTINUE READING BELOW
10. He knows how to braid hair.
That's awesome.
Are you sure you want to delete this list?

Load More Stories