LOVE, FINALLY: A timeline of Chiz and Heart's Manila reception
A fun, firsthand account of the much-awaited Manila reception of newlyweds Senator Chiz Escudero and Heart Evangelista, straight from someone who was on the guest list!
(SPOT.ph) Thanks to the ongoing trend of destination rites and city receptions, the storied love affair of Senator Chiz Escudero and actress Heart Evangelista trended anew in social media and our daily chica this week. There was no drama here-sad tears or surprise appearances, among others. All the couple wanted was to enjoy the company of family and friends-a crisscross of politics, business, showbiz, and society-and they got exactly that. Oh, and the bride's Monique Lhuillier deserved its oohs and ahhs.
6:30 p.m.: The driveway of Blue Leaf Filipinas is bustling with activity, with limos dropping off VIPs by the minute. Security-both uniformed and the blend-in kind-are manning virtually every square foot of the entrance. Just a few steps from the door is a reception area where names are checked and table numbers are given out.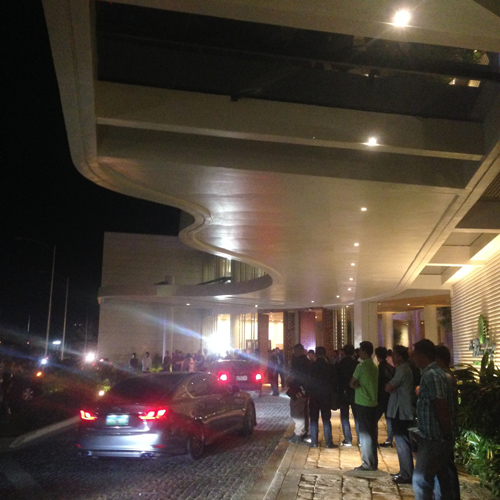 6:35 p.m.: Guests are treated to appetizers, a carving station featuring roasted calf, and a cocktail bar at the venue's lawn. Patio furniture and cocktail tables are all decked out in white and accentuated by ornate lighting fixtures. A quintet, meanwhile, plays in the background. Posh!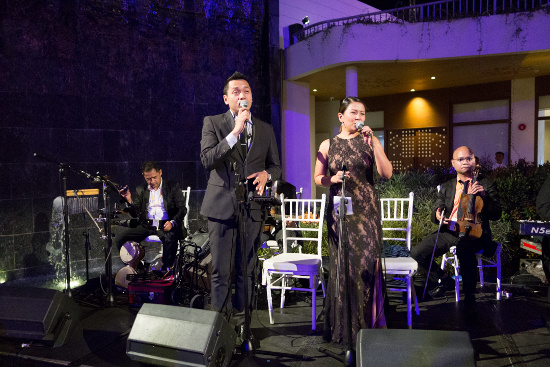 Photo by Alfred Mendoza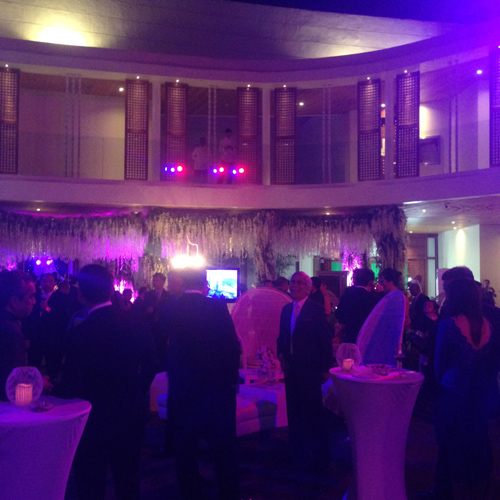 6:40 p.m.: Talk about continuity! The white wisteria and crystal balls from the couple's Balesin wedding-designed by event stylist Badang Rueda-are in the walkway leading to the main reception hall. Near the door, a beach-print photo wall stands for the guests' perusal, like a wish-you-were-there-too for those who didn't make it to the Balesin wedding's 150-tight guest list.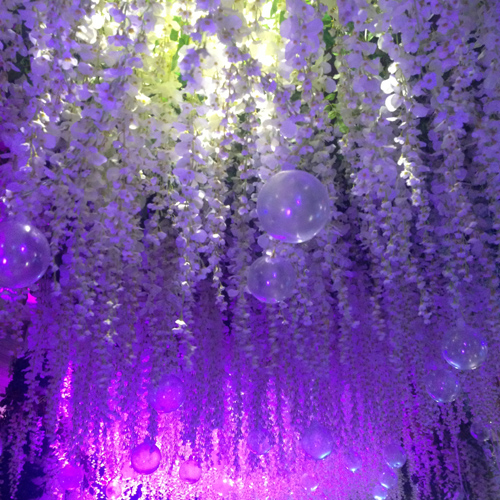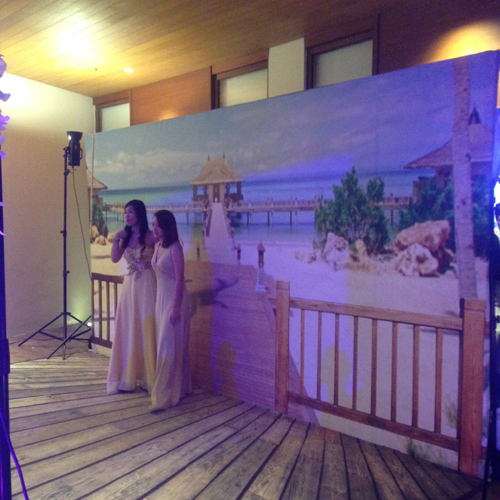 7:25 p.m.: The music at the lawn fades out to give way to an announcement: everyone is requested to enter the main hall for the dinner and program.
ADVERTISEMENT - CONTINUE READING BELOW
7:27 p.m.: The main reception hall is all dressed in white from the ceiling drapes and onstage chandeliers to the floral arrangements, candelabras, and centerpieces. The indoor light pink lighting plays well with the interiors, a reminder that this is the bride's night indeed.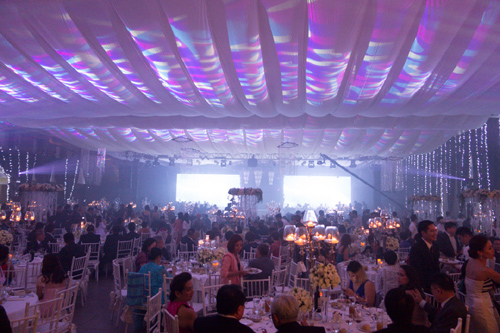 Photo by Alfred Mendoza
7:30 p.m.: Chiz and Heart's pre-nup video, shot in Sorsogon, plays on screen. Heart's sister Camille, sporting YSL Tributes, walks to and fro.
7:35 p.m.: One of Heart's beloved pets, Casper, makes a grand entrance to the delight of the kids present.
7:40 p.m.: Singer Jonalyn Viray opens the evening's program. The backdrop reads "Chiz and Heart: Love, Finally"-also the title of the eventual TV special on GMA 7.
7:43 p.m.: Chiz and Heart descend from the spiral staircase at the back of the venue hall to the surprise and delight of the guests. Chiz looks dashing in his tuxedo. Heart is wearing her third wedding dress, a Monique Lhuillier confection in lace, and looks every inch the princess. They take their place at the presidential table.
7:45 p.m.: Heart's co-hosts in the now-defunct Party Pilipinas Jaya and Christian Bautista formally open the program. Jaya says that the evening is exactly how the couple wants it to be: a concert.
7:50 p.m.: Dinner, catered by Bizu, is served. Another wedding video, this time by Pat Dy, is playing onscreen.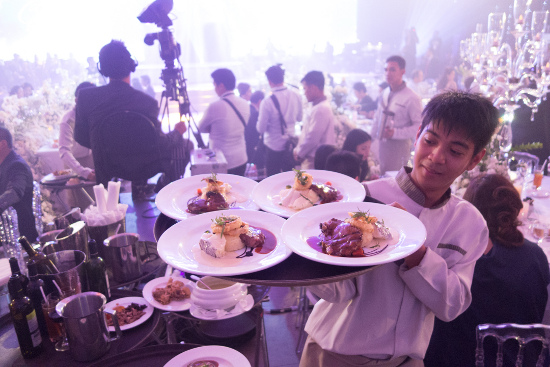 Photo by Alfred Mendoza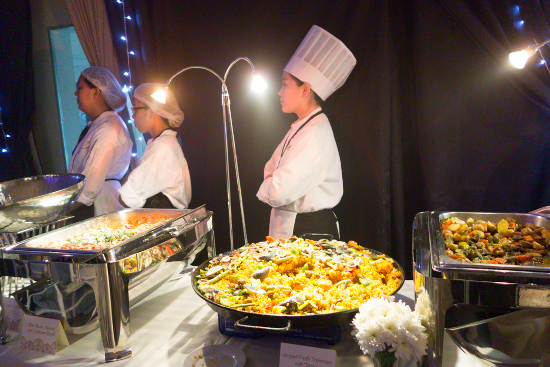 Photo by Alfred Mendoza
7:51 p.m.: Senator Loren Legarda, looking radiant and youthful as in her newscaster days, enters the room and joins the other senators at their designated table.
ADVERTISEMENT - CONTINUE READING BELOW
7:53 p.m.: Senator Tito Sotto and wife Helen Gamboa arrive.
8:05 p.m.: Senator Sonny Osmena walks in.
8:06 p.m.: And the style meter goes up. Gretchen Barretto arrives with husband Tony Boy Cojuangco in tow.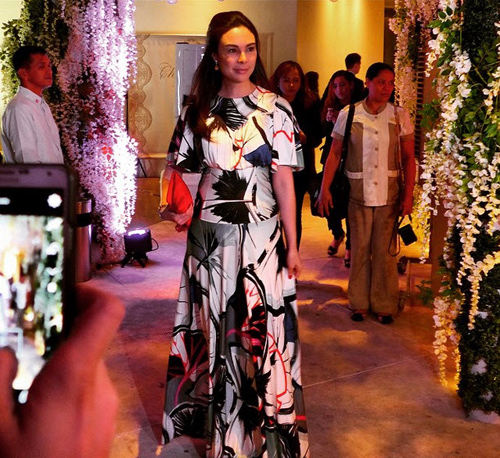 Photo via Gretchen Barretto's Instagram (@gretchenbarretto)
8:15 p.m.: Chiz and Heart walk around the venue to greet guests. Chiz takes off his tuxedo jacket and takes time to greet guests at every table. Heart is hounded by guests and media.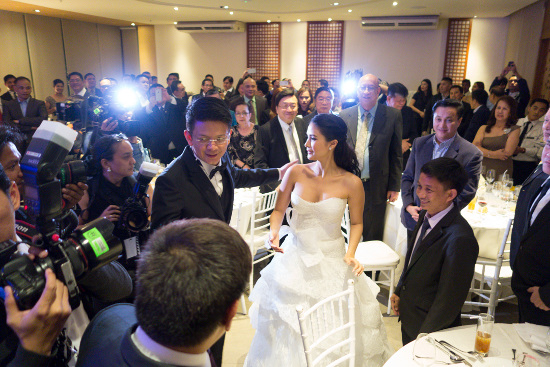 Photo by Alfred Mendoza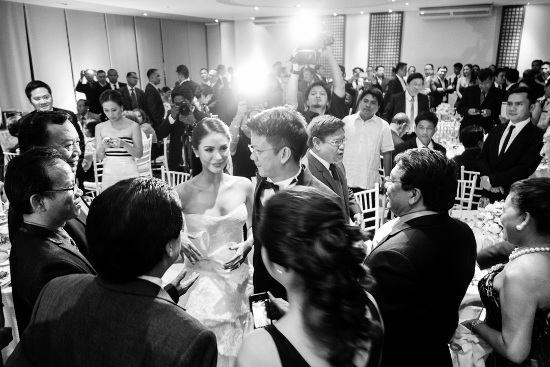 Photo by Alfred Mendoza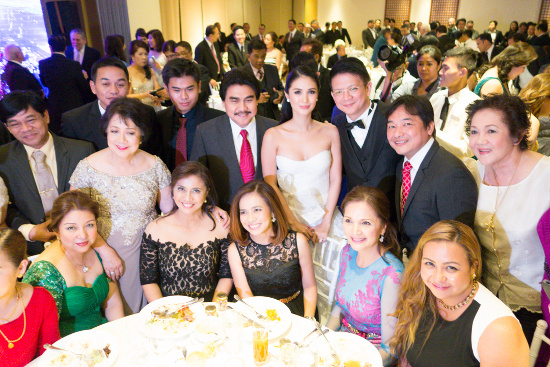 Photo by Alfred Mendoza
8:29 p.m.: Iza Calzado and boyfriend Ben Wintle arrive.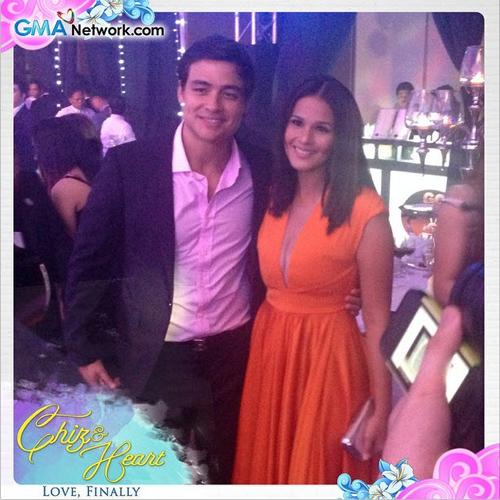 Photo via GMA Network's Instagram (@gmanetwork)
8:40 p.m.: The couple's Balesin wedding video is replayed.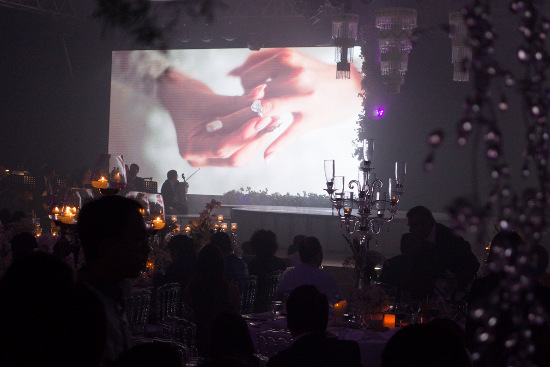 Photo by Alfred Mendoza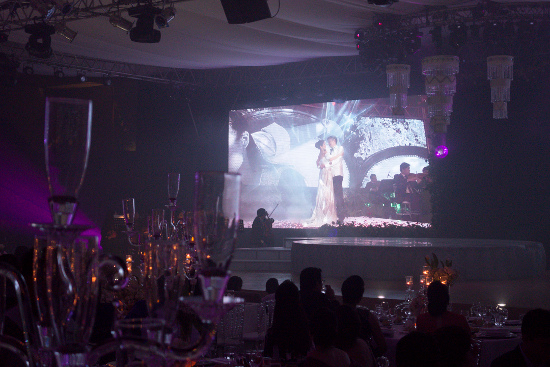 Photo by Alfred Mendoza
8:45 p.m.: Just like Sunday afternoon programming, vocal trio La Diva (which also includes Rak of Aegis' Aicelle Santos), Julie Ann San Jose, and Frencheska Farr take the strage, serenading the couple with songs "At Last" and "To Make You Feel My Love."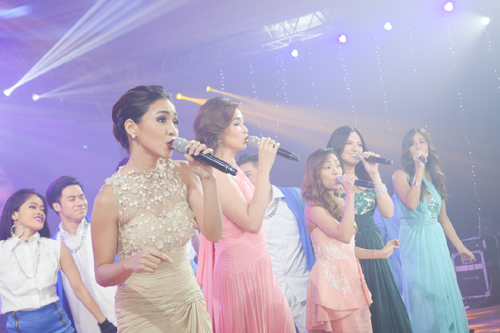 Photo by Alfred Mendoza
8:55 p.m.: Christian Bautista, now joined by Kris Lawrence, sings "The Best Day of My Life." Coincidentally, the song has been enjoying airtime in most newlyweds' SDEs these days.
9:00 p.m.: The bride's close friend Lovi Poe arrives with boyfriend Rocco Nacino. Minutes later, showbiz royalty Ms. Susan Roces enters the room.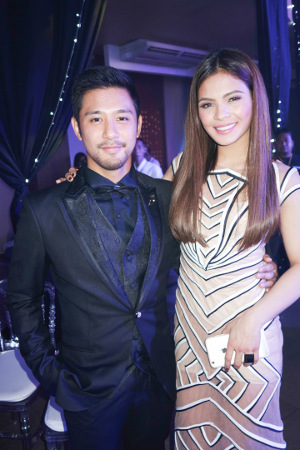 Photo by Alfred Mendoza
9:05 p.m.: Tim Yap and Jaya continue their hosting duties.
9:10 p.m.: Well-dressed Senator Grace Poe and husband do their best to leave the venue as quietly as possible but not without getting caught by hellos from well-wishers and colleagues at every table leading to the exit. An event usher offers an alternate door.
ADVERTISEMENT - CONTINUE READING BELOW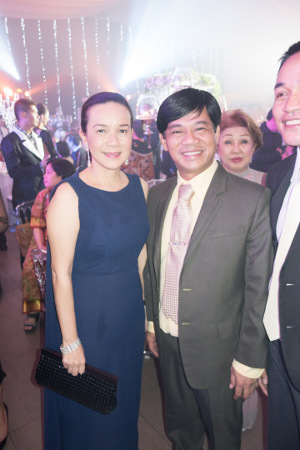 Photo by Alfred Mendoza
9:11 p.m.: Songbird Regine Velasquez, fresh from the success of her weekend Valentine concert with Garv V, Martin Nievera and Lani Misalucha, performs "God Gave Me You." Soon after, husband Ogie Alcasid joins her onstage for a duet of Moulin Rouge's "Come What May." Applause follows.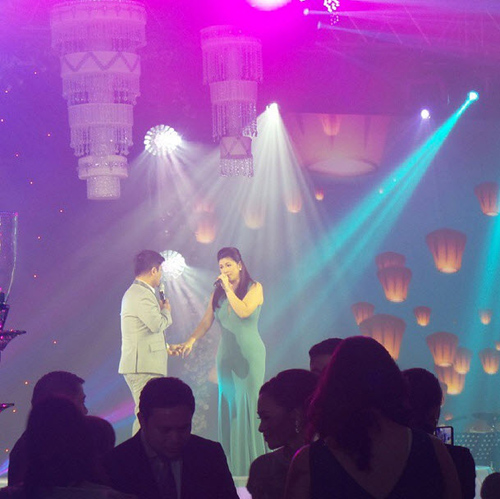 9:15 p.m.: Interview videos with the bride and groom are played. Heart goes on record to say that Chiz first reminded her of Megamind. The crowd laughs.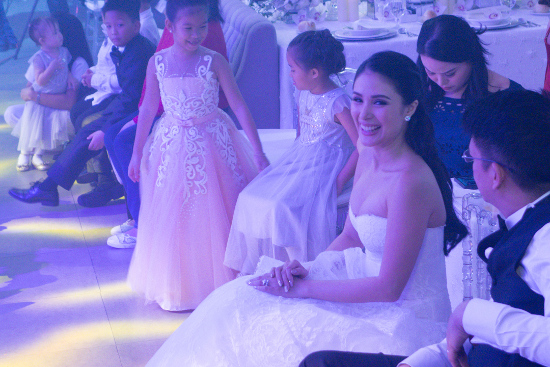 Photo by Alfred Mendoza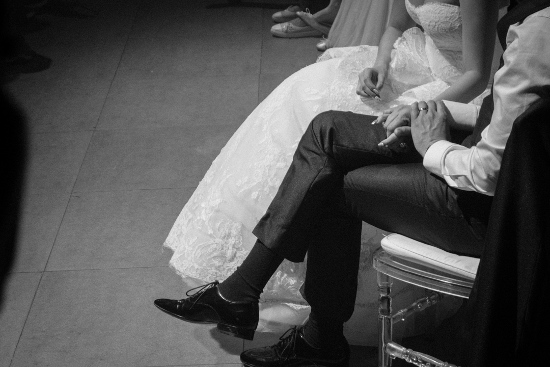 Photo by Alfred Mendoza
9:25 p.m.: Jaya, Jonalyn Viray, and Kris Lawrence sing John Legend's "All of Me" and Sam Smith's "Stay With Me."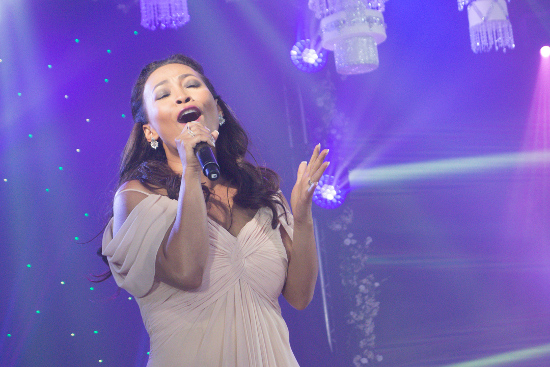 Photo by Alfred Mendoza
9:30 p.m.: Chosen single ladies and men are asked to join the couple onstage for a modified bouquet and garter game. Among the ladies are Lovi Poe, Iza Calzado, Kim Chiu, Heart's former Berks costar Sarah Christophers, and accessory designer Nicole Whisenhunt. JC Tiuseco and Rocco Nacino are among the bachelors onstage.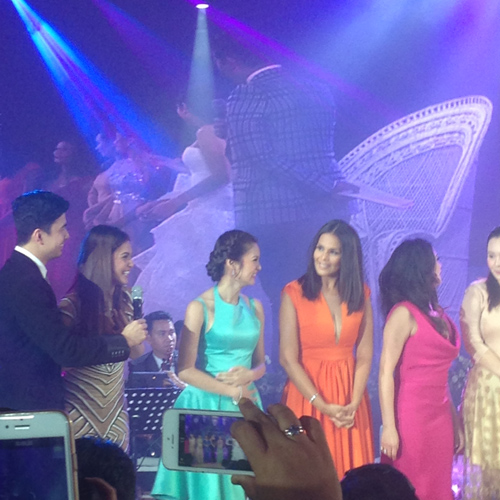 9:40 p.m.: Lovi Poe and Rocco Nacino are the last couple standing-exactly as planned. Society favorites Tessa Prieto-Valdes, Dr. Aivee Teo, Kai Lim, Audrey Tan Zubiri, and Melo Esguerra mingle with the crowd.
9:45 p.m.: Gary Valenciano takes his turn onstage to sing "How Did You Know?" (The same song was sung by Mark Bautista during Heart's bridal march in Balesin.) Heart, caught onscreen, is clearly transfixed.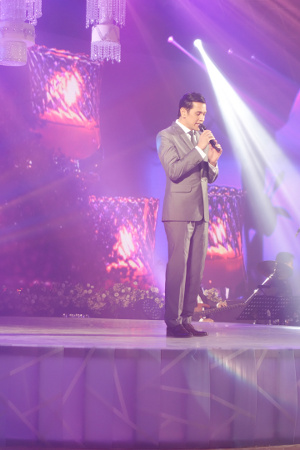 Photo by Alfred Mendoza
9:50 p.m.: Those beautiful onstage chandeliers? They're also the wedding cake, now descending low enough to be within reach. Oh, the future weddings that will try the same trick after tonight!
ADVERTISEMENT - CONTINUE READING BELOW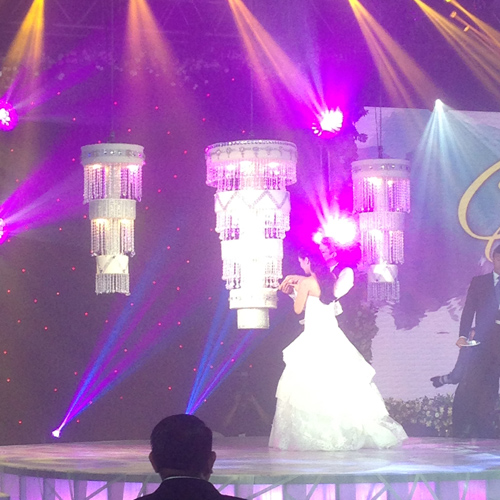 10:00 p.m.: Best Man P-Noy, once again, couldn't make the reception due to "unavoidable circumstances." Chiz's brother Philip Escudero proxies for the President once again to propose a toast. Heart and Chiz then individually address the guests for attending.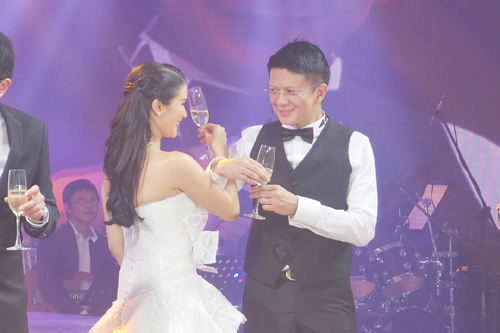 Photo by Alfred Mendoza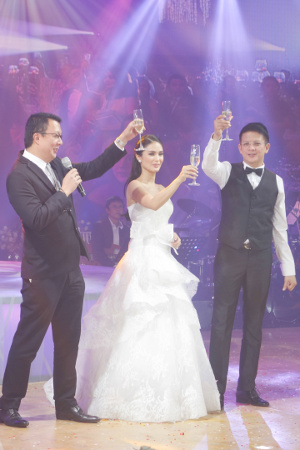 Photo by Alfred Mendoza
10:10 p.m.: Well-wishers join the couple onstage for rounds of photos. Thankfully, there was no monopod in sight. The bar is still open. DJ Funk Avy plays remixes of '90s hits well into the night.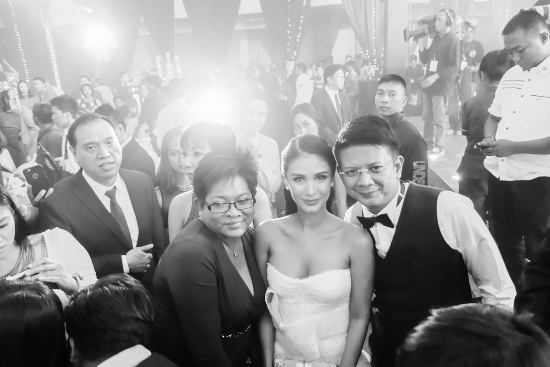 Photo by Alfred Mendoza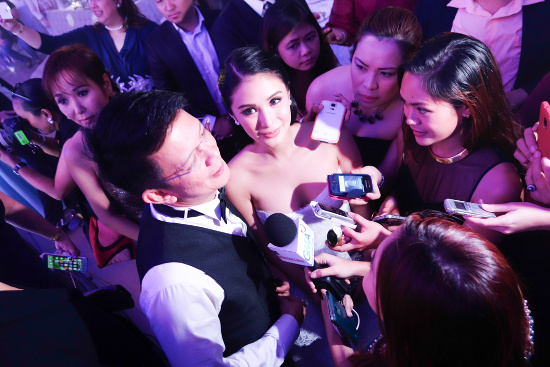 Photo by Alfred Mendoza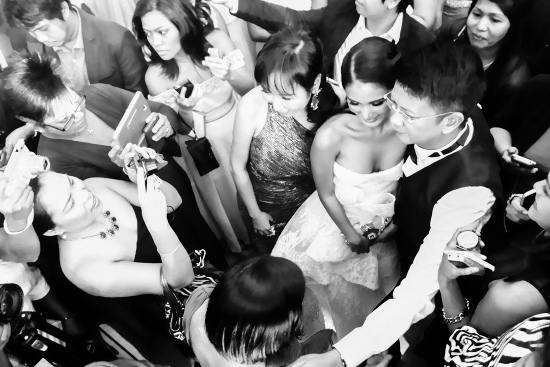 Photo by Alfred Mendoza
Also read:
8 Over-the-Top Details From the #ChizHeart21515 Reception
PHOTOS: Scenes From Chiz Escudero and Heart Evangelista's Balesin Wedding
Load More Stories