10 Must-see Moments From the 2015 Oscars
From Dakota Johnson's red carpet comment to Lady Gaga's musical performance.
(SPOT.ph) As with any award show, the Academy Awards has its fair share of well, shocking and surprising moments. We've rounded up the most memorable moments 0f the night, from the red carpet down to the ceremony.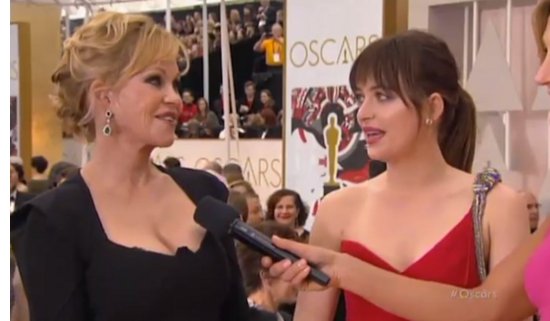 1. Melanie Griffith embarrasses her daughter Dakota Johnson on the red carpet
ADVERTISEMENT - CONTINUE READING BELOW
Fifty Shades of Grey actress Dakota Johnson and her mom, Melanie Griffith, shared a rather awkward moment on the Oscars red carpet. "She's a really good actress," Griffith said. "I don't need to see [Fifty Shades] to know how good she is." Johnson then snapped back, "Alright! You don't have to see it. Jesus Christ." (Watch how the exchange went down here.)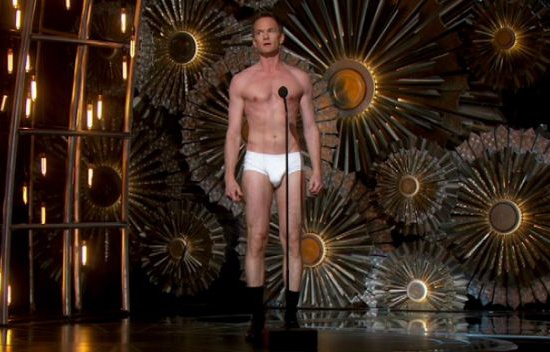 ADVERTISEMENT - CONTINUE READING BELOW
2. Neil Patrick Harris does a Birdman
Oscars host Neil Patrick Harris spoofed nominated film Birdman by stripping down to his underwear before introducing presenters Miles Teller and Margot Robbie. (Watch the full skit here.)
3. The ridiculous and star-studded "Everything is Awesome" performance
The LEGO Movie may not have been nominated, but they were given screentime for a musical performance...which turned out to be just as ridiculously awesome as you'd expect. Think The Lonely Island, elaborate "kiddie" sets, real-life LEGO favorites like cowboys and Batman himself, and LEGO Oscar statues distributed among the crowd. Oprah got one for herself!
4. Patricia Arquette's sudden speech on women's wage equality
Patricia Arquette's win for Best Supporting Actress may not come as a complete surprise for some, but it was her unexpected (but welcome) speech that had the audience talking. After giving the obligatory thanks, she said, "..It's time to have wage equality once and for all, and equal rights for women in the United States of America." Oh, and Meryl Streep and Jennifer Lopez loved it.
ADVERTISEMENT - CONTINUE READING BELOW
5. Lady Gaga belts out songs from The Sound of Music
Lady Gaga gave an impressive performance, climbing every high note in her tribute to The Sound of Music with ease. Her medley included songs like "My Favorite Things," "The Sound of Music," and "Climb Ev'ry Mountain."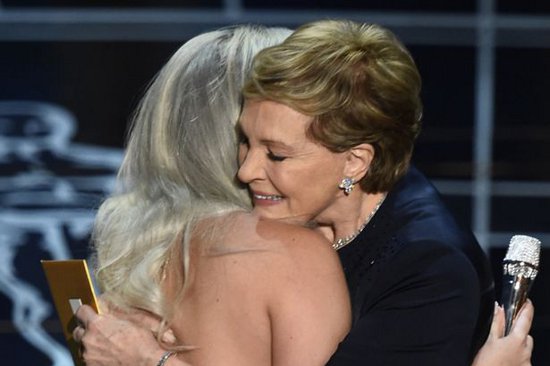 ADVERTISEMENT - CONTINUE READING BELOW
Photo via Mirror UK
6. Julie Andrews makes a surpise appearance
Gaga was then later joined by Julie Andrews herself, who appeared onstage after the former's performance. She thanked Gaga then launched into an emotional speech on her role as nanny Maria Von Trapp.
7. Chris Pine cries through "Glory"
The powerful performance of John Legend and Common moved everyone the audience, perhaps best exemplified by Chris Pine.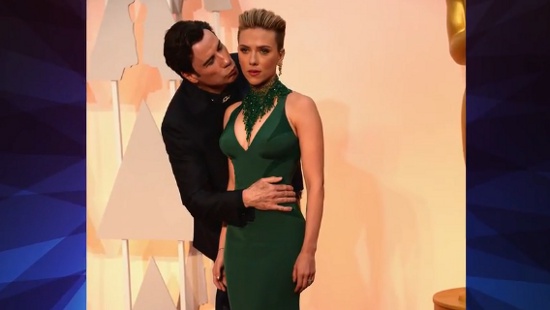 ADVERTISEMENT - CONTINUE READING BELOW
8. John Travolta poses for an awkward photo with Scarlett Johansson
But that's not all...
9. He also got a bit too comfortable with Idina Menzel
After the memorable botched "Adela Dazeem" moment from last year, Travolta and Idina Menzel almost had a funny reunion onstage...at least until he started touching her face. A lot. (Watch how it happened here.)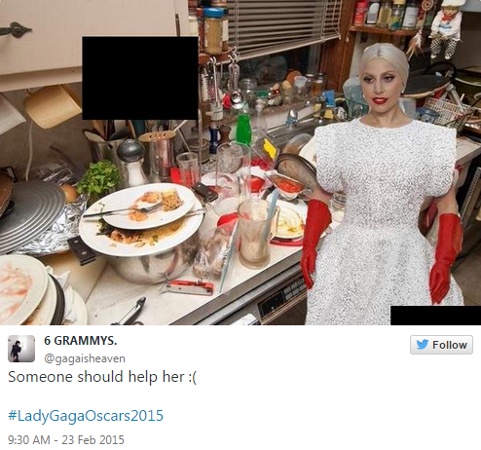 ADVERTISEMENT - CONTINUE READING BELOW
10. Lady Gaga's gloves
Sure, this is much tamer compared to a meat dress, but that didn't stop the Internet from, well, doing what it does best.
Load More Stories