10 Fresh Tunes to Listen to This March
It's starting to feel like summer with hot tracks from the Spice Girls, Taylor Swift, Scarlett Johansson, Passion Pit, Imago and more!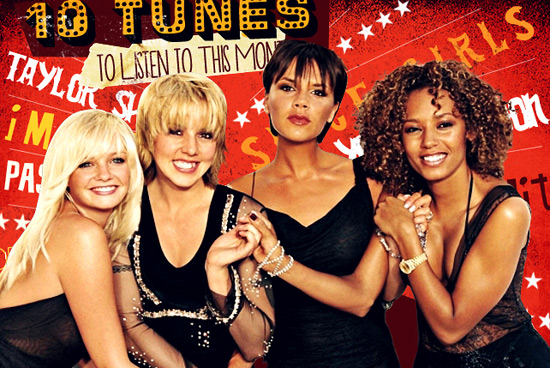 (SPOT.ph) And just like that, it's March. Welcome summer with hot new tracks in a fresh playlist. We bring you a Spice Girls' leaked tune, Taylor Swift's highly stylized single, Scarlett Johansson's cheeky pop track with her new band, Passion Pit's synth-pop album teaser, and Purity Ring's radio-friendly release. Local artists Imago, Yolanda Moon, June Marieezy, Justin De Guzman, SOUL_BRK, and KaapiN aim to please with their latest songs. Happy listening!
Song: "If It's Lovin' On Your Mind"
Artist: Spice Girls
Sometimes good things happen on the Internet, like the leak of four new tracks from the Spice Girls. The '90s girl group's single "If It's Lovin' On Your Mind" brings back their sexy, feisty pop vibe we all miss. Ginger Spice (Geri Halliwell) didn't lend her vocals for this and the other songs, but you'll love how the rest of the girls sound. Sporty Spice's (Mel C) sultry vocals especially stand out here.
ADVERTISEMENT - CONTINUE READING BELOW
Fun fact: "If It's Lovin' On Your Mind" was leaked along with three other unreleased songs from the Spice Girls' 2000 album, Forever.
Song: "Then Was Forever"
Artist: Imago
Mayumi Gomez, Imago's new vocalist, proves worthy of her spot-one that was once held by Aia de Leon. "Then Was Forever," the band's latest single, is a catchy pop-rock track filled with infectious vocals and melodies.
Fun fact: The single was produced by Raymund Marasigan.
Song: "Style"
Artist: Taylor Swift
Aside from Tay-Tay's overall perfection, we can't get that catchy guitar riff out of our heads. "Style" is classy, sensual, and dance-y. We can safely assume it's about her ex-boyfriend Harry Styles, but it's an anthem you can totally own as you go on that roadtrip this summer.
Fun fact: The music video for "Style" features a close-up shot of a paper airplane necklace, similar to the one (if not the exact one) given to her by ex-boyfriend Harry Styles.
ADVERTISEMENT - CONTINUE READING BELOW
Song: "Leaving Soon"
Artist: Yolanda Moon
Yolanda Moon just released its music video for "Leaving Soon," an addictive track filled with rock, soul, and funk. Watch the bittersweet, Manic Pixie Dream Girl-themed music video directed by Anya Zulueta.
Fun fact: Singer-songwriter Cholo Hermosa aka Yolanda Moon collaborates with different session musicians.
Song: "Candy"
Artist: Singles
Scarlett Johansson has already put out two albums, one of which is a collaboration with Pete Yorn. Recently, however, the singer-actress gathered her fellow female musicians to form the Singles and release the track "Candy," a cheeky, electronic ultra-pop ditty that, in the first few seconds, will remind you of that one Robyn song.
Fun fact: The Singles includes Johansson, Holly Miranda, Kendra Morris, Julia Haltigan, and Este Haim.
Song: "Blasé"
Artist: June Marieezy feat. Justin de Guzman
Hip-hop and ambient neo-soul artist June Marieezy and producer Justin de Guzman pair up to bring you an entrancing and groovy R&B tune fit for summer. Find yourself swaying to its spot-on beats and flawless vocals.
ADVERTISEMENT - CONTINUE READING BELOW
Fun fact: "Blasé" is off June Marieezy's new album, Throw Away Love Songs.
Song: "Lifted Up (1985)"
Artist: Passion Pit
Count on Passion Pit to release a carefree, dance-worthy tune to introduce their new record. The synth-pop band doesn't disappoint with this single, keeping the signature sound their fans love. Enjoy the colorful synths surrounding frontman Michael Angelakos' endearing falsetto.
Fun fact: The band's new album, Kindred, is set for release in April and can be pre-ordered on iTunes.
Song: "Dominique"
Artist: SOUL_BRK
Local producer SOUL_BRK just released a four-track EP titled Black. In it is "Dominique," a sexy, sonic tune that will take you to a new dimension. It's controlled but not predictable, intricate but not overwhelming.
Fun fact: SOUL_BRK is Leon Esquillon.
Song: "Bodyache"
Artist: Purity Ring
Electro-pop duo Purity Ring is out with a new album, Another Eternity. They have been known from their last record to produce otherworldly tracks, but their latest single, "Bodyache," sounds more pop. It's more radio friendly, and could be indicative of more experimentation from the duo.
ADVERTISEMENT - CONTINUE READING BELOW
Fun fact: Megan James (vocals) and Corin Roddick (instrumentals) make up Purity Ring.
Song: "Waves (Mal De Debarquement)"
Artist: KaapiN
There's so much beauty in the richness of "Waves (Mal De Debarquement)," from the beats to the synths to the varied noises. It's like a harmonious meeting of nature, modernity, space, and the otherworldly.
Fun fact: Michael Nuesca and Rotsanjani Mojica are KaapiN.
CONTINUE READING BELOW
Recommended Videos
Share this story with your friends!
---
Help us make Spot.ph better!
Take the short survey
Load More Stories