10 Sweetest Celebrity Wedding Vows
Swoon-worthy lines that made us shed a tear or two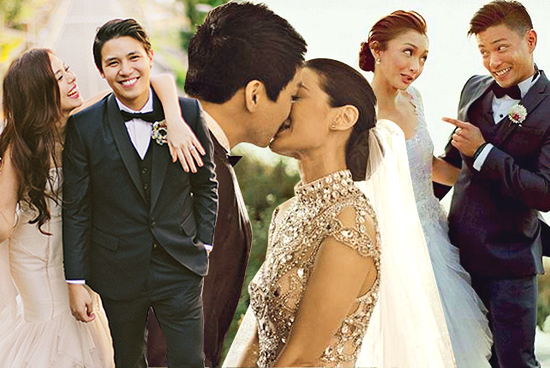 (SPOT.ph) One of the most magical parts of any wedding ceremony is the exchanging of vows. Nothing is as heart-wrenching as speeches that somehow capture all the love and emotions in a line or two. Just like how every love story is unique, so are the non-traditional wedding vows that come with it. Ready your tissues, we've rounded up 10 of the sweetest celebrity vows.
ADVERTISEMENT - CONTINUE READING BELOW
CONTINUE READING BELOW
Recommended Videos
Share your favorites in the comment section below!
This list is not ranked.
Also read:
10 Local Celebrity Weddings You Weren't Invited To
10 Surprise Celebrity Weddings We Love
10 Best Value-for-Money Wedding Caterers
Top 10 Prettiest Celebrity Wedding Gowns
Mark Escueta and Jolina Magdangal
Best line: "Na-realize ko na 'yong love, para palang ilaw. Kasi 'yong ilaw, hindi mo alam kung paano siya gumagana, eh. Nakikita mo lang kung saan siya nanggagaling, at kung saan siya tumatama. Kahit gaano siya kaliit, ang laki ng ginagawa niya."
We still can't decide what really made us tear up: the sight of Mark Escueta trying to hold back his tears (and failing), or the vows he made to Jolina. Maybe it's both.
Jericho Rosales and Kim Jones
Best line: "It's [the] little things talaga. When I hear you laugh, when I laugh with you, [I] immediately imagine us having wrinkles and being like this."
ADVERTISEMENT - CONTINUE READING BELOW
Echo and Kim's wedding may have rekindled our love for the beach, but it was the beginning of Echo's vows that had us sighing. Sometimes, it is the little things in a relationship that matter the most.
Jim Bacarro and Saab Magalona
Best line: "You are the man my dad would have wanted for his baby girl. There is no doubt in my heart that he is happy to be giving me away to you today."
As if their fun and music-filled wedding wasn't enough to make us swoon, we heard their wedding vows. Jim's line on Saab being his perfect best friend had us teary-eyed, but it was when Saab mentioned her late father that had us reaching for more tissues.
Patrick Filart and Patty Laurel
Best line: "Oftentimes, people get married just to settle down, and the world out there can be quite discouraging. But you have turned me into a believer, and I know now that true love does exist."
ADVERTISEMENT - CONTINUE READING BELOW
This video is long, but every second is worth a watch. Think of it as a rom-com, with moments that will elicit laughs and awww's. There were so many sincere and heartfelt lines in their vows that it was almost hard to choose just one. We finally settled on Patty's line, but her Dr. Seuss quote came a close second.
Maricar and Richard: Secret Wedding from Mayad on Vimeo
Richard Poon and Maricar Reyes
Best line: "You are God's unexpected answer to so many of my prayers."
The moment we heard that Richard swore that his next girlfriend would be his wife, we already felt the tears coming. Maricar kicked off her vows with this line, and we had to watch the rest of the video through our tears.
Drew and Iya: The Wedding Film from Jason Magbanua on Vimeo
Drew Arellano and Iya Villania
ADVERTISEMENT - CONTINUE READING BELOW
Best line: "I promise to give you the freedom to be the successful girl you always wanted to be."
It may have taken them almost 10 years to get to the altar, but for these two travel junkies, the l0ng journey didn't matter. We loved the laidback and carefree vibe of the video, but we adored the fun yet heartfelt vows even more. There is nothing sweeter than the promise of independence.
Carlo Castillo and Amy Perez
Best line: "I vow to have the patience that love demands. I promise to nurture your dreams. I promise to be your partner in all things."
After eight years of being together, Carlo Castillo and Amy Perez finally exchanged vows in a fun, travel-themed ceremony (Vespas included). We just love how Amy captured the essence of marriage in a few sentences, proving that vows don't need to be complicated or poetic. They just need to be real.
ADVERTISEMENT - CONTINUE READING BELOW
Chito Miranda and Neri Naig
Best line: "I promise to always be worthy of the love you have for me."
Chito's vow may sound solemn, but their civil wedding was anything but. We can always appreciate a fun ceremony, especially when someone like Ramon Bautista is officiating it.
Jerico and Marizel (Tuesday Vargas) from Mayad on Vimeo
Coy Placido and Tuesday Vargas
Best line: "Kahit ano pa mang mangyari, dumami man ang ampon nating pusa, malaos man tayo na 'di mangyayari kasi 'di pa naman tayo sikat, pagtawanan man tayo ng mga bata 'pag 70 na tayo dahil kulubot na tayo pero marami tayong tattoo, haharapin natin ang lahat ng 'yan na magkasama at magkahawak kamay."
Perhaps no wedding vow captured the newlyweds' personalities more than that of Coy Placido and Tuesday Vargas. Tuesday's, in particular, was not the most traditional of vows, but that's our favorite thing about it.
ADVERTISEMENT - CONTINUE READING BELOW
JC Intal and Bianca Gonzalez
Best line: "I knew you were the one for me when I felt your love. You love me in a way I've always wanted to be loved."
Let's forget that stunning Palawan backdrop for a minute and focus on their vows. We felt the tears in our eyes the moment Bianca said that she "couldn't wait to be his wife." Awww!
Also read:
10 Local Celebrity Weddings You Weren't Invited To
10 Surprise Celebrity Weddings We Love
10 Best Value-for-Money Wedding Caterers
Top 10 Prettiest Celebrity Wedding Gowns
Load More Stories