10 Catchy Ad Jingles That are Probably Stuck in Your Head Right Now
"Dan, dan, dan...daaaaalandan!"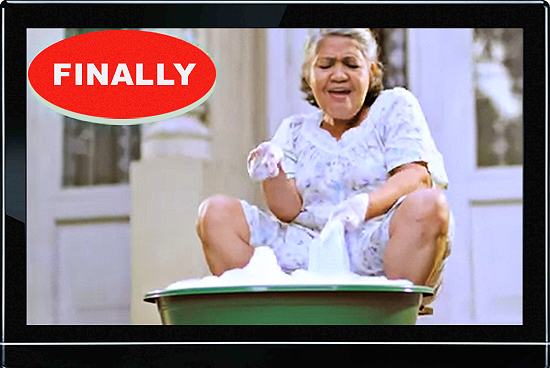 (SPOT.ph) Like an itch that just won't stop, some commercials have a particular way of sticking with you...with a really catchy jingle. Whether this marketing tactic is enough to make you buy the product is still up for debate, but one thing is for sure: It only takes a line or two for you to start singing these jingles all day.
Also read:
10 Most Memorable Ad Jingles
10 Most Memorable Ads and their Jingles (Part 2)
"Happy Energy" by Enervon
Catchiest line: Haaa-hap-hap-happy energy / make your every day happy
We're pretty sure no one in Manila is this cheerful when it's that sunny and you're crossing a crowded overpass. Enervon might not give you this kind of disposition when you're commuting around the metro at rush hour, but it would probably give you enough energy to get you home in one piece. Hey, maybe you can start singing this jingle on the train ride home.
ADVERTISEMENT - CONTINUE READING BELOW
"Finally" by Ariel
Catchiest line: Finaaally / Ariel happened to me
As if the original song this jingle was based on wasn't catchy enough, this commercial happened. We're not sure if everyone shares the same joy when washing clothes with their bare hands, but you've got to admit, it's fun singing this tune while you're doing your chores.
"Habango" by Surf
Catchiest line: Haba / haba / habangooo
It's a true testament to the power of a jingle when one line is enough to get stuck in your head. Surf did it with the "Pinalaki" ditty in 2013, and they've done it again with this one.
"Complete Clean" by Joy
Catchiest line: Aaaang tamang timpla / sa litro haluin
You can always rely on Michael V to sing the most LSS-worthy jingles that will replay in your head for weeks, nay, months to come. Remember "Joy in my Heart?" Of course you do.
ADVERTISEMENT - CONTINUE READING BELOW
"Lonely is the Night" by Imodium
Catchiest line: Lonely is the night when I'm not with you
Perhaps the only thing catchier than a jingle is an '80s power ballad, so what better way to be memorable than to combine both? The fact that it's a song for Imodium makes it even more amusing.
"Dalandan Senses" by Nesfruta
Catchiest line: Dan / dan /dan / dalaaaandan
The folks at Nesfruta decided to up the ante by getting one of the adorable Kramer kids (Kendra, together with mom Cheska Garcia-Kramer) to sing their jingle. The result? An LSS-worthy tune that also comes with a cute little dance.
"Hooray for Today" by McDonald's
Catchiest line: I've got a brand new day / And to that I say / Hooray for today
Trust McDonald's to make waking up early sound like a good thing. This jingle (which could actually pass for a sentimental ballad) had plenty of people singing "hooray for today," whether they were eating a McMuffin or not.
ADVERTISEMENT - CONTINUE READING BELOW
"Handa, Inom, Gawa" by Tang
Catchiest line: Handa / inom /gawa
We're still not exactly sure how juice can inspire kids to save the environment, but we appreciate the message. Hey, if VFresh can have an equally catchy tune about kabutihan, karunungan, and kasipagan, then so can Tang.
"Asim Kilig" by Knorr
Catchiest line: Aaaasim kilig
Perhaps no jingle quite captures the product more than this one, so our hats off to you, Michael V. Maggi Magic Sinigang has a somewhat similar one with Kris Aquino, but there's just something about asim kilig that we can't get out of our heads.
"Two Little Hearts Go Boom" by Cadbury
Catchiest line: Baaaaby, baby, baby, baby / Heaven sent you
We admit, we can't help but smile whenever this commercial plays on air. It's partly the unique concept, partly the allure of chocolate, but most of all, a cute guitar-based ditty that's almost impossible not to like. The lyrics are a bit trickier to memorize, but you'll definitely have the melody playing repeatedly in your head.
ADVERTISEMENT - CONTINUE READING BELOW
Also read:
10 Most Memorable Ad Jingles
10 Most Memorable Ads and their Jingles (Part 2)
CONTINUE READING BELOW
Recommended Videos
Share this story with your friends!
---
Help us make Spot.ph better!
Take the short survey
Load More Stories