KILIG: 8 Movie Lines that Will Take Her Breath Away
Life is not the amount of breaths you take; it's the moments that take your breath away.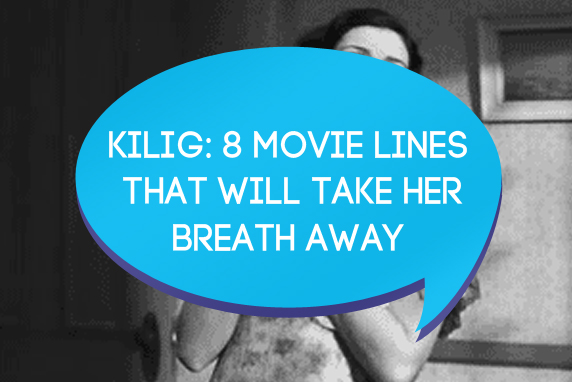 Maybe you've been meaning to ask your office crush if she wants to take things to the next level. Or looking to kiss and make up with the missus after a grueling spat. Or planning to pop the question to your long-time lady love. Whatever the case may be, you need a beautiful, tearjerker of a speech to take her breath away.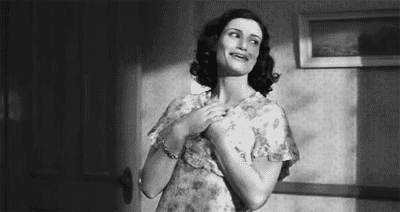 via reactiongifs.com

So how do you sweep a woman off her feet? If movies are any indication, perhaps all it takes is a damn good line. (You might even use these lines while you're at Laboracay!) Here are some of the best ones:

"I might be the only one who appreciates how amazing you are in every single thing that you do. I watch them, wondering how they can watch you bring their food, and clear their tables and never get that they just met the greatest woman alive. And the fact that I get it makes me feel good, about me." - Melvin, As Good As It Gets
ADVERTISEMENT - CONTINUE READING BELOW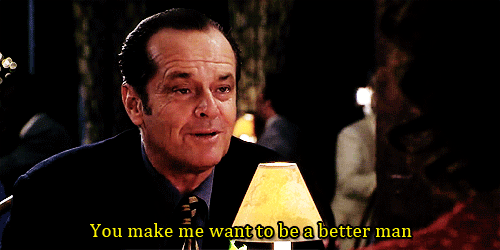 via sharegif.com
CONTINUE READING BELOW
Recommended Videos
Say this when: You can't fathom how your girl still sticks with you even when you can act like a total d-bag sometimes. (She's a keeper!)


"You should be kissed every day, every hour, every minute." - Logan, The Lucky One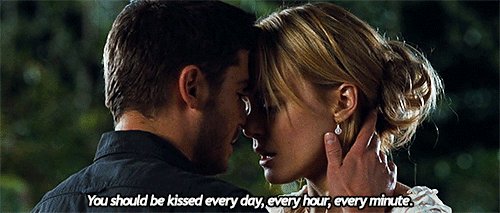 via tumblr.com
Say this when: She's just too adorable being herself that you just can't express yourself in words, so a quick smooch will do.


"So it's not gonna be easy. It's gonna be really hard. We're gonna have to work at this every day, but I want to do that because I want you. I want all of you, forever, you and me, every day." - Noah, The Notebook
ADVERTISEMENT - CONTINUE READING BELOW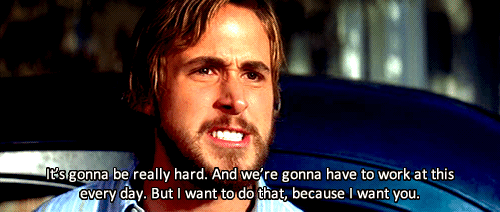 via fun107.com
Say this when: Your favorite, rival basketball teams had to duke it out on overtime and one of you just lost by missing that free throw. (Don't let this ruin your love!)


"I vow to fiercely love you in all your forms, now and forever. I promise to never forget that this is a once in a lifetime love." - Leo, The Vow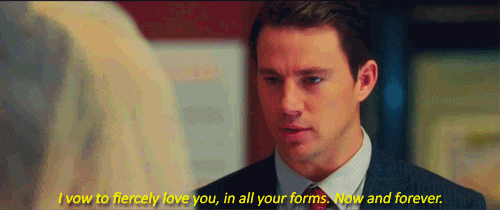 via imgfave.com
ADVERTISEMENT - CONTINUE READING BELOW
Say this when: Ooohh this is serious business. Bet you've got a ring in the pocket of your board shorts, right?!


"I'm in love with you, and I'm not in the business of denying myself the simple pleasure of saying true things. I'm in love with you, and I know that love is just a shout into the void, and that oblivion is inevitable, and that we're all doomed and that there will come a day when all our labor has been returned to dust, and I know the sun will swallow the only earth we'll ever have, and I am in love with you." - Augustus, The Fault in Our Stars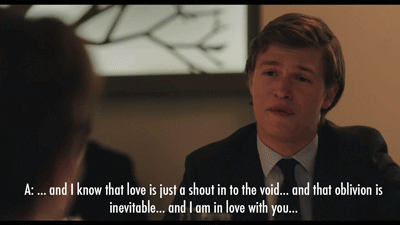 via teen.com

Say this when: You can't contain yourself anymore. I have so much words; let me speak it!


"I love that you are the last person I want to talk to before I go to sleep at night. And it's not because I'm lonely, and it's not because it's New Year's Eve. I came here tonight because when you realize you want to spend the rest of your life with somebody, you want the rest of your life to start as soon as possible." - Harry, When Harry Met Sally
ADVERTISEMENT - CONTINUE READING BELOW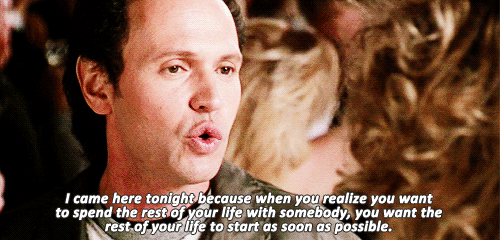 via mirror.co.uk
Say this when: You want to take it to the next level from "just friends" to "lovers". Here goes nothing...


"I wish I knew how to quit you." - Jack, Brokeback Mountain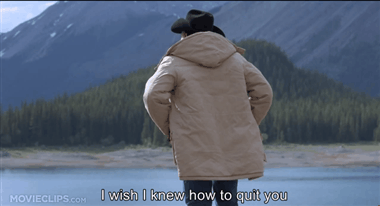 via pandawhale.com
Say this when: You broke up with someone five minutes ago and then you realized you didn't mean it.


"But for now, let me say — without hope or agenda, just because it's Christmas and at Christmas you tell the truth — to me, you are perfect. And my wasted heart will love you. Until you look like this [picture of a mummy]. Merry Christmas." - Mark, Love Actually
ADVERTISEMENT - CONTINUE READING BELOW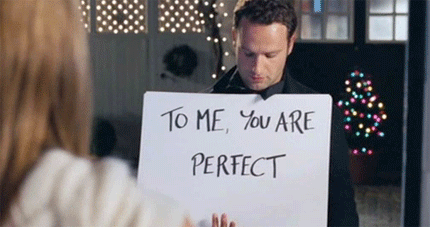 via bustle.com
Say this when: It's True Love.

This, kind sirs, is how you swoon the girl of your dreams. Before you utter any of these lines, however, it's highly essential that you keep your oral hygiene in check. What you want, after all, is to take her breath away with your words...not with your #DyaheBreath.

Try rinsing with Swish Mouthwash - it helps kill bacteria that causes bad breath, prevents plaque build-up, gum disease, and tooth decay, and leaves you with long-lasting minty fresh breath. And when you need fresh breath to come in handy, there's Swish Breath Spray! Just one spray can give you instant fresh breath with just the right kick of mint. Now, you're ready to make them girls swoon! So don't forget to #SwishItOn for fresh breath anytime, anywhere.
Plus, there'll be a lot of kissing involved after your speech, so might as well be ready for it, right?
ADVERTISEMENT - CONTINUE READING BELOW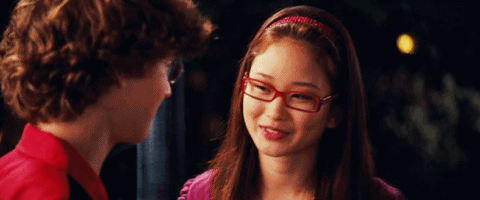 via deviantart.com
At the end of the day, your mouth should just be as smooth as the words that are coming out of it. Good luck, son!
Share this story with your friends!
---
Help us make Spot.ph better!
Take the short survey
Load More Stories