(SPOT.ph) The next sentence will make us sound snooty but we'll say it anyway: There's just something about listening to a live set and watching a band perform that cannot be replicated by sitting in your room with your headset on- even if the drinks are free at home.
We're sure that you frequently get invites to go to a friend's gig somewhere or you see a poster of some new band you want to check out. Maybe you finally want to check out why people have such varying opinions on B-Side but you're not sure what to expect. Let us soothe your worried minds and help you prepare for your night out as we give you the lowdown on 10 bars around the metro.
Our sanest piece of advice? Keep a pack of tissue with you at all times.
Conspiracy Garden Café / Conspi
57 Visayas Avenue, Quezon City
Tel. No.: 453-2170
ADVERTISEMENT - CONTINUE READING BELOW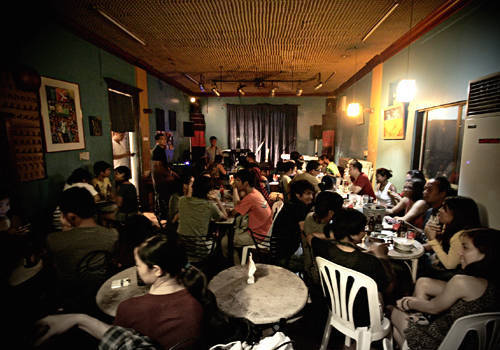 The Vibe: Mostly quiet, with a few cats loitering around. There's an outside area for the nicotine junkies plus the bar area, to the left of the entrance. To the right of the entrance is the music room where you pay an extra fee for a bit of air conditioning plus the performance. Even with a large crowd, Conspi maintains a relaxed, Bohemian ambience. Must be all the art on the wall or more likely, because it's an old house.
The Crowd: The folksy folk and those with varying degrees of leaning towards the arts (visual artists, performance artists, writers, at yung maarte lang).
Dress Code: Come as you are. Shirts and slippers are more than welcome.
The Chow: Rice meals ba gusto niyo? Conspi offers everything from coffee to cocktails but in case of hunger, you can't go wrong with the food here. It's not a five-star dining experience but their Chicken Teriyaki (P160) is pretty solid. Don't be afraid to order some pasta. We advice you to set aside about P200 for your meals here, not counting the liquor you'll be consuming.
State of the Bathroom: Conspi has separate bathrooms for the ladies and the gents in the music room. The floor doesn't shine but if you need to powder your nose, you won't feel the need to get out of there as soon as possible.
The Collective / B-Side
7274 Malugay Street, Makati City
ADVERTISEMENT - CONTINUE READING BELOW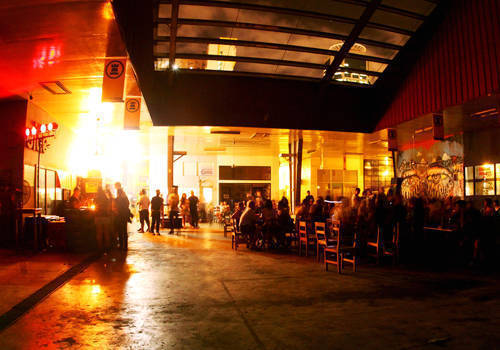 The Vibe: Like walking into someone's garage. B-Side is the cordoned off area where people do their dancing within The Collective but that distinction hardly matters. You'll find that being uptight about such things doesn't match the feel of the place. You might find yourself walking towards the comic book store at the far end or the art gallery beside it so if someone invites you to an event there, be prepared to see more than what you came there for.
ADVERTISEMENT - CONTINUE READING BELOW
The Crowd: Oh boy. B-Side has a reputation for being Hipster Central but then again, the Goth kids had their party there too featuring the fetish community so it's unfair to brand this as just "the cool kid's table." Wait, what's the new way of saying cool? In any case, there's a "scene" here that might intimidate people but really, it's just a place where there's music and music is for everyone.
Dress Code: There's really nothing wrong with going there in your comfortable casuals but some people's casuals are kind of fancy looking. There's an art to dressing like you didn't think of what you'll wear but you ended up looking good anyway. We advise presko clothing since it can get a little warm (we're in the tropics, you should know this by now) but just keep in mind that a lot of photographers go there.
The Chow: There are tables in the area but we highly suggest that you don't come to B-Side with an empty stomach. There's Mochiko outside, if you suddenly have a weird craving for it while listening to hip-hop and there's Wingman where you can get... well, Buffalo Wings (P330 for a dozen) but trust us: it's better if you eat before you get there. After the event, walk down the road to get to Sinangag Express to address your stomach pains. For your bar needs, a Cerveza Negra is P80 a pop.
ADVERTISEMENT - CONTINUE READING BELOW
State of the Bathroom: Separate bathrooms for the ladies and the gents and it's down the hall. It's doesn't reek but you won't be persuaded to linger. Neat freaks, bring a hand sanitizer.
Cubao Expo / Expo (Cubao X / X)
General Romulo Avenue, Cubao, Quezon City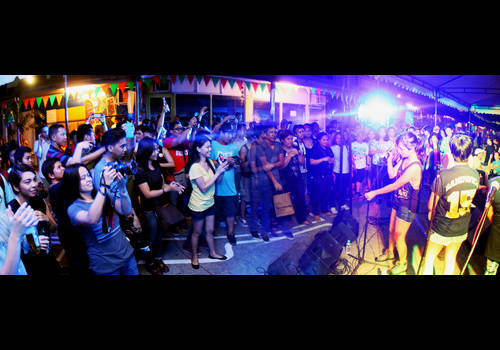 The Vibe: It's actually more of a U than an X and it's known for being more hipster than B-Side. Some people think that its heydays (is heyday still a thing?) are behind it but it's still a great place to chill after work where you can sit on the curb and have some chitchat. Kids, you stay in school and go home to study some more.
ADVERTISEMENT - CONTINUE READING BELOW
The Crowd: A mixture of people who see a Sandwich gig for The Diegos and people who see the Sandwich gig for Sandwich. You do the math.
Dress Code: Nothing too strict although we see a lot of black, boots, and shorts. There is no bar with decent air conditioning so please don't come in your cat suit. Yes, this really happened... and recently too.
The Chow: There's a variety of food establishments here including PenPen and the rather infamous Bellini's (reference: One More Chance) but we like Fred's Revolucion (or simply Fred's) where Coors has remained under P50 a pop. You won't go hungry here. Bring about P200 for your food and you're good to go.
State of the Bathroom: Separate bathrooms for the ladies and gents, it's on the street where Bellini's is facing. Bring coins since you pay to use it, which means that it is maintained. There are mirrors so you can freshen up after you've emptied your stomach but try not to drink more than you can hold, okay? Sobriety is underrated.
ADVERTISEMENT - CONTINUE READING BELOW
SaGuijo Bar & Café
7612, Guijo Street, San Antonio Village, Makati City
Tel. No.: 897-8629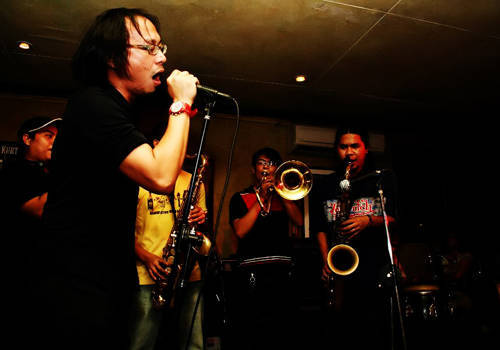 The Vibe: Quite similar to Conspi but without the elevated stage for the performers. There's an art gallery right next to it (saGilid, for obvious reasons) so the place evokes the same feeling that Alapaap's first few chord stirs. You go through a gate to get in, there's a smoking area right at the veranda and to your left is where you pay to get into the bar itself. Upstairs you'll find Sarah Gaugler's tattoo shop, so easy on the drinks as you might start feeling like a tattoo is a good idea. (It is but she's not going to ink you while you're intoxicated.)
ADVERTISEMENT - CONTINUE READING BELOW
The Crowd: Lots of people in black band shirts. Musicians.
Dress Code: Recently, someone came in fresh from a play in the gallery next door wearing a Greek toga but you don't have to feel pressured. Shirt and jeans are alright, too.
The Chow: We suggest you eat before you watch a gig. Shift Resto Bar is right across, eat some Bagnittos (P175) and just order beers from saGuijo after.
State of the Bathroom: Ladies and gents share a common bathroom but it's mostly clean, unless there's some jerk who can't be bothered to be courteous. You might find yourself lingering a bit, reading the writings on the wall.
Route 196 / Route
196 Katipunan Extension, Quezon City
Tel. No.: 439-1972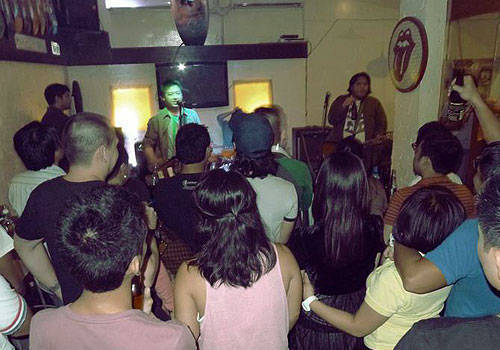 ADVERTISEMENT - CONTINUE READING BELOW

The Vibe: A small bungalow along Katipunan extension, Route 196 is cozy venue for live music. Because of its size, it's likely you'll bump into your favorite musician on the floor, share a couch or a table, or join them on stage, as you dance to the songs they are performing. Laidback smokers hang outside where they often stay longer than their intended cigarette break because it's cooler there and hey, you can actually hear each other!

The Crowd: Depends on the production night, but generally speaking, the Route crowd is chill and steady and don't mind going on a lengthy conversation with the wait staff who are equally chill and steady.

Dress Code: Nothing strict, come as you are. There are yuppies who come in their ties, and there are nomads who come in wearing their slippers. No biggie.

The Chow: Route boasts of some of the most inventive bar chow in town. The Chili Cheese Sticks (P125) and Tinapa Rolls (P140) are good panawid-gutom, as you wait for the Noypi (P265) or Margarita Pizza (P240). If you're there straight from your swivel, have the Crispy Liempo (P165) with your beer (P60) and you should be good.
ADVERTISEMENT - CONTINUE READING BELOW

State of the Bathroom: There are separate restrooms for men and women. If the ladies are there early, they can even enjoy toilet paper. While the men's CR used to boast of FHM Philippines magazine covers on the wall, they disappeared one by one.
Craft Rock and Grill
Unit E Fort Entertainment Complex, Bonifacio Global City
Tel. No.: 846-1715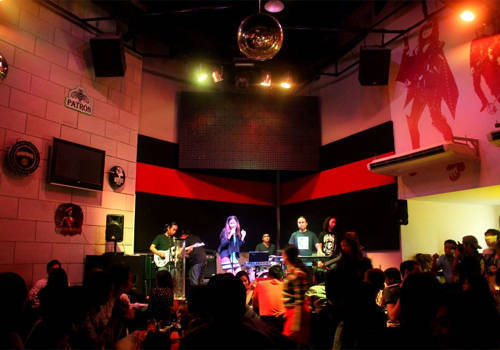 ADVERTISEMENT - CONTINUE READING BELOW
Photo from Craft's Facebook page
The Vibe: Why, what a proper venue for live music! There's a proper stage, a decent sound system, a long bar at the far end, and booths by the wall. The red colored walls are adorned with rock n roll posters so you know the owners are really into their thing.

The Crowd: Because of its location, and depending on which artists are playing that night, Craft attracts the most wildcard audience of the lot. There are "rockers" from the 90s-as in shirt and jeans type of guys-tourists who don't know any better, pop radio types from the population, and the general mainstream. Nothing too strange or counter cultural here!

Dress Code: Best if you head out in shoes, not slippers; wearing a shirt, not sando; and go for comfortable instead of trying hard.

The Chow: Just because Craft Rock and Grill is located at foodie heaven Fort Strip doesn't mean it serves better bar chow than those, say, in Quezon City. It does, however, mean it is more expensive, with beer priced at P85. Limit the damage to your wallet-and your hunger pangs-and swing by after dinner instead. If you do feel like munching, order something low-key like their chicken wings (P195 for 6 pieces) and pair it with a bottle of beer. This should last you a good hour or two.

State of the Bathroom: The comfort rooms are ace! Men's and ladies have separate toilets. The women's have two cubes, complete with toilet paper, (undiluted) liquid soap, and paper towels.

Freedom Bar
2/F Anonas Commercial Complex, Anonas Avenue corner Aurora Boulevard
Tel. No.: 634-0577
ADVERTISEMENT - CONTINUE READING BELOW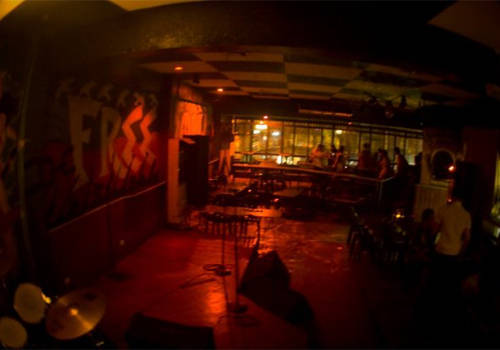 Photo from Freedom Bar's Facebook page
The Vibe: Freedom Bar along Anonas in QC may not be the friendliest bar because purists come here to play and listen. Sure there's the usual pop rock outfits but Freedom Bar has established itself for its sophisticated live music. Think: jazz, blues, and heavy metal.

The Crowd: Purists and hardcore musicians and fans, who are terribly serious about their craft.

Dress Code: Casual is best.

The Chow: With a McDonalds at the corner and a mangtataho on standby at the parking lot, people hardly ever eat here. If you truly must have something to go with your beer (P45), limit yourself to something simple, like onion rings (P100).

State of the Bathroom: Freedom Bar shares comfort rooms with the rest of the building, at the far end of the floor. There are separate comfort rooms for men and women but this doesn't minimize the risk or the smell.

19 East
East Service Road, Sucat, Muntinlupa City
Tel. No.: 837-6903
ADVERTISEMENT - CONTINUE READING BELOW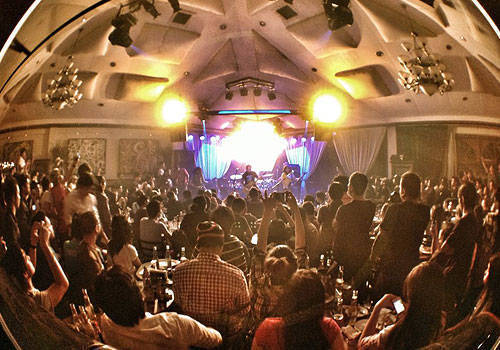 Photo from 19 East's Facebook page

The Vibe: One of the best venues in the city for live music, 19 East is a two-floor joint, with a proper stage, excellent sound and light systems, a spacious floor, and a sprawling garden. Because of the aforementioned good sound and light systems, a lot of big-named artists, be they rock, pop, or underground, like to play here, commanding a good crowd with both floors full to the brim. It shouldn't be a problem, though: the garden has a billiard table where audience members can hang and play should they need a break from all the good music.

The Crowd: Because 19 East isn't exactly the most accessible, people who come there with an agenda: Watch bands. Pair that with the fact that it's located in the south, and you can expect the same southside laidback, unpretentious vibe.

Dress Code: Come as you please.

The Chow: Again, sisig (P229), squid sisig (p240), calamares (P218), chicken liver wrapped in bacon (P179).

State of the Bathroom: Girls and boys each have their own bathroom. Clean enough.


70s Bistro
46 Anonas Street, Project 2, Quezon City
Tel. No.: 434-3597
ADVERTISEMENT - CONTINUE READING BELOW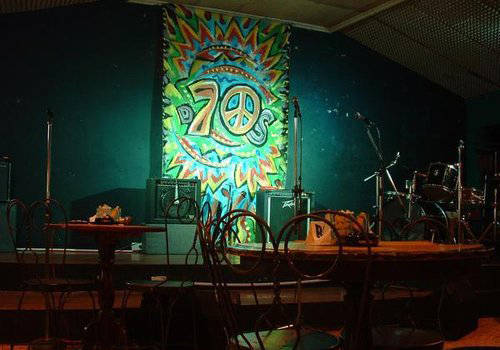 Photo from 70s Bistro's Google Plus account
The Vibe: One of the longeststanding band places in Manila, 70s Bistro was recently renovated to accommodate more people-the floor space is wider than it used to be, the funky smell is gone, and you gotta love the airconditioning. Finally!

The Crowd: Expect the QC artsy-fartsy, socio-political crowd.

Dress Code: Come in your casual best-the more nonchalant, the better!

The Chow: 70s Bistro serves of some of the best bar chow in town. Try any of their pizzas, but regulars will bet on the Picha ng Parokya (P220). Hey, they even have a vegetarian menu.

State of the Bathroom: It's newly renovated so you know the rest rooms are clean and ideal.
ADVERTISEMENT - CONTINUE READING BELOW
Gweilos
109 C. Palanca Street, Legaspi Village, Makati City
Tel. No.: 817-6083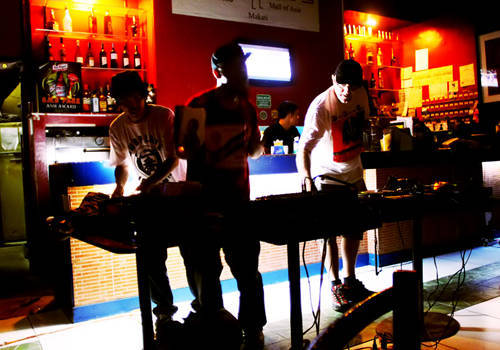 The Vibe: It's a pretty low-key place, the vibe depends on whoever is playing (DJ or band). It's a fairly regular, unintimidating venue.
The Crowd: The wandering youth and people after work who want drinks. The Eastwood branch is host to people working nearby.
ADVERTISEMENT - CONTINUE READING BELOW
Dress Code: Come in your crisp polo and freshly pressed slacks or in your shirt, shorts, and kicks.
The Chow: Gweilos offers samplers, platters, and group meals so it's an alright place to get your chow on. It's a nice place to hang and listen to tunes if you're not expecting anything spectacular from the menu.
State of the Bathroom: It's fairly clean. Bring your own tissue.
Conspiracy Garden Cafe photo by TJ Tantiangco. B-Side, Cubao X, saGuijo, and Gweilos photos by Goks.
Share this story with your friends!
---
Help us make Spot.ph better!
Take the short survey
More Videos You Can Watch
Load More Stories