The F Girls Reunion: Ten Years After
Reunited "F" girls Daphne Osena-Paez, Angel Aquino and Cher Calvin talk to SPOT.ph about the favorite years of their lives, how they've grown on their own and how they continue to still be friends.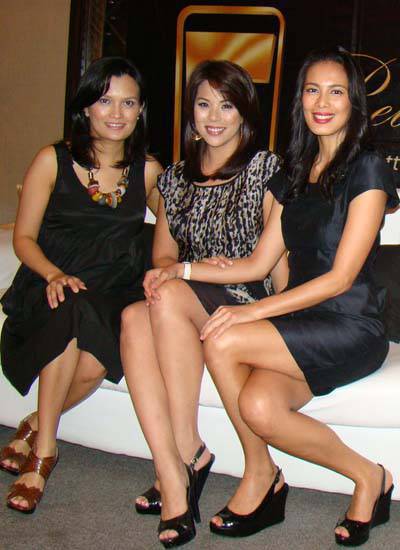 F Girls Daphne Osena, Cher Calvin and Angel Aquino are reunited for an Olay Total Effects campaign
In 1999, three stylish, independent and smart women headlined F, a lifestyle show on ABS-CBN that gave  a fresh, female perspective on city-living, fashion, food, travel and trends. Daphne Osena-Paez, Angel   Aquino and Cher Calvin traipsed around town and hosted one of the longest-running magazine programs on Philippine TV. The three women had great chemistry and rapport, and that they were "sisters" who really got along with and supported each other was evident on-screen.
When Cher Calvin left for the U.S.   in 2003 to pursue a broadcasting career, Daphne and Angel continued on with the show, with model  Amanda Griffin taking Cher's place. Since then, the three women embarked on new lives: Cher is a singleton who has taken her career to international heights with an Emmy Award tucked under her belt; Daphne is a multi-tasking wife and mother who has pursued her passions and made them lucrative with her jewelry and linen business; and Angel is a single mother who has earned respect as an actress in local cinema, and hosts the F-like   "Us Girls" on Studio 23 with younger co-hosts Iya Villana and Megan Young.
ADVERTISEMENT - CONTINUE READING BELOW
Ten years after they first got together, the three women reunite for an Olay Total effects campaign and the much-awaited F Reunion episode. SPOT.ph witnessed how excited they all were to see each other as they pored over photo albums that Daphne brought, bringing back memories of the years which they say were "their favorite years":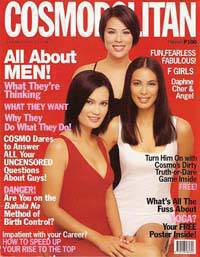 Fun, Fearless F Girls: Cosmo put three women on the cover for the first time in September 2001
DAPHNE: We were put together [Cher and I] to do a lifestyle show and there were auditions for the third girl. We weren't thinking of Angel, because she had just finished Mumbaki. And they were thinking of interviewing Angel for the first episode.
CONTINUE READING BELOW
Recommended Videos
CHER: 'Lifestyle show? Sure. I don't know what that means, but let's do it!'
ANGEL: When they told me that I got in, and I met them, I thought, 'I'm not going to host with these two, mga Inglisera no! No way! But they were nice enough to me.  I remember reading the script, 'First segment: banter. Second segment: banter.' Good luck to me! But it was the best thing that happened to me.
ADVERTISEMENT - CONTINUE READING BELOW
How did F help you progress in your own individual careers?
DAPHNE: That was the beauty of  F. when you put women together, there's always the assumption that women compete, that there's cattiness backstage, and with us, we always had our own things beyond  F, and so F was so much fun for all of us. It was always, "what are you wearing?"  During  F, I learned how to produce a TV show, and since we graduated from  F, now I produce my own show, Urban Zone, so my current show is like the grown-up F, the "F girl" on her own, with a house."
CHER: I missed those days when we would banter. Now, it's all about reading death and destruction. My career now is on a whole different level, and it's nice to be back and talk about some life stuff and look at the bags Daphne has…and it's funny because I'm so much in that dark zone now of heavy and hard news that fashion is so secondary to me. I couldn't wait to be back with the F girls and see what's new. Am actually quite impressed with Greenbelt 5, wow! I mean, we got it going on here, right?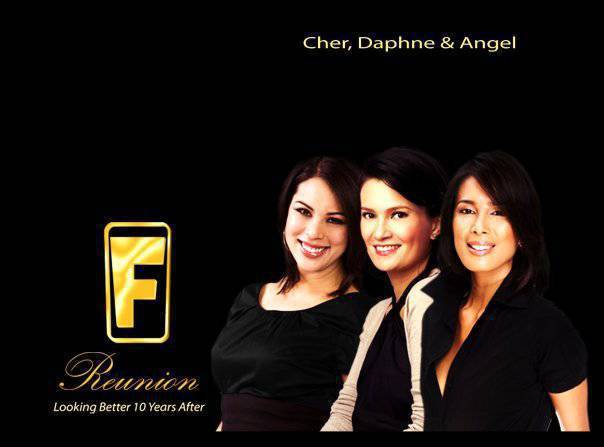 ADVERTISEMENT - CONTINUE READING BELOW
ANGEL: I'm still doing the same thing just like what we did in F back then. It's nice though 'cause I'm with younger girls and they kind of look up to me. Before, I'd look up to Daphne and Cher because I didn't know anything about style. That side of the world was just a stranger to me. When I got to be with Daphne and Cher, and they knew about fashion and style and a bit of that rubbed off on me and now I'm able to be the 'Daphne' to Iya Villania and Megan Young. F helped me with my live hosting career and all the other things I'm doing now.
How did you feel about doing this reunion?
CHER: This is a dream come true because those were my favorite years of my life. We did a lot, we traveled a lot, we had a lot of fun. I didn't realize how much impact this show made. And to honestly be called back six years later, I can't even believe anyone would even remember my name.
DAPHNE: I was nervous asking about Cher about it, but when she got excited, I was like, 'It's gonna happen'. So it took a few months but finally, we're here.
CHER: I have to admit, I was nervous and anxious. These people haven't really seen me in a long time and I was thinking, 'What am I gonna do?' This is a beauty campaign and you want to look your best and I said, 'Daph, what am I gonna do?'  She's like, 'Start using the Olay', which I was using already. It was a bit nerve-wracking, I had a lot of preparation and three months didn't seem like it was long enough.
ADVERTISEMENT - CONTINUE READING BELOW
DAPHNE: While this was all happening, I had to give birth, I had to look human. And I was like, 'what am I going to wear?' It really felt like a real reunion, like a high school or college reunion.
What were your worst fads  during those  years?
CHER: Skirt over pants!
DAPHNE: There was this one time Cher came back from New York and she was said, 'Oooh, the biggest thing in New York now is skirt over pants.' And she word it for taping and I said, ' Oh, that's a good look.' And it never caught on. Angel tried it once too.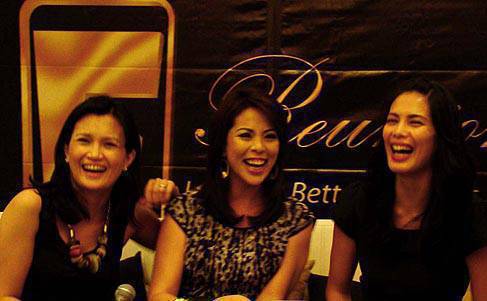 What can you say about how each of you   turned out and do you ever compare each other's life choices?
CHER: We've all kept in touch somehow, some way, except Angel who is not tech-savvy, no e-mail, no Facebook, nothing! No way of finding out how the kids look like, but I find out through Daphne, whom I've always kept in touch with through the years so I know what's going on. And I'm so proud of you, ladies, I really am.
ADVERTISEMENT - CONTINUE READING BELOW
They look exactly the same as they did before and they're just doing so well. Of course, I didn't expect anything less from them, because they were strong women back then, they are bright women, they're entrepreneurs, and they're surrounded by good people. It's no surprise to me that they're as successful as they are.
DAPHNE: When Cher left, I was really affected. I thought we were going the same route, the same direction, and I also had plans of going back to Canada and doing broadcasting. I had the opportunity but I've made my life choice, to stay here and I fell in love and I thought this is where I'm going to be. I never really made the Philippines my home, and it was Cher who said, 'You live here, this is your home.'  Time passed and I had three kids, and other things have happened and I see what Cher has done and it's amazing. She has an Emmy.
And Angel, everything that she's done, with her choices, she's still the Angel that everyone looks up to, an angel in the real sense of the word. Nothing's changed with Angel, her humility despite all her success. Angel and I actually consult each other a lot, in business…and in love.
ANGEL: I've always looked up to these two, I just knew that they were good at what they do. Actually, when Cher first told us that she was going out there, that she was going to pursue a career, I felt really proud of her already. We knew that we were going to lose a sister, but I knew that it was something that she always wanted to do.
ADVERTISEMENT - CONTINUE READING BELOW
Every time I think about my life, I think about Daphne. I'm just amazed at what she's made of herself, di ba? Her show Urban Zone, her linens, her jewelry business, and she did it all on her own. I'm really, really proud of her and I keep saying, 'When I grow up, I will be Daphne.'
What did you miss most about being together?
CHER: I missed this. We're giggling, it is a sisterhood. We haven't seen each other in six years but it doesn't matter, because this is family.
DAPHNE: A lot of people ask that, are you really friends? We really are, obviously. And what I really miss, is our 'mare days'. We had our 'mare days', like 'let's be  matronas together'.
Cher Calvin anchors the KTLA Morning News and is a 2005 Emmy Award recipient. She also has three Golden Mike Awards.
What are your future plans?
CHER: I'm just really excited that I'm allowed to do this. Let's see what the future holds. I don't want to make any predictions just yet. I'm just glad this one came true.
DAPHNE: I purposely slowed down with television, but the more I slowed down, more opportunities came up. I'm really a producer, so with Urban Zone, I'm so happy that it's doing really well. And I have my bed linens that I'll continue to expand, and just balancing motherhood and work.
Daphne Oseña produces and stars in her own show, Urban Zone
ANGEL: I'll still go on with what I do on TV, definitely my advocacy for protecting the environment will still be there. I'll just   try to do the things that are most possible for me.
ADVERTISEMENT - CONTINUE READING BELOW
Angel Aquino in a Greenpeace video encouraging   us to reduce our carbon footprint.
CHER: But with the F Reunion episode, you're going to see us girls banter, banter, banter. Talking about outfits in the end, with seven minutes of credits. It's going to be exactly like what we did years ago, but us looking, you know, better.
The F Reunion episode will be aired on September 27, Sunday at 10 p.m. on ABS-CBN Channel 2.
Images by Nerisa Almo.
SPOT.ph wants to know: Who was your favorite F girl?
Share this story with your friends!
---
Help us make Spot.ph better!
Take the short survey
Load More Stories