We've been hearing about a "Brazilian Invasion" for years now, especially when it comes to models, Brazil's most visible–and most beautiful–export. But the truth is, hundreds of Brazilian models fly in and fly out from our shores every year. It takes a lot of courage, commitment–and even love–to stay put and try to make a life here. And so, as Brazil keeps exporting her eye candy to fill our TV commercials and billboards, here are six Brazilians that Manila should keep an eye on.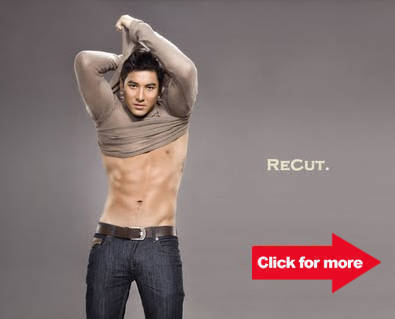 NAME: Akihiro Sato
AGE: 23
PROFESSION: Model-turned-actor
WHERE YOU'VE SEEN HIM: The better question might be: Where have you not seen him? It seems Akihiro is everywhere these days: smiling at you from a billboard as one of Penshoppe's longtime endorsers, warbling Saturday evenings as one of the contestants in the recently concluded third season of Celebrity Duets (he made it to the final three, but lost to fragrance entrepreneur Joel Cruz), or trading punchlines with Rufa Mae Quinto in the four-part miniseries Moshi Moshi I Love You over GMA-7.
ADVERTISEMENT - CONTINUE READING BELOW
WHERE HE COMES FROM: Aki, as he is fast becoming known to his adoring fans, grew up in a beach community three hours outside of Sao Paulo, the middle child of a pure Japanese father and a Brazilian-Italian-Portuguese mother. (He has a 30-year-old brother and a sister who is 21.) At 15, he joined an Elite Model search and won in the male division, but it wasn't until he was 19 that he cut short a university degree in physical therapy to start modeling full-time. After one month, he flew off to Thailand, where he was based for three years, jetting to Hong Kong and Singapore for assignments. He still goes home every Christmas–summertime in Brazil–to help manage his family's seafood bistro. Aki says, in his charming Tagalog, that his trips home aren't holidays at all: "Sigurado trabaho…sobra!"
HOW HE BECAME A CELEBRITY: In Thailand, Aki says he already had a plan to break into showbiz. But when Jonas Gaffud kept offering him a spot in Mercator Model Management's roster of fly-in models, Aki told Jonas, "If you want to work with me, I really want to enter show business." Despite initial misgivings, Jonas decided to represent him. And so Aki flew back to Thailand last year to tell his agent in Bangkok that he was moving to Manila.
Fan-created video on YouTube
WHY MANILA? One of the city's primary attractions to him was that "you guys really speak good English," which dovetailed neatly with his objective to learn the language. Second, he liked the challenge that local showbiz presented to him: "Here, you have to do everything–act and dance and sing!" And third, that world-renowned Filipino hospitality worked its charm on him: "My life became better here. I learned so many things. I just feel good here."
CONTINUE READING BELOW
Recommended Videos
On GMA-7's S.O.P
WHERE YOU'LL SEE HIM NEXT: He will next be appearing as a villain in one of GMA's top-rating soaps, and come February next year, plans are afoot to launch him in another soap that will be his biggest break yet. It's all part of Aki's philosophy of doing everything fast but methodically. (One reason he chose GMA over ABS-CBN? According to Aki, one of the reasons was the Lopez-owned network insisted that he ace his advanced Tagalog courses first before they would take him in…and he didn't want to wait that long.) While he was modeling, he would commute to UP–yes, that meant walking to the MRT station in Ayala, then taking a jeep to the university campus–for lessons in English, Tagalog, voice and piano five days a week. Now he's juggling his lessons with his acting assignments. "I really want to learn Tagalog as fast as I can. I want to build my career here. I want to do my best, I know I can be better…but you start first things first."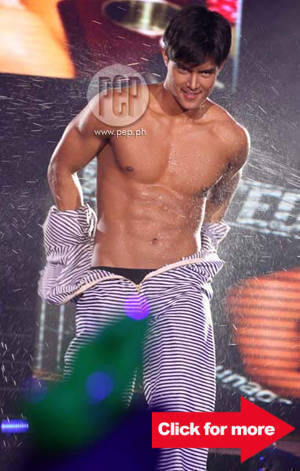 ADVERTISEMENT - CONTINUE READING BELOW
NAME: Daniel Matsunaga
AGE: 21
PROFESSION: Model
WHERE YOU'VE SEEN HIM: Romancing KC Concepcion for a Close Up toothpaste ad (a job he snagged the first week he got here); acting refreshed (while conveniently baring his chest) in TV ads and MRT billboards for Solmux chewable tablets; enjoying Nova multigrain snacks; and a host of other assignments "that have not come out yet."
Close-Up ad with KC Concepcion
WHERE HE COMES FROM: Daniel grew up in Brasilia, the capital of Brazil. Daniel calls it a "monumental" city because of the city's monuments, saying that "the history of Brazil is in Brasilia." The son of a half-Japanese father and pure Brazilian mother, Daniel has a brother and a sister (with whom he travels on his modeling assignments around the world). And, sorry to tell you ladies out there, his girlfriend is also part of his entourage.
HOW HE BECAME A MODEL: His sister Vanessa, who started modeling first, got him into the business at age 15, when her agent spotted him at his high school. At 16, he started traveling to Europe, South Africa, and Asia, putting his dreams of becoming a biologist on hold. One passion he has not let go: soccer. At one point, he was a professional soccer player in Hong Kong. "I've been playing since I was in my mom's tummy," Daniel laughs.
WHY MANILA? Originally, when Daniel arrived in Manila, he saw it as just another stop, no different than any other modeling market like Bangkok or Holland. But when his face started appearing on television and billboards, he was amazed at how quickly people picked up on who he was: "People were very nice, they start to recognize you. I feel very at home here. And the media here is very fast." Case in point: On his second month here, he was selected as one of the centerfolds for the annual Cosmo 69 Bachelors issue, and his appearance at the accompanying Bachelor Bash has only fanned the adulation.
ADVERTISEMENT - CONTINUE READING BELOW
WHERE YOU'LL SEE HIM NEXT: After five months here, Daniel has set his sights on the next step–and for models, that's acting. He has already met "three or four times with the women of GMA." (It's true–the top executive positions in GMA Network are all occupied by women.) But he has a laidback approach to what life throws his way: "I continue with my modeling…if the opportunity to do movies comes, I will do my best."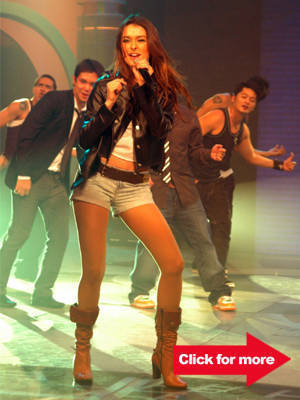 NAME: Daiana Menezes
AGE: 22
PROFESSION: Model-turned-TV personality/actress
WHERE YOU'VE SEEN HER: Among all the Brazilians on this list, Daiana has made the biggest inroads with the mass audience, thanks to her six-day-a-week stint as a member of the "dabarkads" of the longest-running noontime show Eat Bulaga! She also co-starred in two high-profile movies: last year's Dobol Trobol with Dolphy and Vic Sotto, and last September's Yaya and Angelina: The Spoiled Brat Movie. She is the endorser of products as varied as Head & Shoulders shampoo, Essenxa clothing brand, Baliwag Lechon Manok, Dermaline Facial and Skin Care Center, and PLDT WatchPad. But any lingering doubts as to her crossover appeal are quickly dispelled when you visit the EB studio at Broadway Centrum to see the fans calling out her name from the bleachers…on the same day your own mother, when she finds out that you're interviewing the Brazilian beauty for SPOT.ph, admonishes you to say hello to her "beautiful friend."
ADVERTISEMENT - CONTINUE READING BELOW
Daiana singing "Lanca Perfume" and "Isang Linggong Pag-ibig"
WHERE SHE COMES FROM: Daiana hails from Belo Horizonte, the capital of the state of Minas Gerais, and close to the more popular cities Sao Paulo and Rio de Janeiro. "I would compare it to Manila…because it's a big city also at wala ring beach." Daiana's parents divorced when she was seven, and now she has a half-sister, and a two-year-old half-brother who was born while she was traveling and whom she's only seen once. "But he recognizes me," Daiana marvels. "Pag nag-uusap kami sa internet, kilala niya kung sino ako!"
HOW SHE BECAME A CELEBRITY: Daiana has been modeling for four years. As far as her international modeling career goes, she says she's only been to Asia because she's "short"–"Hindi ako masyadong matangkad," she laughs. "If you go to Europe, you should be at least 5'10", 'di ba? I'm only 5'7"." Daiana has made the rounds in Singapore, Korea, Thailand, Shanghai, and Hong Kong.
Daiana had actually been to the Philippines twice before–the first time in 2006 as a fly-in model care of her mother agent in Brazil; the second as a tourist to Boracay coming in from Korea. She says she missed Manila particularly while she was in Seoul: "'Yung city [Seoul] parang 'yung mga tao…malamig." And so a little over two years ago, when her friend (and first-ever EB Brazilian babe) Ariani Nogueira told her that she was leaving the program because showbiz wasn't for her, Daiana wasted no time shooting an audition tape of herself and mailing it from Shanghai (where she was then based) to the people at Television and Production Exponents, Inc., the production outfit of the noontime show.
ADVERTISEMENT - CONTINUE READING BELOW
"I wanted to try out something that would make me stay in the Philippines. It was mostly for the love of the place. And I cannot be modeling forever!" Despite the fact that "the work was really, really good in Shanghai," when the TAPE people came calling, Daiana packed her bags and happily returned to Manila, starting her life as EB co-host in November 2007.
"The Brazilian Singing Sensation"
WHY MANILA? "I always wanted to be independent," Daiana says, "and start a life in a place where I would feel at home." Manila fit the bill perfectly: "This country, even though it's on the other side of the world as Brazil, it's very, very similar. The weather is the same. In Brazil, we [speak] a Latin language, halos pareho sa Spanish. In Tagalog, there are a lot of Spanish words, so it's easier for me. The food is really, really good. And I think the culture…magkasundo tayo."
HOW SHE CAME TO BE SO GOOD IN TAGALOG: Unlike Akihiro, Daiana took no formal lessons–all the Tagalog she learned was from the spiels that the EB writers wrote for her. "I learned it the hard way. I really had to memorize and understand what I was saying. Hindi ako nag-aral." But the motivation to excel was strong: "Ayoko naman makilala ako 'yung girl na mali-mali ang Tagalog."
WHERE YOU'LL SEE HER NEXT: Daiana co-owns a talent agency named Star Models which also represents her, making her a true mistress of her own career. After resigning from the TV5 gag show Ogags late last year (she and her co-host, the Cuban Miss Earth title holder Ariana Barouk, didn't get along), she landed another role in the network, this time in the young adult melodrama Lipgloss. She also makes periodic appearances in the GMA shows SOP and Bubble Gang. She coyly mentions her Filipino boyfriend, another model who's breaking into showbiz. "I'd like to stay here for eight, 10 years. Maybe forever if I get married here. Malay mo, 'di ba?"
ADVERTISEMENT - CONTINUE READING BELOW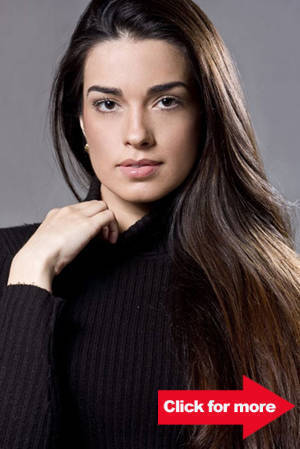 NAME: Priscila Monteiro
AGE: 23
PROFESSION: Model-turned-TV personality
WHERE YOU'VE SEEN HER: Doing co-hosting chores as the third Brazilian babe on Eat Bulaga!; replacing Angel Locsin as one of the new faces of MET Tathione whitening capsules
WHERE SHE COMES FROM: The fabled city of Rio de Janeiro–home of samba schools, the statue of Christ the Redeemer, and the best mardi gras celebrations the world has ever seen. Priscila says there are advantages to growing up in a city where you can work all morning, then laze on the sands of Ipanema during your lunch break: "Cariocas [the traditional name for the city's denizens] can work and have fun just like that." Hopefully, it's a sense of spontaneity that the Monteiro family is exporting all over the world; her parents are still in Brazil, but Priscila has a sister who lives in Germany.
HOW SHE BECAME A CELEBRITY: Priscila started modeling in Brazil when she was 15, but has only been traveling internationally for close to two years. Her first assignment was in Turkey, where she stayed for three months. Then she went back home to Brazil, and 15 months ago, left again to go to Guangzhou, an urban center in China which she doesn't describe as "polluted" so much as mime it (complete with a pinch of her nose). Three months later, she was in Manila, where her manager sent her on a casting to try out for EB. She co-hosted for a day, the TAPE people liked what they saw, and she's been strutting her considerable assets alongside Vic Sotto and Joey de Leon for six months now.
ADVERTISEMENT - CONTINUE READING BELOW
WHY MANILA? "I really like the Philippines…I like the people, the weather, the food. I like everything!" She finds that Filipinos, just like Cariocas, are always "ready to help you. If they can help you, they will." While she admits to sometimes being bummed out by Manila's traffic, she says, "There is traffic in all the big cities in the world. The traffic is also terrible in Rio de Janeiro!" And her favorite food? "Palabok!"
WHERE YOU'LL SEE HER NEXT: She intends to stay in Manila for good: "I am just going to try to learn Tagalog. I bought a book, and I am starting private lessons with a teacher."
Priscila Monteiro in the "Hubad na Katotohanan" game on Cool Center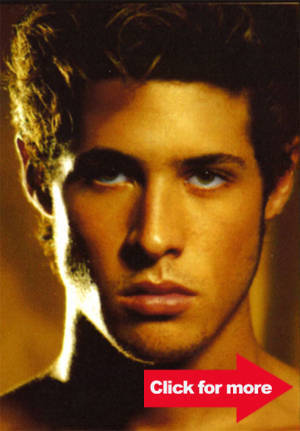 NAME: Adriano Kartuliares
AGE: 22
PROFESSION: Model-turned-cook
WHERE YOU'VE SEEN HIM: Sipping health smoothies in the murals of Zing! Juice stores, donning an automobile-shaped sleeping mask for the print ads of PSBank car loan, posing for photographs in the lifestyle section's society pages with ex-girlfriend, real estate entrepreneur Divine Lee.
ADVERTISEMENT - CONTINUE READING BELOW
WHERE HE COMES FROM: Hailing from Brasilia, Adriano had an itinerant childhood, moving around with his mother and two elder sisters and living in places such as Goiania, Sao Paulo, and the northern part of Brazil. At 15, Adriano's mother encouraged him to try modeling, so he took modeling courses and moved back to Sao Paulo. Soon after, he traveled around Asia for six months–modeling in such markets as Korea, Malaysia, Hong Kong, and Singapore–before he landed on our shores under contract with Ideal People Model Management.
HOW HE BECAME A COOK: "I love to cook since I was 12," Adriano says. He took a few classes back in Brazil, and when he realized that he wanted to settle here, he decided to revive his culinary ambitions, commuting to Katipunan Avenue for an intensive three-month course at the Center for Culinary Arts while still going to castings and modeling assignments. After graduating, he approached restaurateur Louie Ysmael, who gave him a spot in Nuvo's kitchen.
WHY MANILA? "When I got here, I already fall in love with the country," Adriano declares. Originally he had planned to stay only for two months. Then he started making connections, so he decided to stay longer. Then he fell in love with a Filipina, and he put his travel plans on hold yet again. Before he knew it, he had been here for three years. "It's the Filipinos that make this country special. Of course I miss my family in Brazil, but I feel I have my family here too…I don't feel like I'm away." In his travels, he has learned to instinctively zone in on Filipinos abroad, who are amazed when he practices his Tagalog on them. "Now when I travel, when I'm away, I miss the Philippines."
ADVERTISEMENT - CONTINUE READING BELOW
WHERE YOU'LL SEE HIM NEXT: Hopefully, heading his own restaurant. "My dream since I was young was to have my own place, the way I like, with the design I want. I'm a cook now so I stay in the kitchen, but when I'm a chef, I want to go around and talk to my customers. I love to cook and I love to talk to people."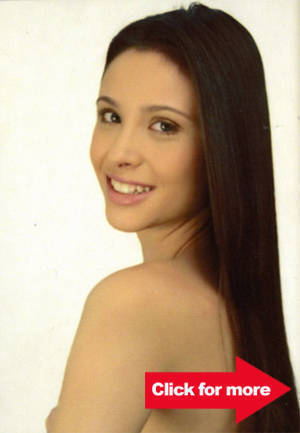 NAME: Malu Mello
AGE: 22
PROFESSION: Model
WHERE YOU'VE SEEN HER: She is one of a quartet of Brazilian beauties whose faces sell MET Tathione whitening products (EB co-host Priscila Monteiro is another), but she still gets recognized for a "funny" ad she did for SkinWhite Deodorant in 2007, in which a potential suitor runs away because of her dark underarms.
WHERE SHE COMES FROM: Malu was born in Campo Grande, the capital of Mato Grosso do Sul, in the central west region of Brazil, on the borders of Bolivia and Paraguay. "My dad is a farmer. It's a state where we grow soya to export all over the world, so it's pretty much just farms there." While she spent most of her time in the urban capital, her father stayed in the farm full-time. "When we want to relax, we go to our farm. It's two hours away." She has an 18-year-old sister named Maria Luisa who is studying to be a dentist: "She is not into modeling," Malu laughs.
ADVERTISEMENT - CONTINUE READING BELOW
HOW SHE BECAME A MODEL: Malu only started modeling two years ago, and her first overseas assignment was Manila. She stayed for five months, then went to Thailand and China to fulfill contractual obligations. She flew home to Brazil to pursue another year of her journalism studies, then she returned to the Philippines, this time as a freelancer (though she is quick to point out that most of the jobs she lands are courtesy of Ideal People Model Management). Factoring in the first time she was here, she's spent a little over a year in our country.
WHY MANILA? She says the Philippines is close to her heart because "I think both our countries have an experience with colonization. Both our cultures have a lot in common, and I feel I can live good here." On this second stay, she took a month off to travel around the Philippines: "I really remember Bohol. I love it more than Boracay or any of the other places I've been to. I took a boat ride down the river to have lunch, and there were singers singing beside the river. I almost cried! They were so humble and simple, and they really seemed to love what they were doing. I will remember that forever."
WHERE YOU'LL SEE HER NEXT: Malu is waiting for developments in some projects that she is up for. One project–which eventually fell through–would have had her doing man-on-the-street interviews, combining her charms as a model with the news-gathering skills she learned from her journalism studies back home. "I see myself doing that," Malu says. "Being a journalist, being on TV…those are two things I love to do."
ADVERTISEMENT - CONTINUE READING BELOW
Images courtesy of Ideal People Model Management (Adriano Kartuliares and Malu Mello), Mercator Model Management (Daniel Matsunaga), cosmo.ph (Akihiro Sato) and Daiana Menezes.
Share this story with your friends!
---
Help us make Spot.ph better!
Take the short survey
Load More Stories