Meet The Twitterati: Top 20 Non-Showbiz Celebs with the Most Followers
These personalities might not be silver or small screen royalty but they do reign on Twitter.
These personalities might not make a box-office killing, star in primetime shows or top the record charts, but they do have quite the follower flock.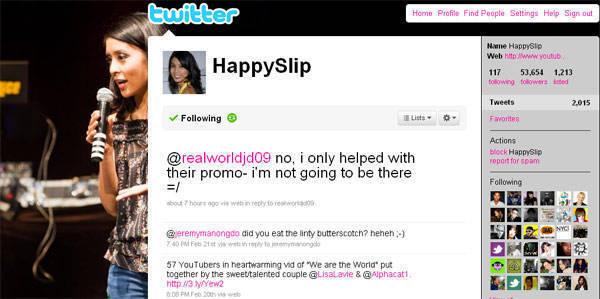 1. HappySlip
Number of Followers: 53,666
HappySlip, Christine Gambito in real life, is the Fil-Am Youtube sensation known for her one-woman videos, some of which poke fun at Pinoy culture and practices. The name "HappySlip" comes from her mom's constant reminder to wear a half-slip, which she pronounces as "hap eslip." Christine says the name also reflects that she'd like people to "slip into happiness" when they watch her videos. Born and raised in the U.S., she toured the Philippines for 20 days in 2008 as a Department of Tourism ambassador.
Twitterati Trademark: Dishes the latest on her videos, replies to video comments and sometimes tweets about personal things like an emotional wedding that exhausted her.
Sample Tweet: "Glad to hear that some of you made some chocolate covered strawberries after watching my new video!! :-)"
ADVERTISEMENT - CONTINUE READING BELOW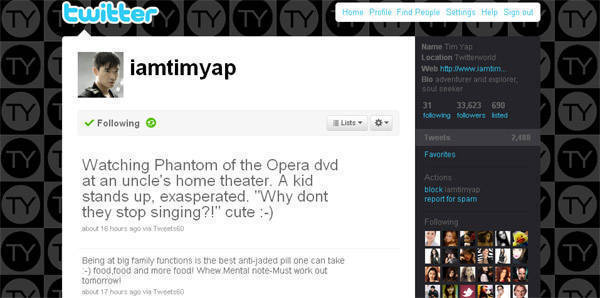 CONTINUE READING BELOW
Recommended Videos
2. Tim Yap
Number of Followers: 33,907
"Eventologist," TV host, club co-owner (Encore, Manor, Mansion and soon, Republic) and The Philippine Star's Supreme editor and creative director Tim Yap's latest endeavors are Tweetbiz: The Bizniz of Chizmiz, a showbiz talk show on QTV-11 and V Trends by Tim Yap on Channel [V], a show on pop culture.
Twitterati Trademark: Tweets his travels, happening parties, celeb encounters and spottings, and industry inside info. He also frequently gives away prizes such as cell phones and concert tickets in a contest section he calls #YAP4GRABS. Says the goal of his personal Twitter site is "to inspire."
Sample Tweet: "Maggie Wilson's engagement ring,a pink diamond from Israel has the words engraved, "Im yours!" Victor Consunji proposed in Bali last feb 13" and "For Sex And The City 2, Sarah Jessica Parker is carrying a proudly Pinoy Bea Valdes bag :) mabuhay ang Pinay!"
ADVERTISEMENT - CONTINUE READING BELOW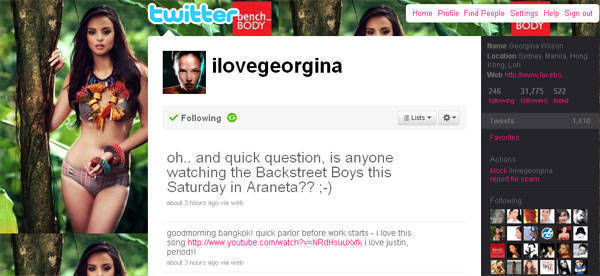 3. Georgina Wilson
Number of Followers: 32,056
The Filipino-British model currently stars with Wowowee's Willie Revillame in the biggest EDSA billboard near the Guadalupe Bridge. She was once actor Richard Gutierrez' girlfriend but they broke up because "long distance affairs are difficult." Rumors have been circulating that she's planning to join showbiz but she's "just trying to figure out what [she] wants to do," PEP.ph reports.
Twitterati Trademark: Tweets about her shoots, projects and loves, sometimes punctuated with expressions like "Stress Drilon" and "kalurky."
Sample Tweet: "I also think I'm way too addicted to my blackberry. U get nervous when it dies! I'm such a Crackberry addict!!"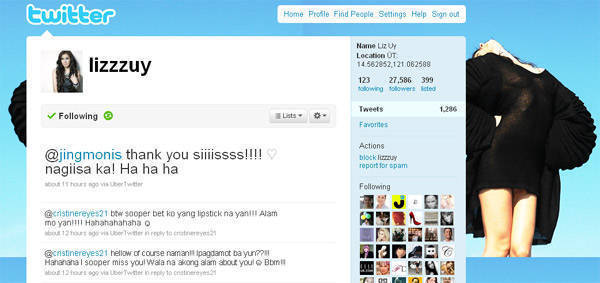 ADVERTISEMENT - CONTINUE READING BELOW
4. Liz Uy
Number of Followers: 27,901
Stylist extraordinaire Liz Uy of Preview may not be an artista but she's certainly part of the showbiz world. Once the girlfriend of box office king John Lloyd Cruz, Uy styles her celeb friends, some of whom are also on Twitter like Kris Aquino, Anne Curtis and Georgina Wilson.
Twitterati Trademark: Tweets about Preview shoots and intern needs, fashion (naturally), and parties (her recent glitteratti birthday party was a trending topic among local celebs for a couple of days).
Sample Tweet: "Omg!!! I just landed and got word that my shoot tomorrow won't push through, and that's the only reason why I came back!!!"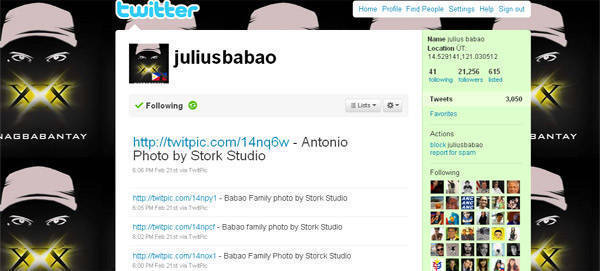 5. Julius Babao
Number of Followers: 21,328
In the '90s, he started out in ABS-CBN as a co-host of the morning magazine show Alas Singko Y Medya, which has undergone several reformats since. It was where he met his wife, Tintin Bersola, with whom he has two children. He is now co-anchor of TV Patrol World and co-host of XXX (Exklusibong, Explosibong, Expose).
ADVERTISEMENT - CONTINUE READING BELOW
Twitterati Trademark: Usually tweets and retweets news coverage, but also posts sentiments about family and personal photos.
Sample Tweet: "Ano ba ang meron sa Senado at may ilan sa kanilang nakulong, nakakulong at makukulong?"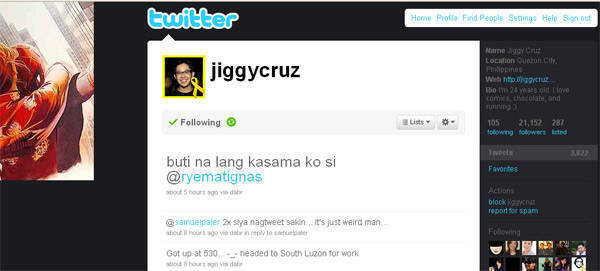 6. Jiggy Cruz
Number of Followers: 21,202
Grandson of Pinoy icons of democracy Ninoy and Cory Aquino, Jiggy Cruz published the illustrated book Ninoy: Art and Essays in 2008, the proceeds of which went to the Benigno S. Aquino Jr. Foundation.
Twitterati Trademark: The self-confessed geek mostly tweets about comics and newly bought books. He also campaigns for his uncle, Presidential candidate Noynoy Aquino, and his running mate Mar Roxas.
Sample Tweet: "Pinoy Komiks are AMAZING!!! Check out Elmer, Martial Law Babies, 12, Trese. I guarantee 100% satisfaction!"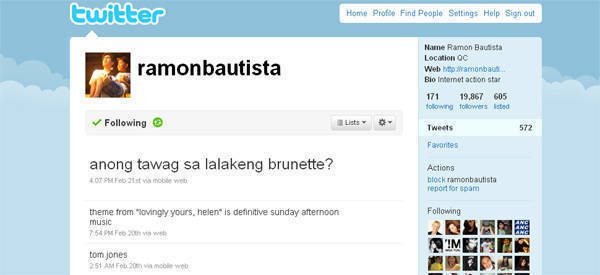 ADVERTISEMENT - CONTINUE READING BELOW
7. Ramon Bautista
Number of Followers: 19,993
After starting out in the comedy show Strangebrew, Ramon Bautista went on to do Brewrats and The Ramon Bautista Show, inspired partly by his Dan Michael the Master Magician videos for MTV. He now hosts The Brewrats with Arvin "Tado" Jimenez and Angel "Erning" Rivero on U92, and delivers daily laughs through his wacky Tumblr account.
Twitterati Trademark: His relatively uncluttered Twitter page contains witty observations, questions and quotes.
Sample Tweet: "this country needs an emo rehabilitation center"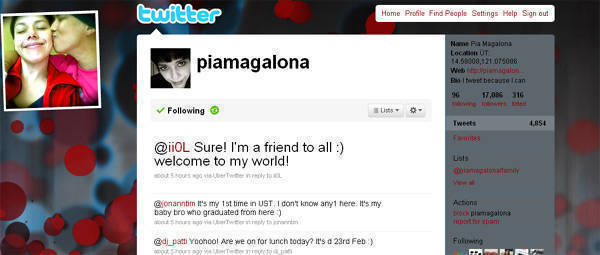 8. Pia Magalona
Number of Followers: 17,156
Pia Arroyo-Magalona is the widow and former manager of the late Pinoy King of Rap, Francis Magalona, and mother of eight children. An advocate of cervical cancer vaccination, she recently appeared in commercials and posters with her celebrity daughter Maxene for the cause.
Twitterati Trademark: Aside from keeping tabs on her kids and responding to fans, Pia also fearlessly posts her opinions and defends her brood. She tweeted on January 25, "PLS read THOROUGHLY what I write here. Don't ATTACK me bec I am very careful before I print something n I'm not gonna retract. ONE LOVE."
ADVERTISEMENT - CONTINUE READING BELOW
Sample Tweet: "@iamINNA I'm serious and want to get to the bottom of your nasty comments wc are uncalled for and I don't deserve ur disrespect."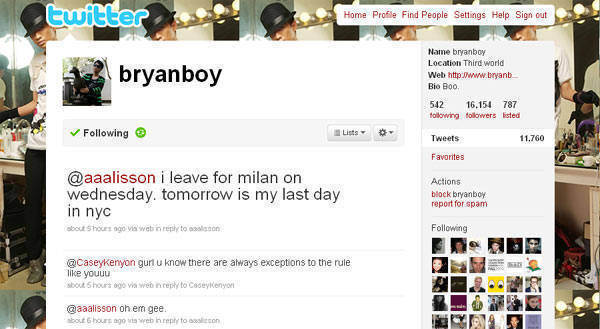 9. Bryanboy
Number of Followers: 16,351
Filipino blogger BryanBoy Yambao took the world by storm with his brutally honest remarks about the fashion industry. The fashion world is clearly taken with him: Marc Jacobs named an Ostrich bag after him in 2008 and American Vogue featured him and other style bloggers in its March 2010 Power Issue.
Twitterati Trademark: Tweets about his travels, fashion escapades and the occasional blogger's block.
Sample Tweet: "maybe my man @stefanogabbana can lend me a nice fur coat to wear at the dolce & gabbana show and for photographs? LOL dream on" (Stefano Gabbana replied, "@bryanboy my dear....i do it all my best!!!! Love u...")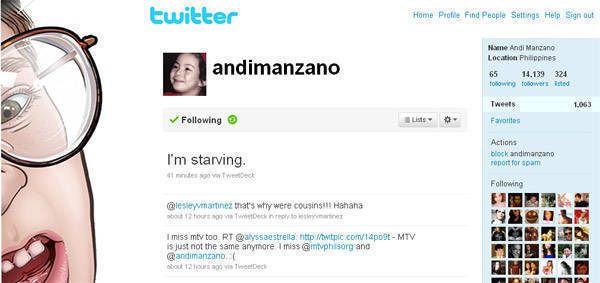 ADVERTISEMENT - CONTINUE READING BELOW
10. Andi Manzano
Number of Followers: 14,198
Winner of the 2007 MTV VJ Hunt, Andi Manzano or DJ Andi-9 now hosts Magic 89.9's Top 5 at 5 with Jessica Mendoza. She was linked to her former co-host, DJ Mo Twister, but Mo dispelled the rumors in a Showbiz Central episode in 2007.
Twitterati Trademark: Manzano tweets about everything from her love for the Backstreet Boys to her dogs in heat.
Sample Tweet: "i was about to put my shoes in the gym until i noticed my socks were wet w/ my dogs saliva. i wore it anyway. its called LOVE and wa poise."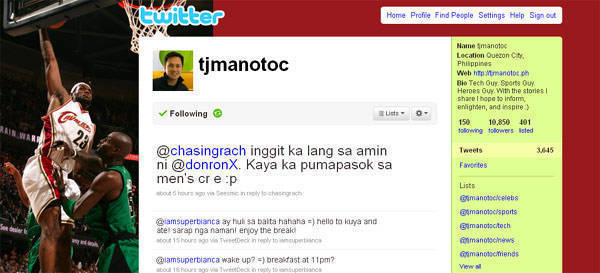 11. TJ Manotoc
Number of Followers: 10,891
One of the UAAP (University Athletic Association of the Philippines) commentators, TJ Manotoc also reports for ABS-CBN and ANC news programs, and is co-anchor in Studio 23's News Central. Tech, sports and health are all the things that keep him busy, he wrote in his blog.
ADVERTISEMENT - CONTINUE READING BELOW
Twitterati Trademark: Tweets about basketball, ABS-CBN shows and good food.
Sample Tweet: "So i just said "electrishity" on air. I don't know why. it was just one of those things. damnit. sana nag-brownout sa inyo so u didn't c it"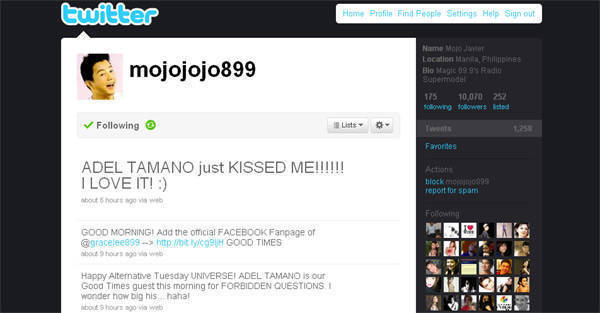 12. Mojo Jojo
Number of Followers: 10,117
DJ Mojo Jojo, Joseph Paul Javier in real life, hosts Magic 89.9's Good Times with Mo Twister and Grace Lee. Last month, the LGBT (Lesbian, Gay, Bisexual, Transsexual and Transgender) activist tweeted his complaints against anti-gay messages about his Glutamax billboards where he appeared topless with a naked man in the background.
Twitterati Trademark: Tweets about his show's guests, political ads and gorgeous celebs.
Sample Tweet: "ADEL TAMANO just KISSED ME!!!!!! I LOVE IT! :)"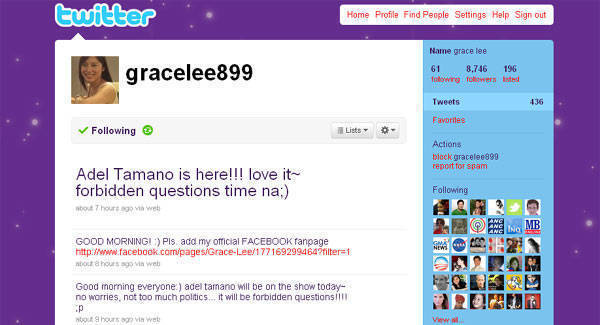 ADVERTISEMENT - CONTINUE READING BELOW
13. Grace Lee
Number of Followers: 8,804
Part of the Good Times trio, DJ Grace Lee is also one of the hosts of the new reality talent search show, Diz Iz It. Born Lee Kyung Hee in South Korea, she grew up in the Philippines where she is also a TV personality and commercial model.
Twitterati Trademark: Replies to a lot of her followers and tweets updates about her shows.
Sample Tweet: "thank you for all the comments and suggestions on "DIZ IZ IT" Really appreciate it even if its negative- i know its for our own good:)"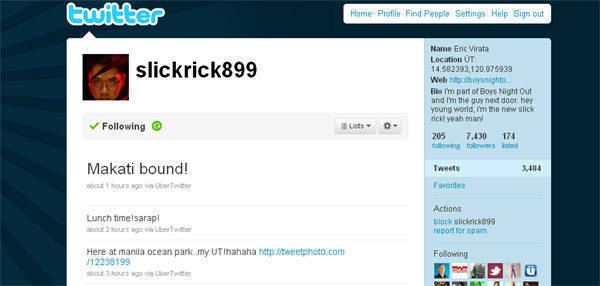 14. Slick Rick
Number of Followers: 7,510
DJ Slick Rick, Eric Virata in real life, is part of the radio phenomenon that is Boys' Night Out. The wacky hosts, Slick Rick, Sam YG and Tony Toni, are everywhere: TV shows, commercials, magazines, events and more. Slick Rick also writes a weekly column called "Style Weekend" in the Manila Bulletin.
ADVERTISEMENT - CONTINUE READING BELOW
Twitterati Trademark: Tweets his latest finds ("cleaning up my room and i found 2 bottles of patron,cuervo,absolut,the bar,and black label...hahaha") and quirky observations ("Saw the funniest thing,a gold digger and her dom as she leads him around the mall arm in arm and pointing the way to her happiness hahahaha").
Sample Tweet: "Driving home along sucat and you know someone is hiding when they put a car cover on and is parked in front of a "club" hahaha funny!"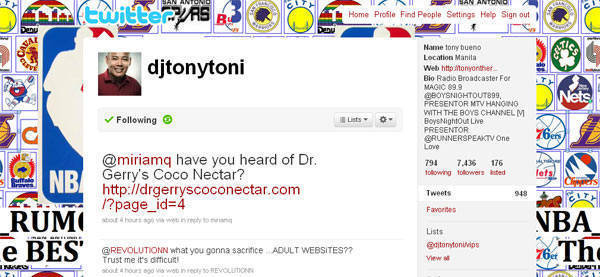 15. Tony Toni
Number of Followers: 7,478
Born in Canada but based in Manila for the past 11 years, DJ Tony Toni or Tony Bueno in real life is part of the Boys' Night Out trio. He is also co-presenter of the show RunnerSpeak on QTV-11. He claims to be a bachelor for life on his Tumblr.
Twitterati Trademark: True to his naughty image, Tony tweets about kiss marks and vibrators, oh, and running and hosting too.
ADVERTISEMENT - CONTINUE READING BELOW
Sample Tweet: "No dinner date but had 24 Bb. Pilipinas candidates for dinner....ooops i meant had dinner with 24 of the Bb. Pilipinas candidates! Nabusog"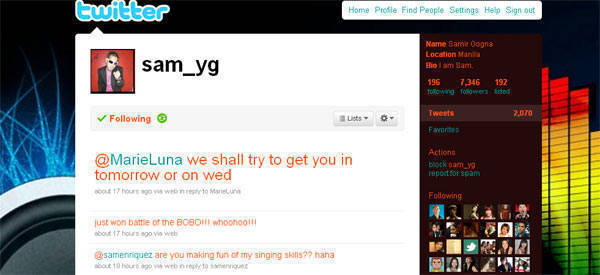 16. Sam YG
Number of Followers: 7,449
Sam Gogna, more popularly known as DJ Sam YG or love guru Shivaker, rounds up the Boys' Night Out trio. He also co-hosts showbiz talk show Tweetbiz and reality talent search show Diz Iz It. He was linked to singer-actress Karylle when she admitted to going out with him a couple of times but he said they're just friends and he's not emotionally ready for a relationship at the moment.
Twitterati Trademark: Yes, there's a trend among the boys. Sam YG tweets about Kama Sutra, reacting hormones and personally designed underwear.
Sample Tweet: "got another version of the Kama Sutra.. this one's pocket-sized! wild hahah!!!"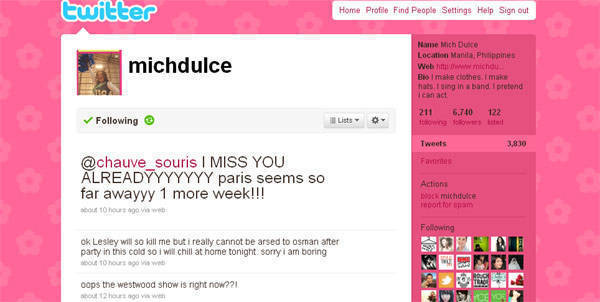 ADVERTISEMENT - CONTINUE READING BELOW
17. Mich Dulce
Number of Followers: 6,780
Fashion designer Mich Dulce recently gained global glory when she won the International Young Creative Entrepreneur Award for Fashion in London on February 21 for her millinery collection. She is also the vocalist of Us-2 Evil-0 whose first album, Dirty Debutantes, was released on November 28, 2009.
Twitterati Trademark: Candidly tweets about having girl crushes, being drunk at Fashion Week and contemplating calling her ex, among others.
Sample Tweet: "Tang---! Ang daming pogi sa nottingham! panget ng babae! I love you england! Hahhahahahaha"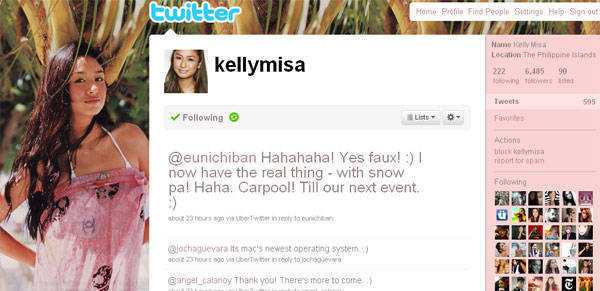 18. Kelly Misa
Number of Followers: 6,556
Kelly Misa is a model, stylist and Philippine Daily Inquirer beauty columnist. She has appeared in commercials for Pond's, Pantene and KFC, among others.
Twitterati Trademark: Tweets about everything under the sun from her hectic schedule to 11 p.m. jogging with stylist Liz Uy.
Sample Tweet: "i will finish all my work tonight and i have 4 red bulls to make sure i dont fall asleep again!! cant wait to finish! then off to misibis!!"
ADVERTISEMENT - CONTINUE READING BELOW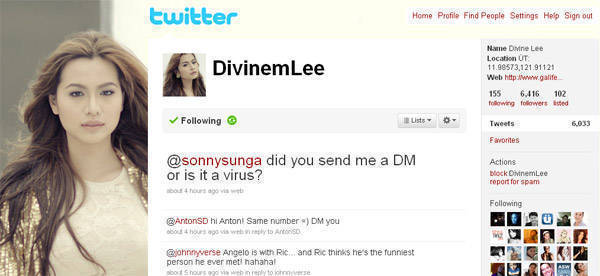 19. Divine Lee
Number of Followers: 6,416
A fixture in society pages, Divine Lee is also the vice president for sales and marketing of real estate company, Globe Asiatique. This model was also one of the many philanthropists during the Ondoy relief ops, turning their retail stores as drop-off points for donations and personally delivering the goods to affected communities.
Twitterati Trademark: Shares her latest projects, real estate know-how and her love for her dad. Recently stood up to someone who attacked her jawline.
Sample Tweet: "hello hater! oo, medyo mapanga nga ako.Tinanong ko na kay dr anong pwede gawin dun. Live with it daw. So i guess..LIVE WITH IT DIN =) haha!"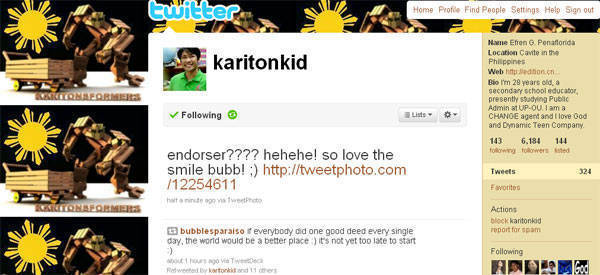 ADVERTISEMENT - CONTINUE READING BELOW
20. Efren Peñaflorida
Number of Followers: 6,310
Efren Peñaflorida Jr. was named the 2009 CNN Hero of the Year for bringing education to the less fortunate through his kariton classrooms. He also received the Order of Lakandula, a "merit awarded in memory of Lakandula's dedication to the responsibilities of leadership, prudence, fortitude, courage and resolve in the service of one's people." He has been linked to actress Angel Locsin, whom he is reportedly courting.
Twitterati Trademark: As expected, he tweets about his advocacies. He also shares inspirational messages and openly talks about some of the challenges in his life.
Sample Tweet: "I have an offer to further my studies abroad, but I have a career that is building up here. I'm facing a dilemma: to study or to earn?? ;("
Artwork by Warren Espejo, photos by Noel Orsal of PEP.ph.

Share this story with your friends!
---
Help us make Spot.ph better!
Take the short survey
Load More Stories