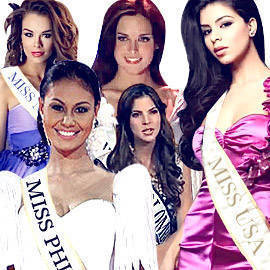 It's that time of year when girls of all nations slug it out at the world's most popular Beauty Olympics a.k.a. Miss Universe. The pageant's 59th edition will be held on August 23 in Las Vegas, Nevada. It will be broadcast live (Philippine Standard Time: August 24 at 9:30 a.m.) via satellite by ABS-CBN.
Presentation of Miss Universe 2010 Candidates
Though the more enlightened of us most will say that beauty pageants are outdated, anachronistic, non-P.C. remnants of a superficial bygone era, we can't deny the fact that it's still one of life's most enjoyable guilty pleasures, spawning many a half-day leave of absence or even group Miss U-watching sessions in someone's house. Thus, after consulting some die-hard Miss U fans, SPOT.ph has come up with a list of 10 top contenders for the crown. Some are classic beauties, others are controversial goddesses, and a few seem to be a little more naughty than nice.
1. MISS PHILIPPINES (Maria Venus Raj)
Her story: Call her Cinderella. Raised in a single-parent home, this Bicolana goddess was temporarily stripped of her Binibining Pilipinas-Universe 2010 title when Binibining Pilipinas Charities, Inc. (BPCI) officials cited inconsistencies in her birth certificate. It appeared that she was born in Qatar and not the Philippines, which would make her ineligible for her crown. In order to address the issue about her citizenship, Raj was left with no choice but to reveal that she was an illegitimate child. The so-called inconsistencies in her birth certificate were the result of a well-meaning relative's efforts to conceal her illegitimacy. The BPCI cut her some slack and Raj became the first dethroned Binibining Pilipinas queen to be reinstated.
ADVERTISEMENT - CONTINUE READING BELOW
Peanut gallery quips: The last time we won in the pageant was in 1973, when Margie Moran took home the crown. That was 37 years ago! The Philippines is counting on Raj to finally end our Miss Universe "drought." Let's hope she channels the vibe of the goddess that she's named after. She's should not space out.
2. MISS USA (Rima Fakih)
Her story: She's is the very first Arab-American woman to be crowned Miss USA. She was born in Lebanon--but her family moved to New York to escape political strife in 1993. This beauty earned her degrees in Economics and Business Management from the University of Michigan. Recently, she was embroiled in a "minor scandal" last May, when racy photos of her performing in a 2007 pole-dancing contest made the rounds. Thankfully, she was not dethroned for the said photos.
Peanut gallery quips: Will she be the first Muslim woman to snag the crown? In any case, the last time the Miss Universe crown went to a Miss USA was in 1997.
3. MISS NEW ZEALAND (Ria van Dyke)
Her story: Feminists may slam beauty contests for objectifying women but this Kiwi sees it as an opportunity to "uplift young women and raise their self-esteem." This feisty creature worked her way through college, taking on odd jobs in order to raise money for her tuition. She even worked as a magician's assistant.
Peanut gallery quips: All the world loves a pretty girl who doesn't mind cleaning up after a magician just so she can send herself to school. Purcell has a good chance of snagging a second Miss Universe crown for New Zealand. The last time a New Zealand delegate wore the Miss Universe crown was in 1983.
ADVERTISEMENT - CONTINUE READING BELOW
Recommended Videos
4. MISS COLOMBIA (Natalia Navarro)
Her story: This Latin American beauty has her share of haters who have zeroed in on her distinct nose. They say her "big nose" prevents her from taking home the crown. Despite being pressured to get a nose job, Navarro reportedly said that she's "not changing the nose her parents gave her."
Peanut gallery quips: Heck, she should win just for keeping her poise despite the clamor for her to get a nose job. Navarro should talk to Charice Pempengco one of these days and, perhaps, teach her how to love her imperfections. The Philippines also has a Colombian connection, as Binibining Pilipinas pageant director Stella Marquez-Araneta was crowned Miss Colombia in 1959. Thus far, the only time that Colombia took home the Miss Universe crown was in 1958.
5. MISS VENEZUELA (Marelisa Gibson)
Her story: If Gibson wins the crown this year, that'll be three in a row for Venezuela. Gibson is the latest representative from Venezuela, a country that's been dubbed as a beauty pageant powerhouse. Gibson is not just all beauty. She's an Architecture student who can speak three languages.
Peanut gallery quips: It's already unprecedented that Venezuelan delegates won the crown two years in a row, a third would have non-Venezuelans in an uproar.
6. MISS TRINIDAD AND TOBAGO (La Toya Woods)
Her story: She graduated with a degree in Psychology from the College of Science Technology and Applied Arts of Trinidad and Tobago. This beauty, who resembles supermodel Iman, works the catwalk like she was born on it.
ADVERTISEMENT - CONTINUE READING BELOW
Peanut gallery quips: The last time Trinidad and Tobago had the crown was in 1998. So, just like the Philippines, they're longing for a third crown. Woods is in it to win it. (No, she's not related to Tiger Woods and we don't know if she was named after La Toya Jackson.)
7. MISS RUSSIA (Irina Antonenko)
Her story: Russia first joined Miss Universe in 2002. They won the crown on their first try--but winner Oxana Federova relinquished the crown to pursue her law studies. Antonenko, whose regal beauty has won over beauty pageant pundits, may end her country's dry spell.
Peanut gallery quips: Her face could literally launch more than a thousand beauty products. She looks so ethereal that it hurts. She probably wakes up in the morning looking put-together.
8. MISS IRELAND (Rozanna Purcell)
Her story: Ireland has never won the Miss Universe crown. Purcell, who already has considerable number of fans online, could be the first Irish lass to take it home. She looks fierce with her light blue eyes and pouty lips.
Peanut gallery quips: We hope the leprechauns help her in her quest for Ireland's very first Miss Universe crown. Plus, it can't hurt if she packed a lot of four-leaf clovers.
9. MISS HAITI (Sarodj Bertin)
Her story: Haiti's disastrous earthquake is still fresh in the minds of the public. This could work in Bertin's favor. Not that she needs "pity votes." Bertin is a lawyer who speaks five languages who overcame the traumatic childhood experience of her mother being murdered.
ADVERTISEMENT - CONTINUE READING BELOW
Peanut gallery quips: Due to her mother's tragic death, Bertin's family moved to the Dominican Republic. The fact that she grew up there had led some people to question her being Haitian. Still, you have to admit that this lady would make one formidable Miss Universe.
10. MISS THAILAND (Fontip Watcharatrakul)
Her story: Watcharatrakul is a law student. This brainy beauty has been praised for her delicate skin and fabulous hair. However, beauty pageant fans lament the fact that--at 5'6"--she's "short" for beauty pageant standards.
Peanut gallery quips: Her pretty face should offset her height. As her fans say, this is about beauty and brains and not just leg length. Besides, she can always wear heels. Watcharatrakul has a shot at being her country's third Miss Universe. The last time they had the title was in 1988.
Special mentions: These ladies did not make the list, but that does not mean they can be ignored altogether: Miss Mexico, Miss France, Miss Japan, Miss Korea, Miss South Africa, and Miss Albania.
Note: This article was first published on August 19, 2010.
Art by Warren Espejo, photos from screen captures of YouTube videos.
Share this story with your friends!
---
Help us make Spot.ph better!
Take the short survey
Load More Stories