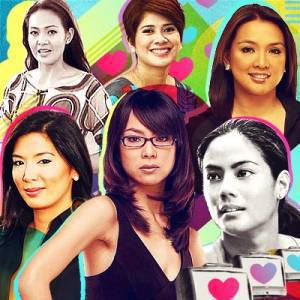 The overwhelming--and sometimes downright violent--response to our "Top 10 Cutest TV Newsmen in the Philippines" list proved that Pinoys don't just watch the news to know what's happening in our country and the rest of the world. Thus, SPOT.ph lists 10 newswomen who make watching the news a real viewing pleasure. These women are eye candy for guys who want the news--good or bad--delivered by beautiful messengers. Check out the newswomen our list and then tell us--nicely, if you please--who's on yours.
Pinky Webb dons a blue wig and sings Taylor Swift's "Love Story" in a just-for-fun segment in Umagang Kayganda.
1. PINKY WEBB
ABS-CBN's Webb is the kind of woman who could render men tongue-tied. This tall and svelte mestiza projects the confident vibe of a consummate career woman. But, oh, we love her even more when she's letting her hair down. Does anyone remember Webb's coverage of the Feast of the Black Nazarene in 2007? With all due respect, she still looked pretty hot without makeup. Her beauty shone through the grime and sweat.
You really can't miss Shawn Yao.
2. SHAWN YAO
TV5's Yao can probably stop traffic just by standing on the street. As the only female host of her network's morning show Sapul, Yao can definitely convince a lot of men to turn on their TVs. We always see her looking like she stepped off the pages of a fashion magazine, but we bet she looks just as great off camera.
ADVERTISEMENT - CONTINUE READING BELOW
Can you blame us if we can't take our eyes off Rhea Santos?
3. RHEA SANTOS
This statuesque GMA-7 newswoman, who appears in Unang Hirit and News on Q, has a face that could distract viewers from the news. Not that we're complaining. When God was giving out prettiness, Santos was probably among the first in line. Her lips alone can drive men crazy.
Reema Chanco is a babe who loves sports and dogs. What more can guys ask for?
4. REEMA CHANCO
All we can say is, the lighting on the set of RPN 9's Newswatch does not do Chanco any justice. Despite that, this dusky goddess still captures our attention. Chanco isn't just a newswoman--she's also a big sports buff. She's a member of the Ultimate Frisbee National Team and a certified trainer.
We won't mind staring at Pia Arcangel 24 hours a day.
5. PIA ARCANGEL
Yes, we're going to say that Arcangel is a sweet-faced news angel. For her, we can be corny anytime. This petite mestiza exudes a refreshing girlish vibe even when she's talking about dire scenarios in the weekend edition of GMA-7's 24 Oras. Arcangel is truly sugar and spice and everything nice.
Gretchen Malalad is a babe. (Stand by for her close-up from 1:05 to 1:11.)
6. GRETCHEN MALALAD
This ABS-CBN news reporter was a Binibining Pilipinas contestant in 2002. She also snagged a gold medal in karate in the 2005 Southeast Asian. On top of her achievements, Malalad has the kind of beauty that really grows on you. She's a nice girl who can beat you up if you mess with her. Now, that's sexy.
ADVERTISEMENT - CONTINUE READING BELOW
Recommended Videos
We're game for Lia Cruz.
7. LIA CRUZ
Men are suckers for a pretty woman who knows basketball like the back of her hand. Cruz can be spotted in Basketball TV, a show which covers the Philippine Basketball Association and the Philippine Basketball League on Solar TV (RPN-9). Needless to say, sports freaks are crazy about this chinita.
Is "cute" Cheryl Cosim's middle name?
8. CHERYL COSIM
Though Cosim is all business when she delivers the news in TV5's Aksyon, we can't help but be in awe of her irresistible tisay cuteness. She's even cuter in person. How is that even possible?
Connie Sison plays with Manny Pacquiao's dog from1:45 to 2:06.
9. CONNIE SISON
Sison has a face that's perfect for close-ups. This GMA-7 newswoman reminds us of Aiko Melendez and French actress Audrey Tautou. We can't imagine anyone denying her an interview. If she were single, she'd be the kind of girl you want to take home to your mother.
Vicky Morales is still super hot. This fan video is Exhibit A.

10. VICKY MORALES
We loved her when she was single and we still love her now that she's got kids. Morales' possesses that indescribable X-factor that we can't put our finger on. You can spot her in GMA-7's late night news show Saksi. If she's the last thing you see before you fall asleep, you're guaranteed to have, er, sweet dreams.
Art by Warren Espejo, photos from publicity stills.
ADVERTISEMENT - CONTINUE READING BELOW
Share this story with your friends!
---
Help us make Spot.ph better!
Take the short survey
Load More Stories