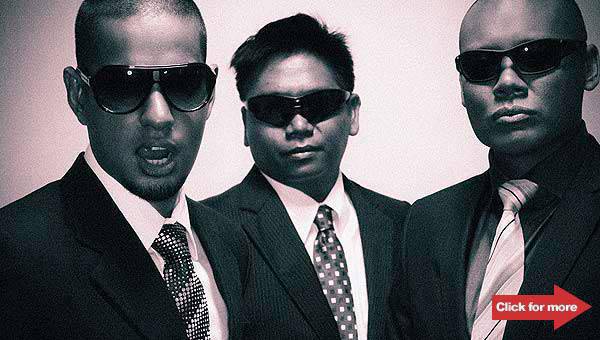 Sam YG, Slick Rick and Tony Toni. Click for more photos.
Having penetrated radio, TV, magazines, newspapers and Twitter over the last five years, Magic 89.9's Boys Night Out crew have definitely become pop culture figures. Every Monday to Thursday, from 6 p.m. to 10 p.m., Sam YG (Sam Gogna), Tony Toni (Tony Bueno) and Slick Rick (Eric Virata) talk on radio about dating, sexytime and all things men. They also host Boys Night Out on Channel V, and their debut album--more of an audio show than a collection of songs--dropped this year. The naughty trio's escapade of the month also graces a regular section in Cosmopolitan Philippines.

SPOT.ph chats with the three DJs about their ongoing legal battle with the KBP, "sacrificing their reputation for entertainment" and possibly going "bottomless" for the Cosmo Bachelor Bash.
Boys Night Out on SPOT.ph
What was your reaction when you found out that you were No. 2 in SPOT.ph's Top 10 Cutest Male DJs?

Tony: I wasn't surprised.

Sam: Medyo expected naman 'yong mga gano'ng bagay.

Slick: It happens.

Tony: I was disappointed that we weren't No. 1. Actually, I don't think of us as cute. I think of us as good looking. So insult pa nga eh.

Slick: (Laughs)

Sam: I'm not sure if you've read the definition of cute. Cute means ugly but beautiful so parang sinabi na ring pangit kami. Pero okay na rin.

Tony: For me, cute means you're not ugly but you're not handsome.

Slick: You're just in the middle.

Tony: I was hoping it'd be Top 10 Bad Boys on the Radio kasi mas may dating. When you say you're cute, girls don't really like you. You're in the friend zone.

Sam: And that's the worst place you wanna be in.

Tony: I don't wanna be in the friend zone. When you're Boys Night Out, you don't wanna be in the friend zone.

Slick: You wanna be in the zone, in the erogenous zone.

Tony: In the O zone. (Laughs)

Sam: What is it?

All: The O zone!

Slick: What's funny is every other DJ there got his own number but we were stuck in one number. So as a group we're cute but solo hindi puwede.

Sam: But we're not saying the No. 1 guy, Gino--he's a friend--is not cute. He is.
ADVERTISEMENT - CONTINUE READING BELOW
You now have an album. How did that come about?

Sam: We also do not know. That's a very good question.

Tony: I think it was the industry itself. I think the labels were having a difficult time coming up with income. We were the guinea pigs. I think it was something they experimented on to see if it works. We were signed a year ago but we only came out this year. Basically, it wasn't like, "Yeah, we want to get them 'cause they're good." I think it's "Yeah, let's get them because the industry's doing really bad."

Sam: If an artist comes out with a song, nobody buys the album. You download it. Honestly.

Slick: Or someone will buy just one and pass around the CD. Also, I guess because they (the record label) wanted to take advantage of the popularity of the show. They're thinking more business-wise. Just like what Tony said; you never know what's gonna work until you try it.

Did you all sing in the album?

Sam: Only Shivaker.

Slick: It's not an album album. It's actually an audio show. Whatever you hear on the show, that's what you hear on the album. It's stuff you've never heard on air.
The Shawarma Shiver

Are you all single?

All: Yes.

Slick: And ready to mingle.

What aspect of being a celebrity do you enjoy the most?

Slick: Is this question just for Sam? Because he's the only celebrity.

Tony: I think we're more of icons eh. (Laughs) Sam penetrated television so he's more of a celebrity.  

Sam: I just penetrated; that's all I did. Nakaisa lang, nakapasok eh.

Tony: No, no, I think we're more infamous for what we do. For me it feels good 'cause at times, you can use it to your advantage. There are also disadvantages like privacy issues. You can't just go to any massage parlor now or bring any girl to a parking lot or lobby.

Sam: Or to the movies.

Tony: Or to a motel without "Sir! Iba na naman?"

Sam: Siyempre nakakahiya naman sa kasama mo 'di ba?

Tony: And it's an awkward feeling when the guard looks at the girl. Like "Pang-ilan na ba ako?" But I think the pros are, for Sam, he gets to park anywhere. Another perk: You get good service in restaurants.

Sam: I can't park anywhere.

Slick: Yeah, you can. Kinda like Derek Ramsay.

Tony: But at the end of the day, we try to treat our listeners not as fans but as friends. That's why it's so easy to approach us. With us, it's like "Uy, pa-picture! Sige, game. Pa-kiss." There are no inhibitions. We don't have to worry about rumors because our credibility is already gone.

Sam: Wala na!

Tony: We're already known as bastos, very pasaway and pilyo so really, anything goes for us. We can just be ourselves.  

Sam: Kung may win-win situation, kami nasa lose-lose situation. Parang there's nothing to lose eh.

Tony: Our skeletons are already out there. You either accept us for who we are or...
CONTINUE READING BELOW
Recommended Videos
Boys Night Out on the perks and downside of being celebrities
Sam: And there's always a Boys Night Out experience people can relate to. Practically every day, people go up to us and say, "I listened to your show this particular night and eksakto what you said, that's exactly what happened to me." So it's like a Boys Night Out barkada or experience that everybody can relate to. I'm sure you have one, whether you're a guy or a girl. I think that kind of breaks down the whole celebrity wall. Our listeners, or fans so to speak, become our friends.

Tony: We're so easy to approach. We're so easy to get na nga eh. I'm easy. (Laughs)

Slick: There's also a personal connection that each one of us has with our listeners. It's like knowing a friend. So you're very comfortable with them.

Tony: There's also a downside to being who we are, Boys Night Out. You actually have to live the life. You can't say Boys Night Out and not go out, have sex and talk to women. It's one of the sacrifices we have to do.

Sam: We're sacrificing!

Tony: We have to sacrifice our reputation for the entertainment of the greater people. We already said, "Okay let's do it." Let's just sacrifice love and commitment for entertainment.

Sam: Honestly, would you go to your mom and say you're dating Tony Toni? No, probably not. Because if you're mom knows about Tony Toni and how he is on radio, she'd freak out.

Tony: At first, brothers are cool. Then they find out I'm screwing their sister and their mom finds out I'm bringing her home.

Sam: I thought you're screwing the mom as well.

Slick: It might happen.

Tony: Not yet but you know who you are. (Laughs) It's all fun and games when you're in the first stages eh. 'Pag committed na kayo, in love, 'pag may sinabi ka, hindi na joke 'yon. It's insulting; the girl might not yet be secure or aware that it's just a show. Sometimes, we get out of hand. But it's Boys Night Out, it's supposed to get out of hand. Any girl that wants to date us long term, mahabang pasensiya kailangan.

Slick: How about if they just want short time?

Tony: Okay lang. We have terms naman. May contract naman ako eh. Anything longer than 90 days dapat mag-renew.

Slick: May plan 'yan, pick your own plan.

Tony: My Fubu agreement is online.

Sam: Parang time deposit 'yan sa bangko di ba? Roll over ba tayo? 30 days? Pull out na ba 'yong funds? But really 'di ba, if we want to have something with somebody, it's really hard. You tell someone "I love you" and on air, you tell another girl, "You are so effing hot." How would you feel as a girlfriend? The show has been that way for years.

Slick: And it's not gonna change.

Tony: I'm a social butterfly. I don't like to stay in one spot when I'm out. Let's say we're getting it on and we go out. I'll leave you and mingle with another girl, guy, gano'n talaga ako. It's not that I don't want to stay with you or I don't want people to know we're together. I just need a different kind of conversation. It's hard because girls are all like "He's mine." I'm not ready to be put down or settle down yet.

Sam: But don't get us wrong, we do hang out. We do date.

Tony: And we do use protection. I brought three. (Takes out three condoms)

You guys are together almost every day; don't you get sick of each other?

Tony: Not really. We're going on five years on March 6. There's still a lot we need to work on. We do other things on the side naman so we're not always together. But when we go out, I think it helps to stick together.

Sam: We also need our alone time. And we're very open with each other. We keep each other in check... It's not yet done eh. Boys Night Out is all about reinvention. I'm very blessed to be working with two very hardworking people and visionaries as well. It's like a well-oiled machine. And the support group is very, very strong. I lost my lola a month ago. Especially when you hit a low point, the support group is very strong.

Slick: People see us as friends but it goes beyond that. We're brothers, and we're there for good times and bad times. The most important part about being Boys Night Out is respecting each other. I have no siblings. These two are basically my brothers.
ADVERTISEMENT - CONTINUE READING BELOW
Boys Night Out on their KBP case and suspension
A lot of people have criticized the show because of the pilyo factor. What was the most difficult thing you've gone through because of this?

Tony: An all-girls school... KBP filed a report on the content of the show. They wanted Boys Night Out, three years ago, to be suspended for six months. The Makati City Hall fined us almost P500,000, which--thank God--our station took care of. They supported us from the very start.

That was the hardest thing because we had to tweak the show. Before we started the show, "Oh yeah," agad manyak talaga. We used to be on from 9 to 12 p.m. We're trying to do a, you know, legit show and our first caller is like, "Oh, Sam, Slick, I'm horny." Oh, man. Everything relates to sex. Management said, "You know what, let's transfer you to 6 to 10 p.m. That way we'll make you nationwide and it won't be as harsh." Kasi 9 to 12 is like--

Slick: When the freaks come out. It was funny because the complaint was about the way we handled our show, the way we talked. The thing is, we know for a fact that maybe that's probably the way the students, who filed the report, talked. We're just reflecting what society is giving us. We're trying to show people what kids are like now. It was difficult because we were just doing our jobs, and it's for the parents to tell (their kids) what we're talking about. That's why we came out with a campaign. There was this billboard, "Do not listen." It's funny because people still listened because they were trying to figure out why.

Sam: We're very lucky and blessed because I don't think all bosses would back you up if the fine was P500,000 each.

Slick: When KBP gives out a ruling, the radio station follows. This is the first time the station said no. The station believed in us and believed it wasn't a bad thing.

Tony: And we're putting some money into the company, I think. Hopefully.

Sam: Some commercial breaks umaabot ng 10 minutes.

Slick: They also supported us because of the business aspect. But we're not saying it's the only reason.

Tony: We're very loyal to the company. Many times we could've left but we decided to stay.

The ruling included a suspension. Were you guys suspended?

Slick: We're supposed to be.

Tony: Technically, we still are. We just kept it going like how Gloria's still not in jail. You know how the cases here just keep on extending.

Slick: People just tend to forget.

Tony: That's why I love the Philippines. So forgiving. Crazy.
ADVERTISEMENT - CONTINUE READING BELOW
Boys Night Out on their most scandalous callers
What was the most scandalous story you've heard from female fans?

Sam: There are a lot. Just last week, a caller said, "I slept with Sam YG" on air. And my mom was listening! You can't just call the show and say that.

Slick: No respect.

Sam: Sabi ko nga come to the station now, show me your face, and I'll give you an iPod.

Tony: Someone called Good Times with Mo last week. 6:30 or 7:30 in the morning, man. "I slept with Tony Toni." I wanna see who she is para I can say I did. I think if someone slept with me, I don't think she'd broadcast it. I'm very careful naman.

Slick: There was this caller one time. There was just a buzzing sound and we heard moaning. It just kept getting louder and louder. She goes, "I'm coming!" Tony's like, "Huh?" I go, "Coming from where?"

Sam: There's something memorable in practically every show. We try our best to document those moments.

Tony: On another level, we've had someone propose on the show on Valentine's Day two or three years ago, after being with the girl for 10 years. They live in different sides of the city and when they get to talk to each other on their way home, it's always about the show because they're stuck in traffic. We had a whole Valentine's Day setup by Bizu and flowers by IslandRose.net. She was so happy and all her friends were there.

Sam: We set it up for them because we were so happy that this guy wanted to propose to her on the show. We were the ones calling the sponsors for the food, the flowers.

Tony: So for the girls na hindi kami sweet, no romantic side to us, mali. You're just not the girl.

Slick: You're not the right one.

Sam: Kung alam mo lang.
ADVERTISEMENT - CONTINUE READING BELOW
Tony, you bared your butt for a Cosmo shoot back in the '90s.

Tony: Oh, shit. I used to be neighbors with a lot of the Cosmo girls. 1999 'to. They invited 10 celebrity models but puro may hair on the butt. Last minute, they needed someone without any hair. One girl goes, "Tony, can you come across the street? Do you have hair on your butt?" I go, "No, I'm hairless." She says, "Come on down. A lot of girls want to see your butt." I'm like, "You're joking, right? Are they all girls? Majority are girls; I'll come show my butt." It was for (an article on the) sexiest parts of a man's body. But they didn't put my name or my face. I was really disturbed because I thought they would put my name and number for future reference. If you need a butt model. You don't know how many times I had to work my ass off.

Sam: Squats, lunges.

Tony: And little presses.

Would you do it again?

Tony: I'd do the front.

Sam: 'Yon!

Tony: That's also hairless. (Laughs) Any time. I show off my butt a lot, actually.
Tony Toni on being a former butt model for Cosmo
Would you guys walk down the runway for the Cosmo Bachelor Bash?

Slick: Hell yeah! Why not?

Sam: The question is: Would you want to watch?

Slick: It'll be funny because you have all these artistas and models, and then you have the DJs. You never really see a DJ.

Sam: We were asked that question before. We said that a lot of guys walk down the ramp topless. Sabi ko we'll do it if bottomless.

Tony: Elepante to eh (points to Sam). You wanna spot a half-man, half-animal?

Sam: Kilala niyo ba si Snufflelufagus?

Tony: Alam niyo ba 'yong flying horse na dragon? Siya 'yon.

Slick: And Tony will be the tikbalang; he's half-man, half-horse.

Sam: Eto naman, giraffe 'to. (points to Slick)

Where in Manila do you go for a real Boys Night Out?

Tony: I like Dillinger's and Bugsy's in Makati. Steady, down low.

Slick: You've got regular places like Encore, Republiq, Izakaya and Members.

Tony: Excess in Quezon City is nice. Depends on the DJs too.

What's on your Christmas wish list?

Tony: This is not for us but for the greater sake of the Philippines. A travel show for Boys Night Out. We'd like to show the beauty and hot spots in the Philippines our way. Second would probably be my own pad. Third would probably be to make more women happier and to satisfy their five senses.

Sam: Fill the void.

Tony: Void, gap between the teeth, it doesn't matter. Whatever, mentally, spiritually.

Slick: One is like Tony's, my own place. Next is a car. Third is Sam's and Tony's happiness.

Sam and Tony: Plastic, showbiz!

Sam: I want a nice solid show for Boys Night Out where we can showcase our talents as a group. Definitely a place as well. Lastly, I want the radio show to do even better and take it to unimaginable heights. And to give back.
ADVERTISEMENT - CONTINUE READING BELOW
Photos from Boys Night Out's Facebook account and courtesy of Sam YG.
Share this story with your friends!
---
Help us make Spot.ph better!
Take the short survey
Load More Stories