PHOTOS: The Maggie Wilson-Victor Consunji Pre-Nup Shoot
It's hotness, take two! Play V-Day Voyeur with us and see the sexy couple anew, this time in their freeze-frame glory.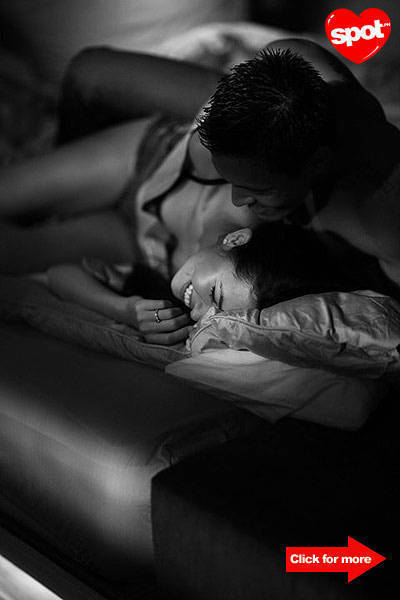 The sexy couple in their freeze-frame glory. Click for more photos.
We're sure you haven't forgotten about newlyweds Maggie Wilson and Victor Consunji's steamy pre-nup video which heated up cyberspace when it came out in December last year. As we count down the days to the month of love, SPOT.ph starts off a series of romantic love galleries to swoon over, starting with these pre-nup photos as hot as the controversial video itself.
ADVERTISEMENT - CONTINUE READING BELOW
CONTINUE READING BELOW
Recommended Videos
Shot by Mango Red on November 18, 2010 at the couple's house, the photos show the newlyweds in intimate scenes also captured in their pre-nup video by famed wedding videographer, Jason Magbanua. Although conceptualized by Magbanua and makeup artist Xeng Zulueta, the racy video was Consunji's wish. According to Zulueta, the couple took inspiration from the videos Love the Way You Lie and Lost Without You.
"I wanted to show the whole wedding industry something that has never been done, that it can be done if the right elements were in place," Zulueta said. When asked about her reaction to the mixed reviews the shoot received, she said, "Negative or positive, at the end of the day, it is still Maggie and Victor's video. The rest of us were just there to capture everything. I speak for everyone, including the couple, when I say that we absolutely love the final cut."
ADVERTISEMENT - CONTINUE READING BELOW
Zulueta described the couple as "very relaxed and in their element" during the shoot. "They were very affectionate with each other whether or not there were cameras rolling or taking pictures."
In a PEP.ph interview in December 2010, Wilson told the video's critics: "If you can't take the heat, don't watch it!"
The couple got married twice-first in church, then at the beach-on December 18, 2010 at Misibis Bay in Albay.
Photos by Mango Red.
Load More Stories