Q&A with Oscar-winning God of Love Fil-Am producers Stefanie Walmsley, Gigi Dement, and Stephen Dypiangco
Pinoys take on the Oscars!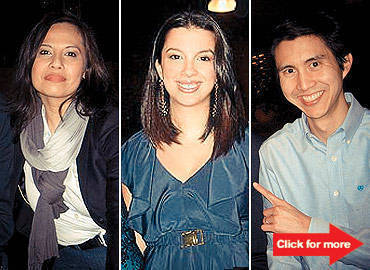 From left to right: Gigi Dement, Stefanie Walmsley and Stephen Dypiangco. Click for more photos.

The Pinoy-produced God of Love won the plum prize for Best Short Film (Live Action) at the 2011 Oscars held at the Kodak Theater in Los Angeles, California. A short film produced by Filipinos Stefanie Walmsley, Gigi Dement, and Stephen Dypiangco, the 18-minute short tells the tale of a lounge singer-slash-darts champion who finds his prayers answered. The film stars the Brooklyn-based artist Luke Matheny who also wrote and directed God of Love.
Watch the trailer of God of Love
Walmsley, a New-York based producer, shares the Oscar spotlight with Gigi Dement, who took both her undergraduate degree in film and television and her masters in film at the New York University (NYU) and has produced 15 films; and Stephen Dypiangco, the film's producer for marketing and distribution whose documentaries and narratives earned him a nod from the Asian American International Film Festival, the Palm Springs International Short Film Festival, among others.
ADVERTISEMENT - CONTINUE READING BELOW
Entertainment journalist Janet Nepales got to chat with the three Filipinos in an exclusive interview before their Oscar win:
Janet R. Nepales (JRN): How do you think your being Filipino influenced you in your craft?

Stephen Dypiangco (SD): Being Filipino has instilled within me a deep commitment to family and a joyful sense of humor, which both impact the films I craft and the filmmakers I choose to work with. Making audiences laugh and collaborating with dependable and witty friends are how I hope to develop my career.

Gigi Dement (GD): Being Filipino has influenced who I am and therefore is integral to my filmmaking.

Stefanie Walmsley (SW): As Filipinos, storytelling is in our blood. And at the end of the day, all I really want to do is help tell a truly fantastic story.
CONTINUE READING BELOW
Recommended Videos
JRN: How did you get involved with God of Love? How did three Filipinos get involved with this Luke Matheny project?

GD: It's so funny. When Luke asked me to come on as the lead producer on the film, one of the first things he used to sell the project to me was that another person he wanted to bring on board was also from the Philippines. I had never met Stefanie at that point, but because the New York Filipino filmmaking community is so tight, we actually knew many of the same people.

SW: I think Luke really likes Pinoy food and figured that having many Pinoys on the project would lead to some adobo on set. But in all honesty, it was really just a coincidence. A really wonderful, serendipitous coincidence.

SD: Luke and I were classmates at NYU, and we worked on many different projects together, including his earlier film Earano, which I produced. Although I helped him on God of Love during the screenwriting and editing stages, I was not able to formally participate in the actual shoot because I live in LA and he is in New York. However, several months ago, I officially joined the team as the producer of marketing and distribution, offering guidance, organization, and leadership on everything from social media and direct DVD sales to publicity and Oscar week planning.

By the time I joined the God of Love team, Gigi and Stefanie were already on board. It was so exciting to realize that there was now a trio of Pinoys on the project. With the three of us working together, I was confident that we could accomplish anything.
ADVERTISEMENT - CONTINUE READING BELOW
JRN: Why do you think Filipinos are having a hard time breaking into Hollywood when our other Asian counterparts-like Koreans, Chinese and Indians-have done better in the industry?

SD: In college at Georgetown University, I met many smart Filipinos who were focused on professional careers in law, medicine, and politics. But there were no aspiring Filipino filmmakers like me. I think this has to do with Filipino parents, who understandably don't want their kids to become starving artists. I know that the reason I have been able to devote so much time and energy to my less traditionally Filipino career path is my parents. They have supported me all of my life, encouraging me to follow my heart and find my own happiness. Their love and support is a huge reason for my success.

GD: I think now is our time.

SW: I don't completely agree that Pinoys are having a hard time. In the last few years, Filipino filmmakers have won many prestigious international awards, including Best Director at Cannes, Best Short Film at Cannes, and Best Foreign Film at the Independent Spirit Awards. It does seem like Korea, China, and India all make films that are very specific to their culture, and people respond to that. I am by no means any kind of authority on this, but if you look at Filipino films that have made their mark on the international scene, you will find that many of them tell stories that are uniquely Filipino.
Read the full interview on Femalenetwork.com.
ADVERTISEMENT - CONTINUE READING BELOW
Photos courtesy of Janet Nepales and from God of Love Facebook page

Share this story with your friends!
---
Help us make Spot.ph better!
Take the short survey
Load More Stories