Fil-Am actor Michael Copon on growing up Pinoy, almost starring in Twilight, why he loves sinigang + more
The former <em>One Tree Hill</em> star opens for Bruno Mars April 7 and 8 in Cebu and Manila.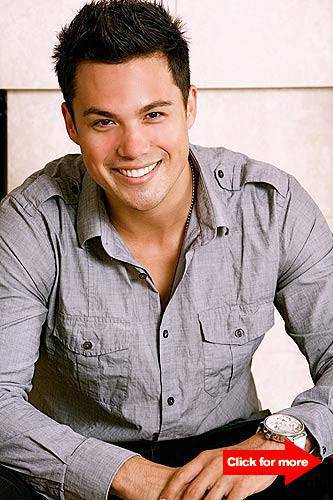 Actor-singer-producer Michael Copon. Click for more photos.
(SPOT.ph) Joining Filipino-American Grammy winner Bruno Mars in his Manila (April 8) and Cebu (April 7) concerts is fellow Fil-Am artist Michael Copon, who'll be opening for Mars in both shows. The One Tree Hill star is visiting his father's homeland for the first time but he's no stranger to Filipino food and traditions; he's familiar with the wedding money dance and he can tick off his favorite Pinoy dishes in a heartbeat (Beef sinigang tops the list.)

Born in Virginia, Copon first took a stab at acting in 2000 when he auditioned for the Power Rangers series and landed the Blue Time Force Ranger-without a headshot or resume, mind you. He wasn't always so fortunate though; he had to wait three years before booking another meaty part as the hunky Felix Taggaro in the hit TV series One Tree Hill.

He was also thisclose to playing basketball star Troy Bolton in Disney's made-for-TV movie High School Musical (2006). "It was just between Zac Efron and me. (It came down to) me, Zac, Vanessa Hudgens and Diana DeGarmo from American Idol," he said at a recent press conference in Manila. "I was like, I'm not going to get this. I'm so tall and I don't look 15 or 16."

True enough, the role went to Zefron but Copon treats the missed opportunity as simply a part of the job. Now a singer, producer, songwriter, model and certified mixing engineer, he plans on continuing to juggle music and acting.

Get to know the all-around artist as he talks to the press about making music, almost replacing Taylor Lautner in the Twilight sequel New Moon, and building a bridge between Filipino artists and Hollywood.
ADVERTISEMENT - CONTINUE READING BELOW
Michael Copon serenades a girl during his press conference in Manila
You've been in Manila for more than a week now. What places have you seen so far?

We went to Cavite where my dad came from. (I met) 200, 300 family members and I took videos of everyone. I actually met another Michael Copon... I'd been out with Tim Yap, Anne Curtis, Vice Ganda, Solenn Heussaff and her brother Erwan, and Georgina Wilson. It was a big group; there were like 15 of us. We went to (Robot, Members Only, Opus and Republiq). It was fun; it was good to see everyone... I'd been to SM Megamall and Podium to eat and go shopping.
CONTINUE READING BELOW
Recommended Videos
We heard you're working on your Tagalog. How's that going?

You guys can blame my dad (laughs). I'm just kidding. He didn't want to teach me. He never thought that I would ever come back to the Philippines because he didn't know I was going to be an actor. When I was a kid, I wanted to learn Tagalog but he said, "We're Americans now; you don't need to learn that because everyone here speaks English." I was like, "Oh, okay." But I've been learning Tagalog. It's been going pretty well. I have a good team of people teaching me.

What's your favorite Tagalog word or phrase so far?

I always say, "Igalang ang babae sa puso ko." ("Respect women.")

Did you have a traditional Filipino upbringing?

Yeah, my dad's family is very traditional. We still have to take off our shoes when we walk into the house. During Christmas time, we give money. When someone gets married, there's the money dance. Every holiday, even Thanksgiving, it's all Filipino food like kare-kare, adobo, pancit and sinigang. Sinigang is probably my favorite. I like to use a lot of sabaw (broth). I like all (kinds of sinigang) but I usually choose beef because I like beef. I love adobo. I haven't tried balut but I would try it.
ADVERTISEMENT - CONTINUE READING BELOW
Michael Copon sings "Light Up the Night"
How did you break into the Hollywood scene?

I moved to Los Angeles in 2000. My family didn't have a lot of money to go but I just knew that I wanted to. I was actually living in my truck for five and half months until I booked my first job which was Power Rangers. That was my first audition and I walked in and I didn't even have a headshot or resume. They were originally looking for a Caucasian James Dean type but then the casting director said, "Oh, you're like an ethnic James Dean." They said ethnic because they didn't know my nationality. I said Filipino and she said, "What's that?" It's from the Philippines; it's right there on the map. Did you go to school? (laughs)

Tell us about One Tree Hill.

At first, I thought it (acting) was easy because I booked (a job) right away. Three and a half years after, I kept auditioning and auditioning and I didn't get anything. And then I got One Tree Hill. They were looking for a New Yorker street guy-kind of like Vince Vaughn from Swingers-who was originally called Johnny. It was my biggest role. At the time, One Tree Hill was the biggest show on Warner Bros. It launched my career in Hollywood.
Michael Copon's "Let's Get Nasty" remix featuring Chad B
Were you really supposed to play Jacob Black in New Moon?

The first director (Catherine Hardwicke) was (supposedly) fired and it caused confusion in terms of me getting the role... The new director (Chris Weitz) wanted to keep the original cast and Taylor Lautner. Taylor and I had the same agent at the time... When I first read the script, I loved it. I wanted to do something in that mystery realm... I was interested to play the older Jacob Black... I'm eight inches taller than (Taylor) and everything; it kind of made sense.

In Tekken, it was down between me and the guy who's a fighter (Jon Foo). I was the actor who could fight. He was the fighter who hadn't really acted much.

The whole thing about this business is perseverance. You can't give up. Like Kellan Lutz, who's on Twilight now (as Emmett Cullen), he auditioned for One Tree Hill and I got the part... I'm this close to booking that next job and when I do book that next job, it's going to be big.
ADVERTISEMENT - CONTINUE READING BELOW
Michael Copon's "I Want You Forever"
What is your songwriting process like?

It depends. For something like "Light Up the Night," I produced the beat first and then wrote the lyrics. If it's dance music, I like to start with the kick drum and the bass because those are the most important things for dance music.

What do you like in a girl?

Beautiful smile, seductive eyes and nice legs. I like a girl who smells good. I love the curve of the lower back of a girl as long as the butt goes whoop! (Laughs)


Michael Copon covers O-Town's "Love Should Be A Crime"
You're very active on Twitter; what do you love and hate about it?

I love everything about Twitter. It's simple. You just say what's on your mind and you show a picture of the moment and that's it, move on... It's very exclusive.

I actually don't like Facebook. You have to upload photos and albums. It's too much work. I have a Facebook fan page but I get mad sometimes because they put up pictures of me that I don't want (to be seen like when) I dressed up like a nerd one time.

Any plans to come back to the Philippines?

I plan on coming back a lot and not just as an actor or singer but as a future pioneer entrepreneur here in the business. My goal is to lead a movement in the entertainment industry. A lot of actors here say that (they want) to make it to Hollywood. I want to help them... People ask, "Don't you think it's a step down to come here?" But I look at every region as equal. Everyone's got their Brad Pitt and Angelina Jolie in Indonesia, China, the Philippines... The talent is equal but the opportunity is not equal. I want to be that bridge.
ADVERTISEMENT - CONTINUE READING BELOW
Additional photos by SPOT.ph and Noel Orsal of PEP.ph, from Michael Copon's Twitter, and courtesy of Universal Studios.
Share this story with your friends!
---
Help us make Spot.ph better!
Take the short survey
Load More Stories