Bieber Fever Hits Manila
"The Bieb" on Manila: "There are a lot of beautiful, beautiful women here."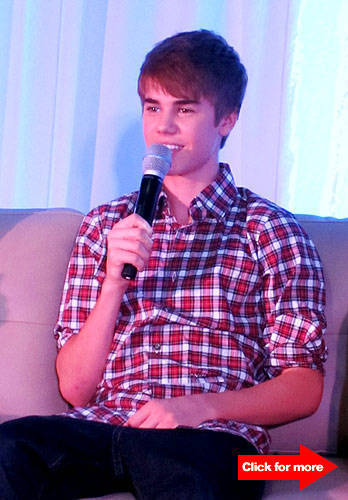 Justin makes "Beliebers" out of the press. Click for more.
(SPOT.ph) Bieber fever spread like wildfire in Manila yesterday when international pop star Justin Bieber arrived for a one-night-only concert at the Mall of Asia Concert Grounds. At 17, the YouTube sensation turned award-winning singer has produced one EP, one studio album, two remix albums, and one compilation album with chart-topping hits like "Baby," "Somebody to Love," and "Never Say Never," among others.
Bieber has come a long way since he was discovered by Scooter Braun in 2008, and was signed under Braun and R&B star Usher. He emerged as the big winner in last year's American Music Awards (AMA), taking home awards for Artist of the Year, Favorite Pop/Rock Male Artist, T-Mobile Breakthrough Artist and Favorite Pop/Rock Album for My World 2.0. Bieber was also nominated for Best New Artist and Best Pop Vocal Album for My World 2.0 in the recent Grammy Awards.
Justin Bieber and his "One Less Lonely Girl" at his Manila concert
Before his concert at the Mall of Asia Concert Grounds on May 10, SPOT.ph along with other members of the media spent a few minutes with The Bieb himself.
What can you say to the people who don't seem to take your music seriously because of your age?
"I'm 17. I'm young. I'm not an adult yet so people are going to think I make music for young people, but my music is for everybody. I definitely make songs suitable for people my age but I'm pretty sure everybody can relate to them. It's a universal thing. It's not just for young people so I think it's all in the music you like and I think my music will grow with me as I grow older."
ADVERTISEMENT - CONTINUE READING BELOW
Can you tell us more about Legaci, your group of Filipino backup singers?
"Their name is Legaci. They're a group and they're all Filipino and they're cool. Yes, you'll get to see them tonight. They're going to be onstage rocking it. They're going to do a solo for you guys here in the Philippines so I'm really excited about that. They're excited to be here to be able to perform for their people so tonight's going to be great. Tonight's going to be an awesome show."
Are you willing to collaborate with Charice and/or Manny Pacquiao?
CONTINUE READING BELOW
Recommended Videos
"I don't know about that. Maybe I'll go in the ring with Manny Pacquiao but that's about it. Charice is very sweet. I met her briefly at Oprah and she was really nice. I wish her the best. Maybe in the future (we can collaborate)."
Justin Bieber singing "Baby" at his Manila concert
You perform a lot. How do you keep yourself psyched for every performance?
"I have a performance like almost every night or every other night. We always pray before we go on stage...Every night is really special to me because I don't think that one day is more special than the next. I love the Philippines, but I also love Japan so they're all going to be the same to me. They're all going to mean as much so I just try to focus and think of all my fans-that it's their one opportunity to come out and see me perform so I give them the best show no matter how I'm feeling. Lately, I've been feeling a little sick. I have this throat congestion thing.. it doesn't feel good, but I'm always going to give my fans my best and try to perform my best."
ADVERTISEMENT - CONTINUE READING BELOW
Can you give us your three success secrets?
"One, if it's working, don't change it... usually that messes everything up. Number two is to just be relatable to your fans and just be relatable in general so that everyone can feel like they can relate to you, so that they'll know how you're feeling and they'll know everything... And then number three: make sure you're having fun while doing it, because if you're not having fun, it's not going to be worth it. Always have fun."
Miley's flying in next month. What's the nicest thing you can say to her about the Philippines?
"The nicest thing I can say to her about the Philippines? There are a lot of beautiful, beautiful women here."
Photos by Jean Natividad and courtesy of MCA Universal.
Share this story with your friends!
---
Help us make Spot.ph better!
Take the short survey
Load More Stories