(SPOT.ph) Not too long ago, we braved the crowd at a jam-packed farewell gig at Route 196 to see Sugarfree frontman Ebe Dancel take his final bow as the lead vocalist of the 11-year-old rock group responsible for hits like "Burnout," "Tulog Na," and "Mariposa." The Katipunan haunt, with a seating capacity of 100, was filled to the brim with some 400 screaming fans-an experience the claustrophobic singer-songwriter could only describe as "fun" but equally "horrible." "It was the most number of people ever at Route," says Route 196 co-owner Monica Barretto. The air was bittersweet as Dancel belted out the band's hit songs to a crowd that clearly loved it.
Not a lot of people know that Dancel was once part of the band Cambio with Raimund Marasigan, Kris Dancel, Diego Mapa, and Buddy Zabala. He has also helped produce tracks for SinoSikat, Nyoy Volante, and General Luna, and contributed to Chito Roño's award-winning musical, Emir. When Sugarfree announced in January that Dancel was leaving the band, the rock-loving Pinoy community was heartbroken. After the announcement, Dancel Tweeted: "Crying inside a coffee shop while reading Tweets for the first time. I'm overwhelmed. Di ko alam na ganito nyo ako kamahal. Salamat po." Fast forward to today: Dancel is back with a solo debut album titled Dalawang Mukha Ng Pag-ibig, his fan base excited and still growing.
ADVERTISEMENT - CONTINUE READING BELOW
The limited edition double CD features a refreshing yet nostalgic set of original tracks written by the University of the Philippines Diliman Creative Writing graduate. The first CD contains 10 tracks in full-band version, while the second CD showcases the same songs redone in acoustic takes. Listen and you'll experience the same (if not a notch higher) heart and sensibility Dancel poured into Sugarfree's songs, plus a freer and more exciting vibe.  For this album, he collaborated with some of Pinoy music's best like Buddy Zabala, Raimund Marasigan, Francis Reyes, Kakoy Legaspi, and more.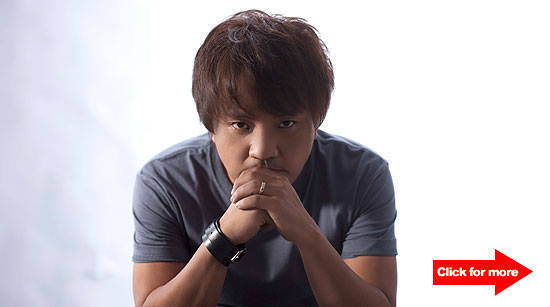 ADVERTISEMENT - CONTINUE READING BELOW
Recommended Videos
The main man is back, bigger and better than ever. Click for more.
SPOT.ph chatted with the acclaimed singer-songwriter to get to know the real Ebe Dancel-then, now, and tomorrow. Read on to find out more about his humble beginnings, his thoughts on starting over, his greatest inspirations, and what led him to sign a fan's, um, sanitary napkin.
How do you feel about the release of Dalawang Mukha Ng Pag-ibig? What responses have you been getting?
More than anything, it's an overwhelming source of relief to finally have the album out. A few months ago, I had nothing. I came to the label [and] sat here with them. I had nothing and then I wrote one song. I wrote the single "Muli." The day after, I wrote another one and then after a week, [I wrote] a couple more. Before I knew it, I had enough material for a whole album.
ADVERTISEMENT - CONTINUE READING BELOW
The response has been overwhelming. The fans are the sweetest, you know. They write me letters. Tini-tweet nila ko. They post messages on my wall. They like it naman so far. I haven't met anyone yet who, you know, who's thrown the album back at my face.
What do you miss about being in a band?
Well, I haven't really played yet a gig with the whole band so it's kind of lonely in the van. That's why I've been asking Warner to get me a smaller car because they always get a van for me. It's kind of huge so maybe that.
When you look back to your days as a struggling musician, how does it make you feel? What would you have told yourself then knowing what you know now?
I would tell my younger self to be more patient because things don't happen overnight and you have to work your ass off. You have to work your ass off and just keep trying. There are going to be years when things will be just beyond frustrating and what you have to do is keep the faith, which is what I'm doing now. I'm starting from the very bottom again, and it's kind of a wonderful feeling actually because mas mataas yung aakyatin e so it's going to be a fun ride.
ADVERTISEMENT - CONTINUE READING BELOW
Describe your music in one word.
Heart.
Dancel tells you how his new solo album came about.
"Muli," from Ebe Dancel's solo debut album, is all about starting over.
What's the craziest thing a fan ever did to you?
Someone made me sign her sanitary napkin. It was really dark. We were in a bar. Someone came up to me [and] said that she adored me and if I could please sign her sanitary napkin. I didn't want to let her down so I did. Thankfully it was dark.
When was your most memorable gig or concert? What made it so memorable?
[It was] the first one I had as just me because I was very nervous and I saw a lot of familiar faces. We were all sort of tentative e, but when I started playing, the smiles started breaking out. And you know, it was just the most wonderful feeling in the world.
ADVERTISEMENT - CONTINUE READING BELOW
How did your passion for music come about? What gave you the courage to pursue it?
To be very honest with you, I pursued music because there was nothing else in the world that I could do. I tried the whole day job thing-didn't work out. [I] tried being a good student-didn't work out. [I] tried writing a song-wrote a couple in a few days so I decided to go along with that.
If you could collaborate with anyone in the world for a song, who would it be with and why?
I'd pick Gary Valenciano, Jay Durias, and Gary Granada because of their passion for music. Also, I want to work with Foo Fighters because they are the most kickass band in the world. Bow.
What was the worst criticism you received and from whom? How did you respond to it?
I can't name the worst. Some people criticize me for going solo. To that I say, you should try it, too.
ADVERTISEMENT - CONTINUE READING BELOW
Watch as he thanks one of his most memorable college proffesors.
You studied Creative Writing in U.P. How has that helped you in writing songs? Who were some of your teachers?
I had a class called Non-Fiction Writing under Marra Lanot. I remember being the laziest student in the world-the typical Row 4 kid. So I was way back there [and then] one day she spoke to me and she asked me to come sit up front, and I said no because I had nothing to contribute. And then she said, "You have your whole life to write about it." That was very inspiring. I never got the chance to thank her for that so Marra Lanot, if you're watching this (see SPOT.ph video), thank you from the bottom of my heart.
Did you ever think of joining the Palanca Awards?
(laughs) I don't think I'm qualified. Maybe in the future, you know. I like reading their stuff but the writing part I'm not so sure I can do.
ADVERTISEMENT - CONTINUE READING BELOW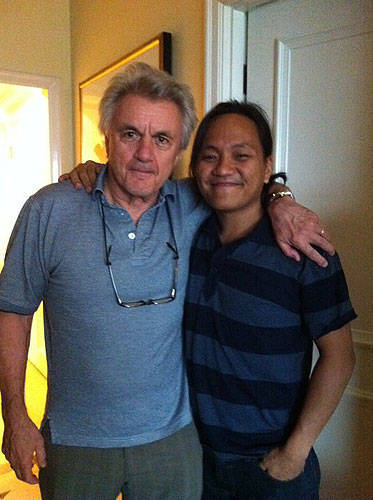 Ebe Dancel with John Irving
Who are your favorite authors? Which books have made a profound impact on your life?
My favorite writer in the world is John Irving. He wrote The Hotel New Hampshire, The World According to Garp, A Prayer for Owen Meany. And then very unexpectedly, last Christmas I met him-he was here-because his son is my cousin's best friend so they came home for the holidays. I met him and had lunch with him, sang a few songs for him, and we had this short conversation about Pinoy food being like the best in the world. And he loves our food.
ADVERTISEMENT - CONTINUE READING BELOW
The one book, I guess, of his that really had a profound effect on me was The World According to Garp because it was just funny and intense at the same time. And I didn't know na pwede palang pagsabayin yan.
What are you reading right now?
Right now I'm reading Geoff Emerick's Here, There, and Everywhere. Geoff Emerick was the sound engineer of The Beatles. He was with them the whole time they were recording each song. It lets you, you know, take a look at the studio and the lives of The Beatles, but more importantly, how he made the songs. Like yung sound na yung pinapag-usapan. It gets a bit technical but kayang kaya mong sakyan. It's a fantastic book.
How about the singers and songs that made the biggest impact on you?
I started listening to music because of my parents. My mom would sing "Moon River" when I was young. She would sing it while making merienda and then they would play Kenny Rogers and The Carpenters whenever we'd go for long drives. And then later on, I discovered The Beatles. I think ultimately, the way I write songs, I credit this Swedish band called Popsicle. They have disbanded already. That's a band that can write really happy melodies and really sad, suicidal lyrics and blend them together. And I didn't know that was possible until I heard of them.
ADVERTISEMENT - CONTINUE READING BELOW
Dancel recalls his experience during the Sugarfree bar tour.
If you weren't making music, what would you be doing?
[I would] probably be working for an NGO for street children. I've always been very passionate about that so maybe down the line I'll try to, you know, merge music and really helping the kids.
Are you currently supporting an NGO?
Not yet, but after this one, because I'm probably going to tour extensively for this one (album). I really want to get into that and help kids.
Tell us something not a lot of people know about you.
I'm claustrophobic. We had the farewell bar tour a few months ago. I had difficulty breathing at every leg because the bars were so packed. It was physically difficult to perform and I had a very hard time breathing so it was fun, but it was such a horrible experience for me. 'Di ako makahinga.
ADVERTISEMENT - CONTINUE READING BELOW
What were you thinking at the time?
I wasn't going to see the fans again for a long time and I owe them that much. They paid, nakipagsiksikan sila so the least I could do is makisiksik with them.
Who are the young local musicians you think people should watch for?
I think you guys should grab a copy of Outerhope's album. There's also this new band called Paranoid City. I really admire the hell out of them. There's this band called Peryodiko. They're not exactly new and the singer happens to be my brother, but I'm a fan not because he's my brother but because the music is just absolutely fantastic. The words are perfectly written and the melodies are just soaring. Galing, galing.
Listen to his life's soundtrack.
What are the three important traits that a great musician must have?
ADVERTISEMENT - CONTINUE READING BELOW
One is discipline because you're not going to get anywhere kung hindi ka disiplinado. Skill is debatable but you have to be hard working because you're going to have to work for every thing that you will gain. And faith. I think when every thing is going downhill, it's faith that will keep you afloat.
What's the perfect soundtrack for your life right now?
I'll play you the song. It's a song by The Weepies called "Can't Go Back Now" (see video). So it talks about it-journey and it says that the most important steps are the ones that you take on your own. It's just a lovely song that fits whatever it is that I'm going through right now.
What was your reaction when you found out that you are one of SPOT.ph's Top 10 Sexy-Ugly Hotties?
Haha! Someone showed me the link when it came out. Thank you,  I'm really flattered. As long as it's not a list of worst songwriters or worst human beings ever, then I'm fine.
ADVERTISEMENT - CONTINUE READING BELOW
Where do you like to hang out after a performance?
There are two bars that I usually go to. And I don't go out often. I go to Big Sky and to 77 because the owners of the bars are really, really good friends of mine. If I want to have a good time, they just let me have a good time. If I want to be alone, they just leave me alone. You can be yourself there. The beer is cheap and the food is wonderful. My friends hang out there.
What's your typical R&R day like?
I try to wake up as early as I can so I can be up as early as six in the morning, make myself a cup of coffee and go down by the pool and then spend a good two hours there just going online or reading a book. Then I wait for my wife to wake up so we can have lunch together. And then I just play video games or watch a movie, do stupid stuff because I know in a bit hindi ko na siya pwedeng gawin ulit. I'll be on the road again so I'm trying to make the most of what I have now. I'm trying to spend a lot of time with my nephews, my brothers, and my parents as well.
ADVERTISEMENT - CONTINUE READING BELOW
An invitation from Ebe
Photos courtesy of Warner, Ebe Dancel, and by Jean Natividad
Share this story with your friends!
---
Help us make Spot.ph better!
Take the short survey
Load More Stories