On the Spot: Mikey Bustos
"Aloha Sarsi Cola!" It's your Pinoy boy Mikey Bustos on his music, funny vids, love for creepy crawlies, and more!
(SPOT.ph) He was once described by a Canadian music publication as "a slightly strange looking young man with a shaved head and the voice of an angel" during his Canadian Idol stint in 2003, where he finished 7th runner-up. To some (or even most) of us, he's the comic genius behind the spot-on viral Filipino tutorial videos on YouTube. Remember his first hit, the Filipino Accent Tutorial? It still cracks us up every time we see it.
Filipino-Canadian Mikey Bustos, as we've come to know, is so much more than a musician and YouTube sensation. Aside from making soulful music and funny vids, Bustos owns a Canadian company called AntsCanada, which manufactures, distributes, and sells products for keeping ants and coordinates with organizations like the Discovery Channel and Animal Planet for animal studies and projects. Not too surprising for someone who went to school to be a vet, but the 30-year-old's passion for music was so strong that he quit school to focus on his music. Pretty soon he was on Canadian Idol with a solid fan base to boot.
ADVERTISEMENT - CONTINUE READING BELOW
In 2008, he released his debut album titled Memoirs of a Superhero and the following year, he co-founded Bustos Entertainment Inc., an international artist management company. He has opened for the likes of Christina Aguilera and the Pussycat Dolls in their Manila concerts, as well as appearing in various local shows.
Early this year, Bustos unleashed his comedy and acting skills (plus his love for rhyme) through his Filipino tutorial videos comically tackling Filipino-isms from the Pinoy accent to the courting rituals, using a tabo, the nitty gritty of eating crabs and balut, and so much more.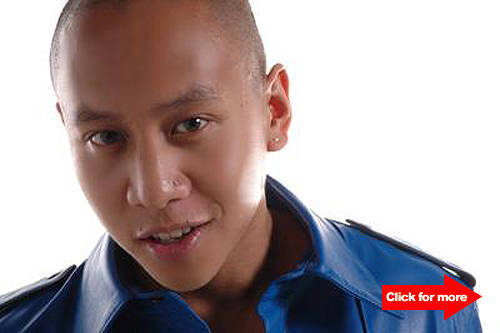 ADVERTISEMENT - CONTINUE READING BELOW
He may be quirky, but he means business. Meet Mikey Bustos. Click for more.
SPOT.ph recently dropped in on a shoot for one of Bustos' local endorsements to chat with him about his music, his quirky YouTube tutorials, passion for animals, and how he might have freaked out Mariah Carey.
Are you going to be based here in Manila? Are you going to start a showbiz career here?
If the opportunity is right, I would like to, yes.
But are there any solid plans right now?
Right now, I'm kind of assessing a lot of the business offers that are coming in so maybe. Maybe even for a little while because I love it here. No solid plans yet.
We heard that you quit school to pursue a career in music and that your family was convincing you otherwise. How did you deal with that?
That's correct. I'm stubborn. The desire to work in entertainment was so strong that it wasn't even a choice I made. It was like I was going to do it and that's it. And yeah, it was hard. I remember on New Year's, five months before Canadian Idol happened, my family was telling me they wanted to give me a pep talk. They were trying to convince me to stop the entertainment stuff. Five months later, Canadian Idol happened and then I became famous in Canada pretty much overnight.
ADVERTISEMENT - CONTINUE READING BELOW
And you finished seventh runner-up.
Seventh runner-up so that's like eighth. And you know, God's always on my side so I've made it a hobby to be like, "Haha! I told you so!" to my parents and to my family. It's like a skill I have now to prove people wrong when I want something.
Tell us about your most unforgettable Canadian Idol moment.
Winning the gold ticket for me was the biggest thing because-and that's to reach top 100 in the country-because it kind of, I mean I know I was a good singer, but to be considered one of the top 100 in the country was my first kind of validation that okay maybe I'm a little bit, maybe perhaps exceptional. And then when I made top 10, it was all just a dream from there on.
Another amazing moment was meeting Mariah Carey. A lot of her vocal techniques I would mimic growing up. And if you listen to my music now, you can hear her influence on me as a singer so meeting her was like a dream come true for me. I couldn't believe it. I showed her a picture that I keep of her in my wallet and I was like, "Mariah! This is a picture of you I keep in my wallet! I'm your biggest fan. Here are all your videos. Can you sign them? Here's some poetry I wrote you while waiting outside your dressing room. Here's a shirt from Canadian Idol." She probably thought it was creepy but...
ADVERTISEMENT - CONTINUE READING BELOW
How about your most unforgettable gig or performance outside Canadian Idol?
Probably performing for... There are two. Both have been in the Philippines. One was opening act for the Pussycat Dolls at the Araneta Coliseum. The other one was opening act for Christina Aguilera who, I think, is the best singer alive, at Fort Bonifacio. Oh and also performing on TV in the Philippines. Those three are my most memorable for sure. Like Eat Bulaga. My parents have talked about that. That's a show they watched when they were young. They were like, "Did you know that that is the oldest show in the world?" So I'm like, "Cool." Being part of that was amazing.
What goes on inside your head whenever you perform?
Nothing, really. It's like when I'm on stage or whenever I'm performing even on cam, like in my videos and stuff, I'm just myself. You know what I mean? Because I find that if it's deliberate, if it's too deliberate, it doesn't translate well. And I think it has worked for me as a performer because I've been able to find that comfort zone on stage and everyone else gravitates towards that.
ADVERTISEMENT - CONTINUE READING BELOW
Here's Bustos wowing the Canadian Idol judges.
Check out his touching original song "One Song At A Time."
How would you describe your music?
I would say soulful and fearless emotion. Those are the ones that kept being mentioned in Canadian Idol so I would say yes, those.
Who's your ultimate music icon and why?
Probably Michael Jackson. Michael Jackson and Gary V. I find both of them just amazing, all-around entertainers. They really encapsulate, for me, what an artist is. Like a true artist in every sense of the word.
If you can collaborate with anyone in the world, who would you choose?
I would love to collaborate with Gary V. Also Richard Marx. He's my favorite love ballad writer.
Have you had any crazy moment with a fan?
Yes, actually. Some woman, an Italian woman, like a 30 or 40-year-old Italian woman, she knew where we lived. She lives in our neighborhood. She would insist on coming into our house. Each of our family members would tell her, "No you can't come in." They would close the door but she would push. The first time she came over, I came out and I said hi because, you know, I know her from the neighborhood. And then I was like, "Okay I'm kind of busy." She was like, "Okay I'll wait here." She sits down on the porch and says, "I'll wait for you." I'm like, "No you can't wait here." And she's like, "Okay I'm going to the park and I'll wait for you." She kept coming back for like five hours and we had to call the police. But I've never had anything where I felt in danger. A lot of the fans are just avid fans and it comes with the territory I guess.
ADVERTISEMENT - CONTINUE READING BELOW
What's the soundtrack of your life right now?
It's a song from my album called "One Song At A Time." I really like that. It just kind of encapsulates every thing. The words are, the chorus says: I am a witness of the power / Of following the voice inside / That cried out loud to listen / And now with the force of a million / I'm going to stick to my word / And show the world / What I believed all this time / That I was born to save the world / One song at a time.
It's basically, I'm fulfilling a mission, like a voice inside me said, "This is what you need to do. You are meant to be a performer." Even with people who are against my mission, despite any of that and despite any discouragement or fears, I still stuck to what the voice inside was telling me. And it's paying off now. And I'm positive it's the voice of God telling me to do that.
ADVERTISEMENT - CONTINUE READING BELOW
What can you say to those who are struggling right now while trying to pursue their dreams?
One thing is that God is real and He doesn't ignore. Everybody is His first priority. When you look at life like, "I'm God's priority," and you believe and have faith in that, every thing just falls into place. Even during the gloomy hours when things look not so good, I always say "Oh this is all part of the plan schedule for me." I say life is the perfect secretary. She's got every thing perfectly scheduled for me at the right time. Anything you ask of it, she'll do it.
"Hey der, spider!" Here, Bustos unleashes his funny side.
You seem to have a really strong relationship with God.
I grew up educated in the Catholic system for 15 years. Super religious. Went to church every week. I was raised by my tita. She's a retired nun. A nun pretty much raised me and my brother for our whole lives. I know every single minute Catholic prayer. I know every prayer from the Memorare to prayers of St. Michael to every thing. I did all the sacraments except two-marriage and death. Oh and religious rights. I'm not a priest yet. I guess it gave me a good foundation. My relationship with the divine has evolved a lot through my life so I would call myself spiritual, I guess.
ADVERTISEMENT - CONTINUE READING BELOW
You're also known for your funny YouTube videos. Tell us how you got started on those.
It was my New Year's resolution to stop ignoring my Youtube channel because I kind of recognize that this is the age of the Internet, right? It's a great networking tool for any business. So I said, "You know what, every day I'm going to release a video." So I did and then one day in February, February 25th, I decided, "Oh what can I do today? Oh something simple-a Filipino accent tutorial because I can mimic it, right?" I uploaded it and three days later, I woke up to thousands of friend requests on Facebook.
The video was actually uploaded on Facebook first. I saw how popular it was getting really quickly, it was shared thousands of times, so I was like, "Okay this needs to get on Youtube." Once I hit Youtube, it just skyrocketed from there. When I saw the success of the Filipino Accent Tutorial, I got to do a part two now. I got to think of something. "Oh I have an idea: Filipino courting!" So I did that and then for part three I was like, "Hmm. Balut." I did one on balut and it just kept, it has just continued now.
ADVERTISEMENT - CONTINUE READING BELOW
Where do you get your ideas as someone who didn't grow up in the Philippines?
That's the thing, as an outsider looking in, I am able to notice the subtleties that most people who are from here might not notice because it's so normal. So the bulk of the material in the Filipino tutorial series is either from stuff I know about how my parents are or my three prior trips to the Philippines. So that's pretty much the bulk of the material. And now that I'm here in the Philippines, I've got so much material now that I'd like to tackle. I come here to get inspired, really.
Would you say that your culture in your home in Canada is very Pinoy?
Oh yeah, very, very Pinoy. We watch Filipino TV 24 hours. We grow kamote in our yard. We have the national flower everywhere in the house, in the backyard. We eat Filipino food all the time even during breakfast. We have longganisa and egg. Rarely my mom would cook Canadian food. It's usually always Filipino [food]. We have our altar with Sto. Niño and Mary statues and all that.
ADVERTISEMENT - CONTINUE READING BELOW
And just recently, we've installed a dollhouse in our basement for the duwende. I went to the basement and I was like, "Mom, are you playing with dolls now?" She's like, "No that's for the duwende." I'm like, "Oh okay." ...Dwarves because we've got two. They're neighbors. We have neighboring dwarves.
What's your favorite Filipino food?
There are three: adobo, sinigang, and caldereta.
Welcome to the Filipino CR!
Would you say that you're funny even behind the camera?
You know what, this funny thing is new to me. Really, the joker of the family is my brother and my cousin. This comedy thing is really a surprise to me, but I've discovered that I like it. I find myself that I'm kind of good at it. I like the acting part of it. A lot of my friends, they call me a goofball. They see my videos and they are like, "Oh my gosh that's Mikey being a goofball." That's how I am. I guess on cam it looks funny.
ADVERTISEMENT - CONTINUE READING BELOW
Do you look up to any comedian?
Yes. I've been, recently, trying to study the craft of comedy more. Of course, Ogie Alcasid and Michael V. are great. Kathy Griffin makes me laugh. A lot of the comedian actors I think are great like Jim Carrey. And I've been able to make a lot of friends on Youtube like HappySlip (Christine Gambito). It's so fun. I love them. I think they're great.
How did you learn how to act?
Well, it's funny because I went to acting class and... For two years, I was living in Montreal, which is five hours away, and every weekend I would make the trip to Toronto to take this acting class, a one-on-one acting class with one of the top acting coaches in the city. And he always used to make me feel like I couldn't act so for the longest time, I would be afraid to act. And then just one day, I think the second Filipino tutorial that required acting-because the accent tutorial didn't really require that much acting, it was just talking to the camera-but when I did the Filipino courting tutorial, I realized that hey, that actually looks good on screen. Ever since, I've been trying to brush up on my acting.
ADVERTISEMENT - CONTINUE READING BELOW
What were the best and worst reactions you got from your videos?
You know what, to be honest; the amount of negative reactions has been very small. And I find that those who found the Filipino accent tutorial offensive, they were probably getting confused with having an accent and like intelligence. Because to me, having an accent doesn't necessarily denote a lack of intelligence.  You know, where I'm from in Canada, if you have a cultural accent, it's actually easier for you to get jobs because it actually shows that you are intelligent because you're bilingual, and bilingualism requires some intelligence. Also Filipinos pride themselves in laughing at themselves so for the most part, it has been a positive reaction.
How do I deal with it? Well, I'm an artist so it's my job to put my material out there and leave it up to the beholder to interpret it. I'm not going to hold it against anybody if they don't like my material, right? That's silly. I don't put it out there for it to be liked. I put it out there for it to be assessed. Actually, Cher once said, "Modern art elicits introspection, conversation, and controversy," which my material has been doing so I feel like I've been doing my job as an artist.
ADVERTISEMENT - CONTINUE READING BELOW
What's the most touching story you have of a fan?
My gosh. I get really crazy fan mails, stories of fans, what they've taken from my material. One cancer patient, who was terminally ill, she watched my videos throughout the course of her therapy, her chemo. And even on her last day, like dying moments, she would watch my videos and laugh. So she died laughing.
Did you get to meet her personally?
Yeah, of course. I'm like, "Wow this is incredible." I actually posted it on my wall, her message.
Bustos' tips if you want to make it big here.
What do you think are the funniest and most unique things about being a Filipino?

Oh man. Filipinos have a lot of things unique. I think the whole thing about Filipinos being so family-centric is pretty unique-to the point where our cousins were pretty much like our siblings. Whereas I know some of my Caucasian friends, they don't even really know their cousins or some of them don't even talk to them, you know, which I can't even fathom.
ADVERTISEMENT - CONTINUE READING BELOW
The funniest Filipino quirk? Oh that we eat rice with every thing! Even KFC. Even our desserts, some of our desserts are made of rice.
You were studying to become a veterinarian before you quit school. Where did your love for animals come from?
My love for animals and performing and entertainment were always around for as long as I can remember. I remember as a kid I would prefer to go to people's backyards and turn over rocks and examine the creatures that live underneath. I've always loved animals. So naturally, my parents would push me towards becoming a doctor for animals so that's what I did for a long time.
So you have a lot of pets?
Oh yeah, I've had every thing from chickens to sugar gliders. It kind of looks like a tarsier, but it flies. I've had 13 tarantulas, scorpions, anything weird and creepy I pretty much had... Giant cockroaches.
ADVERTISEMENT - CONTINUE READING BELOW
Now that you're busy with entertainment, how do you make up for that other passion of yours?
Actually, I run a company called the The AntsCanada Ants Store and we sell ant farms. So for people who keep pet ants, it's kind of like an educational toy. We ship now to 20 countries, we've been featured on Discovery Channel and Animal Planet, and we work closely with the scientific community, too. I'm actually fulfilling my dream to work with the scientific community anyway, so I feel luck to be able to have those two very different jobs because in case I need to escape one, I can go to the other. It's really nice.
Are you still thinking of finishing school?
Oh of course, yes.
Who loves balut?
What do you love about the Philippines whenever you visit?
I love so many things. Wow. I love the food, the weather, the people. I love how things are so simple here. The provinces are amazing, the wildlife, the animals are amazing, the scenery-amazing. I've always said that when I first landed here, it was such an eye-opener because in Canada, my brother and I are first-generation Canadians so-pretty much our ancestors immigrated, my mom immigrated to Canada in the '70s-now my white friends can say this is where my dad went to school and this is where my grandpa started his farm. But me and my brother can't do that because our parents didn't come here so we don't really have the attachment to the land like our Canadian friends do.
ADVERTISEMENT - CONTINUE READING BELOW
But when I first landed in the Philippines, there was something in the air that felt like this is where my parents are from. I actually discovered more about myself when I first visited. Every time I come here, it feels like I fit in. And then when we visited Tuguegarao, that's where my mom is from-my dad grew up in Manila but they're originally from Macabebe, Pampanga-but yeah when I go to the provinces I'm like, "Oh yeah this is where you grew up?" And she showed me. I don't know, there was just something sort of spiritual about that.
Where do you hang out and what do you like to do whenever you're in Manila?
Well, I like to go to the malls. Oh I love visiting the bars. It's so fun. I love listening to live performers and live music. There isn't as much emphasis on live performing in North Amercia, as much. Not like here, anyway. I like to go around, do things that are uniquely Filipino like ride the jeepney and eat balut.
ADVERTISEMENT - CONTINUE READING BELOW
Have you ever tried jamming at any of the local bars?
Yes I have, actually. The last time I was here, I jammed at a bar. I forget where it was. I think it was somewhere in Makati. Oh my gosh it was so fun. A blast.
How would you differentiate the crowd here in Manila from the crowd in Canada?
Actually, the Filipino audience and the Canadian audience-there are some differences but really, were all the same. The only difference is really the delivery. Because I'm Pinoy, I know how to connect with a Filipino audience. I don't know. I can't even put it into words. There's just a way to be on stage that allows me to completely connect with an audience if they're Filipino. For example, Canadian audiences, you have to kind of be a little bit reserved, whereas with the Filipino audience, it's like you wear your heart on your sleeve.
ADVERTISEMENT - CONTINUE READING BELOW
Is there anything here that reminds you of your home back in Canada?
Visiting the convent in Tagaytay, the Good Shepherd Sisters, where my tita studied. It reminds me of my tita because they're all like her. Oh my God I thought it was a whole convent of my titas. Also the air con. It's cold right now in Canada so when I stand in front of the air con and it's icy cold, it's like wind from Canada. That's what I can imagine.
Images courtesy of Universal Robina Corporation and from Mikey Bustos' official Facebook page
CONTINUE READING BELOW
Recommended Videos
Share this story with your friends!
---
Help us make Spot.ph better!
Take the short survey
Load More Stories