(SPOT.ph) The word "Manila" is taking on a whole new meaning and it involves sky-high heels, pounds of makeup, over-the-top costumes made of just about anything from ramen noodle wrappers to Big Bird feathers and whimsical wigs, spot-on lip synching, campy creativity, and one really fierce attitude.
Meet Manila Luzon, also known as Karl Westerberg, the Filipino-German-Swedish favorite in the third season of RuPaul's Drag Race where 13 drag queens sashayed in their runway best and battled it out to become "America's Next Drag Superstar." Crafting a couture paper money dress and giving a straight jock a successful drag makeover were just a couple of her winning moments on the show. The "Asian Glamasaurus" went as far as landing the first runner-up spot and scored herself appearances in RuPaul's Drag U where she helped transform ordinary women to drag divas. To top it all off, she's out with a dance-y club tune titled "Hot Couture," too.
ADVERTISEMENT - CONTINUE READING BELOW
Born and raised in Minnesota by a Filipina mother and German-Swedish father, Manila currently resides in New York. Before her schedule got so clogged with drag duties, she worked as a graphic designer by day and partied in drag at NY clubs by night. In her audition video for RuPaul's Drag Race Season 3, Manila recalled taking the subway by herself in full drag to get to her parties. She doubles the glam with her long-time boyfriend/girlfriend Sahara Davenport, a contestant in RuPaul's Drag Race Season 2.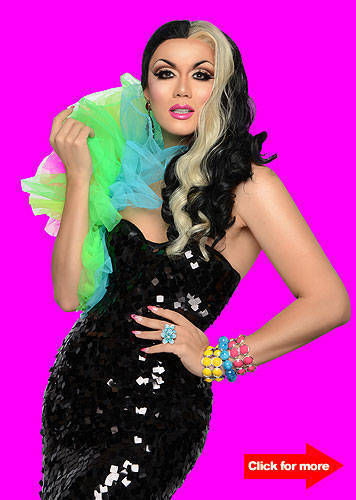 ADVERTISEMENT - CONTINUE READING BELOW
Recommended Videos
Be one of her "fanilas." Click for more.
SPOT.ph fills you in on all things Manila-from her Filipino roots and her drag diva style to getting so close to winning RuPaul's Drag Race Season 3. Plus, watch see her video message to her Filipino "fanilas."
Tell us more about your Filipino background and what it was like growing up.
My mother was born and raised in Manila, then [she] moved to the U.S. to study chemistry. She met my father, a German-Swede, while working together at 3M. They had me and my sister and raised us in Minnesota. We had a regular childhood; we just looked a lot different from our mostly white friends.
Have you ever been to Manila? If you have, could you tell us about your visit?
I did once. My parents took me and my sister there when I was 13 years old. We, of course, went to Manila! It was a long time ago but I do remember a lot of traffic; even cars driving on the sidewalks! We saw the house my mother grew up in, and I remember it being a lot smaller than the house we were staying at in a gated community, with a pool and a team of maids. It was nice to see my mother's humble beginnings! Oh and I remember SM!
ADVERTISEMENT - CONTINUE READING BELOW
What do you think is your most Filipino trait, if any?
My most Filipino trait is that I love to eat! Put food in front of me and I will eat it all!
Do you have a favorite Pinoy dish?
My favorite is my mother's chicken adobo followed in a close second by my tita's pancit! But only theirs, no one else's adobo or pancit comes close.
We read that Manila Luzon is your way of celebrating your Filipino background. Tell us more about the time when you conceptualized that name.
What else is there to know? I named myself Manila after my mother's birthplace and partially because it started with "Man" and because it had the same number of syllables as "Madonna!"
Manila Luzon has a message for you.
Check out Manila's audition video for RuPaul's Drag Race Season 3
ADVERTISEMENT - CONTINUE READING BELOW
Do you speak or understand Filipino?
I do not speak Tagalog, sadly. Growing up in the States, and with a father who only speaks English, my mother never really spoke Tagalog. Well, except when she would swear, so I know how to swear! My lola was from Manila and my lolo was from Cebu so they spoke different dialects, so in the house my mother grew up, they spoke English mostly. So my mother's first language is English, and she doesn't really speak much Tagalog regularly!
Do you incorporate Filipino elements in your show?
I do not get to put as much Filipino elements into my show mostly because performing around the States, it does not cater to the majority of the audience. Many people love my impersonation of Imelda Marcos on Drag Race, but I probably did not do well on that challenge because most American audiences aren't as familiar with Imelda.
ADVERTISEMENT - CONTINUE READING BELOW
If you were to meet Imelda Marcos, what would you ask her?
Do you have any in a size 10?
Other than Imelda, which Filipino gay icon do you idolize and can do an impression of?
Lea Salonga, for sure! She not only has the voice of a princess, she started her career playing basically a hooker on Broadway! If I were to do an impression of Lea Salonga, it'd be her as Mulan, her fabulous Disney drag character!
What edge do you think Pinay drag queens have over others?
That's an easy question. Pinay queens are always the most beautiful!
You're known to create unique and glamorous looks. How did you learn to do those and where do you draw inspiration from (aside from Chinatown as you mentioned in your audition tape)?
I love glamour and I love theatrics and costumes. Most of my signature looks have a theme that people can immediately recognize such as Big Bird or McDonald's but put together in a glamorous and feminine way.
ADVERTISEMENT - CONTINUE READING BELOW
Manila teaches you how to nail drag makeup.
How long does it take you to go full-on drag? What's the most difficult part in dressing up?
It takes me about an hour to do my makeup. It's just under two hours to do the entire thing including all the undergarments and wigs. The two hardest parts of getting in drag is the wig, because it's the last thing to be put on. By that time, you're exhausted and feeling a bit rushed. And unless you have someone helping you, you never know what the back of your wig is looking like. The other hardest thing is applying my false eyelashes. No matter how good my makeup is, if the lashes aren't on perfect, it can totally mess up my look!
Which male celeb are you dying to make over and why?
I really want to [make over] either Hugh Jackman or Jake Gyllenhaal but mostly because I want to teach them how to tuck!
ADVERTISEMENT - CONTINUE READING BELOW
Who's your ultimate drag or gay icon and why?
Well, of course, RuPaul is my drag icon. And I am honored to have been personally chosen by her to compete to essentially take her place!
Who do you consider as your number one fan and why?
My number one fan is my boyfriend/girlfriend Sahara Davenport (from RuPaul's Drag Race season 2). She's my support system and I could never do what I do at the level at which I do it without Sahara!
When did you start performing? How would you describe your early years as a performer?
I started performing in Minnesota when I was 20 at amateur contest night. I was very rough around the edges, but I would still win! When I moved to NYC, I stopped performing because the drag scene is very different there. I would mostly get dressed up and go to these huge wild parties at clubs! There's where I really started to develop my crazy looks.
ADVERTISEMENT - CONTINUE READING BELOW
How many times in a week do you perform? How do you stay psyched and fab for each one?
I work in drag about three times a week and mostly on the weekends. I mostly travel from city to city so I have one suitcase with a few costumes in it that I use at each new city I'm at. When I arrive back home, I switch out the costumes for new ones for the next weekend! Because I'm basically rotating numbers and costumes over and over at all the different cities, I'm perfecting my performances each time I do it!
Manila in RuPaul's Drag Race Season 3
You mentioned in your audition video that your favorite song to perform is Madonna's "Vogue." What's the song you least like (if not hate) performing and why?
I don't perform songs I don't like. If I do a new number and I didn't like performing it, I never perform it again.
ADVERTISEMENT - CONTINUE READING BELOW
Are you familiar with the drag-queen scene in the Philippines? Any chance you might perform in Manila or join the annual Pride March here?
When I found out that my season of Drag Race was airing on the Velvet Channel, I tried to see if any clubs in the Philipines were interested in booking me like in Bed in Manila. However, most places cannot afford to fly me out to the Philippines. It's sad, because I have thousands of Filipino "Fanilas" who ask me every day when I am coming to perform in Manila!
I am not very familiar with the scene there since I have not been there. But I'm sure the Filipino queens are fierce!
So when you're not dressed in drag and performing, what do you like to do? Do you still work as a graphic designer?
I love art, design, and fashion. So it works out that my other passions can be used to better my drag! When I filmed Drag Race, I was working at a design firm here in New York as a graphic designer, and I continued to work there while I was touring this past summer. However, working Monday thru Friday, then Saturday getting on a plane to perform on the other side of the country, then flying back Sunday and going back to work on Monday got really exhausting. So I stopped working my day job and [I] am just concentrating on Manila!
ADVERTISEMENT - CONTINUE READING BELOW
How did you feel landing the runner-up spot in RuPaul's Drag Race Season 3? When people tell you "you should've won," what do you say?
When people tell me that they wish I won RuPaul's Drag Race, I simply say I wish I won, too! I really wish I won because $75,000 is a lot of money. But I'm just happy I made it all the way to the end and that I got to do the whole journey all the way!
What were your most rewarding and grueling moments in the show?
I really enjoyed filming the show. It was a lot of fun to be forced to be creative; it's something I didn't always get to do. It was a lot of pressure and there were a ton of times that I didn't think I was going to survive, like the comedy challenge, because I suck at stand up; the jock challenge because my fate was in the hands of a stranger; and the Money Ball challenge because there was so little time to make three outfits from scratch! But it was all worth it in the end, and I am proud of what I did on the show!
ADVERTISEMENT - CONTINUE READING BELOW
Listen to Manila's "hot" single
What kept you going throughout the competition?
My main driving force throughout the competition was that I was just going to enjoy myself. I loved every minute of the competition and I didn't want to go home.
Tell us more about your relationship with Sahara Davenport. What makes you a great couple?
Being in a relationship with another drag queen is not that common. Drag queens are very competitive with each other so two of them shacking up with each other is a recipe for disaster. Since Sahara and I have very separate styles it's not that much of a problem. We share a passion for the art of drag and I credit that as one of the main factors why we've lasted for so many years together. We can also share our wardrobes!
You're also into music! Tell us more about that, especially your first single "Hot Couture." What's it all about and how was your recording experience?
ADVERTISEMENT - CONTINUE READING BELOW
Because I'm a big old man, I can't always just pick something fabulous to wear off the rack; it's either too tight or too short or just not over-the-top enough. So I have most of my signature pieces created just for me! Whether it be my pineapple dress, my gold fish gown or my Big Bird dress, my one-of-a-kind couture looks are what people remember me for.  And I wanted to make a song that reflected the fun and exuberant looks I gave on the runway of Drag Race. So I teamed up with Grammy-winning producers KNS Productions to help me make this FIEEEERRRRRCCCCEEEE track! I dare you to listen to it and not get it stuck in your head for three days straight!

What's your message to your fellow drag queens, the LGBTs, and all your fans here in the Philippines?
Be creative always! Be Fierce! And I hope to be coming to the Philippines very soon! I love you!
ADVERTISEMENT - CONTINUE READING BELOW
Photos courtesy of Manila Luzon (facebook.com/manilaluzonfanpage and www.manilaluzon.com) and Producer Entertainment Group LLC
Share this story with your friends!
---
Help us make Spot.ph better!
Take the short survey
Load More Stories