On the Spot: Oli Pettigrew of Cash Cab Asia
The cute and comedic host is taking Asia by storm.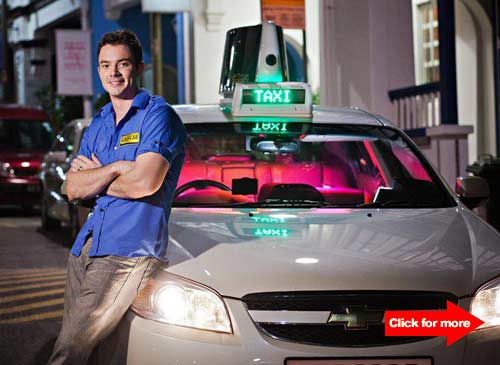 Want to see more of Oli? Click for more.
(SPOT.ph) If only real-life cab drivers were this hot. Oli Pettigrew, 30, model/actor/TV presenter has been taking Asian cable TV by storm with AXN's Sony Lifestyle, Cinemax's Epad, Discovery Channel's Lonely Planet: Six Degrees China, HBO, and Food Network Asia.
His latest and perhaps most notable TV show is AXN's Cash Cab Asia, which has him dressed as a local cabbie as he picks up unsuspecting passengers around Singapore in a high-tech, specially outfitted taxi. He takes them to their destination, but there's a catch: they have to play his quiz show on wheels, where they can win hundreds of dollars as long as they answer each trivia question correctly in 15 seconds and follow the rules of the game, which is easy to pick up as he guides them along the way.
There's more to Oli than his goofy antics, cute British accent, and penchant for retaining general knowledge. He's always up for a challenge, whether it's sampling an exotic Asian dish or trying an extreme sport in his worldly travels-and it's all part of the day job.
We hate to break it to you ladies (and gents), but the Singapore-based heartthrob is happily married to fellow model/TV host, Linda Black. The couple is raising their 3 ½-year-old son, Ewan, and are in the final process of adopting 4-year-old Tia.
We caught up with Oli just hours before he flew out of Manila last week. Ever the talker, the energetic Oli spent the hour-long interview with Spot.ph jumping from one topic to another, from his tattoos to the crazy Cash Cab stories that happen off-cam.
ADVERTISEMENT - CONTINUE READING BELOW
You came to Manila to host an event for Cignal. How was it?
Last night was pretty epic-far bigger than I expected it would be. They brought me out as the surprise co-host. The reception from the audience was certainly a new one for me. I don't usually get that kind of attention. I was backstage and waiting to go on and a hundred people found a way to get backstage to get a photo... It took about an hour to get through all the photo taking. It was really fun for me, but in the end three burly security guys took us out at the back. And then they took photos with me as well. (Laughs)
CONTINUE READING BELOW
Recommended Videos
You said that your Singaporean fans are more shy and reserved compared to your Filipino fans. How are your Filipinos fans different?
I'm not sure if Singaporeans are shy or reserved. I just noticed the [difference in] culture. I never noticed myself getting noticed in Singapore, but when I'm here in Manila, my friends tell me, "Behind you, at your back, people are whispering." In the Philippines, they just come straight up to your face. It's kind of different. It's refreshing. I came out of the airport two days ago, and I was getting into my cab. I've been on official Filipino ground for only three minutes, and some people are already rolling down their windows and shouting to me something about Cash Cab.
Oli greets SPOT.ph
Is it hard to multi-task while operating the Cash Cab?
ADVERTISEMENT - CONTINUE READING BELOW
I don't think everyone can do it... We did a couple of days of practice. A lot of it is muscle memory for knowing where your buttons are. It just becomes a habit... You have so many things to be responsible for. You're keeping track of the fair, operating the sign, operating the lights, talking to the producer (with the earpiece), driving to the destination, following the GPS, keeping track of the 15 seconds, hosting the show, and trying to be funny at the same time. That's like 10 things at once, but honestly it's the perfect show for me 'cause I got far too much energy anyway.
Speaking of energy, you once said that you don't drink coffee or other caffeinated drinks. Where do you get your energy from during those long shoots and early morning call times?
I'm naturally caffeinated. I have energy anywhere. Caffeine just doesn't agree with me. It just makes me feel very strange. If I'm exhausted I'll just stay standing and my adrenaline will keep going. If I sit down, I'll fall asleep. On any long shoot, any long day where everyone's falling asleep, I'm standing on my feet, bouncing from foot to foot, super excited and super wired.
Did you ever get into an accident or get pulled over by cops while driving the Cash Cab?
No, but we got chased down the street by cabbies a few times, leaning out trying to take photos. We're an illegal cab, technically. You need a special number plate to be a cab, so basically people were trying to report me for being an unregistered cab. But we do have permission from the LTA to exist. There was also one guy that was trying to chase us down, honking and trying to run me off the road.
ADVERTISEMENT - CONTINUE READING BELOW
If you were a contestant on Cash Cab, would you win?
Yes! I'm a quiz-ner. I love quizzes and general knowledge. My wife and I, we go to quiz night every week in Singapore. We were champions last month. But I have to be honest, a lot of people think Cash Cab's easy, but it's not. You only get 15 seconds to answer each question. Honestly, I'm amazed anybody wins money half the time because people start getting nervous and surprised when I turn up and go, "Hey, you're on TV!" It's a lot harder than you think.
Who would you call for the mobile shout-out (phone-a-friend) option?
I'd call my wife. She knows everything that I don't know. And she knows all the stuff I know anyway. She's just smarter than me. It's okay, I'm prettier! (Laughs)
What if passengers don't want to play?
That happens all the time! Of 100-120 teams, we had 30 or 40 that just said no, so that's about 30 percent of the time. You get people that just bail. Sometimes they'd run. Sometimes they'd go, "What the hell?" Sometimes they'd think I was joking and run off shaking their head at this insane person. At other times you'd brief them about the show and they'd go, "No, I don't want to look like an idiot."
Oli Pettigrew for a Sony Lifestyle TV Magazine promo
Which person in Asia or the Philippines would you love to have on Cash Cab?
I always wanted Marc Nelson and Rovilson Fernandez because they would be painfully funny. You put the two of them together and it can just get ridiculous. I think if we get a season 2 we would try to book them for one of the celebrity episodes and play for charity.
ADVERTISEMENT - CONTINUE READING BELOW
If you were to make Cash Cab Manila, do you think it would work?
Not the same way we do it in Singapore. In Singapore you can go all day apart from 5:45-7:15 p.m. where it slows down... People can only really get a maximum of 10 questions right before they max out and they're out of the cab. Here in Manila, it would be generally unfair to [passengers] if they're being asked questions in traffic and stuff like that. I took a journey from a radio station here a couple nights ago. On the way there it was an hour and 45 minutes, and when we came back it took only 10 minutes. I could've run it in about 30 minutes.
Were you visualizing yourself driving a cab around Manila?
It just wouldn't work. But we're hoping to come up with ideas for specials. Cash Jeepney was one of my funny ideas. Another idea for Cash Cab is trying to get more Filipino teams, Malaysian teams, Thai teams, etc. We'd pick up different rival teams, ask them the same questions, and see who's going to win.
How different are Manila cabs from Singaporean cabs?
I think in Manila they are better drivers. They're a lot quieter as well.
Other than Manila cabs, have you ever tried other forms of public transportation here, like a sidecar or tricycle?
I've never ridden a Jeepney-maybe when I was younger, I think. I've ridden a trike in Boracay. A sidecar, no. But I see sidecars when I jog around Manila.
ADVERTISEMENT - CONTINUE READING BELOW
Some Filipinos say you look like our local actor Dingdong Dantes, while other people have compared you with Ryan Seacrest, Josh Duhamel, and even Ronan Keating. Who do you think you really look like?
I have to admit that even I have seen the Josh Duhamel thing, but only because our commercials were back to back. He had a commercial for Las Vegas on AXN, and then the Sony Lifestyle promo would come right at the back of that. And the final frame would always be a freeze frame of his face in Las Vegas and then mine in Sony Lifestyle. It's when your wife says it that you're like, "Alright, I can see what people are talking about."
[the]Collective's show reel, which features Oli, his wife Linda Black, and their closest Filipino friends Marc Nelson, Rovilson Fernandez, and Joey Mead.
Has anybody ever told you that you look taller in person than on TV?
A lot of people think I'm short. The thing that I get most when I do interviews and meet people in the Philippines is that they say, "Wow, you're a lot taller than I expected!" I know that my torso is like an inch longer than my legs. I got measured for a TV show. I think if you have a longer torso and shorter legs, it means you look shorter. I'm actually a centimeter under 6 feet. I'm 6 foot, but people think I'm like 5'5".
What was it like growing up under the influence of so many cultures? You're British, your great-grandfather was born in Russia, you were born in Hong Kong, but now you live in Singapore. What was that like?
ADVERTISEMENT - CONTINUE READING BELOW
I wasn't really raised under too many different cultures. For me, my favorite was growing up in Hong Kong... I remember one of my earliest memories was in Tsim Tsa Tsui, when I was growing up in Hong Kong. There's a big McDonald's in Tsim Tsa Tsui years ago, and I was looking around and I'm realizing two things: One, everybody's a different race to me. I think it was the first time I realized that there were different races. Two, I also realized that they're all going to get in trouble with my mom-'cause they were all eating with their mouth open [laughs]. Growing up in Hong Kong made me find the UK very alien, even when I lived there for 12 years. I didn't really identify myself as British... I just feel like a product of different cultures, like a world citizen... I feel most comfortable in Asia, so if I had to pick among Europe, Asia, America or whatever, I'd say I was Asian ahead of anything else.
As a TV host, you get to travel all over the world. How do you get to exercise or keep fit while traveling?
I just have to be more mindful of keeping in shape. A good way to do it is to be in a place where you can run or jog outside. I also take this thing called a TRX with me. It only weighs like 2 pounds and you just stick it into your bag. I'm on this thing called the slow carb diet. I've only been on it for like 14 days and I already lost 7 lbs.
ADVERTISEMENT - CONTINUE READING BELOW
You've been visiting the Philippines a lot this year. Are you planning to move here?
It's basically going to become my second home. I'm planning to spend a lot more time here. I realized from the reception of Cash Cab through Twitter, Facebook and just the amount of people watching it that my biggest market is the Philippines. I think it's just foolish of me to not spend more time here, work here, and meet people here... My base is still going to be Singapore... I just want my presence in the Philippines to be more than just through Twitter and through TV.
What was your agenda here during the last three days?
I did a couple of radio interviews, a photo shoot, and interviews including this one. Then I hosted an event.
A teaser for Oli's Sony Lifestyle episode in Manila last year.
We read an interview last year where you said that your favorite place in Manila is the Hobbit House. Has it changed or is it still the Hobbit House?
I'm actually quite a fan of The Fort. This whole area breeds familiarity for me and also I kind of like the American-ness of it. I think it's only fair for me to say I don't have a favorite place yet 'cause I don't know Manila well enough. I kind of like exploring it and being taken to places by my friends and going, "This is kind of cool!"
What about Boracay?
Boracay is my favorite place in the Philippines, but that doesn't mean I'm ruling out Cebu and all the other places. I just haven't been there yet.
ADVERTISEMENT - CONTINUE READING BELOW
You got married to Linda Black in Boracay five years ago. Why did you choose Boracay?
Because my friend Joey Mead told us to. The very first time we ever went to Boracay was for the wedding. Joey said, "Trust me," and we looked it up and all our Filipino friends were like, "Yeah!" We were able to put together a 50,000-dollar wedding for like only 4,000 dollars. It's like you can really stretch your dollar there and so we were able to have this beautiful wedding that we never would have had if we got married in Hawaii.
And you recently went back to Boracay to renew your vows.
Yes. We were there for Marc Nelson's birthday. And we were always intending to come back on our 5th anniversary and inviting everybody. But Mark organized his birthday just two weeks before. The cool part was the people we hadn't seen since our wedding were flying in from Australia and Canada for the birthday, so on the last night, I checked with Marc and everybody else. I'm like, "You're cool with me surprising Linda?" And so on the very last night, I surprised her on the beach and proposed to her again.
You and Linda are raising two kids, Tia and Ewan. Do you know what the word ewan means in Tagalog?
Yes. "I don't know." And it means all sorts of things all over Asia. My son is cursed! (Laughs) But my favorite one is "I don't know" in Tagalog. Imagine someone coming up to Ewan and asking, "What is your name?" "I don't know." "What do you mean you don't know?" "No, it's 'I don't know.'" "What do you mean you don't know your name? How can you not know your own name?" (Laughs)
ADVERTISEMENT - CONTINUE READING BELOW
You have a tattoo of your son Ewan on your left arm. Tell us the story behind it.
I got it at Shanghai on December last, last year. I was shooting the first episode of Lonely Planet and one of the guys in my show was a tattoo artist, one of the most famous in China. So I got my first tattoo on the show. I'm that dedicated a television host. I got a tattoo for my TV show. And I made them pay for it. [laughs] It's an ambigram of Ewan's name.
Do you have other tattoos?
No, but as soon as our adoption's complete, I'll get one for Tia. It will probably be up here [points to his upper right arm].
One of your other TV shows, Sony Lifestyle, lets you try out the latest gadgets. On a scale of 1-10, how techie are you?
(Oli starts whipping out his gadgets from his bag) Kindle, Blackberry, laptop, digital camera, and iPod... all in my bag right now.
So that's a 10?
Yes. Big time techie!
When we shot Sony Lifestyle here in Manila last year, you ate a lot of street foods, like the balut. What was that like?
I got a lot of messages on Facebook from my Filipino fans, saying that they loved our Manila episode, but that I should have eaten the balut. We didn't show it on the show, because we didn't want anyone to be offended. But I told people, "Don't worry, I did try the balut off-cam. But now I will not eat it. It's just not for me. It was a bit feathery for me.
ADVERTISEMENT - CONTINUE READING BELOW
What is your favorite Filipino dish?
I can always go back to chicken adobo. My maid makes it. When she's making it at home, I go, "Ah, you're making adobo, aren't you?" I like the vinegary taste. I remember when I was here for our wedding 5 years ago, I was eating adobo everyday.
You're flying to Hong Kong in a few hours, and then you'll head back home to Singapore. When are you coming back to Manila?
Probably in the next couple of weeks, in April.
Additional photos courtesy of Oli Pettigrew and W Talent Management
Share this story with your friends!
---
Help us make Spot.ph better!
Take the short survey
Load More Stories