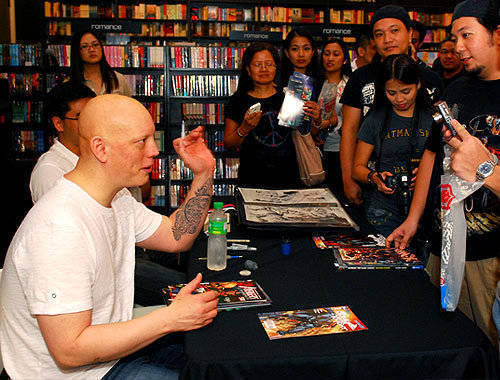 David Finch, the writer-artist of Batman: The Dark Knight, met his Pinoy fans at Fully Booked on Bonifacio High Street last March 17.
(Photo by Hub Pacheco for Fully Booked)
I must confess that I had been living under a rock as far as the work of David Finch is concerned. When he began his comics career in 1994 with Top Cow Productions' Cyberforce, I had already stopped buying comics due to rising prices and budget constraints. But my editor thought it fitting, if not amusing, that the writer-artist of Batman: The Dark Knight be interviewed by the writer-artist of Zsazsa Zaturnnah, and I took it as a chance for me to get to know one of the hottest talents currently working in American comics.
With an interview slot that's just 15 minutes long, how much can you know about a person, especially one who's been drawing comics-on such titles as Spiderman, New Avengers, Ultimate X-Men, and Ultimatum-for almost two decades? Not to mention the threat of jetlag, given that he had just flown in the night before. (This interview was conducted on March 17.) Quite a lot, I found out. The Canadian-born Finch was calm, but alert, with a ready smile and much to say. As the interview progressed, I was slowly, undeniably, getting startstruck.
ADVERTISEMENT - CONTINUE READING BELOW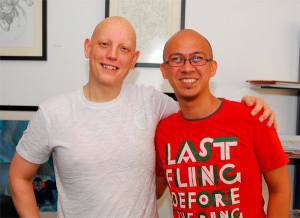 David Finch meets Zsazsa Zaturnnah creator Carlo Vergara

What is it about Batman that interests you and a lot of people?
Batman is a character that, and I believe everyone who loves Batman will say he's a character without superpowers, and he gets by with his wits and his strength and mostly his determination, and I think that's the most interesting thing about any character. A character that just absolutely will not give up no matter what happens, and I think that's something that we all like to believe we're capable of, whether we are or not. Some people gravitate to a character like Spidermen. I always gravitate to a character like Batman.
ADVERTISEMENT - CONTINUE READING BELOW
Recommended Videos
You've been a comics artist for a long time, and late last year you ventured into comics writing with Batman: The Dark Knight. How was your experience as a writer?
You know, that's really been a struggle for me. I really know what I want to get across from a story in a visual way, but getting that across in terms of [writing] is something I struggle with a lot more, and I feel I've learned quite a bit from the experience. I've actually stepped aside from writing the monthly Batman book. It was in terms of schedule and also just in terms of writing ... a character like Batman has so much history and also there are multiple Batman books that come out every month and all of it has to work together. It takes an experienced writer and I just had to recognize that and go with my strengths. I'm just drawing right now, again.
ADVERTISEMENT - CONTINUE READING BELOW
How many pages are you able to draw in a day?
It can vary. I've got kids and responsibilties. I try to get two pages a day done. It means working all day, then putting the kids to bed, and working all night. I'm a homebody.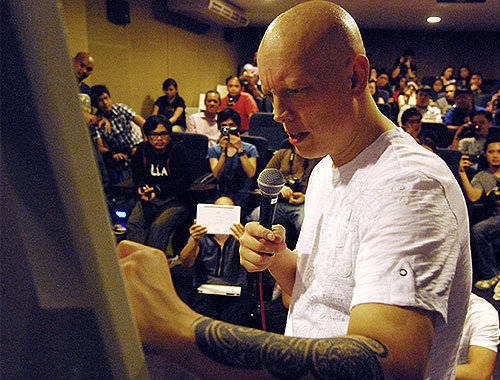 David Finch is a lefty! (Photo by Hub Pacheco for Fully Booked)
ADVERTISEMENT - CONTINUE READING BELOW
When you started out in comics in '94, your art style had a strong Marc Silvestri aesthetic. What other influences have you picked up along the way that have added to your style now?
Early on for me, obviously Marc Silvestri was my first and biggest influence, and my teacher. Early on, I found Simon Bisley, whom I'm still a huge, huge fan of. Love his work, and that really changed what I'm doing, still to this day. Travis Charest is another artist, still a big influence for me. I found the Kubert Brothers, and Dale Keown, and I've kinda gone through phases. A big one for me actually was Mike Mignola who did the Hellboy stuff, and Frank Frazetta. It changes every year. I got into a lot of Asian artists just around 2000. Then I got into a lot of French artists for a little while around 2006 or so, and it really changed a lot of the way I was rendering. Rendering is essentially putting all the little lines on a picture, and they really had a big influence on that. And that's something, I think, to this day I've still been trying to figure out how to reconcile with my work. You always want to bring something new, but you always want to make it fit with the work that you're doing, and it's always a struggle.
ADVERTISEMENT - CONTINUE READING BELOW
David Finch on News-a-rama last year.
So you're still evolving?
I'd like to think so. If you're not evolving ... I don't think you can just coast. I think you have to do it one way or the other way. Hopefully, trying to just keep going. Trying to get better. The older I get, and I'm not so young anymore, I think I worry about that more and more. I don't want to lose my enthusiasm. I certainly haven't, but I know a lot of older artists that do. I don't want to go that way.
In one of your previous interviews, you mentioned that one of your favorite characters was Lobo. Who's cooler, Lobo or Batman?
Lobo is cooler.
So would he win in a fight with Batman?
No. Nobody would win in a fight with Batman.
What kind of stories attract you?
ADVERTISEMENT - CONTINUE READING BELOW
Stories are always about the central character. If I can get a story that really says something about that character and starts in one place and ends him in a different place, and I feel like I can follow him there, and I feel like I can empathize, that's always a story that connects with me. Something a little bit more contained. A little bit more focused. I really like darker material. But I really don't like [explotative], gruesome material. It's a bit of a line. Dark and serious and violent, but not [gratuitous]. I like to keep things in shadow a little bit. Especially for artwork, I think it's easy for artwork to get tasteless. I prefer to just be suggestive.
What comic book would you like to work on but would surprise a lot of people?
Maybe Animal Man. I think I would love to do a Grant Morrison-era Animal Man. I know I'm the completely wrong artist for it. Another book, actually, I would love to do is Alias with Brian Bendis. Again, a book that I know I would not be appropriate for. I'm such a huge fan of writers. And when I love the story, a lot of times I would love to do it, even though ... Brian Azarello, for instance. I'm a huge, huge fan. I don't know if I'll be able to do justice to his sort of story.
ADVERTISEMENT - CONTINUE READING BELOW
Could you tell us a bit about the creator-owned project that you're planning to do?
It's a story set about a hundred years in the future. I guess it's sort of a Postmodern Robin Hood story. It's set against a backdrop of multi-billion dollar corporations that own and rule everything and an underclass that has nothing. That's essentially the setting. I'm a huge fan of Blade Runner and all the Syd Mead designs. So whenever I think of what I'd like to do, I always gravitate towards that.
You've been in the business for a long time. What do you know now that you wish you knew back then?
Wow. I've never had anyone ask me that question. That's a really good question. There are few things. I really learned how important it is to understand that tomorrow, I won't necessarily feel the same way I do today. And I really didn't understand that when I was younger. I made a lot of very rash decisions, and I think some of them have really affected me negatively. It took a long while for me to finally slow down and realize that I'm in this for the long haul. I probably don't think I would've listened to myself, but that would be the number one thing. In terms of my artwork, I think that if I could've gone back and just said, just go with what works ... for me, I've always had a fear of what I believe in because I want to make sure that what I'm doing connects with an audience, and I think you can worry about that too much.
ADVERTISEMENT - CONTINUE READING BELOW
Have you heard much of the Philippine comics scene?
I have. Heard a lot about it. I know Leinil Yu really well. Mico [Suayan]. Whilce Portacio, I've known for years, [though] not as well as I'd like to. I've heard that American comics are very popular over here. So I was very excited to come and get a chance to meet some of the fans. It's pretty exciting to come so far from home and have people know who I am. It's a thrill.
What's the most Filipino thing you've experienced so far?
Having only been here for a day, I'm gonna say that the one thing that's been most striking for me-but I don't know if it's the most Filipino thing because I don't have the context-I had pig skin for lunch. It was actually very good. It was great.
ADVERTISEMENT - CONTINUE READING BELOW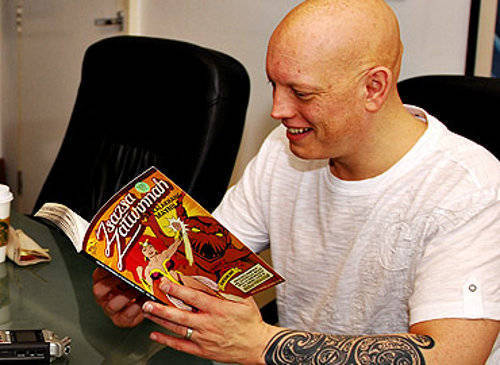 David Finch holds a copy of Zsazsa Zaturnnah. (Photo by Hub Pacheco for Fully Booked)
My fifteen minutes came and went and, like a savory pig skin dish, my interview with David Finch turned out great. But before making way for the next interviewer, I just had to sneak in a gift, from one komikero to another. Just in case Batman needs extra help, or at least a touch up between tussles.
ADVERTISEMENT - CONTINUE READING BELOW
Share this story with your friends!
---
Help us make Spot.ph better!
Take the short survey
Load More Stories