(SPOT.ph) The lead vocalist of iconic OPM pop-rock band The Dawn has a lot to be thankful for. Not only has The Dawn carved its name in the music industry for the past 26 years, Jett Pangan is also celebrating his 10th year as a stage actor.
He is currently rehearsing for his latest project with Atlantis Productions, Nine, a musical based on Federico Fellini's semi-autobiographical film, 8 ½. Jett plays the lead role of film director Guido Contini, and co-stars a long list of stellar actresses and musicians: Cherie Gil, Eula Valdez, Menchu Lauchengco-Yulo, Ima Castro, Carla Guevara-Laforteza, Sitti Navarro, Yanah Laurel, Jay Glorioso, Japs Treopaldo, Reg Claravall, Mikkie Bradshaw, and Princess Virtudazo.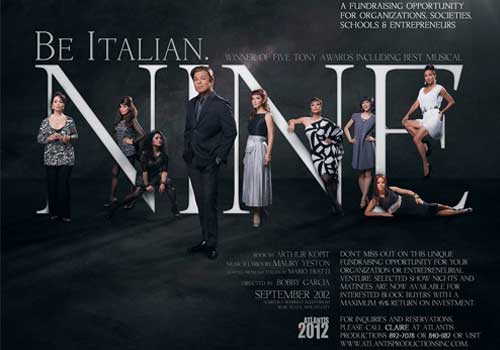 Spot sat down with Jett, who noticeably lost weight for his role as the suave and sophisticated Italian filmmaker. He talked about being "the luckiest guy alive," why OPM is in trouble, and successful feats that make him say, "Salamat!"
ADVERTISEMENT - CONTINUE READING BELOW
As the lead vocalist of The Dawn, you said there was a time where you had a creative block.
Many times. I guess the biggest one was when we were preparing for the last album that we released in 2010, which was Sound the Alarm. At the time we had a new guitar player and we had schedule problems between members. It was difficult to get together and write like most bands do. A lot of the songs were done remotely-like one guy would make the music, another would... you know, stuff like that. It's hard to write when you have those issues and when members have other things that they do.


How were you able to finish the album?

Necessity is the mother of all inventions, so to speak. When you have a deadline to catch, then you have no choice but to really make it happen. It could've done better, honestly, because like I said that was a time when schedules were really in the way. Instead of working for you, it was working against you. And that was the time when the record industry was already beginning to wane. As we know, the industry now is really in bad shape. We were caught on the crest of that bad shape. We still did the album. At least the fans-the core fans-were really happy that we released an album.
Have you read the article, "Life and Death of OPM" by Don Jaucian? It's been the buzz on the internet lately, and it's been gaining a lot of feedback and flack, especially from people defending that OPM is not dead.

No [I haven't read it], but I can sort of foresee it. It's good that you have people like that who are staunch advocates of OPM. It's actually good that he's being offered resistance because if everyone is surrendering to that fact, then OPM is in trouble.


CONTINUE READING BELOW
Recommended Videos
Do you think OPM is in trouble?

It is in trouble. But see, the beauty of the Filipino artist is that we're so used to encountering so many hurdles that we find ways to keep ourselves alive.
How is The Dawn keeping itself alive?

The Dawn is lucky because-not to prance about it or anything-we're an established band. We're 26 years old. We've had 14 albums, so the name alone and the franchise keep it alive. Fortunately, even though I have theater and the other members have their own things to do, people still book us for gigs. We have events and concerts here and there-even abroad. We're very lucky that we have that opportunity, but I don't think I can say the same for those who are beginning.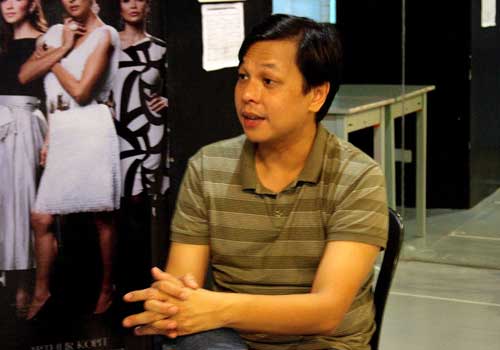 When did you start doing theater?

With Atlantis I started 10 years ago, 2002. Before that I had a little experience with another theater company, the '70s Bistro Production. I did Jesus Christ Superstar, where I played Pontius Pilate. Much of my experience in theater-the time I put in at least-is with Atlantis.


ADVERTISEMENT - CONTINUE READING BELOW
How did you get into theater?

I'd say I owe it to Bobby Garcia 'cause I did Jesus Christ Superstar, but then again that's like my home territory because it was a rock production. Bobby Garcia was the one who listened to me when I auditioned for Rent. I didn't get the part because The Dawn had to tour in the States. But when we got back, he gave me a call and asked me if I wanted to do Tick, Tick... Boom! And that was it.


You've been doing a lot of plays this year.

This is my third. I did Jekyll and Hyde for Rep, and Rock of Ages for Atlantis, and now I'm doing Nine.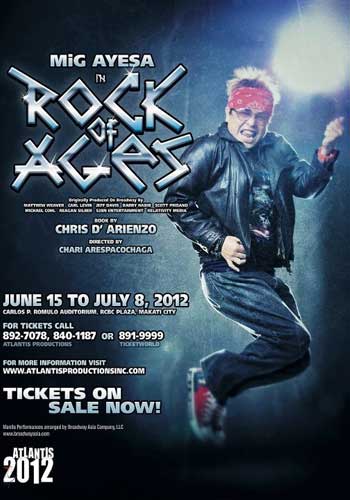 In Rock of Ages, the cast sported a lot of crazy hairstyles. Were there any wild fads in the '90s or '80s that you followed?

Rock of Ages was the rock I avoided. I was more into the new wave rock. So I enjoyed every minute of it when I wore a mullet and all that [for the musical]. I did the thing [in the '80s] where you shave the patilya, but not a full-blown mullet like Lonny's (Jett's character in Rock of Ages). I did have a pair of acid-wash jeans and an acid-wash jacket. I don't have pictures with them, thank God! I guess we all went through that phase where you thought you were cool but then five years after, you're like, "What the hell was I thinking?"


ADVERTISEMENT - CONTINUE READING BELOW
According to your Wikipedia page, you turned 44 this year.

I'm 44, yes! Wow, whoever wrote that? [laughs] Proudly 44!


In Nine, your character Guido is facing his midlife crisis. Can you relate to that?

More than a midlife crisis, he's facing a creative block. In the '60s, Guido Contini was the pop-rock of film. If you Youtube one of his movies, 8 ½, which is what Nine is based on, you'll see that he is very much ahead of his time. This guy didn't care about commercial success, although he was commercially successful. He won the Academy Award five times. But his movies are very ethereal. It's pretty much like a very long music video, but done in black and white. This pretty much is a representation of the life of the director of 8 ½, Federico Fellini. Guido Contini is his, in a way, fictional character based on himself. And he reached a creative block.


How similar or different are you from Guido?

Well, he has a lot more women! [laughs] Guido Contini has a big problem because he has to come out with a film in four days. How do you do that? And with nothing; he has nothing on the plate. More than his creative block, the focus really is the relationships that start to crumble around him. He's a married man, but he also has a mistress and he's pretty much slept with a lot of women. There's that one important relationship with his wife that's not doing very well. With women problems, let's not go there! [laughs]


ADVERTISEMENT - CONTINUE READING BELOW
Will you be adopting an Italian accent for the play?

Bobby Garcia, our director, didn't want us to do accents because you have a danger of having making it sound comical. And besides, you have to give it to your audience that they're intelligent enough to know that, okay he's Italian, you don't have to press it on my head that he's Italian! But of course there are times when we're making a point as characters and I personally put a little inflection, but not too much. It's a flat accent, except when you're speaking Italian.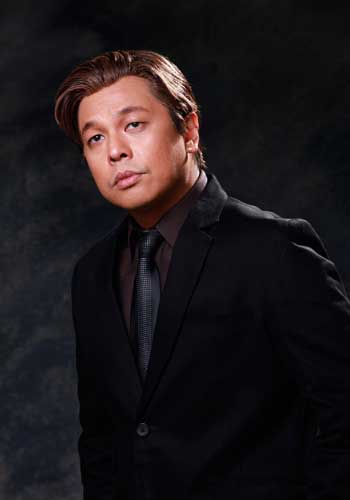 photo courtesy of Altantis production
Both the Broadway and movie version of Nine have a lot of sexy and steamy scenes. Should we expect the same for Atlantis' stage version?

Pretty much, but very artistic. It's not crass or anything.


In Nine, you are surrounded by some of the most beautiful women in the industry. How does that feel?

They're all beautiful! When people say I'm the luckiest guy alive, I am really! But see the fascination with all these beautiful women lasts only five or 10 minutes. I come into this room everyday and, "My God, I'm in heaven!" Then after 10 minutes you start working. You're simply with a bunch of talented artists who happen to be beautiful, but the work is very hard and so that physical fascination doesn't last very long when you start working. But I'm very proud to be with these people.


ADVERTISEMENT - CONTINUE READING BELOW
One of the songs, "Be Italian," talks about how the Italians are unique lovers. What about Filipinos? How similar or different are we to Italians when it comes to love and romance?

Filipinos are great lovers, but they're not very showy. Italians will pinch your butt and tell you you're beautiful because they just speak their minds and they move their hearts. Very romantic people, I say.


There are many scenes where your character goes back to his childhood to reflect on his life. Name one fond memory from your childhood.

I guess that would be whenever my dad would come home with a toy. [laughs] 'Cause I love cars. And one of the biggest memories I have of my father coming home from work one night is when he had this Volkswagen Beetle. It's red. "Yay, big!" I kept it; took care of it. It's made of steel. I even brought it to Luneta where I played with it.


With all these theater projects on your plate, are you still able to do gigs for The Dawn?

Yes, but not as much as when I don't have plays. I also host Myx Live and do events. I host and sing. This year, I was offered all these great roles, so who am I not to accept them? You don't go walking along and somebody offers you three great roles in a year, so I'm on it, yeah!


What do you love and hate about Manila?

I love and hate the same things most people do. I hate the traffic, bad roads, and bully drivers, but what I love about Manila is that there are so many places to go, to eat, drink and be merry.


ADVERTISEMENT - CONTINUE READING BELOW
Where are you favorite places to hang?

There's this restaurant in Makati Ave. called Shinjuku-very good Japanese restaurant. I also love going to Italianni's with my family. I'm not really a clubbing person anymore. [laughs]


Share this story with your friends!
---
Help us make Spot.ph better!
Take the short survey
Load More Stories