On the Spot: John Spainhour
What time is it? It's Spainhour! The Cosmo-licious dish talks Manila hang-outs and his time as a US Marine sniper.
(SPOT.ph) When we saw John Spainhour on a hectic Tuesday afternoon, he was standing quietly in a corner, looking on as his fellow Cosmo Bachelors were being interviewed and photographed with members of the press. There was a stoic quality about him, and he had the concentration befitting a man with military training.
Having won the Century Tuna Superbods competition last summer, John is quickly becoming a constant on every girl's kiss list. Now he's also been declared one of Cosmo's Celebrity Centerfolds. We huddled in a corner with the hunk to chat about Manila, his favorite hangout place, and his stellar career with the US Marine Corps.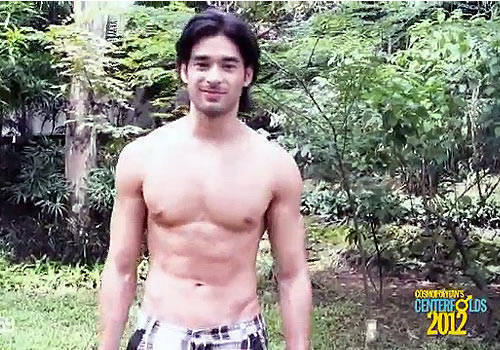 John in the famous Cosmo Centerfold vid. Watch it here.
Where do you like to hang out?
It's not like I try to, but it just happens this way, the gym where I work out, at Gold's Gym. It just ends up being like, a hang-out spot. I go there to work out but every time that happens, I have a lot of friends who work out there. Every time I go, I always run into like two or three of them, and a lot of times we just end up talking to each other. We go somewhere else after.
ADVERTISEMENT - CONTINUE READING BELOW
Is there any place in Manila that you wish you could visit, but never really had the chance to yet?
I'm sure; I haven't been to a lot of places. But I've been to Araneta, and Davao and Cebu and stuff. I haven't been to Star City yet, though. I'd like to see that.
Who's a person you look up to?
I guess I would say Johnny Depp. It's kinda weird but I admire his personality; that he can have it and still have a lot of fame. It seems like his job is being himself, and he enjoys doing it. That's the best thing that you can do with your life, to be yourself and really enjoy what you do.
John's Century Tuna Superbods Video
Can you tell us about your special training in the US Marines and sniper school?
The Marine Corps in general is tough. To be a sniper on top of that is...I had to go though a lot of hardship, a lot of blood, sweat and tears. At the end though, it's well worth it and I'm definitely glad I did that. Even to this day; graduating from sniper school is like, one of the top...it made me the person I am today.
Do you still practice?
Oh yeah! For fun, I like to go out and shoot and stuff like that. In the military, they set up the training for you, they set up the ammunition. Now that I do it on my own, I gotta buy the ammunition, set up the weapons myself, build it sometimes and then carry it around.
CONTINUE READING BELOW
Recommended Videos
So it's really a hobby for you?
Yeah, it's fun! I mean, you definitely gotta enjoy what you're doing when you're a sniper. It's so tough mentally and physically that if you don't enjoy doing it, you're just going to lose your concentration. But I have to say, I really enjoy it.
Where do you usually practice?

Here in Manila, I can't. I go to pistol ranges so I can shoot pistols, but it's stationary. You can't really have fun with it. Back home in the States where I'm from, you could while you're outdoors. There's the outdoors; open fields, the mountains. You can just go out to the field to set up targets and shoot, and do all the stuff that was part of my training. Here in the city, that's obviously going to be a little difficult.
John Spainhour's Nestle Commercial
What is your biggest accomplishment in terms of shooting?

Well, I've always been known throughout my Marine Corps career as being one of the top shooters. When I first graduated from boot camp, in the initial training, I was the highest shooter in my graduating class. Every time, throughout college, I was still the top shooter and right before I got out of the Marine Corps I had one last qualification at the end. I was one point away from getting a perfect score! In that level of shooting that's like the Olympics!
Did you ever try out for the Olympic team?
If I had stayed in, I probably would have been offered to be on the Marine Corps shooting team, and they compete in the Olympics. But I dunno.
ADVERTISEMENT - CONTINUE READING BELOW
Was modelling something you always thought you would do, though?
Yeah, it's definitely something I did not expect to do! The transition was a little difficult, but it's definitely a nice transition. I sort of imagined it too. I pretty much made myself, like, as a sniper, you're constantly dirty. You make yourself look like mud with dirt, bushes and stuff. Now, I'm making myself look all pretty, dressing up nicely, it's like a complete 180!
Is that a good thing?
Oh yeah! There's fun sides to both, though!
Share this story with your friends!
---
Help us make Spot.ph better!
Take the short survey
Load More Stories