(SPOT.ph) On the eve of his band's massively sold-out concert, and just a few days past the Twitter-trending reveal of his new endorsement gig, Adam Levine met with the press in the The Peninsula's swanky Salon de Ning. Looking fresh from his Bench photoshoot, Adam fielded questions with a disarming frankness,  even popping up with a good-natured dig at a certain Congressman-cum-boxer.
If you can't wait to scream your guts out at tonight's concert, or to ogle the soon-to-be-put-up EDSA billboards of his handsome mug, then boy have we got some Adam Levine for you!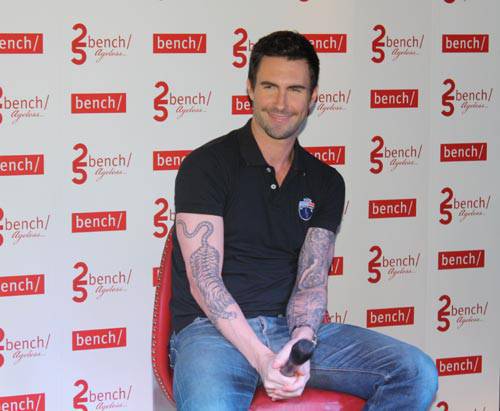 ADVERTISEMENT - CONTINUE READING BELOW
On what he loves most about the Philippines.
We've been here three times in a very short period of time. A lot of bands don't get to come here. Our fans here are what keeps us coming back. They're always just so excited and so passionate. More so than most people that we play for.
On his new Bench gig.
They approached me to do it. You know, I didn't know too much about [the brand], 'cause, I spend a lot of time in America and not a lot of time here. I saw the clothing online, and the people were very nice and continue to be very nice. I love the clothes. If I didn't love the clothes, I wouldn't do it. I'm wearing it right now. I took like fifty things from the photoshoot.
On his style.
I just kinda like things that in twenty, thirty, forty years are still the same. Like polo shirts...they never go out of style. A pair of blue jeans never goes out of style.
On his favorite tunes.
I love the Beatles. They were my favorite band growing up, my parents were big Beatles fans. The [Rolling] Stones, Stevie Wonder, Marvin Gaye, Bob Marley...everything. Then Nirvana came out, and Pearl Jam, and all these bands in the Nineties. A lot of pop music, a lot of rock and roll music...I just love all music.
On style icons.
I thought Steve McQueen was really well-dressed, I thought that James Bond was really well dressed.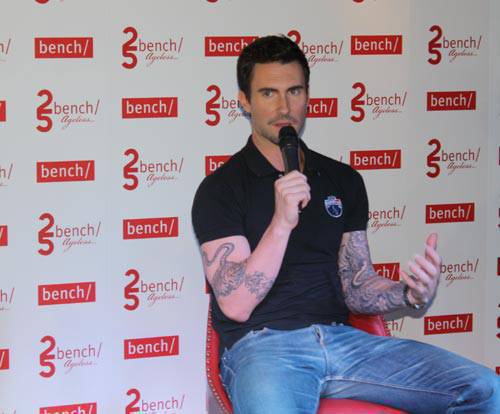 ADVERTISEMENT - CONTINUE READING BELOW
On travel essentials.
Jeans. Gotta have good jeans. You can mess them up, you can wear them fifty thousand times and they won't start to smell. That's the most important thing for me, a good pair of blue jeans. And a lot of socks and underwear. I have so many pairs, 'cause you never know how long you'll be gone, and re-wearing those things is kinda gross.
On the new season of The Voice.
Our chemistry as coaches is better. Everyone's getting along really well, everyone's having fun. I'm on the show, so I don't know if you can trust my opinion, but it's the best season. Season 1 was obviously amazing, Season 2 was good, and this one is better than the first and second.
On Filipinos' love of singing.
Isn't Manny Pacquiao a singer? He's a singer like I'm a boxer. (Laughs) By the way, Pacman, I'm a huge fan.
ADVERTISEMENT - CONTINUE READING BELOW
On life advice.
Whatever it is that you love to do, whether it's singing, acting, or crunching numbers, or whatever it is you're passionate about, just do it all the time. The more you do it the better you can get. Well, obviously, it depends. If you're really bad, maybe someone should be honest with you and say, "Try something else."
On Maroon 5.
They're like brothers. You fight with your brothers, you beat the s--t out of each other, and then it's fine. It's nice to know that, people you love and people you respect, you can fight and get into some really big battles...you just know that no matter what happens, at the end of it, it's gonna be okay.
We're a band, and there aren't many bands these days that are musicians that all play together. It's real, there's no smoke and mirrors. The music is unique. It's pop music, which you want everyone to love, but there's a lot of attention to detail. We never want to sound cheap, or thoughtless, or careless. I love music, and lyrics, and making everything as good as it can be. I think that my voice is unique. I didn't say it was good, I said it was unique. (Laughs)
ADVERTISEMENT - CONTINUE READING BELOW
On the new album.
Overexposure is what you make of it. The reason why we named our album Overexposed is because, in a weird way, if you don't want people to think that you're overexposed, then name your album "Overexposed". Because then, it will subvert the potential danger of being overexposed. We just wanted to come out and say it so we could avoid it.
On his idle moments.
I sleep. I love yoga, I just did it two hours ago. I play basketball. I like to do nothing: just sit around and try to relax and talk to my friends and my family who I never get to see. You know, the things that everybody wants to do, but which I don't get to do as much.
On what he looks for in a woman.
I can't talk about that. I was telling someone earlier, it makes me sound like Fabio or something.
ADVERTISEMENT - CONTINUE READING BELOW
Share this story with your friends!
---
Help us make Spot.ph better!
Take the short survey
More Videos You Can Watch
Load More Stories