(SPOT.ph) Georgina Wilson would like you to vote for her in the upcoming elections.

It's a joke, of course, though we have no doubt that her stunning features would be a welcome change from all the jowly trapo faces pasted on election posters come voting season. But it's a joke that has no small amount of substance backing it. It's an open showbiz secret that Georgina possesses brains in equal measure to her beauteous legs. One does not simply go through one of the country's toughest college courses (Economics Honors; Ateneo de Manila) and graduate with a double degree from an international university (Finance and Accounting; University of Sydney) on just glamor, you know.
And even if her current career in modeling means that she can get by on face value alone, she revealed the sprightly intelligence behind it when we caught up with her just before the Garnier Pure Active Challenge last October 19 at Enderun Colleges. The platform from which she'll run her purely hypothetical electoral campaign? Find out below!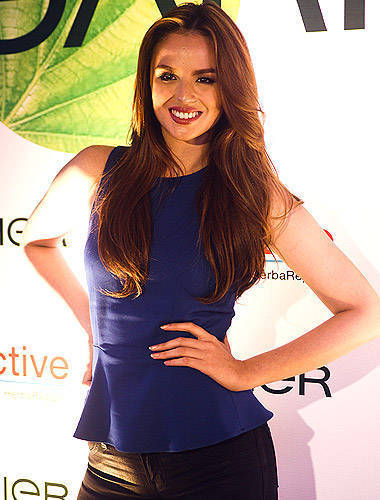 Photo from GeiserMaclang
ADVERTISEMENT - CONTINUE READING BELOW
How are you keeping busy these days?
I'm not on TV, and I don't have movies and stuff, but I have my endorsements. I don't know how other artistas do it, because I'm 100% busy. I think, though, that Garnier is a big chunk of my day. I don't endorse brands that I don't believe in. From the get-go, when I endorse something, I know that it's something that I'll be happy talking about and be excited about.
How would you describe your work with Garnier?
We're all about education. From the day that they approached me, they said they wanted a platform about education: educating people to take care of their skin, and now, with the partnership with World Vision, we get to send people to school. I'm sure this won't be the last project of [Garnier and myself], you know, going to schools, sending people to schools, and overall education.
Everywhere we go, we talk about skin care, because we're the lowest in Southeast Asia in terms of skin care penetration. So they ask me lots of skin questions, and we really sit down and we answer. Even on our Facebook and Twitter account. We're very active in answering all the problems. Even [those that are] not about skincare.

It seems education is very important to you.
I just feel that education solves so many things. If I were president right now, I would put all the money into education. Literally, everything. Look at South Korea. In the past 10 years, they've become a world power, because they focused on education. I feel that Pinoys are so ma-abilidad. They should be able to work in their own country and not be sent abroad as overseas help, and if we're educated properly, we would be able to get these high-level jobs so we don't have to leave.
ADVERTISEMENT - CONTINUE READING BELOW
Recommended Videos
So please vote for me in the upcoming elections! (Laughs)

Speaking of education, what were you like as a college student?
As a college student, I was a super nerd. I wasn't focused on parties. It was exciting for me because I went to Ateneo for two years, and it was a co-ed school-I came from [the exclusive all-girls school] Assumption-and my course was very challenging. I didn't have much time to mess around. I had to be [on the] Dean's List every year. I spent a lot of time in the library. And so my classmates were from Pisay [Philippine Science High School], so I really needed to step it up. It was fun because, from being in a very sheltered environment, in college you get to see the world. And I would never take that experience away from anybody. If I could [redo] anything in my life, it would be college.
A website from Garnier starring a pimple-busting Georgina Wilson

That good, huh?
I actually never wanted to leave. I wanted to extend it as much as possible. My dad wanted me to go to an English school, but I compromised and I said Australia na lang, because I was already working a lot. So I went to Australia, and their course is three years...I did it for four. I think I spent a total of six years in college because I did a double major kasi ayoko ngang umalis. The saddest moment of my life is when I graduated. I just felt so out of my comfort zone.
ADVERTISEMENT - CONTINUE READING BELOW

What would you do differently if you had the chance to go back?
I want to say that I would have liked to have had more fun. But I don't think I would be the same person. I really think you have to find time to excel in university, because whatever you achieve in university is a big part of the job that you're going to get and everything. So it's no joke. But I think it's one of the best times of your life.

But what you're doing now is pretty far from your Ateneo course, right?
You know, a lot of people ask me, because they know I am obsessed with school, about what course to take. It's a lot to ask an eighteen-year-old what to take up. And I always say college is not about what exactly you study, it's about how hard you work, and how you train your brain. So every time someone asks me that now, I say, "Take whatever you enjoy, and you have to love it, because you're going to be living and breathing it for the next how many years."
The now-famous "Call Me Maybe" lip-sync video starring Georgina, Solenn Heussaff, Isabelle Daza, Liz Uy, Anne Curtis, and more

How do you see Manila now?
My current Manila is too small, so I need to expand it. I need to find ways to break out and branch out. I'm too confined to the sosyal areas, I'm sick of it. It just gets redundant if you do the same thing over and over again. I think Manila is so vast that we don't give it credit. People only hang out in certain areas. When I visited schools in old Manila for Garnier, you can see how beautiful that area used to be, and it should be something that we restore. I definitely want to hang out in Malate more. It's just so different, and so beautiful.
ADVERTISEMENT - CONTINUE READING BELOW

What would you say is the most underrated spot in Manila?
It's kinda baduy, but I would have to say Filling Station in P. Burgos. It's so fattening, but I like going to dingy places like that. Did I just say "dingy"? Baka Filling Station will ban me!
Did you know around P. Burgos, they have the best Korean restaurants? And I go to all of them. I go to this one called Top Dish. It's on P. Burgos, it's only open from 4 p.m. to 4 a.m, and the owner just lives upstairs. It's kind of amazing, super cheap, and super small. Do you know where Ringside is? I go there with my friends sometimes. I love it. So anyway, you pass Ringside, go all the way down, and you make a right, the first right, and then you drive down that-there are lots of Korean restaurants there. If you see Koreans cooking, then you know it's going to be good.
I love nice and fancy restaurants, but Borgy [Manotoc, her boyfriend] only likes value for money. He won't pay for anything that's more than a thousand bucks. So we really have to meet halfway.
Share this story with your friends!
---
Help us make Spot.ph better!
Take the short survey
Load More Stories