Lee Min Ho on Filipino fans, "Gangnam Style," and his ever-changing hair
Lee Min Ho talks about what makes a girl sexy and why he loves his Filipino fans.
(SPOT.ph) There is just something about Lee Min Ho's hair. When he was on the hit Korean telenovela Boys Over Flowers, he owned his signature curls, emobodying the role of the rich but romantic Gu Jun Pyo. His short, spiky hairstyle for Personal Taste made us believe that he was a driven, modern architect who could win the heart of a lonely carpenter. Later, his longer, sleeker hair would make him look more dangerous, apt for his vengeful role in City Hunter. Before his arrival in Manila, we saw him sporting long (and we mean long) shaggy hair for his historical drama, Faith. Now, he seems more relaxed with short, cropped hair, which makes him look all the more boyish when paired with his preppy style.

There were audible squeals of excitement when Korean superstar Lee Min Ho stepped into the ballroom of Makati Shangri-la on November 15. Despite being flanked by a throng of security, the six-foot-tall actor was all smiles at the eagerly awaiting press, quick to apologize about his lateness. "My flight was delayed for two hours," he said apologetically. "I'm sorry! It wasn't my fault."
ADVERTISEMENT - CONTINUE READING BELOW

He looked incredibly eager to be in Manila, joining the ranks of fellow Korean stars Choi Siwon and Lee Donghae, American Idol's Jessica Sanchez, Liam Hemsworth, and Adam Levine as a Global Benchsetter. He shared his thoughts on his fashion sense, his acting, and his ideal design for a Bench shirt, as translated by Sam Oh.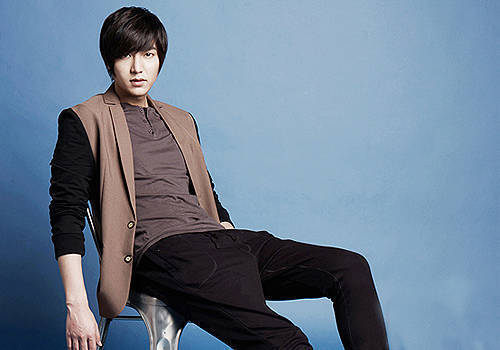 ADVERTISEMENT - CONTINUE READING BELOW
On his highly anticipated visit to Manila
This is my first visit to the Philippines. It's very cold in Korea as opposed to the warm weather here in the Philippines so I felt like I was just going on vacation. There were a lot of fans waiting for me at the airport, so that made me very happy.

On having millions of fans
The fact that I have millions of fans around the world gives me confidence because my job as an actor is very unstable, it can have a very short lifespan. But the fact that I have so much support helps me concentrate on what I have to do, so I feel very good about it.

On Twitter and Facebook
I usually communicate with my fans with Twitter and Facebook. My fans have messaged and mentioned me a lot. I haven't been able to reply to all of them but because I've heard from so many of my Filipino fans, I feel pretty close to the Philippines and the fans. In that sense, I really like social media as a way to communicate with my fans.
ADVERTISEMENT - CONTINUE READING BELOW

On wanting to be an actor
I started being an actor when I turned 19. Luckily I was able to try out. I was turning 20 when I decided that acting was for me. I was really choosing a career path, and this seemed like the one for me. I look up to Leonardo DiCaprio and Sol Kyung Gu.
On "Gangnam Style"
First of all, it makes me very proud as a Korean. This is the first time something so big has become such a hit worldwide. I feel like it's something that helps out all the other Korean celebrities. Personally, I've listened to "Gangnam Style" quite a bit when it first came out. I really like it, and it makes me very happy. As for dancing it? If I said I haven't danced it before, I would be lying. I could show you some other time.
ADVERTISEMENT - CONTINUE READING BELOW

On the Korean wave
Actually, I have no idea why it's become so popular. But seeing as how the songs and dramas are so popular worldwide, there has to be some universal factor there. Something that as humans, we all can relate to like, love, romance or family. It's relatable.
ADVERTISEMENT - CONTINUE READING BELOW

On his Bench endorsement
I think that Bench has a very broad appeal. It's a global brand, and I feel like I also have that kind of appeal, a broad one and a global one.

On his fashion sense and his shopping habits.
I like dark colors. Fit is very important for me.  I don't take a lot of time when I shop. I usually finish in an hour and a half and I don't really think about what I buy. It's short and sweet. I go in and go for the kill.

On his hair, and how to do it. 
If I'm not working, I like to make it look like I really didn't try. I try to style it like I didn't style it at all. But when I'm attending an event, I'm put extra effort into it. But the most important thing is to be appropriate, whatever the occasion. First of all, you really have to have a love for doing your hair. I have always been particular with my hair. When I was younger, there was a time that I had to meet up with a friend, and I didn't like my hair. I washed it up to three times, and I didn't like it so I ended up not going out at all. Now it's easier because I have a stylist to take care about all that (laughs).
ADVERTISEMENT - CONTINUE READING BELOW

On what he does in his spare time
I like playing soccer with my friends. I like watching movies but I make sure that it's during a time where there aren't many people. I know which theaters to go to and what time. On an ideal day, I only bump into five or six people.  I like to stay at home most of the time.

On the best thing about being a Bench endorser
The best thing about being a Bench endorser, because I'm a simple guy, is that I that I have a HUGE billboard with my face on it!

On his Bench shirt design 
If I would design a shirt for Bench, it would have a bench on it, because that's the brand's name (laughs). As for colors, I would put every color in the rainbow and produce a striped shirt.

On what makes a girl sexy
When it comes to fashion, it could be a woman in a bikini or a simple dress. It doesn't matter what she's wearing, but it all comes down to how she projects herself, what is appropriate. It doesn't have to be revealing to be sexy, but I think confidence is sexy and attractive. As for hairstyles, I love them all!
ADVERTISEMENT - CONTINUE READING BELOW

On having Filipino fans
I feel like Filipinos are so warm and friendly, everyone in the world knows that. Because it's so near to Korea, I feel like whenever I have to  come visit, it will always feel like a relaxing experience, like a vacation. It doesn't feel like work, and that's the best thing about having Filipino fans. I heard that there are a lot of great vacation spots here, and I hope my fans will help me know where to go next time.
Recommended Videos
Load More Stories