PHOTOS: The Gino Gonzalez-China Cojuangco Wedding
The private affair was attended by only a few close friends and family. Check out these exclusive photos.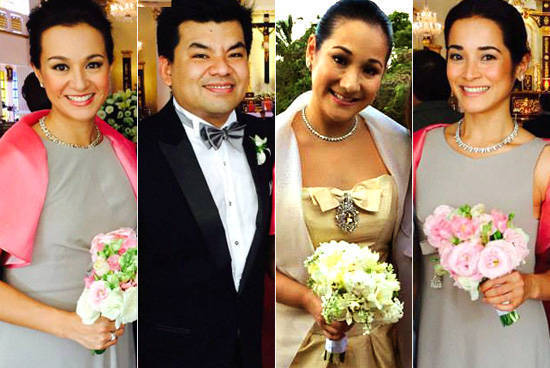 (SPOT.ph) The groom cried as his bride approached the altar escorted by her parents, Peping and Tingting Cojuangco. After seven years of getting to know each other and producing a beautiful daughter, Lucia, now three months old, China Cojuangco married her beau, Chef Gino Gonzalez, on Tuesday, December 10, 2013, at Our Lady of Lourdes Parish in Tagaytay.
ADVERTISEMENT - CONTINUE READING BELOW
It was a happy ceremony with only close friends and family in attendance. Both the bride and the groom come from huge boisterous families.
Sisters Mikee Jaworski and MaiMai Zini, newly arrived from Florence, were matrons of honor. Their niece Ina Guingona was Maid of Honor, and walked the aisle with assorted nephews and nieces from both sides carrying the rings, arrhae, Bible and flowers. Peping and Tingting waited for China halfway down the aisle as the doors opened to welcome the bride, who wore a Christian Espiritu creation.
From the church, the bridal party proceeded to Hacienda Isabella for cocktails and refreshments. A huge spread was prepared for the bridal feast by the catering company owned by the father of the groom, Chef Gene Gonzalez.
Click the gallery to see photos from the wedding.
All photos by Girlie Rodis
Recommended Videos
Load More Stories