On the Spot: Gabriel Macht of Suits on his partnership with Globe for Project Wonderful
The Suits star visits the country just as his show returns to TV to help raise awareness about rebuilding efforts in Leyte. We sat down with him for a quick chat.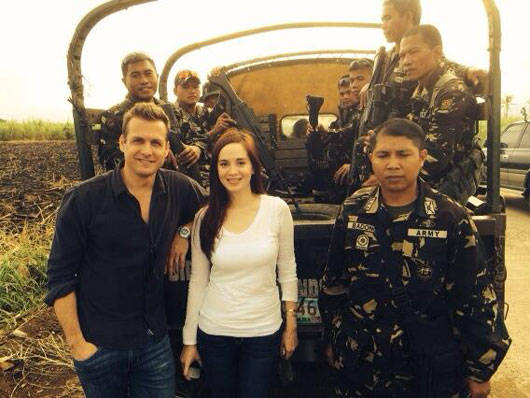 Gabriel Macht posted this photo on Twitter with the caption, "Thanks to representative Lucy Torres-Gomez for giving me a tour of #ormoc today."
(SPOT.ph) You've read the news, you've seen the tweets and photos that accompany them that yes, Gabriel Macht better known as Harvey Specter of the show, Suits, came to visit the Philippines-the city of Ormoc to be exact, a city that was struck by the worst typhoon to hit our country in recent history.
Gabriel Macht came to visit with the help of Globe's Project Wonderful-a project that was designed to help rebuild lives, businesses, and communities especially in places ravaged by Typhoon Yolanda/Haiyan.
Ms. Yoly Crisanto, SVP of Globe's Corporate Communications, shares that Project Wonderful was actually the same project as Bangon Pinoy, which came about when Manila was devastated by Ondoy. She says Project Wonderful is a holistic approach to what Globe is doing-a disaster response approach, a nation-building side of the project. There are three tracks-first is livelihood which is what Gabriel Macht is doing, the second is education, and the third is home-building, which they are doing in cooperation with Gawad Kalinga.
We sat down with Gabriel to talk about his experience in the country, his wish to return, and of course, a little bit about Suits.
It's been a while since Typhoon Yolanda hit, what made you focus on it now?
Well, it doesn't feel like a long time for me. I mean, four and a half months, I think we're only in the beginning stages, I think there's a lot to be done, still-the rebuilding. From my tour in Ormoc, it looks like there's some rebuilding being done, but I think there are more ways to go. When I was asked to be a part of this, again, I just felt like it's never too late.
ADVERTISEMENT - CONTINUE READING BELOW
From what you've seen in Ormoc, do you believe that it can be rebuilt in a way that's sustainable especially with the initiative of Globe Project Wonderful?
Absolutely! I would like to say first and foremost when I saw the images online and also the newscast of Typhoon Yolanda, I was immediately driven to help in some way and when I was asked to partner with Globe, I was like 'Okay! This is it! This is how I can help!' I'm encouraged by the work that they're doing as far as nation building and I think it's an amazing opportunity for small business to take responsibility of their own and for entrepreneurship and the way they're providing access is truly inspiring. They're not just throwing money at the problem, they're giving the tools to help small business to get up and running. And I think that that's very inspiring.
CONTINUE READING BELOW
Recommended Videos
Any memorable experiences with the locals?
Yes, there was kind of a funny story. We all jumped in this van, driving off road to the sugar cane field and we got a flat tire and I really didn't know what was happening and then we got in another car and kept going. When we got to the sugar cane fields, someone said to Congressman Lucy, "You see the roads are getting better? You see the roads are getting better?" and she was like, "Yeah!" and I was looking at her and was like "Is this a joke?"  Because we got a flat tire, but the truth is, the roads are getting better. So I thought that was pretty funny.
ADVERTISEMENT - CONTINUE READING BELOW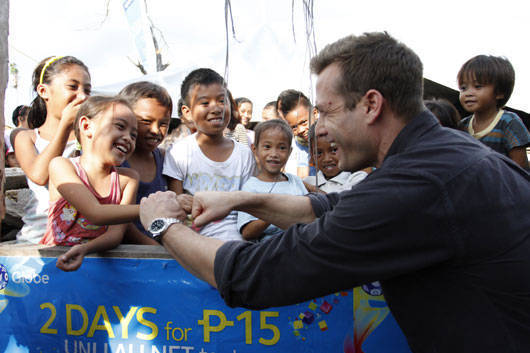 Macht interacts with the local kids
How do you think your position as a well-known actor is helping in raising more awareness for projects like these?
Hopefully my voice can raise awareness for a certain cause that I am inspired by. Here, I wanted to join forces with Project Wonderful because of the charitable work that they're doing, I believe in the work that they're doing. It is about sustainability, it is about the people-I think that's really inspiring. We're really giving them access to doing it themselves.
You have already seen the area and have seen the devastation around it, what do you think is going to help push for more improvement?
I actually get my strength from the people in the villages, you know, Harvey would say that vulnerability is a weakness and I actually see that vulnerability is a strength-people in these villages are vulnerable right now but I see the strength that they are overcoming, you know? And I see your culture, a really strong culture, that will be able to build back up and they are doing so right now. And its foundations and organizations like Globe that are helping people find that strength in themselves to be active in their communities and help their communities.
ADVERTISEMENT - CONTINUE READING BELOW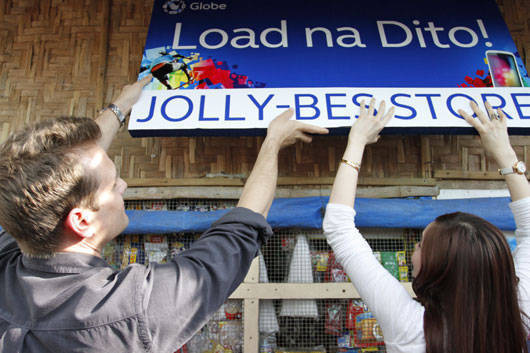 Putting up a sari-sari store sign with Rep. Lucy Torres-Gomez
Patrick J. Adams came to visit last year, did he give you any tips on what to do here?
He said, "Don't go!" (laughs) You know what he said? He said that there's a huge fan base out there, they are crazy for the show [Suits], and you know I started catching on to that as the show built its audience. You see on Twitter, "Come to the Philippines! Patrick came! You gotta come!" So when I saw that there was an opportunity to come and raise awareness for a cause that I believe in, I knew I had to do it. And I hope to come back with my family, to see more of the country and the beaches. And I want to go back to Ormoc and see how the rebuilding was going.
How much of you is Harvey Specter? And how do you identify with the character?
ADVERTISEMENT - CONTINUE READING BELOW
A little bit. Little bits and pieces. He's [Harvey] a guy who is cocky and whip smart, who has a great banter, and his brain is functioning at many different levels, he just fires away, right? I am so much slower than he is! I cannot talk my way out of a bag. He's a classy guy and he's also a little harsh, I think I am a little more of a gentler soul. I think he's very judgmental, and I'm more like 'live and let live' that is my philosophy, my overall philosophy. But we can both be stubborn and I think what I have learned from him is that we can all have self-doubt and feel insecure but if we can push through that, our persistence may overcome failure. And I find that inspiring.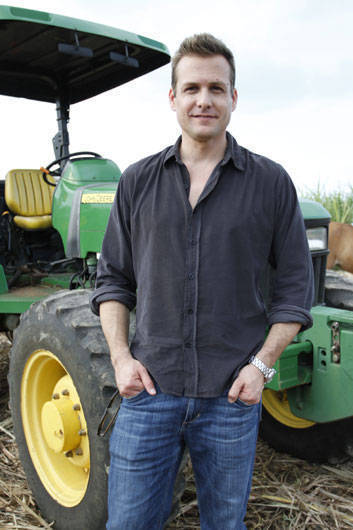 Macht in Ormoc, Leyte
What can viewers expect from the new season of Suits?
ADVERTISEMENT - CONTINUE READING BELOW
It's crazy! Steven Macht, my father, he's got a good cameo in the show. Olympic medalist, Michael Phelps, he's doing a cameo on the show. Someone has a life-threatening thing that happens and we see the firm gather together to support that character. There's some really good stuff!
For more information on Globe's Project Wonderful, log on to www.projectwonderful.ph. Photos courtesy of Globe.
Share this story with your friends!
---
Help us make Spot.ph better!
Take the short survey
Load More Stories