Do You Recognize Any of These Filipino Child Stars?
They were famous long before the days of Aiza Seguerra and Niño Muhlach.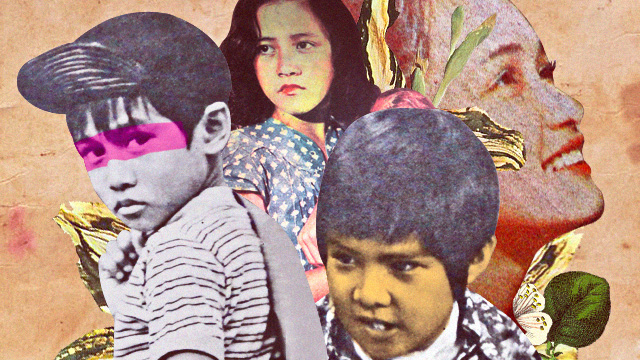 (SPOT.ph) Long before shows like Ang TV and Going Bulilit hit the screens, child stars in local showbiz already had their own solid fan base. You might have grown up watching Aiza Seguerra on Little Miss Philippines, or even remember Matet long before she was playing mom roles on TV. But did you know that there were other stars before the likes of Vilma Santos or Niño Muhlach who also spent most of their childhood in front of the camera?
Here are some of the young stars who delighted different generations of movie fans with their antics on the silver screen.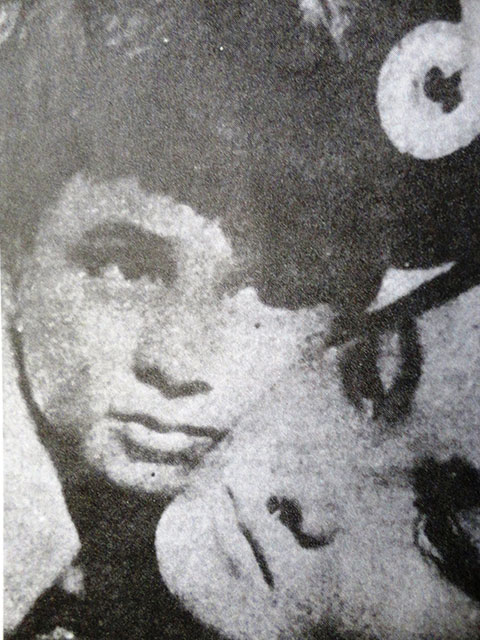 Angelito Nepomuceno
Career highlight: The Pre-War child superstar
Years active: 1936 to 1940
Born to a pioneering showbiz family, Angelito (1928 to 2010) was the child of Luis Nepomuceno, Father of Philippine Movies, and Isabel Acuña. It was in his father's 1936 Sa Paanan ng Krus that the eight-year-old Angelito first appeared with his brother Lubin. Alongside Tita Duran, Angelito starred in weepy pre-war melodramas like Hampaslupa (1937), Tatlong Pagkabirhen (1939) and Mga Tinik ng Isang Bulaklak (1939) and the happier blockbuster, Leron, Leron Sinta (1939). He would eventually marry 1952's Miss Philippines Teresita Villareal and train his son Rafael "Paeng" Nepomuceno to become a four-time World Cup Bowling Champion.
ADVERTISEMENT - CONTINUE READING BELOW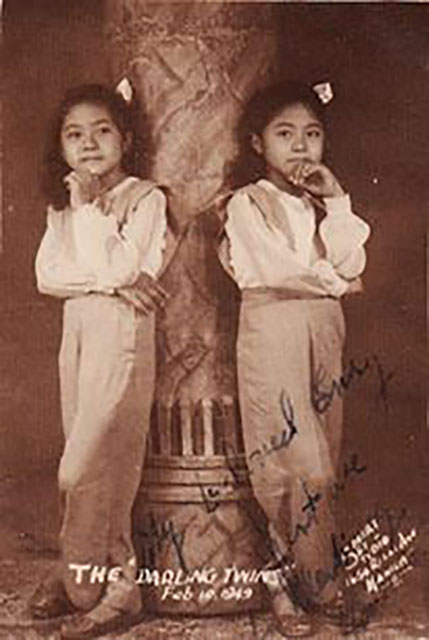 CONTINUE READING BELOW
Recommended Videos
The Darling Twins
Career highlight: Young singing twin-sations
Year active: 1949
The Darling Twins, Aurora and Esperanza (born 1940), were identical twin girls who rose to fame in 1949 with Bebong Osorio's Magkapilas na Langit. They performed alongside matinee idol Ely Ramos and beauty queen, Amparo Karagdag. They also sang the movie's theme song, Kuskos-Balungos, composed by Santiago S. Suarez. Because of their natural flair for song and dance, the Darling Twins won the hearts of many movie fans that year.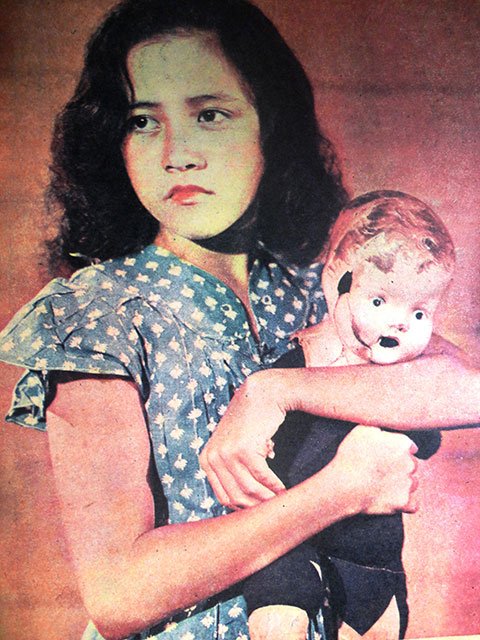 ADVERTISEMENT - CONTINUE READING BELOW
Mila Nimfa
Career highlight: The first Maria Clara Best Child Actress awardee
Years active: 1950 to 1963
Fernando Poe Sr. discovered nine-year-old Mila Nimfa, who was then signed with Royal Productions. In 1950, co-starring Carmen Rosales and Danilo Montes, she appeared in the film Nanay Ko, where she'd win the Best Child Actress trophy in the Maria Clara Awards, the precursor of the FAMAS. She catapulted to stardom in Basag na Manika (1951), directed by Poe Sr. himself. Mila is probably best known for her role as Darna's alter ego in the original superhero films: Darna (1951), Darna at ang Babaeng Lawin (1952). She eventually retired from movie making but would resurface in 1963 as a featured actress in the action movie Sierra Madre, top billed by Poe Sr.'s son, Fernando Poe Jr. Today, Nimfa is in her mid-70s and is an active member of her church group in Tondo.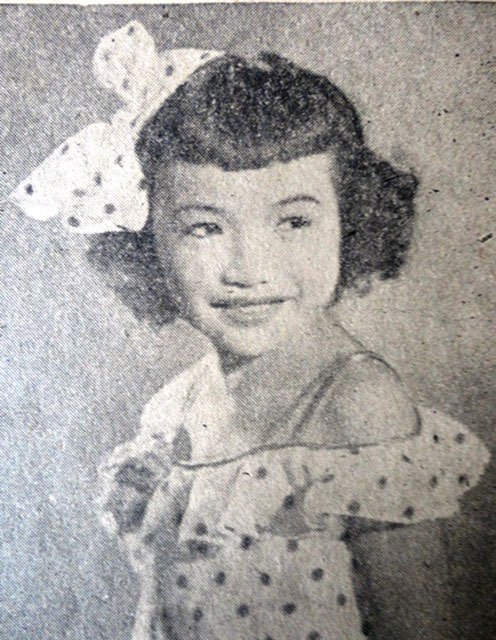 ADVERTISEMENT - CONTINUE READING BELOW
Helen Grace Prospero
Career highlight: Premiere's  Little Dance 'n Drama Star 
Years active: 1950 to 1952
Helen Grace (born 1944) was only six years old when movie actor Jose Troni introduced her to Doña Adela de Santiago. The producer was smitten with the ballet-dancing, prize-winning second-grade student of Sta. Isabel College. She was cast as a dancer in the 1950 movie Babae, Babae, at Babae Pa and had a bigger role in the action drama Taga-Ilog (1951), starring Nena Cardenas and Efren Reyes. Impressed by her performance, her studio gave her a starring role in Rita Rits, as adapted from a Bulaklak serial. Playing the precocious smart-aleck Rita, Helen Grace held her own against co-stars Tessie San Juan and Fred Cortez.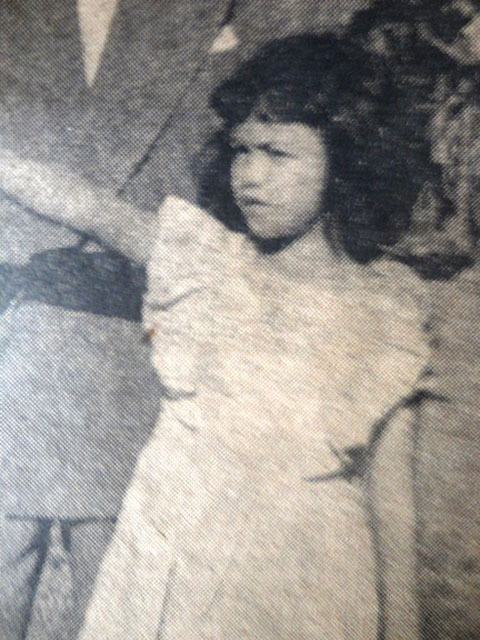 Baby Linda
Career highlight: The youngest child radio star
Years active: 1951 to 1952
When Premiere Productions introduced Baby Linda, she was touted as the youngest child radio star. Even before entering fifth grade, Baby Linda had already chalked up four years of radio and stage show experience. Her first film was Sorry na Lamang with the great Pugo and Tugo. This was immediately followed by Ulilang Kalapati; Ang Doktora; Biro ng Tadhana (1949); Makasalanang Banal, and Taimtim na Dalangin (1951). Premiere Productions cast her in Munting Anghel with Nena Cardenas and Fred Santos, which would receive a follow-up movie, Hiwaga ng Langit.
ADVERTISEMENT - CONTINUE READING BELOW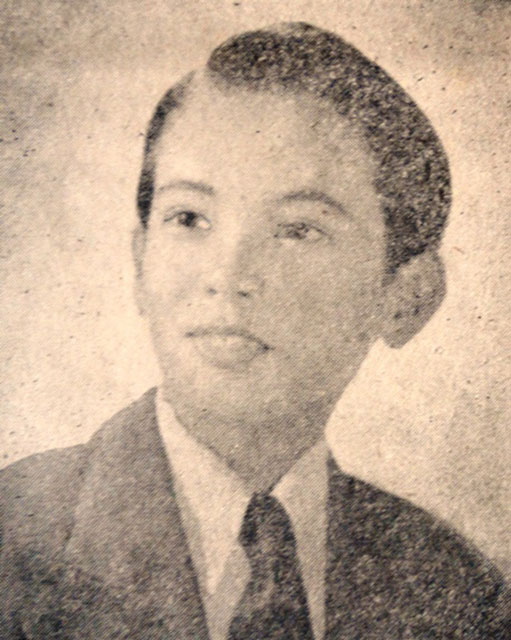 Manuel Ubaldo
Career highlight: The original "Ding" of Darna
Years active: 1951 to 1952
The boy destined to fly with Darna was born Manuel Ubaldo or "Uwel," a then-fifth-grade student of Far Eastern University. His two other brothers, Rico and Nobel, had also appeared in films before him. When a call over the radio was sounded for a boy to appear in the 1950 movie Ang Magpapawid, Ubaldo prodded his parents to join the audition. The next day, under director Paquito Bolero, Ubaldo did a screen test, passed, and signed a contract with Royal Productions. Ang Magpapawid wouldn't be his only project, as he'd appear in films like Nanay Ko; Mag-Inang Ulila; Anak Ko! (1951), and Kamay ni Hugo (1952). Ubaldo holds the title of being the original Ding in the first Darna blockbuster. He'd reprise his role in the sequel Darna at ang Babaeng Lawin.
ADVERTISEMENT - CONTINUE READING BELOW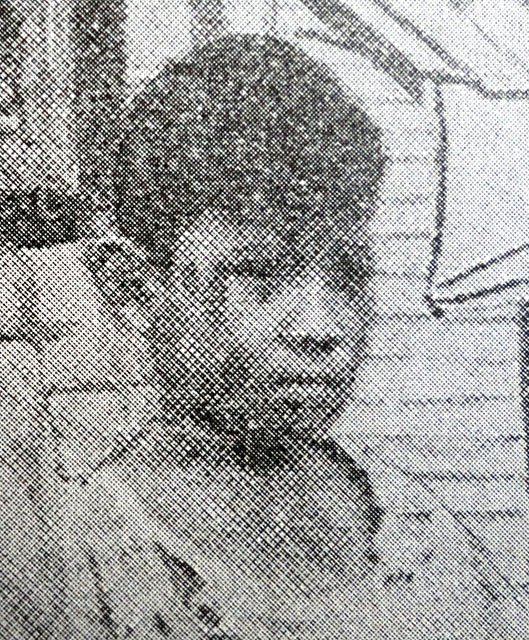 Boy Alano
Career highlight: Tessie Agana's onscreen boyfriend of the '50s
Years active: 1951 to 2012
One of the more popular child stars to emerge from the 1950s is Herminio "Boy" Alano (born 1944). His first film was the historic Roberta (1951), starring the nation's sweetheart Tessie Agana, saving Sampaguita Pictures from ruin. He would join Agana again in Anghel ng Pag-ibig (1951), Rebecca; Ulila ng Bataan (1952), Munting Koronel; Anak ng Espada (1953), and later in Amy, Susie and Tessie (1960), their first teen movie together. Alano had his own moment playing the title role in comedy film Kiko (1953). Alano transitioned with a measure of success as a young adult actor, joining the Stars '66 in some films, including the iconic Mga Bata ng Lagim (1963). He also dabbled in directing, credited as assistant director in a number of films, including I Heart You Pare (2012). He later appeared in 2012 romantic comedy, Of All The Things, supporting Aga Muhlach and Regine Velasquez.
ADVERTISEMENT - CONTINUE READING BELOW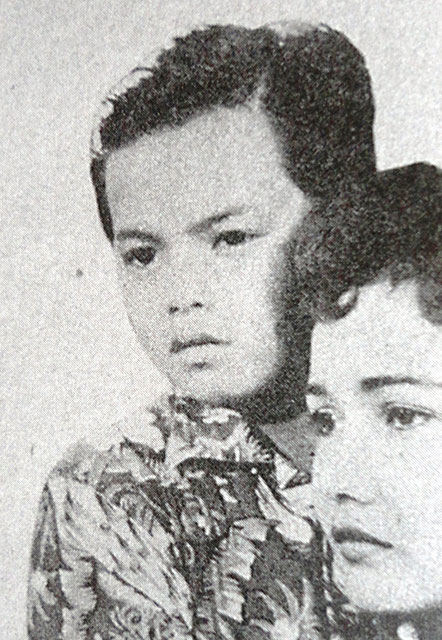 Ike Jarlego Jr.
Career highlight: The child star turned successful film editor
Years active: 1951 to 1955
Director Lamberto Avellana discovered Ike Jarlego Jr. (1944 to 2012) while the boy was in LVN Studio with his father, a notable film editor. Ike was given a role in the 1951 movie Pag-asa, and would later appear in movies such as Sa Paanan ng Bundok; Batangueña (1953), Waray-Waray (1954), Sonny Boy; Higit sa Lahat (1955). He and all five of his brothers walked their father's footsteps as film editors. Ike found much success in this path and became a sought-after film and commercial editor in the '70s and '80s. His precise editing style is evident in award-winning films like Itim, Himala, Maynila sa mga Kuko ng Liwanag, Tatlong Taong Walang Diyos, Moral, Working Girls, and Bagets. In the 1990s, he tried his hand at directing, starting with Andres Manambit: Angkan ng Matatapang, Wanted: Perfect Mother (1996), and Mahal Kita: Final Answer (2002).
ADVERTISEMENT - CONTINUE READING BELOW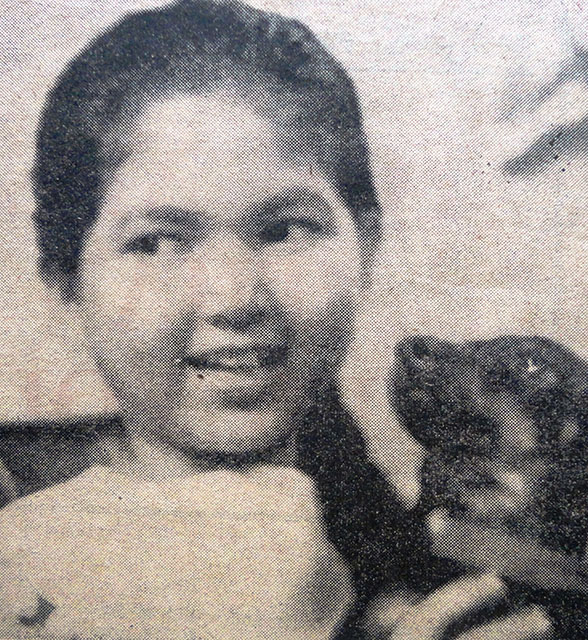 Lani Gentica
Career highlight: Nepomuceno Films' child star to watch
Years active: 1963 to 1968
Child star Lani Gentica (1957) was a sort of a prodigy—she was gifted in piano, guitar, and acting. She started acting at age five, landing a role in Larry Santiago's Kami'y Kaawaan. Soon, she appeared in commercials and guest in TV shows like Buhay Artista, The Charito Solis Show, and Kiddie Land. In 1963, she bagged the role of Alona, Anak ni Dyesebel, a 1964 fantasy movie based on the popular mermaid character. Years later, she played Paraluman's Cora in the acclaimed Dahil sa Isang Bulaklak. Soon, she landed more daughter roles, like in Eva Darren's Ang Langit sa Lupa and in Lolita Rodriguez's Kapag Puso'y Sinugatan. Lani also appeared in Luha sa Karimlan, Manila: Open City, and Igorota.
ADVERTISEMENT - CONTINUE READING BELOW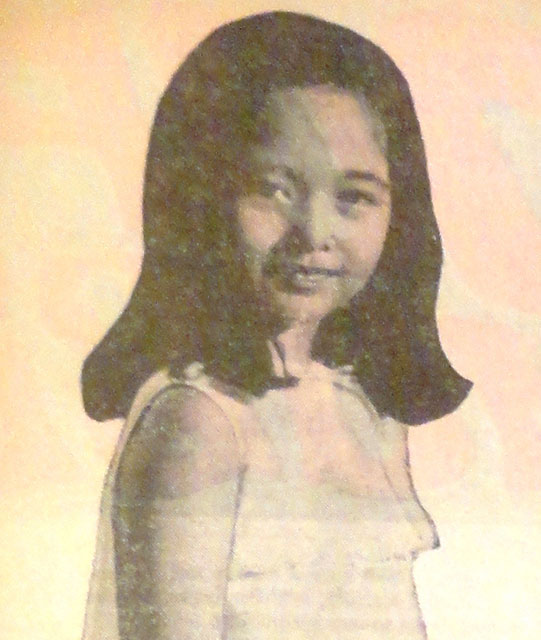 Jenina Ruth Bas
Career highlight: 1967 Asian Film Festival Best Child Actress
Years active: 1966 to 1972
Jenina (born 1959) was already acting on stage even in kindergarten, cast by Fr. James Reuter in a play called The Contented Princess. She'd be recommended by Fr. Reuter himself when Luis Nepomuceno was on a search for a child actress for his multi-million peso venture, Dahil sa Isang Bulaklak. She won the plum role of Esperanza, the young daughter of Charito Solis. The film was the country's entry to the 1967 Asian Film Festival, where the Philippines won, not just one, but two trophies—Charito Solis as Best Actress and Jenina as Best Child Actress.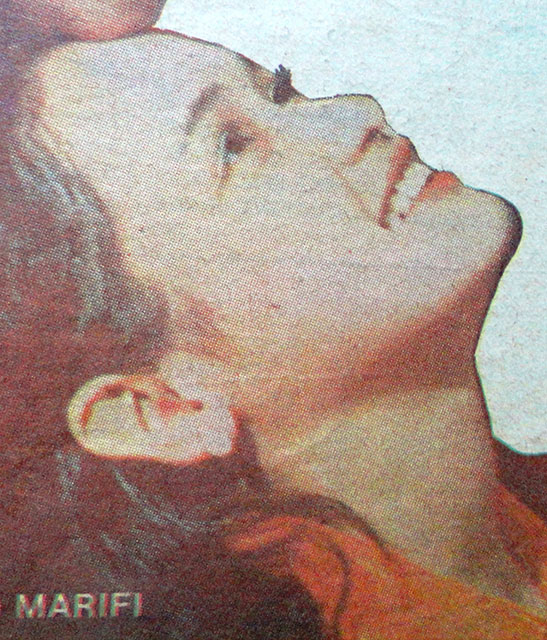 ADVERTISEMENT - CONTINUE READING BELOW
Marifi
Career highlight: The Young Maruja
Years active: 1966 to 1972
Marifi was only nine years old when she appeared in the 1966 flick Miranda: Ang Lagalag na Sirena, leaving a mark as the mermaid coming into the lives of a childless couple. However, Marifi is best remembered in the acclaimed gothic romance Maruja, where she played the young Susan Roces in the title role, opposite Jay Ilagan. She stopped appearing in films for a while but had a comeback in 1970 for a musical with Sampaguita Pictures. After signing with Virgo Films, Marifi was cast in Ah Ewan, Basta sa Maynila Pa rin Ako and Pritil. Put together in a new love team with Rudy Fernandez, the pair worked together in Sweet Matutina and Life Everlasting.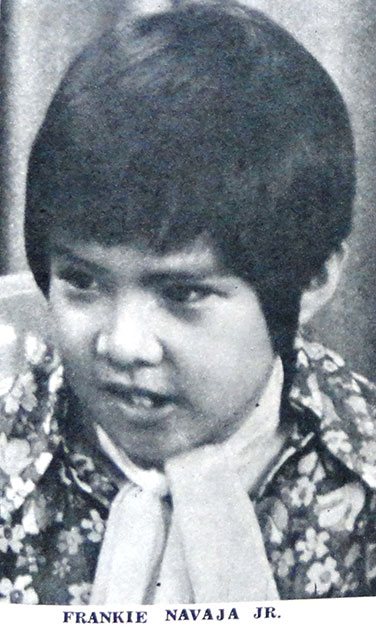 Frankie Najava Jr.
Career Highlight: 1970 FAMAS Best Child Actor
Years active: 1969 to 1975
Frankie Navaja Jr. started as a child actor in Cebuano films and was later cast in Badlis sa Kinabuhi (1969) at only seven years old. The film was released all over Manila cinemas in 1970 in the original Visayan version, garnering 14 FAMAS nominations and winning an unprecedented 12. Frankie Navaja Jr. was chosen Best Child Actor that year for his moving performance of the boy with an abused and amnesiac mother, played by Gloria Sevilla. The success paved the way for his next movie Dodong Ko, another mother and son tearjerker. Other notable films include Ang Alamat (1970), Gimingaw Ako (1973), and Lorelei (1975). He was also a gifted singer and orator.
ADVERTISEMENT - CONTINUE READING BELOW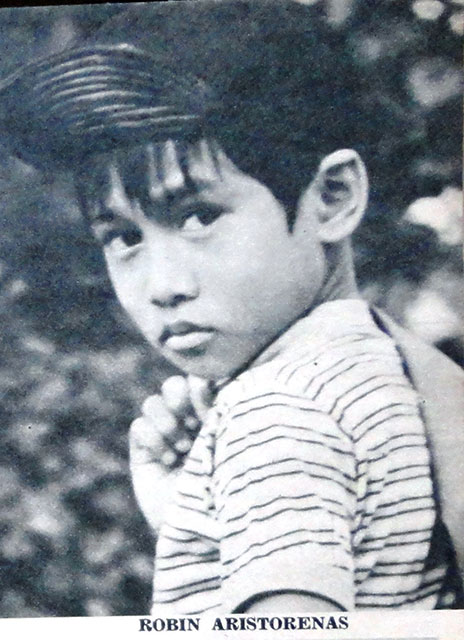 Robin Aristorenas
Career highlight: The Filipino "Robin"
Years active: 1968 to 1981
Robin came from a showbiz family as the eldest son of action star Jun Aristorenas and actress Virginia. He was only four years old when he started acting, appearing in movies El Tigre and 3 Patapon. Robin played the leads in Bimbo; Dino Barbar (1969), and Angelito Negro (1970). He was awarded a FAMAS Best Child Actor trophy for the period film Elias, Basilio at Sisa. After other projects. including Tarzan and the Brown Prince, Robin was best known for his role as the Pinoy Robin alongside his mother's 1972 Batwoman movies. He later appeared with his father in the 1977 film, Mga Anak ng Harabas. He left for the U.K. in the 1980s with his family, but is now making a name for himself in Los Angeles as an editor and graphic artist for major Hollywood films.
ADVERTISEMENT - CONTINUE READING BELOW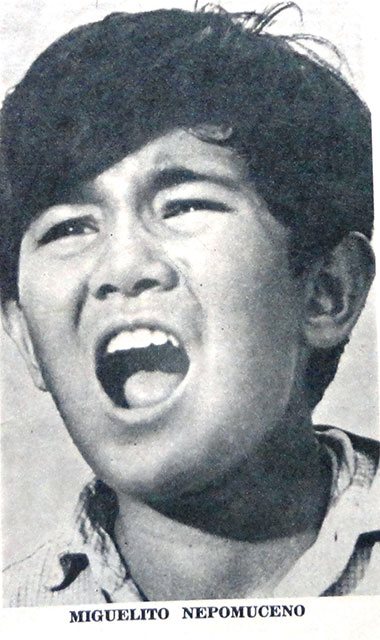 Miguelito
Career highlight: 1970 Asian Film Festival Best Child Actor
Years active: 1969 to 1970
Miguelito is the son of Amparo Bomediano and Luis Nepomuceno, responsible for acclaimed movies such as Igorota, Ang Pulubi, and Dahil sa Isang Bulaklak. His grandfather Jose was a pioneer moviemaker. Miguelito first entered showbiz in 1969, when he supported Charito Solis and Fred Galang in the movie Ang Pulubi, making waves at the Manila Film Fest. The film swept the major acting awards, including the Best Child Performer for Miguelito.  He won the similar Best Child Actor award at the Asian Film Fest in Jakarta. Miguelito and his Ang Pulubi co-stars would reunite to star in epic war drama Pipo (1970), where he played the title role.
Share this story with your friends!
---
Help us make Spot.ph better!
Take the short survey
Load More Stories