Steve Carell Talks Space Force, Netflix, and Working With John Malkovich
"Netflix will throw it out there, along with the 18,000 shows that come out."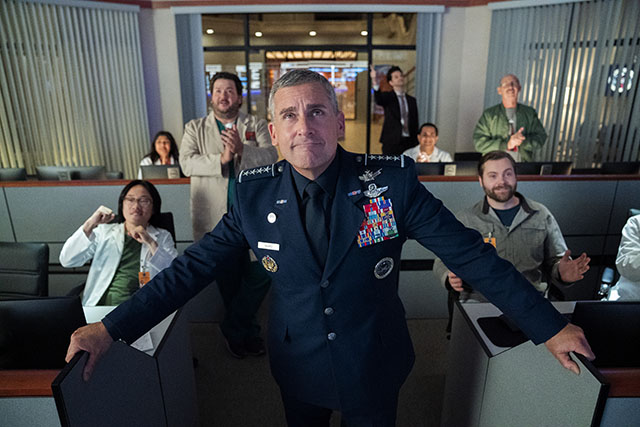 (SPOT.ph) He's been in movies like The Big Short and Battle of the Sexes since he played the incompetent but lovable Michael Scott in The Office, but Steve Carell's return to comedy is something that's understandably got plenty of fans excited. The icing on top? He's teaming up again with The Office showrunner Greg Daniels. 
ADVERTISEMENT - CONTINUE READING BELOW
We already got to talk to Daniels and Silicon Valley alum Jimmy O. Yang, but this time we're hearing from Carell himself in this interview straight from Netflix.
Read on for some behind-the-scenes details on Space Force from Steve Carell.
How did you end up partnering with Greg Daniels again and where did the idea for Space Force come from?
Greg Daniels is one of those people I have the ultimate amount of respect for. He's funny, and he's smart, and he's a great collaborator. Space Force came around in a rather atypical way. Netflix had this premise that they thought might make a funny show—the idea made everybody laugh in a meeting, an idea of a show about the origins of a fictitious Space Force.
CONTINUE READING BELOW
Recommended Videos
I heard about the idea through my agent, and Netflix pitched the show to me, and then I pitched the show to Greg, and we all had the same reaction to it. There was no show, there was no idea aside from the title. Netflix asked, "Do you want to do a show called Space Force?" And I pretty much immediately said, "Well yeah, sure. That sounds great." And then I called Greg, and I said, "Hey, you want to do a show called Space Force?" And he said, "Yeah, that sounds good. Let's do it." And it was really based on nothing, except this name that made everybody laugh. So we were off and running.
ADVERTISEMENT - CONTINUE READING BELOW
How did you come up with your character, Mark Naird?
Well, once we had just the concept of Space Force itself, Greg and I sat down, and we asked, "Well, what's the show going to be? What will it be about?" And we landed on the idea that it should be about the inception of Space Force. It should be about the person who is entrusted with the development, the creation of a new branch of the Armed Forces. And my character is that person, who is drafted into creating this branch.
All of these characters had to be invented and created for the first time. Mark Naird is a three-star general in the Air Force, and he's always been looking for his big break. He is assuming that the next step will be to become a four-star general and become the head of the Air Force. But fate takes a bit of a left turn for him and he becomes the head of this new thing, Space Force, that no one even knew about or thought would even be a part of the Armed Forces. It's a challenge, and maybe not exactly what Mark was hoping he would end up doing, but all of those parts of it add into the type of character he is. He's a very straightforward guy. He's a very military guy. He's concerned about people, but at the same time he has blinders on because he has such a sense of duty. There's a lot of human conflict within him that, with any luck, ends up being kind of funny.
ADVERTISEMENT - CONTINUE READING BELOW
What kind of preparation did you do to play someone with a military background?
We have a military advisor, Mark Vazquez, so I picked his brain quite a bit in terms of posture, protocol, etiquette, and saluting. How you hold a hat is a very specific thing, especially for a general. And the difference between an Air Force general salute and a Marine general salute might be tangibly different because, as a pilot—and this is what our military advisor told us—there's not a lot of room to salute in a plane. So when you salute before you take off, a lot of times the salute is very narrow, it's very short. In the Air Force, those high-ranking officers still sometimes give short salutes as an indication that they were, at one point, fighter pilots.
There are little subtleties like that, that I tried to bone up on and figure out and implement, because the last thing you want to do is look like you have no idea. And you want to be respectful of service people, too. So I tried to do my due diligence. I did research on my own, mostly in terms of the protocol and the day-to-day dealings of a military person.
ADVERTISEMENT - CONTINUE READING BELOW
John Malkovich plays Dr. Adrian Mallory, General Naird's chief scientist. How did that come about?
First of all, once this show was announced, John Malkovich was the first person to express any interest in being on the show. So as far as I was concerned, he was in. And to be honest, once we knew that he was interested, Greg and I wrote the part for him. And this was before we even knew if we could get him. We had only heard that he was interested, so we didn't know for sure. But we always wrote it with him in mind, with his voice. He's obviously a great actor, and I was a little terrified to meet him at first, because he's an imposing guy. But then when you meet him, he's incredibly sweet, and talkative, and charming, and is kind and lighthearted to everybody.
People tend to think that actors are the characters that they play. And even as an actor, I know that I shouldn't do that, but John is so convincing in the portrayals that you start to associate him with those roles. But he's a goofball. The first week, I knew we were going to get along great because he could not stop laughing at one of Jimmy O. Yang's lines, which was essentially a fart joke. And he couldn't control himself. And I thought, "Okay, John Malkovich is crying giggling because of a fart joke. This is going to be perfect."
ADVERTISEMENT - CONTINUE READING BELOW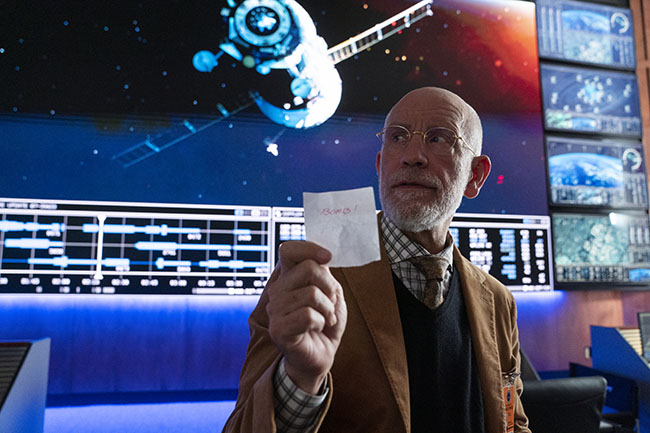 General Naird's daughter, Erin, is played by Diana Silvers from Booksmart. What was it like working with her?
Oh, she's bad news. Diana Silvers. Yikes. You know, she auditioned and we were all really excited. If this show goes a second season, she will be replaced. She plays my daughter. But you know, any number of women could play my daughter on this show. And so she probably won't be back for season two. People have not been happy with her performance. She's a nice enough person, but she's really not interesting to talk to, and that holds a lot of weight. Whereas John Malkovich is super funny and charming, Diana just kind of sits there and stares at the wall and doesn't add to the spirit of the show. And that's a big part of it. The show has to be fun, and people have to be having fun when they do it. And Diana is a wet noodle, and so we want none of that. And to be honest, she's not good on the show either. She doesn't do a good job.
ADVERTISEMENT - CONTINUE READING BELOW
I'm kidding, she's wonderful. She's someone who came in and auditioned and we all instantly knew she was our Erin. It's weird being on the other side of auditioning. After you've been an actor for so many years, and you're the one auditioning for stuff, your heart goes out to people who come in and audition and they're giving it their all. And most all of them were fantastic, but it's just this incremental decision about who's best for the part and who looks the most right. But her audition was so on target and so perfect.
And she did some things. She plays my daughter, who's a teenager and she's full of angst, and she's going through a lot of changes in her life, and she and her dad are at odds a lot of the time. But Diana played it in such a generous way. Underlying all of that teenage hostility, there was such a lovely soul and a love for her dad, and we thought, "That's really cool. That's a very human aspect to what she brings to the character." So aside from her being a wet noodle and not being any good, she's been perfect so far.
ADVERTISEMENT - CONTINUE READING BELOW
What can you tell us about F. Tony Scarapiducci?
Well, let me tell you about F*ck Tony. We have a character on the show named F*ck Tony, and he is played by Ben Schwartz. F*ck Tony is the media consultant for Space Force. He is the person who tweets out for General Mark Naird. He is the person who creates the public perception of what Space Force is. And he's a wheeler-dealer, he's a fast talker. He's incredibly obnoxious.
Ben came in and auditioned for the part, and he walked out of the room and we all looked at each other and just knew that that was the guy. He has a certain energy to him and he's a great improviser, and we could tell that in the room. There are different ways that you can improvise, and some people improvise by just purely trying to say funny things all the time. And that generally doesn't work, especially with a show like this, where there are actual characters talking to each other. Improvisation is not just going up on stage and doing a skit and saying something funny. You have to improvise within the character. And he was so good at doing that. And even at the audition, he had dialed into this person. But again, like Diana, underlying whatever surface elements of the performance, there was a kindness and a generosity that I think, over time, you're going to get to know and you're going to get to like, because he isn't exactly how he might first appear.
ADVERTISEMENT - CONTINUE READING BELOW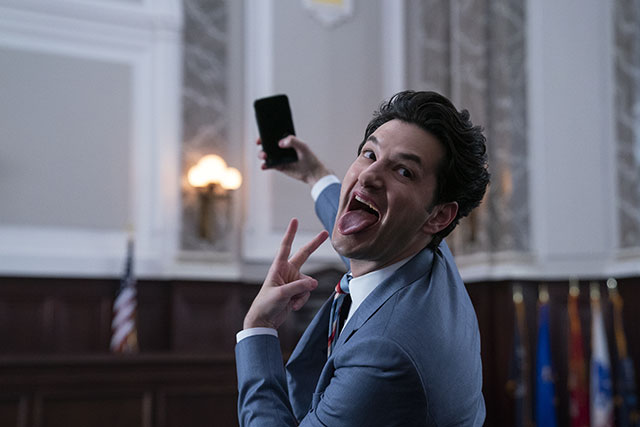 And that's another thing that we like about all of these characters. You get a sense of, "Oh, I know that guy." But then there's some subtle shadings of other things that might be unique or layered or have a little more texture than you would initially think. So, yeah, he's been great and really, really fun to improvise with. He's enormously quick, but again, he improvises within character and within story, so it always adds to whatever the scene is trying to achieve.
ADVERTISEMENT - CONTINUE READING BELOW
What about Captain Angela Ali?
Captain Angela Ali is a helicopter pilot who bonds with my character because they're both career military people. They're an unlikely combination because she's a young woman and a captain, and he's an older general. They aren't necessarily people who would hang out together. But they have this affinity for one another, because they understand each other even though they come from very, very different backgrounds. Greg and I thought it would be interesting to have a pairing like that: Two people who you wouldn't necessarily think would identify with each other who do, and become friends and form a bond.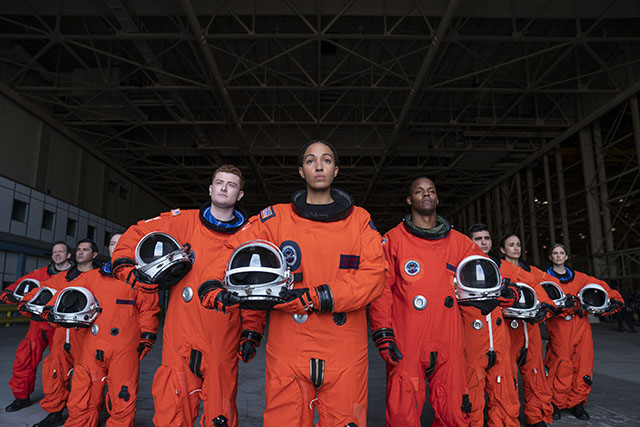 ADVERTISEMENT - CONTINUE READING BELOW
Tawny [Newsome] did this really specific thing during her audition. I was reading with her, and there's a line when I'm talking about her being a Spaceman, and she introduces herself as Captain Ali. And I say, "You don't use the term Spaceman? It's nothing to be ashamed of. The Air Force has Airmen, we have Spacemen. You should be proud of that, as part of Space Force."
And she played her response so subtly. She's like, "Yes, sir. Yes." And I say, "So where are you from, Spaceman?" And just hearing the word again, it still tweaked her. And I thought that was very funny but very subtle, and it just proved that she was listening. We all clocked that and were like, "She's not just thinking ahead, she's in her character, and she's already living in it." And this is at the audition, so we could tell it was only going to get better from there. It's so weird that I have this perspective of all of these actors, to see what they did in their audition and what they came in with, and what they're all doing as the show develops, and how their characters are growing.
ADVERTISEMENT - CONTINUE READING BELOW
Jimmy O. Yang from Silicon Valley plays Dr. Chan Kaifang. What did you think of his performance?
Jimmy O. Yang is, oh my God, he is so funny and his dad is on the show now, which is, I think, the best thing. His dad's great. His dad plays a Chinese scientist, and his dad being on set, I have never seen someone as tickled to be working with their father. I was saying this to Jimmy the other day, I cannot imagine my dad being on a set, let alone actually acting on a show that I was doing. And you could tell they have a really beautiful relationship with each other.
Jimmy is really dry, and he's really funny, and I think he's going to be a secret weapon for the show. He's so stealthy with his comedic choices and he makes me laugh. He made John Malkovich laugh on day two with a fart joke. That was the first time I saw John Malkovich cry-laughing. And that's Jimmy. I attribute that to his ability. He's great. He's super funny and he plays an incredibly intelligent scientist, the second-in-command in the science community at Space Force.
ADVERTISEMENT - CONTINUE READING BELOW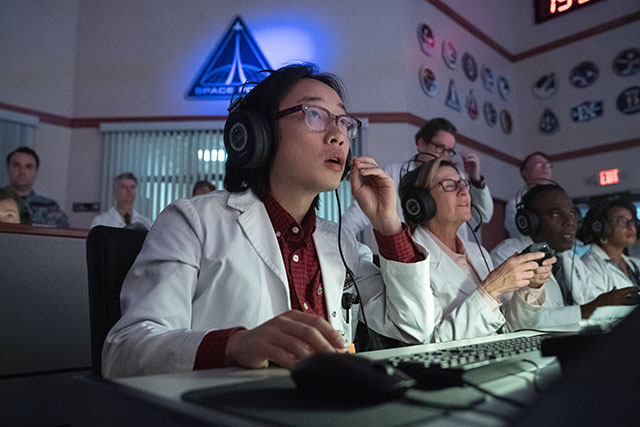 Do you have a favorite memory from filming?
No, it hasn't been that great. Nothing really memorable has happened. We show up, and we say this dialogue, and they put it on film or tape, whatever it is, on a card. And then they'll edit the shit out of it, and Netflix will throw it out there, along with the other 18,000 shows that come out. And I don't know. Memorable? Yes. John Malkovich doing an impersonation of Jethro Bodine is one of the funniest things I've ever seen in my life, and I will fight tooth and nail to make sure that that ends up in the show because it was in character. I don't want to give away what episode it will be or in what context, but he does the dumbest impression of Jethro from The Beverly Hillbillies that you will ever see. That might've been the most memorable thing. The rest of it has sucked, but he brings some light.
ADVERTISEMENT - CONTINUE READING BELOW
Interview and photos courtesy of Netflix.
Your guide to thriving in
this
strange new world.
Share this story with your friends!
---
Help us make Spot.ph better!
Take the short survey
Load More Stories