The Try Guys Eating Jollibee and Fumbling Over "Palabok" Is The Good Vibes You Need Today
It was equal parts adorable and frustrating.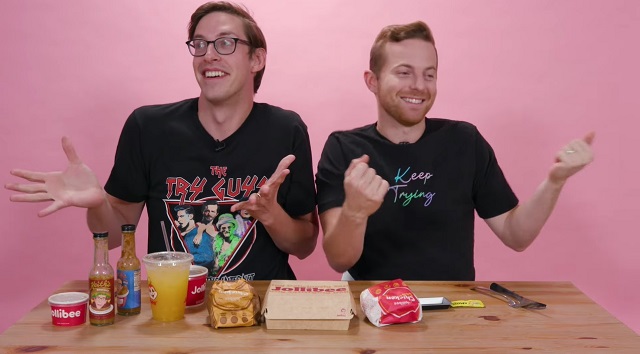 The Try Guy's Keith eats Pinoy food
(SPOT.ph) Jollibee has officially landed on The Try Guys's radar. The popular comedy channel on YouTube recently released a video of Keith Habersberger trying everything on the U.S. menu of the now-global fast food chain—as in everything—and while we're happy to see our fave comfort foods getting appreciation, we couldn't help but focus on Keith offering up his best guess at pronouncing the Pinoy names. Obviously, he got the easy American cuisine dishes right, from a Yumburger with cheese to some good old Chickenjoy, but we get it, palabok can be hard to get on the first try.
We don't know if there was no one on set who knew the proper pronunciation, or maybe they just enjoyed hearing Keith adorably fumbling over the words, or maybe unhealthy levels of delicadeza are to blame; whatever the case, we're listing down the tricky words in case Keith gets wind of this article!
ADVERTISEMENT - CONTINUE READING BELOW
Here's a crash course in Pinoy words so you can order from Jollibee with complete confidence the next time around. Don't forget to to ask for the thigh part.
Cubao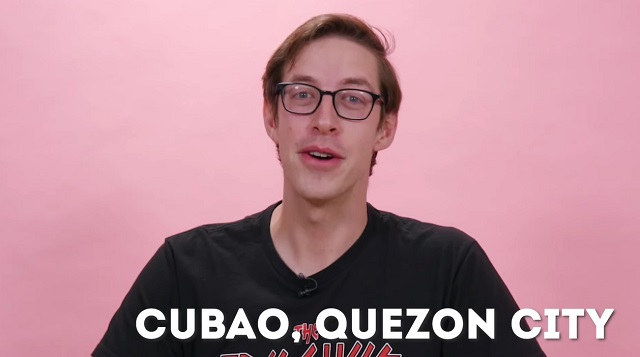 CONTINUE READING BELOW
Recommended Videos
Keith opens up with a short history of Jollibee's beginnings: from a small ice cream shop in Cubao—which somehow became "kubeyo"in Keith's mind—to the massive global chain. We don't know what happened there and TBH, the mispronunciation has us in stitches as Cubao is simply pronounced "ku-baw." We're using this as a reminder not to over-complicate things.
Longganisa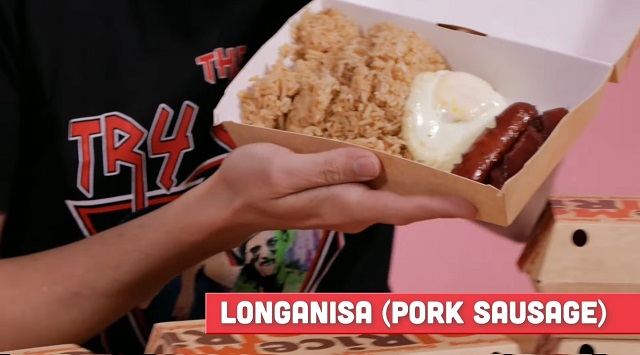 ADVERTISEMENT - CONTINUE READING BELOW
Nothing beats a hearty silog breakfast. Keith got it sort of right the first time around and says longganisa without the hard "G" accent, which is usually how someone with an American English twang pronounces it anyway. Unfortunately, he doubts himself and tries to say it again, botching it pretty bad. Never self-doubt, folks! We're happy he seemed to really enjoy this sweet take on the sausage, at least.
Tocino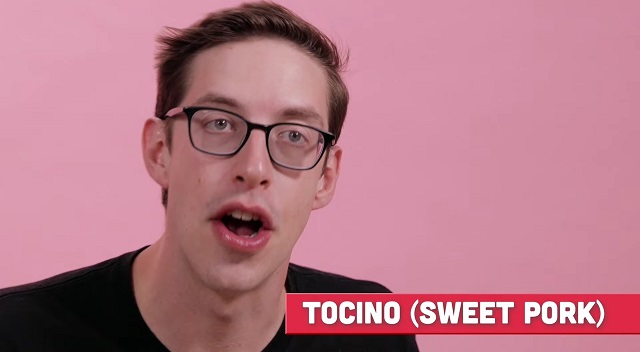 Still on breakfast fare, Keith takes on the "toe-chino"—pronounced more like "tosino." Yeah, the "C" bit there can be pretty tricky! And yup, we like our breakfast meats a bit more on the sweet side, which Keith enjoyed. We suggest having some vinegar and garlic as a dipping sauce next time to cut the sugary hit.
Rice and Gravy!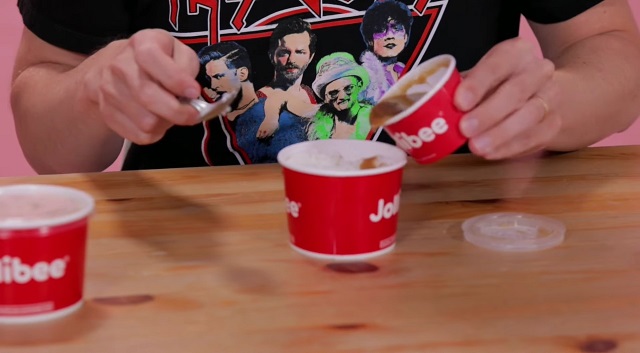 ADVERTISEMENT - CONTINUE READING BELOW
No botched words here. We just really need to zoom in on Keith discovering for himself a classic Pinoy technique, mixing rice and gravy, completely unaided! The winning combination was a sure hit with him. Also, the part where he says, "Take that, white people!" made us lose it. Now all we need is for him to see what Pinoys do with the unlimited gravy KFC dishes out. Rice with gravy? No, more like gravy with a bit of rice is how it's properly done.
Palabok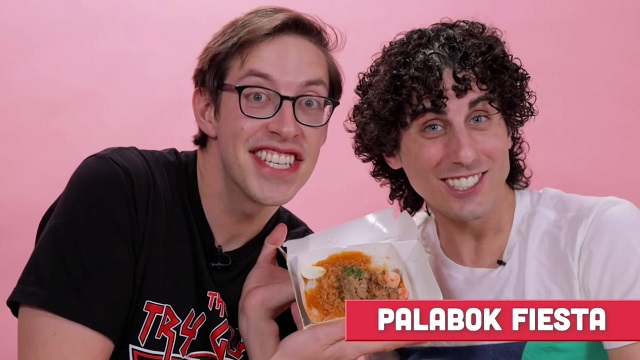 Another unbeatable classic, the palabok, gets accents in the wrong places with added airy "H" sounds—but as a people that loves placing an "H" or two in names, we can't really call this out. All that matters is that Keith totally approves of this "pad thai" looking dish, even if his friend Alex doesn't exactly like it. 
ADVERTISEMENT - CONTINUE READING BELOW
Peach Mango Pie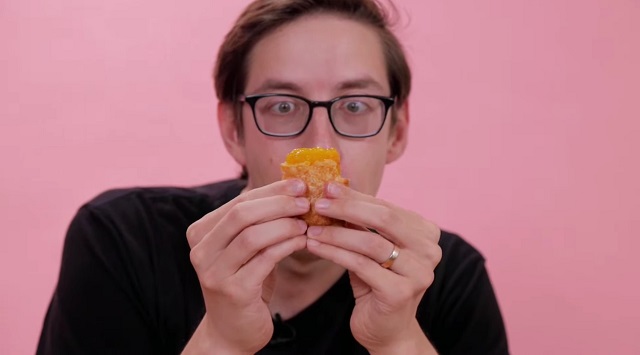 Nothing went wrong here, pronunciation-wise, really. We just love the look on Keith's face as he enjoyed the wonder that is the peach mango pie! TBH, how could he not?
Halo-Halo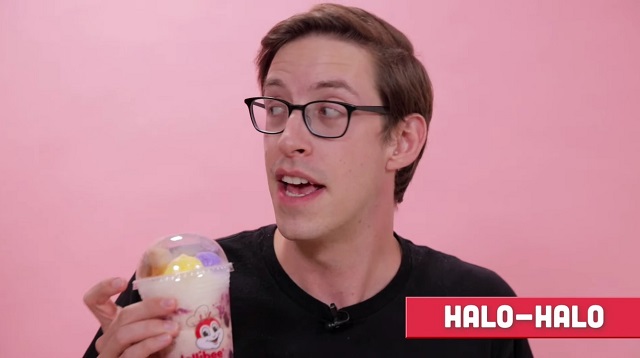 Of course, no Jollibee taste test could be complete for a Pinoy-food newbie without halo-halo! Keith pretty much gets it right the first time around, but again, self-doubt takes over and he tries different combinations (Read: halo-heylo, heylo-heylo). 
ADVERTISEMENT - CONTINUE READING BELOW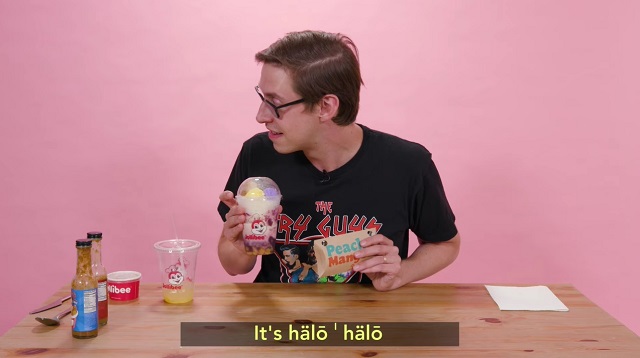 He turns to someone off-cam to get confirmation—finally! The treat was unfortunately frozen before the shoot so we're here to say that Keith's confusion over ice, milk, jellies, candied fruits, sweet beans, et cetera is probably because of the sub-par quality. Fingers crossed he gives it another try. 
So there you have it. We totally appreciate someone from a different culture giving not just Jollibee a try, but also a bit of our language, too! Keith, if you're reading this, here's hoping we helped a bit and we can't wait for you to become a certified Jollibee fan. Check out the full menu taste-test below:
Hey, Spotters! Check us out on Viber to join our Community and subscribe to our Chatbot.
Share this story with your friends!
---
Help us make Spot.ph better!
Take the short survey
Load More Stories